Hi from kind of chilly California! I'm definitely not ready to let go of summer yet, but I will say the weather here is amazing and totally getting me excited for fall. I know a lot of you all shopped the Nordstrom sale early access but I did a poll on Instagram and half of you all are shopping today, so I wanted to throw together a post of all the best items that are currently in stock.
If you missed my previous posts and want to see everything in one place, check out the following posts:
As I mentioned in my previous post, I got to shop the sale early this year so I've had ample time to try everything, wear it, use it, and give you a roundup of only the best!
Shopping online for the sale is 100% the way to go because the stores tend to be over picked size wise at this point and the free shipping makes it so easy to shop online. If you want to skip the lines but are an instant gratification gal (sharing for a friend, lol), they have the purchase online and pick up in store option.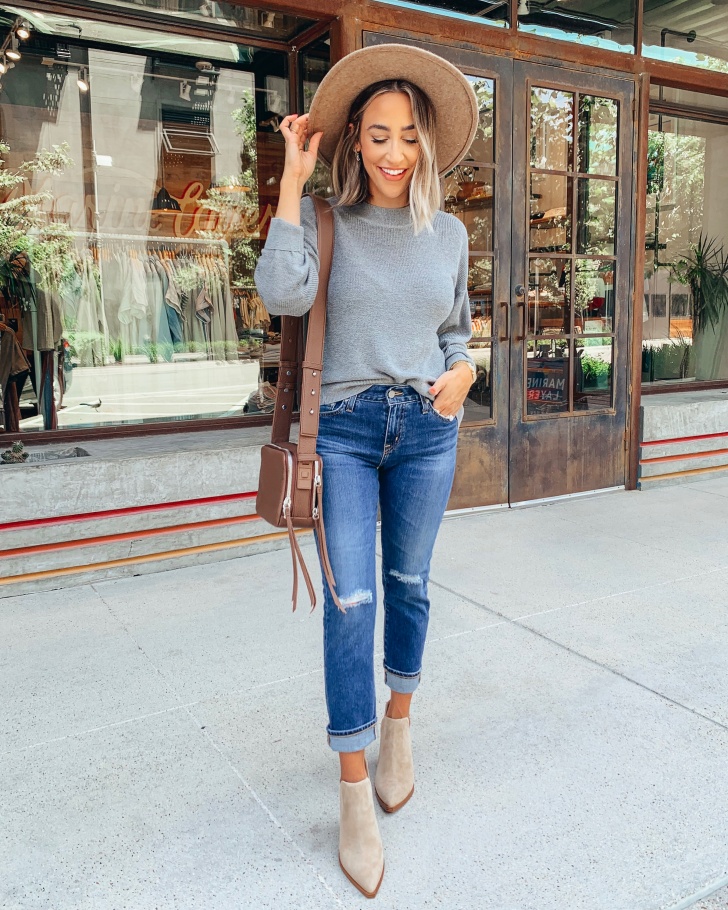 Denim:

AG Skinny Jean:Hands down my favorite simple skinny jean from the sale in my opinion. They're a medium wash, super comfortable, stretchy and ridiculously flattering. They're the perfect day to night jean that you can wear causal or dressed up. Fit: I sized down to a 24 since they are definitely on the stretchy side.
AG Ex-Boyfriend Jeans: For all my girls who aren't a fan of the high waist denim, this pair is for you. Super cute for causal looks and really comfy. Fit: They run TTS, wearing a 25.
Good American Flare: I really don't know how these are still fully in stock! They are so flattering and elongating on the legs. Also the perfect lighter wash denim. Fit: I always size down in Good American, wearing a 24 (00).
Tops, Sweaters, and Cardigans:

Caslon Tee: My favorite simple white tee from the sale!
BP Cardigan: Great affordable cardigan. It comes in multiple colors, I have the brown cattail and love! (xs)
Caslon Cashmere: I love this for travel! It's a cardigan and wrap kind of wrapped up in one. I got the light gray color which is sold out but they have so many other cute colors. (one size fits all)
Madewell cardigan:This is another long-time favorite of mine! They come back year after year and are so cozy and timeless. The perfect classic cardigan! I have a few colors, so I snagged the simple grey this year. It's selling out but still has a few size options left! (xs)
Leith Cardigan: The perfect lightweight transitional cardigan. It comes in five colors, I got the beige oatmeal which is still fully in stock! (xs)

Sneakers and Slides:

Halogen Leopard Sneakers: (8) Animal print is going to be everywhere this fall and these we're my favorite leopard print sneaker option! I love the added height and these give me high end sneaker vibes for a way cheaper price.
Classic Slip On Vans – (7.5 size down half size) I hadn't bought a pair of vans in years and I'm so glad I tried these on! Love them.
Nike Free TR8 Premium Training Shoe: (8) I'm obsessed with these Nike's! I've been on the hunt for a new pair for months now and these are everything I've been looking for! Cute, comfortable, and supportive for working out. I love! I'm shocked these are still fully stocked!
Boots and Booties:

There are so many good boots and booties still in stock!
Vince Camuto Knee High Boot:(8)  I love these but I definitely think they are most flattering on a more petite frame. I'm 5'3 and they hit me right at or a little above the knee. If you're taller, I would go for the Marc Fisher OTK boot!
Steve Madden Jillian Bootie:(8) I love these booties, they look super high end but are under $100!
Paige Studded Chelsea Boot: (8) I love the edgy look of these and where they hit my leg, they are definitely a little higher than an ankle bootie.
Marc Fisher Over the Knee Boot: (8) These are my favorite true over the knee boot from the sale. They are super flattering, the pointed toe really elongates the leg.

Jackets and Coats:
North Face Waterproof Parka: I loved the style and color of this coat but I didn't end up keeping this because I don't need it, if you are in need of a great coat this is is amazing and I highly recommend! (S)
Water Resistant Raincoat:I don't know how "resistant" this is, I wouldn't wear it in a full on downpour but man is it chic. It looks really high-end and is only $118! I got the mustard color, very big this fall, but they also have black, green etc. Fit: runs big, I got an XS.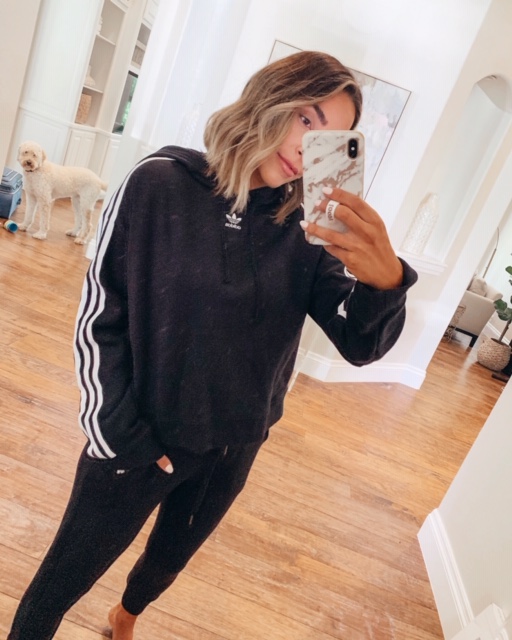 Activewear:
Nike Crop Tee: Love this Nike tee! The crop makes it a super cute fit.
Zella Pullover: I got this in the oatmeal color which is now sold out but I'm loving the grey one too!
Adidas Crop Hoodie: I found this while scrolling through the sale pages and loved!
Flats and Mules:

Steve Madden Studded Loafer – (8) These are hands down my favorite flats that I own! I have these in several other patterns and colors from previous seasons. They are comfortable and hold up great. I cannot believe these are still in stock, grab them fast!
Vince Cross Strap Sandal – (8) Another splurge shoe from the sale that I know I will love and wear for years to come. Snake skin is everywhere this year and I'm loving it!

Accessories:

Michele Watch: These are definitely an investment but sold out SO fast last year. They are so timeless and you'll literally have them forever! I still have and love mine from 2006 and it's so similar in shape to the one on this years sale. I went with the gold this year and I love it! The all good is sold out but the gold and silver one is stunning and in stock!
Diamond Bangle: Another investment buy but the sale is the absolute best time to make these big purchases!
Brown Crossbody: This was my cross body pick! It's amazing quality, creamy leather and so cute for everyday. The brown color is really different and will go with a ton of looks all year!
Ray-Bans Sunnies: I wear the black and gold of these daily! The silver is a fun switch up. Bonus, these are polarized.
Rag + Bone Sunnies: I LOVE these! They are so fun and different than what I have. This is the pair I was wearing on stories that you guys asked about.
Best of Beauty:

Thank you Nordstrom for sponsoring this post. As always, all opinions are my own.