Ask me!
Have a question about beauty, style, family, food, or life? Ask Courtney or explore our reader questions below.
Travels
Accessories
Baby
Family
Home
Life
How old are you?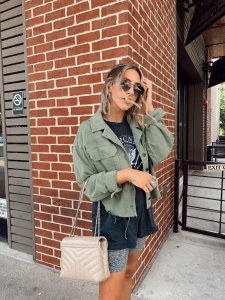 I'm 32 (10/06/1987)
Life
How tall are you?
5'3 and usually a 25 in denim, between a xs/s in most clothes for reference.
Baby
How old is Kinsley?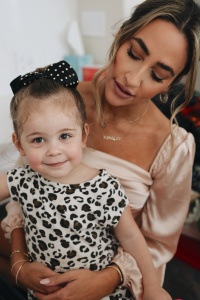 She's two! (09/23/17)
Health + Fitness
What do you do for a workout?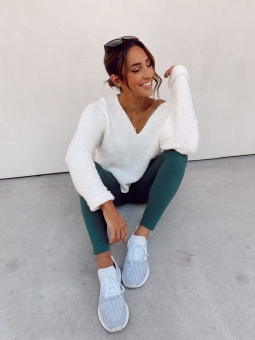 I have been doing BBG for a long time! I use the Sweat app and do those workouts at home. Recently, I've also gotten into Lagree and go 2-3 times a week.
Skin
What self tanner do you use?
I switch it up from time to time, but loving tan 2 hour express in dark is my go-to. I also love to tan-luxe drops to add into my lotion if I want a more gradual tan.
Beauty
What mascara do you use?
This mascara primer has been my ride or die for YEARS. It makes your lashes so much longer, thicker and helps the mascara not flake off during the day. After I apply that, I usually apply this mascara (monsuier big) or this one. I have a whole post on favorites here – including drugstore!
Beauty
What foundation do you use?
Giorgio Armani has been my go-to forever. I also love IT Cosmetics CC cream for daily wear and have a few other favorites I rotate between. If you missed it, check out this post detailing all my favorites for every occasion and why I love them.
Accessories
How do I shop your looks on Instagram?
You can shop one of two ways: You can download the liketoknow.it app in the App Store (it's free) and follow me there (@Courtney_Shields) OR just shop everything from my site directly on the shop page, see it here.
Accessories
Where is all your daily jewelry from?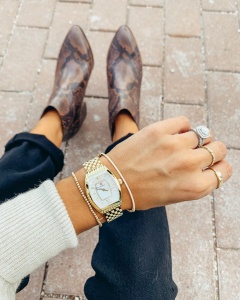 I have pieces from all over, including some family heirlooms, but you can check out this video for my everyday pieces and the stories that go with them.
Accessories
Piercings?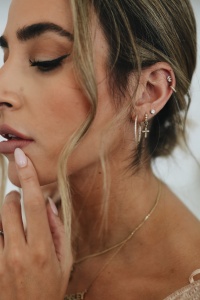 I have a full post all about piercings – how bad did they hurt? Where did I get them? Are they worth it?
Food
Favorite place to eat in Austin?
I have a whole Austin food guide here! I break it down by meal, girls dinners, drinks, lots of good info.
Hair
What do you ask your hairdresser for?
If you want your hair similar to mine, I ALWAYS recommend bringing in photos rather than trying to describe what you want. You will always get a better result that way.
Beauty
What do you ask for when you get your nails done?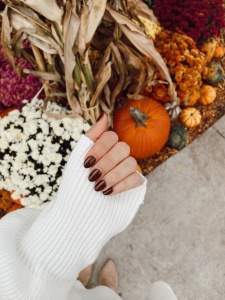 I get dip nails and they are currently a slightly pointer almond shape. Read all about dip nails here.
Food
Trader Joes favorites?
I have a whole IGTV video you can check out here.