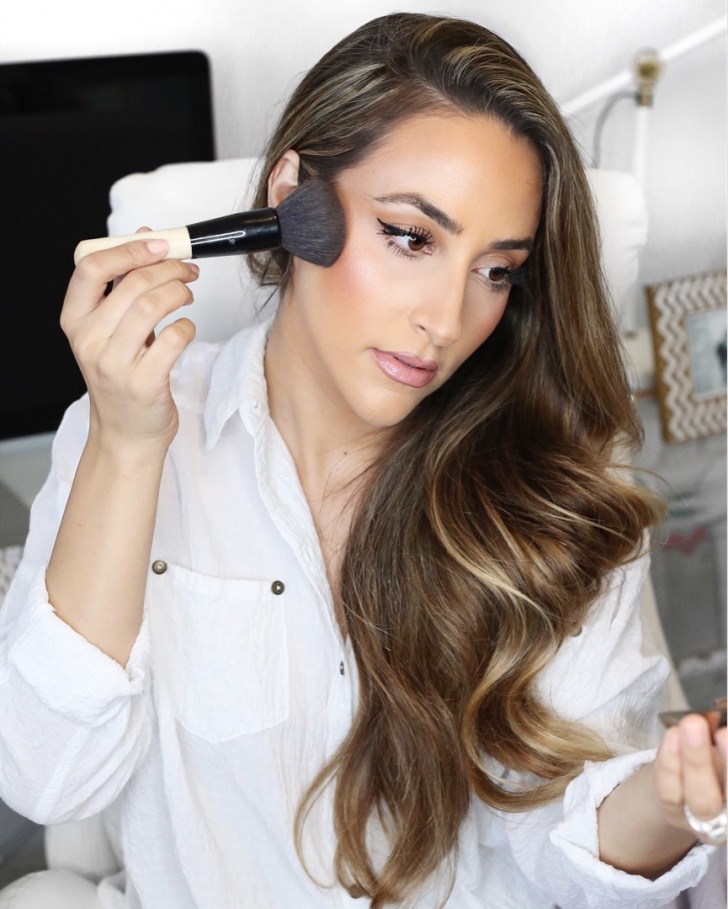 Happy Friday, beauties! When I think of everyday spring beauty, I think fresh, glowy and bronzy. I want a look that will brighten up my face and flatter my features. This look is designed to do just that and I love it so much that I've worn it every single day for about a month straight! I'm that obsessed. It's quick and easy yet adds a bit of everyday glam.  Start to finish this look only takes me about fifteen minutes. Since I like to keep it nice and quick, I double up by using a few products two different ways. This helps cut time and products, which also makes this look perfect for traveling. This look is so universal! It would be beautiful on any skin-tone, any eye color and is perfect for day or night!
Primer
I start off by priming my skin with one of my all time favorite primers – this one by Becca. It gives my skin the most beautiful glow and makes my makeup last all day long!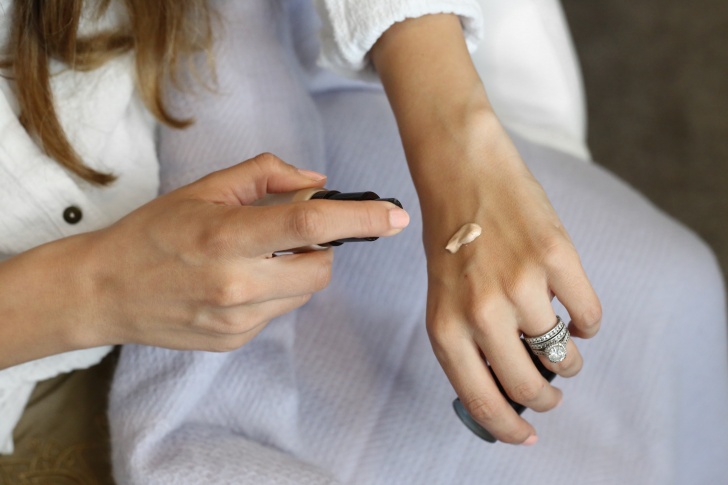 Foundation + Powder
My favorite way to apply foundation is with a damp beauty blender. I love how natural and flawlessly it blends everything together! If you don't already have one, its a total must in my book! I also use this to apply my concealer. One tool for multiple jobs? Yes please! Lately, I've been mixing Giorgio Armani Luminous Silk (my all-time favorite high-end foundation) and Loreal Infallible Pro-Matte. I love making foundation cocktails; mixing two together and getting the best of both worlds. This combo is amazing! Then, I set my whole face with Bobbi Brown's Sheer Pressed Powder. This is exactly what it sounds like, sheer and perfect for setting your whole face. It took me a longgg time to find a powder that would set my makeup but that didn't make it look flat and dull. I love this one! Setting your foundation will help your bronzer, blush and highlight go on really smoothly and keep it from getting choppy. Stay tuned for my other favorite powder at the end! 😉
Corrector + Concealer
I have whole post dedicated to how I like to correct and conceal! You can check it out here. Once I've applied my peach toned correcting and my concealer, I set my under eyes with a powder to make sure it doesn't budge or crease! This one by hourglass everything! I use the middle shade in the palette to set my under eyes and then once all of my makeup is done I dip into all three colors and dust it all over my face. Tip – Take a bit of concealer on top of your eyelids, this will act as a quick eyeshadow primer. Dust it with the Bobbi Brown powder and ta da, ready for shadow!
Bronzer
On an everyday basis (especially for spring and summer) I opt to skip the contour and go straight for the bronzer. The key to adding dimension and achieving that naturally sun kissed look is to layer two different bronzers. This may seem a bit excessive, but totally makes a difference in my opinion! I love warming up my skin with Mac in Global Glow, it has a really beautiful sheen to it that gives such a pretty glow. Then, I top it off with a little bit of this Hourglass bronzer. It's on the darker side (I use the lighter of the two shades), so a little bit goes a long way! Tip – Imagine a three shape on the side of your face and bronze there! I.e. the forehead (around the hair line) the cheeks and a little bit under the jaw.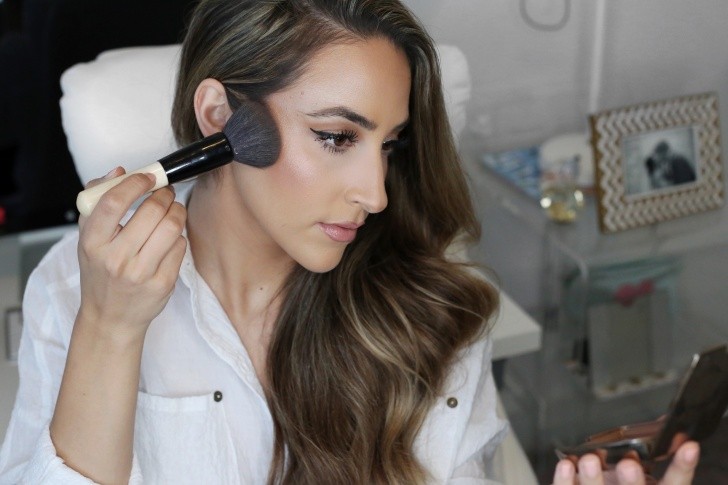 Blush
Time to brighten this face up! I dust this peachy/pink blush by Hourglass on the cheeks and let me tell you, it is ah-mazing and perfect for everyday!
Highlight
This Laura Mercier highlight is hands down one of the most underrated products on the market. I love it SO much! I really can't say enough good things about this product, but just trust me you need it in your life! It gives the most beautiful angelic glow to my skin and is the perfect highlight for day or night. I dust it on the top of my cheekbones, above my brows and the top of my cupids bow.
The Eyes
Ok guys, the eyeshadow is so easy you're gonna laugh! Here's my trick – all I do is take a little bit of the Mac bronzer and dust it in my crease and down onto my eye lid and then I take the Hourglass bronzer and add a little more depth to the crease and that's literally it! So easy and you don't actually need any eyeshadow. I love use bronzers as shadows! It's quick, uses less products and using the same color as you put on your cheeks really ties the look together.
Next, I do a simple black liner with a little wing. I find that this really enhances my naturally almond shaped eyes! If you have rounder eyes, try a thin and simple line right up against the last line to enhance your shape :). Then, I use a nude or white liner in my lower waterline to really brighten up my eyes and make them look big and awake. Totally recommend trying this if you haven't! Lastly, I coat my lashes with my favorite lash primer by Lancome (y'all, this makes THE biggest difference! I swear by it.) and top it with a couple of coats of mascara. You can read all about my mascara routine here.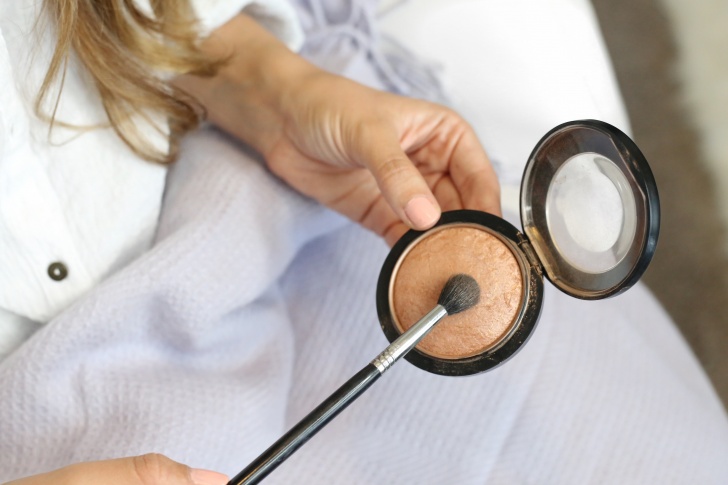 Lips
I've found a new favorite daily lip combo and if you've been following me on Snapchat, you probably already know what lipsticks I'm about to talk bout – the new Bite Beauty Amuse Bouche lipsticks in the colors Meringue and Souffle. You guys, I can't say enough good things about these lipsticks, they are perfection! I love mixing these two colors to get the perfect pinky/peachy nude. Then, I top it off with my favorite lip plumping gloss by Dior to add a little extra somethin' somethin'!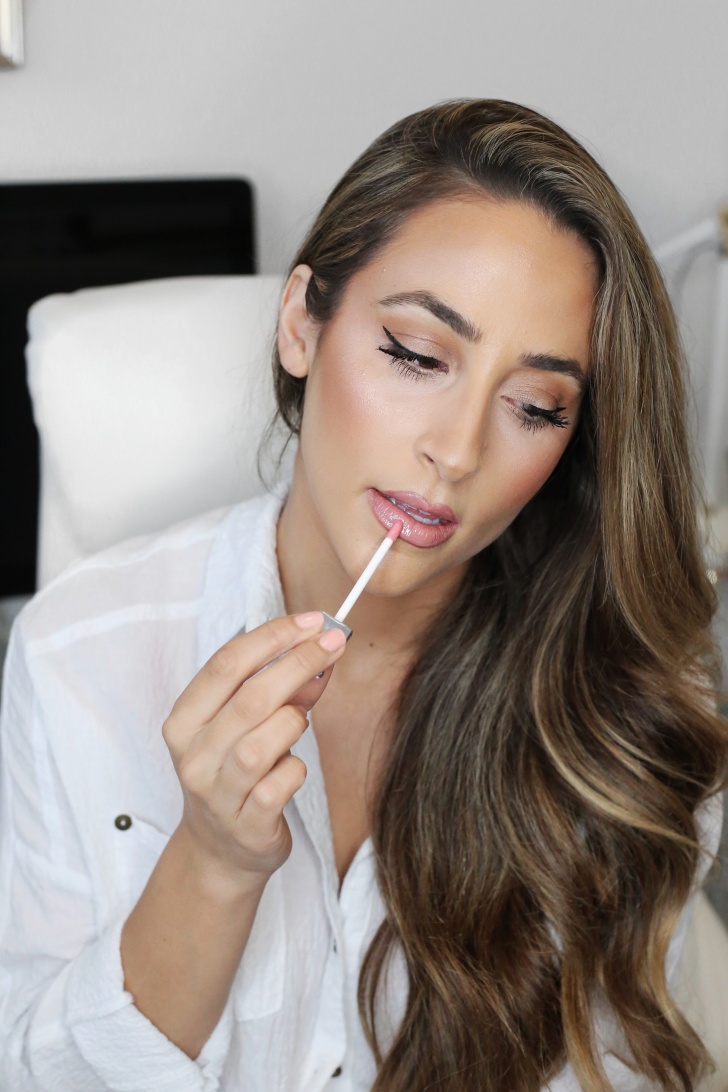 The finishing touches
As I mentioned earlier in the post, I love finishing off my makeup with this finishing palette from Hourglass. If you've been following me for a while, then you already know how in love with this palette I am – I talk about it a lot! For me, this is one of those can't go without products. It just gives the prettiest glow to the skin and I love it so much! Side note, it also photographs amazingly so it's perfect for events, weddings etc. Top everything off with your favorite facial spray to lock everything in. I love this one on days when I want to make sure my makeup last forever, and this one with I want a little extra glow!
Well, that's it guys! I hope you guys enjoy this look and that you have a great weekend! If you try it out, I would love hear your thoughts and see your recreations. Tag me on Instagram or shoot my a Snap 🙂
What are your favorite must have products for spring? xo