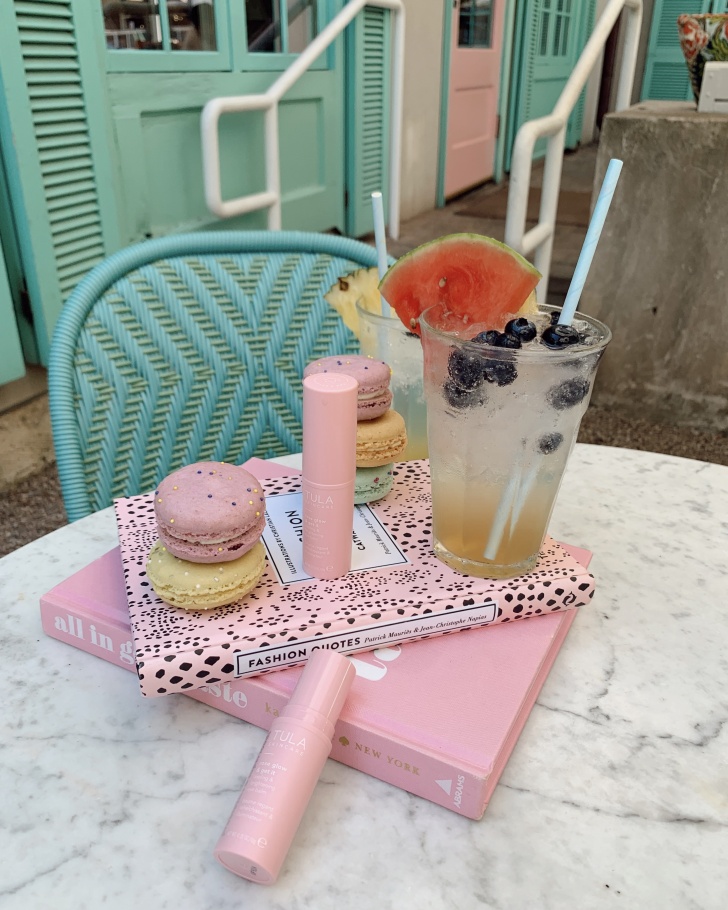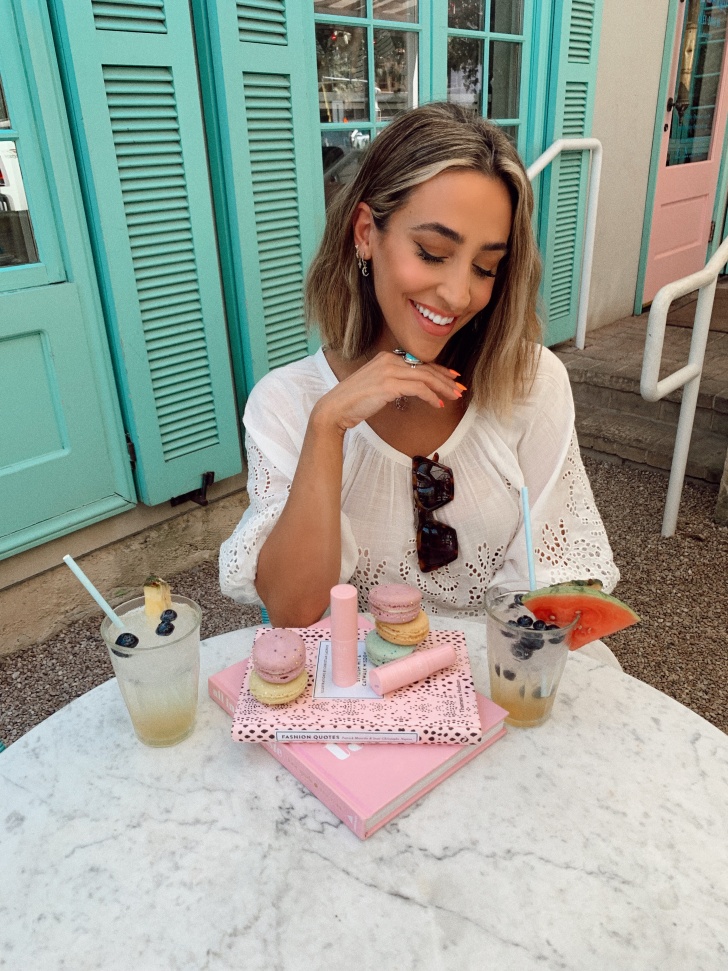 Every once in a while I'll get a DM (from someone new) asking if I really like Tula. Here's the thing…Tula is a game changer for my skin. I've been using Tula in conjunction with a few of my other fave brands for 4 years now, FOUR YEARS.  I fell in love with the brand in the beginning, way before they became as big as they are today. So, the answer is yes, one million percent yes.
Why? All their products are so innovative, they're formulated with probiotics, and most importantly, they WORK. The Tula line has helped keep my skin hydrated, clear, and happy. I  have gotten Alex, my brother-in-law, my mom, my girlfriends, and basically everyone hooked.
I have been so excited by all of their new releases this year: the primer, the sugar scrub, and the cooling eye balm. The original eye balm was such a hit that Tula is launching a rose gold version called the rose glow + get It and it is amazing!
I can't go a day without this stuff. It's that good.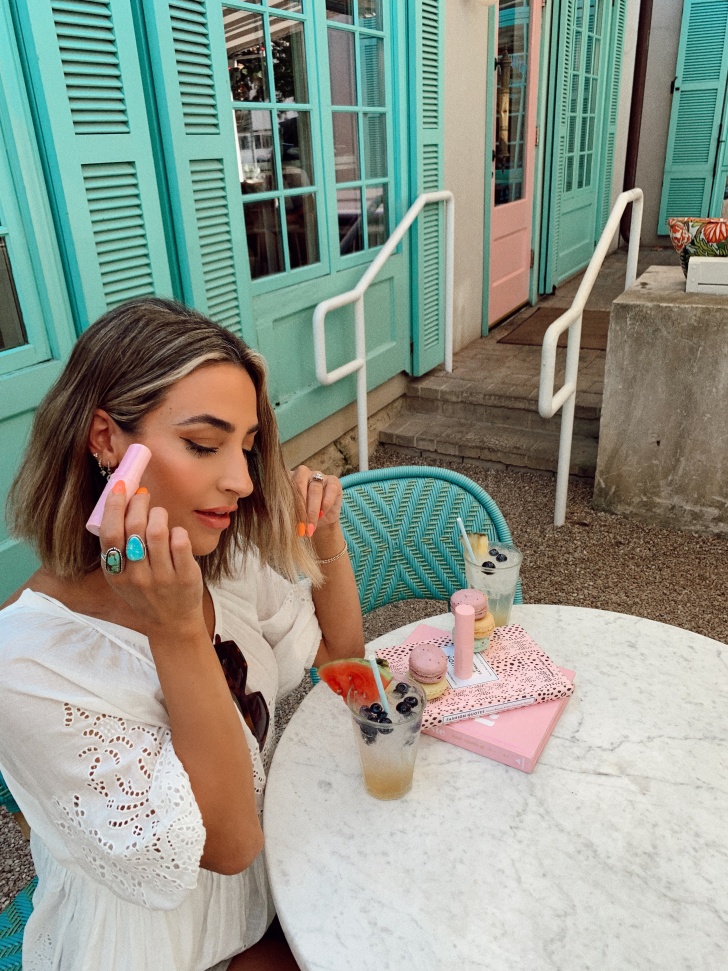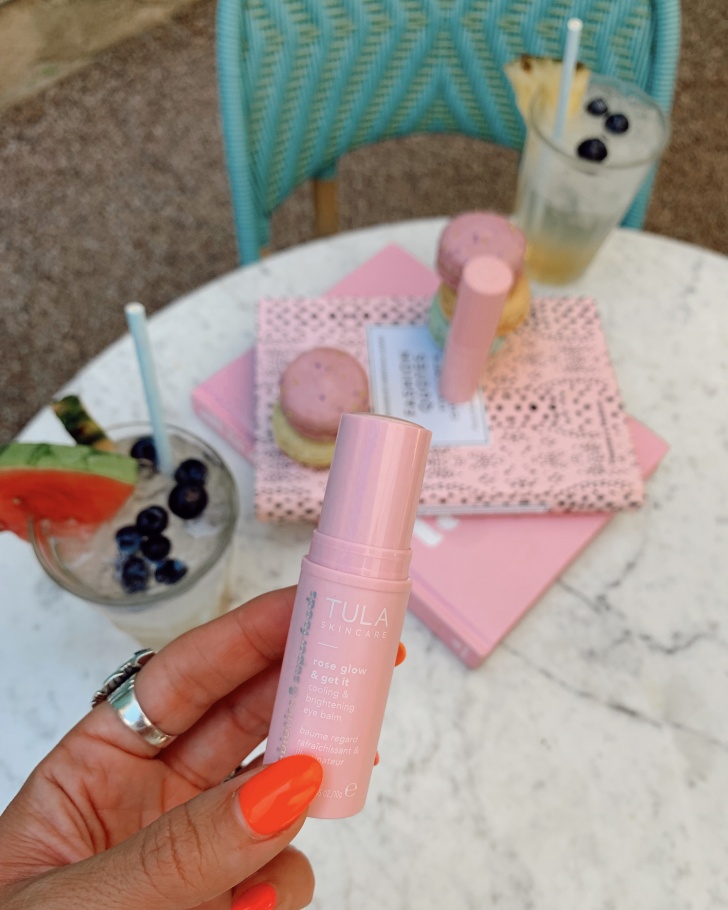 How I use it?
I use it as my eye balm every single morning . It adds hydration, glow (the rose gold version has the prettiest pinky glow) and cools/wakes my eyes up  big time.
This is one step in my beauty routine that I just cannot skip. The original eye balm even made the cut for my travel beauty checklist. I love keeping the rose glow + get it in my purse and applying it mid-day for a little extra burst of hydration. No tired eyes here.
The ingredient breakdown made simple.
It's formulated with a few stand out ingredients: rosehip oil (a plant-based retinol alternative), rosewater (used for hydration), caffeine (tightens and add firmness which helps with fine lines and wrinkles), aloe, apples, watermelon (all adding hydration) and blueberries (rich in antioxidants).
How is it different than the original blue version?
The formulation—the rose glow + get it is formulated with a few new and yummy ingredients. Specifically the rosehip oil (a plant-based retinol that I mentioned above) and rosewater to hydrate and tone.
The color— it's not only the packaging, but the product inside is also rose gold. I typically wear the original blue eye balm solo or under makeup. Whereas the rose/gold color of the new eye balm adds a really pretty glow that I like to wear under makeup, by itself, OR on top as a stick/cream highlight! I use the Rose Glow & Get It specially for that mid-day refresh. I also like to add it to the top of my cheek bones and cupids bow for an extra glow.
If you want to know all about my favorite Tula products check out my blog post Best of Tula.
use code: COURTNEY for 15% off your order (does not apply to items on autoship)
Thank you Tula for sponsoring this post. As always, all opinions are my own.