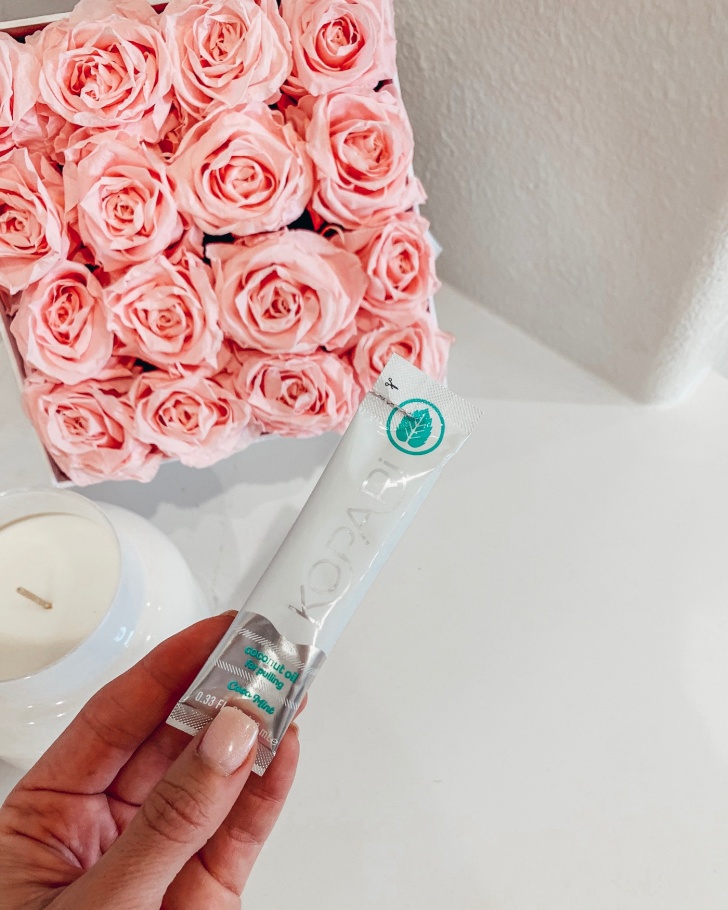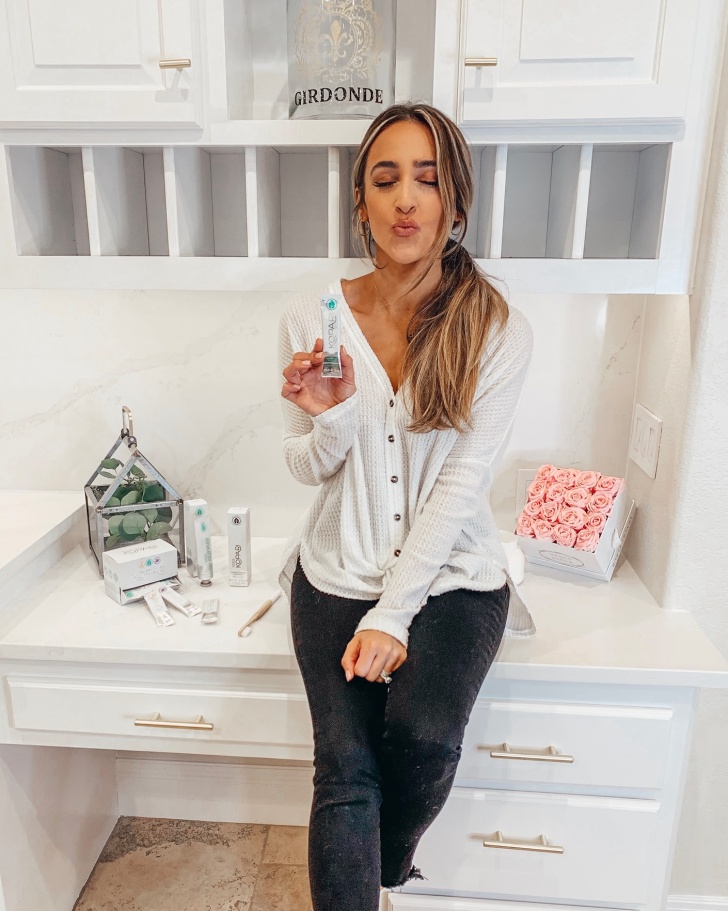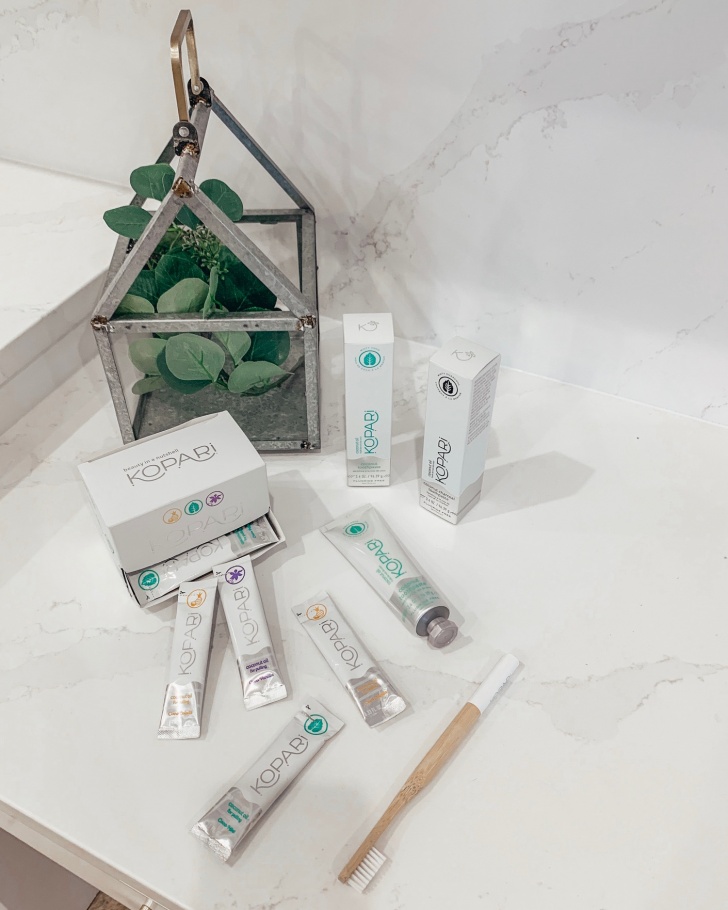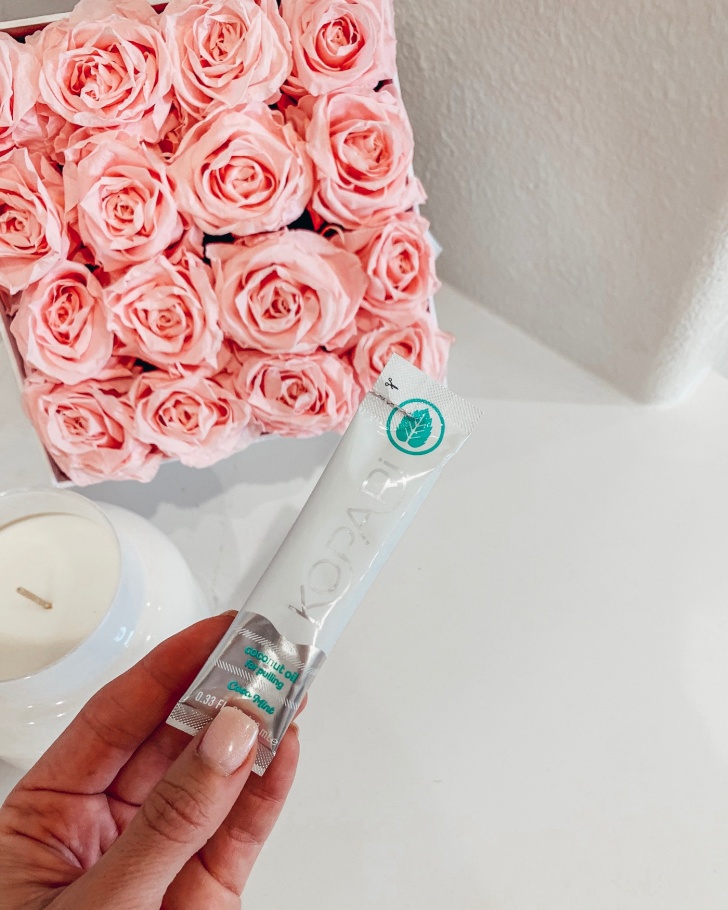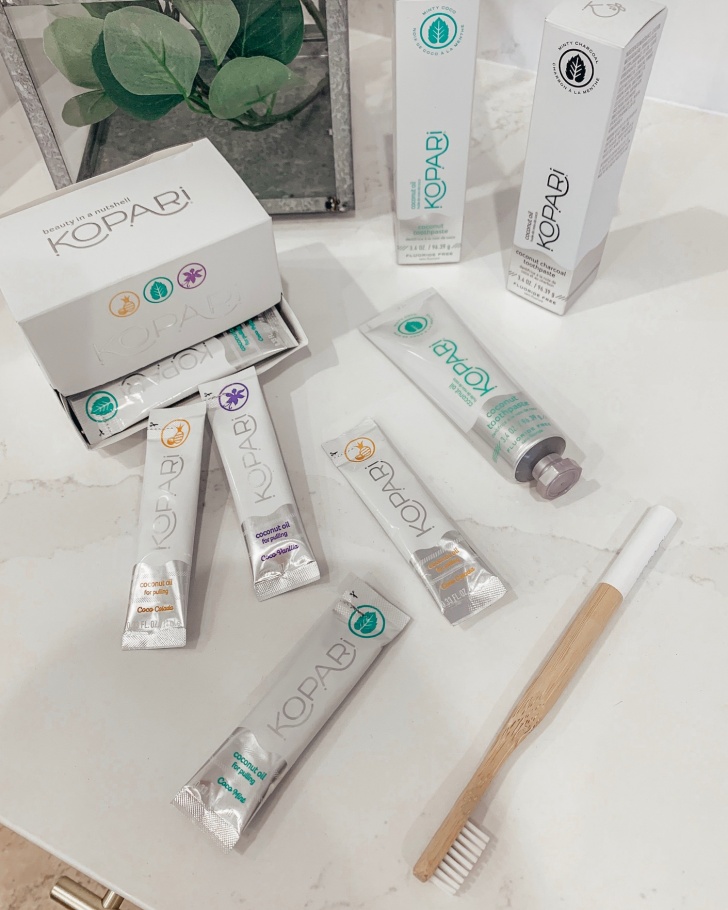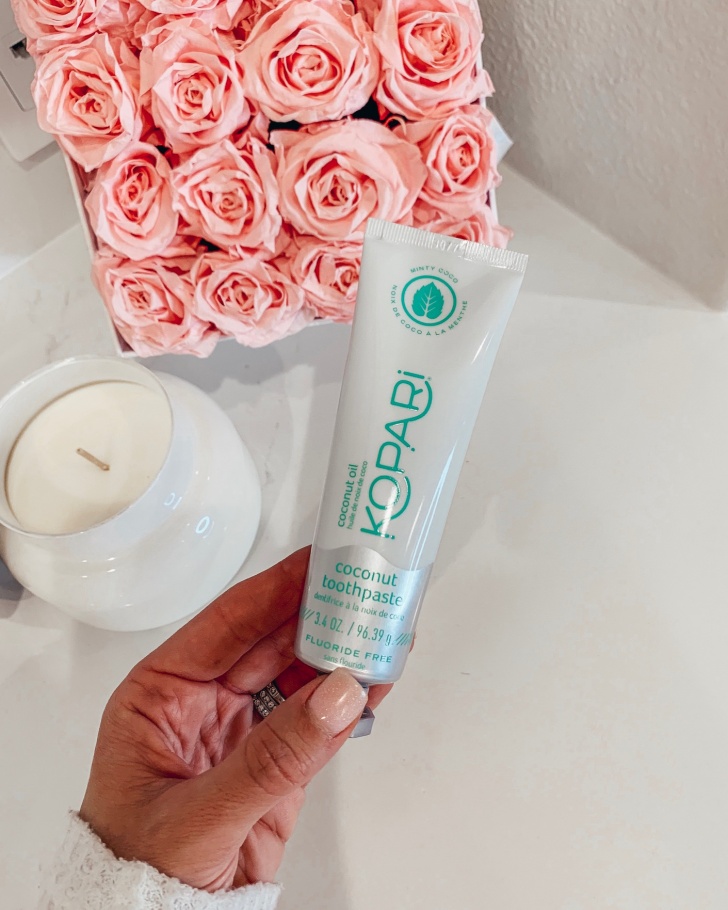 2018 was the year for trying clean products in #SweetHomeAlbright and now that we're getting into 2019 I feel more motivated than ever to continue to clean up my daily routine when and where I can.
You guys know I opted for Kopari's coconut deodorant last year and LOVED it. You can read up on my experience here. I've been doing my research on other daily products that contain chemicals or less than ideal ingredients and learned about the chemicals in toothpaste. Most commercial brands of toothpaste contain SLS and hydrogen peroxide (things we definitely don't need entering our bodies multiple times a day.) I had been exploring natural toothpaste options but had never found anything that I loved or gave me the same "fresh" feeling that my normal toothpaste does.
About an hour into a not so interesting movie, I started scrolling Pinterest for natural teeth whitening/cleaning remedies and came across oil pulling. You basically swish coconut oil in your mouth and it results in whiter teeth, cleaner gums, and fresher breath. I figured I had to give this a try as I'm already obsessed with all things coconut oil.
About this time, Kopari reached out and asked if I wanted to try their new products, I of course said YES since they never seem to let me down haha. Their newest line? Coconut oil for pulling, coconut toothpaste, and coconut charcoal toothpaste!
This is a game changer y'all.
I'll start with the coconut oil for pulling. Kopari created individually packaged pouches for us "always on the go" people! As you're reading this I'm probably en route to our family vacation and you better bet I've got several of these bad boys in my bag. It really is as easy as it sounds, you just squeeze the contents from the pouch into your mouth, swish for 5-15 minutes, spit, and brush your teeth. The idea of swishing plain coconut oil for up to 15 minutes sounds pretty gross, but Kopari made theirs yummy flavors! They have Coco Colada, Coco Mint, and Coco Vanilla. Tip, do it while you're watching a show or something to make the time fly.
Next up: The coconut toothpaste. It whitens teeth, fights plaque and freshens breath naturally. It's also fluoride-free and uses a clean alternative called Hydroxyapatite to strengthen and repair the enamel on your teeth. You may have never heard of Hydroxyapatite so here's the run down, it's a natural mineral from Italy and our teeth are made up of 97% Hydroxyapatite. The things we do in our day to day life (drink carbonated drinks, eat acidic foods, etc.) lead to cavities, tooth decay, and sensitivity. By using a toothpaste that contains Hydroxyapatite you are whitening your enamel, reducing hypersensitivity, and removing plaque. If you're wondering why you should opt for a fluoride free toothpaste, here's why: Fluoride is a potential neurotoxic ingredient that can contribute to organ toxicity and can accumulate in the body over time. These facts are alarming and a huge reason why I've made the switch to natural toothpaste.
When I saw that Kopari also came out with a charcoal toothpaste, I had to try it!  It's like normal toothpaste but, it's black. It seems crazy but you guys, this stuff works. Not only does the charcoal in the toothpaste whiten your teeth, it also captures toxins that lead to staining and bad breath. It's pretty much a full mouth detox.
You guys know I always try to get you discounts where I can, so Kopari is offering 15% off your first purchase or first time subscription with code: BYOBEAUTY15
Thank you Kopari for sponsoring this post. As always, all opinions are my own.