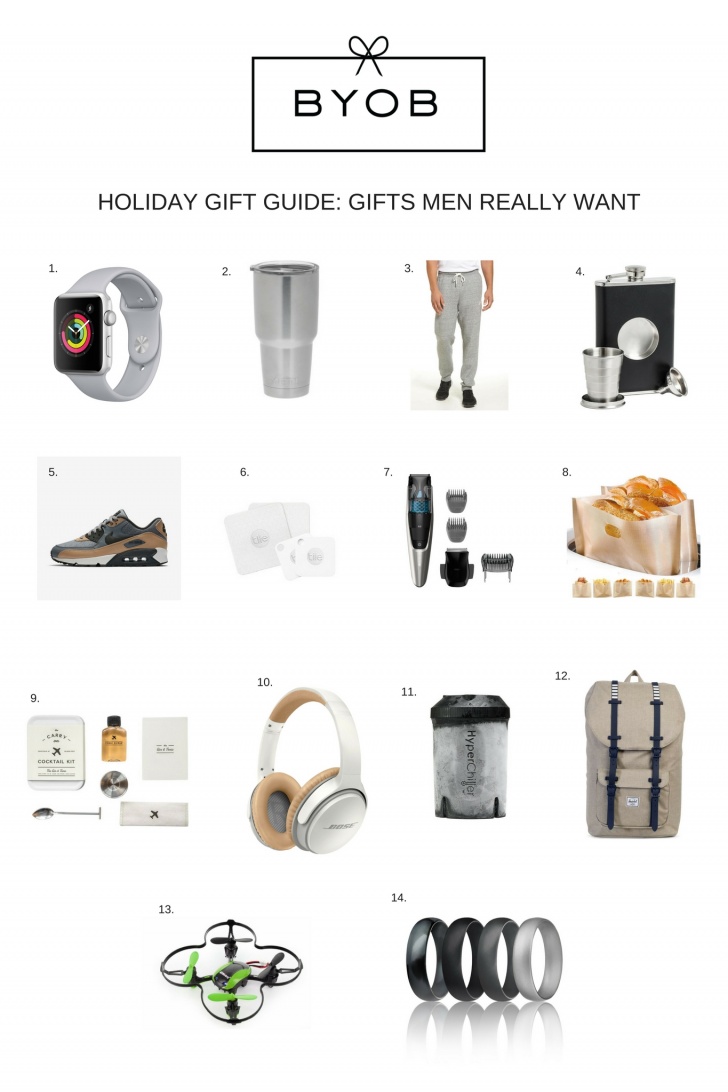 Hey Guys!
I am so happy Courtney invited me back to do a second "Men's Gift Guide!" We had such great feedback from the video last year that I knew she would ask me back, but don't tell her I said that… A guy can only get so many ties, wallets, and belts before he loses his mind so let me share with you the things I found this year that I think are cool and interesting.
I decided to start off with a fairly safe option. Everyone knows about Apple Watches, and (before I got mine) I used to think they were old news. However, after Courtney gifted me one, my Apple Watch has become my favorite option. It has so many features that I enjoy using like tracking our distance/time on stroller walks or previewing my texts.  This is especially great when I'm in the operating room and can't constantly be on my phone the whole time.  Being able to see if a text can wait or not by quickly checking my wrist helps keep my mind at ease. The ability to accessorize Apple Watches has blown up as well and you can make it look as sporty or luxurious as you want with different bands.
With the number of times Yeti's design has been ripped off, you know they have something special. They have created the brand for all things cooler-related, and we have really bought into their products. This tumbler is a staple in both of our daily lives. I have also added an additional handle attachment that we both got for when we are at the beach (now we use it all the time). These things can get HOT when they're left in the sun all day, yet somehow the inside still stays ice cold. Amazing!
Okay, I feel like joggers, Apple Watches, and Yetis are sort of like Bitcoin. If you haven't started collecting yet, you need to jump onboard! Honestly, I had been resisting the jogger look for a while because I have large thighs and preferred the more comfortable look, but I'm glad Courtney convinced me to take the plunge. These have a much more flattering fit than I thought, and are quite enjoyable to wear. I think they look really good paired with a nice new set of sneakers…
I'll tell you what, unless you're Courtney, you better not put your mouth on my flask. The older I've gotten, the more of a germaphobe I have become. The telescoping shot glass helps me feel better about my decision to share my limited supply with someone else…just so long as they don't fill it all the way up!
Ahhhhh AirMax 90s. These sneakers have been around, and around, and…around for decades and they keep coming back because they're just so solid. I have owned a bunch of pairs in the past, and I will keep buying them.  However I have drifted away from the more extreme colors. They have recently released quite a few different versions that look "athleisure" and I think they are really cool because you can dress them up or down. They're those perfect tweener colors that can be worn with almost anything.

Raise your hand if you've ever misplaced your keys or wallet. If you still have both hands down, you're a liar and we all know it! For those of you (Courtney) that tend to misplace your keys or wallet, I stumbled upon this brand, Tile. Please read this through because these are SUPER cool! They have a variety of key chains that sync up to your phone. If you're within 100-feet of your misplaced item, you can send a signal to your Tile that beeps to help you find your lost item. There is no charging because they come with a battery that is under warranty for a year once you activate it. They have versions that are waterproof, stylish, and even super thin. The thin versions are for slipping into your wallet, because there are some of us out there *cough cough* that can't remember which purse they left their wallet in last. Another feature is that if you lost your item out and about, anyone else who has the Tile app (which constantly runs) on their phone will unknowingly be searching for your item once you mark it as missing. They won't know that they've found your item, but once they get within 100 feet of your missing keys, you'll get a message that lets you know someone has found your Tile. Just in case you were wondering how many people actually are out there who can help you, there are over 3,000 people with the Tile app within a few miles of my house. The last, and maybe most valuable feature, is the Tile also works to help you find your phone. If you misplace your phone, you can simply press the button on the Tile and it will send a message to your phone to start playing sound even if it is on silent! So cool!
This one is partially for you ladies. If you've got a guy out there with a beard, this is a pretty cool trimmer. It has TONS of different lengths and head options, but the best part is that it has a vacuum to help keep control of those shavings we tend leave around. I tried this product out myself, and I would say there is some technique to not overloading the vacuum so better to go a little length at a time to keep that sink clean. It doesn't claim to get all the loose hair, but I definitely saw a big difference in cleanup, and I think all the options are really appealing to someone maintaining a pretty serious beard.
I had never seen these before, but I wish I knew about them in college. They are nonstick and reusable. What's so special? Well you can assemble your grilled cheese, put it in the bag, and toast it without all the mess in the kitchen or even without any crumbs in the toaster! Sounds like a win to me. Stocking Stuffer approved.
I thought this was a cool idea for the ladies to give, because let's face it, on average you guys are more thoughtful then men could ever hope to be. The Carry on Cocktail Kit should be thought of as a nice gesture more than anything. To comply with FAA regulations, it doesn't come with any alcohol. It has a recipe and ingredients to make the labeled cocktail (several options including Old Fashioned, Bloody Mary, and Moscow Mule), but you'll still need to buy the alcohol on the plane. The reason I put this on here is because I thought it might be a good gift for someone who is traveling abroad or on a honeymoon as each kit comes with enough ingredients for 2 drinks.
I talked about these last year, but honestly I hadn't yet ponied up the dough to buy some, until Kinsley came. I bought some for Courtney for her birthday and wound up bringing them to the hospital for the long labor process. She absolutely loves them, but there's someone else who has been using them constantly…he he he. There's just something special about being able to do chores and things around the house to the tune of your favorite music while not being tethered to your phone. The feel and sound of the headphones is nothing short of glorious and I recommend to anyone and everyone.
This thing is sooooooo cool…no pun intended. If you've got a man who likes iced coffee, but doesn't like to wait for it to cool down, this will chill hot coffee in 60 seconds! I don't like iced coffee so I use mine for chilling whiskey, and it can also be used to chill white wine. It is really easy to use and is a pretty neat gift at the same time!
Courtney gave me one of these top-loading Hershel backpacks last year, and I talked about it in our gift guide, but I feel like I use it every time we travel. If I have a trip with a 1 or 2 day turn around (without Court) I can typically fit everything I need inside. Also, I find myself noticing Hershel bags all over the airport, and I feel like we are in a special club together or something. Their products just look so good and the quality is awesome as well. I recommend to everyone I can.
This thing is a blast! It is small enough to use inside the house, but I recommend keeping it away from anything breakable until you have mastered the controls.  My brother-in-law and I played with this thing for the entirety of his Christmas break two years ago, and the only reason we put it down was so the batteries could charge.  He did some research for me and this is the most durable Nano drone he found. I have to admit this thing has taken a beating and still works excellently! (Tip: I recommend getting a few extra batteries if you can because they take 45 minutes to charge and you can only play for 8 minutes before it dies again.  Additionally, we did have a drone that smashed into a wall and one of the blades stopped working, but it was a very quick and painless exchange process through Amazon)
Does anyone like when their significant other takes their wedding band off? Negative.  However, when I play basketball the referees make me as it is part of the league rules.  In order to combat these rules, Courtney got me some of these silicone wedding bands to wear and they have been working flawlessly.  I use them when working out as well and they feel great!