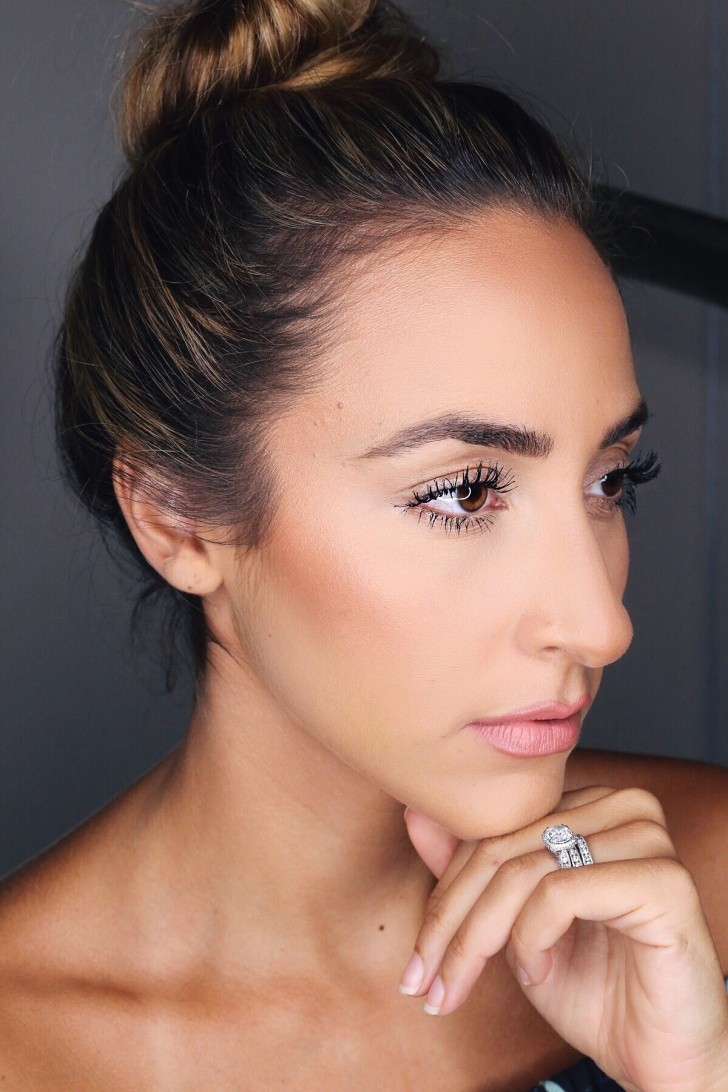 I've always been a lash girl. To me, lashes are just so feminine and help really open up your eyes and brighten up your whole face! This summer I've been opting for a more natural makeup look. Partly because it's so hot here in Austin, and partly because I've just been loving the look of less. I've been keeping it simple with the "Easy + Flattering 10 Minute Makeup" that I shared last week on the blog. For that look, I skip the eyeshadow and eyeliner and really play up the lashes! If you've been following me for a little while now, then you know that I love interacting with you guys. I asked you guys what you wanted to see and lashes topped the list!
So, todays post is about all things lashes. I'm sharing what products I use, how I use them, and any tips I have for long, luscious lashes! I think you'll be surprised how easy it really is.
Let me start off by saying that I do have long and thick natural lashes, which of course helps. So, while I know that it's all relative to what you start with, these steps really make impact.
STEP 1 / PRIME TIME
This primer is my #1 key to lash success! I really can't say enough good things about it. It's one of those products that I've purchased more times than I can count and plan to continue to purchase until something else blows me away! I've been using this one for years, it's my tried and true. It does wonders for my lashes and when I skip this step, I can notice a major difference.
What it does: It really helps to add both length and volume to my lashes. It also helps them curl and stay lifted all day. I used to use an eyelash curler and have totally ditched that step all together which seems to have really helped the health of my lashes.
How to use it: This is my very first step. I start my lash routine with this primer and coat my lashes from root to tip about two times.
#BYOBTip – wait about 30 seconds after you apply the primer before you go in with mascara. I've learned that this really helps allow the primer to get tacky and really do its job! If you apply the primer and then apply to mascara immediately after, it tends to just all kind of melt together and create kind of a slip and slide situation that defeats the purpose!
STEP 2 / THE MASCARA COCKTAIL
I mostly stick to drugstore picks when it comes to mascara! Y'all know that I am a big fan of high-end makeup. I'm definitely a believer in splurging on quality products when they are amazing, but mascara is just something that I have always loved buying from the drugstore! For the most part, they are just as good as most high-end mascaras that I've tried and hey, if it ain't broke! There are a few high-enders that really wow me (like this one) but for the most part, I stick with drugstore and love the results.
Product: Lately, I've been mixing this one by Maybelline with this one by Loreal (with the curved brush) or this one by Maybelline.
Technique: Over the years, I've developed a technique that I like to call the mascara cocktail! Basically, I layer two different mascaras. Why? Mascara's are made with different formulas, to benefit different types of lashes. Some are made to lengthen, some are made to thicken! Some are what I like to to call wet formulas and some are a little more dry.
My motto: why not get the best of everything? So, I mix!
The important thing when it comes to the application is to really coat every part of the lash! I start at the root and slowly wiggle the wand back and forth upwards, until I reach the tip of the lash. Then, I do one quick coat on top of my lashes! I only do one here, because I like to keep my lashes going up so that they stay nice and curled. I'm not too careful with this step because my lashes are so dark, but if you have blonde eyelashes, really make sure that you're covering them completely! Once I've coated both top and bottom one time, I'll go in again a few more times to really add a little somethin' somethin'!
Head over to my Snapchat (CourtShields87) to see this technique in action later today!
LASH CARE TIPS
1 / Treat your lashes right! – Use a makeup remover that is easy on your lashes and doesn't tug at them. If you've been following me for a while, you already know I only use Ponds Cold Cream!
2 / Avoid curling them if you can – Consistently crimping your lashes just weakens them, so ditch the curler if you can. If you're totally attached to curling them, maybe trying only curling them every other day! Anything will help.
3 / Coconut oil – coconut oil really helps to condition both you hair and lashes! I love running it through the ends of my hair as a mask. I usually leave it in for about an hour and then rinse.  I also add a touch to my lashes when I feel like they need a little bit of extra TLC. I don't do this to my lashes often, but if you're lashes are in recovery mode, try this!
That's it for todays lash 411! What are you tips and tricks for long and healthy lashes?