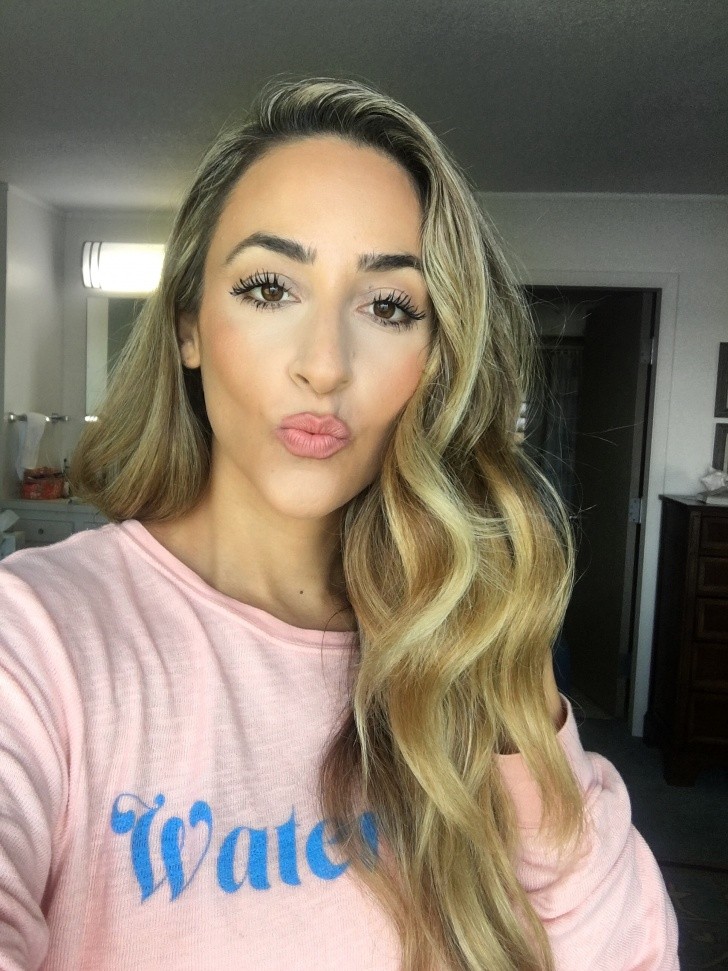 Hello from sandy paradise! If you guys have been following along on my Instagram and Snapchat, then you know that I'm currently on a family vacation in one of my favorite spots – The Outer Banks, NC! My Mom's whole side of the family is from Virginia, so we've grown up coming here! We hang out on the beach all day, play games at night and get in lots of good old fashioned family time! Unfortunately, Alex couldn't come because of work (I miss him!), but besides that, I've been having the best time. There's just something about a vacation that really inspires me and re-energizes me in the best kind of way!
I went on Snapchat (CourtShields87) on Saturday and did a quick GRWM on the look I've been wearing everyday while here, and I had an overwhelming amount of y'all that wanted to see a full blog post so you could re-read it and try it at home, so here you go!
I also asked you guys if you'd rather see the post sooner (aka. today) with lower quality iPhone photos (since I'm here on vaca) or if you'd rather wait and you all said you didn't mind and wanted to see it ASAP! So, your wish is my command. On that note, a quick PSA: Please excuse the poorly lit selfies haha, I had to work with what I had!
I've been wearing this look both day and night while on my trip, but honestly think I'm going to continue to wear it all the time when I get home too! In my opinion, it's the perfect everyday look. It would be great for school, work, or really whatever your day may hold. It's very versatile and you can easily change it up with different lip options! I love that it's super quick, easy and really flattering. The goal of this look is really to just enhance what your momma gave ya! You feel me?
Lately, I've been using and loving this primer! I just spray it a few times all over and it really prep's my skin nicely and its super quick and refreshing feeling for summer!
You guys have heard me rave about this CC cream a million times, but I love it that much! It's my everyday go-to, especially when I'm going to be in the sun because it has SPF 50. I either wear shade 'Tan' or the 'CC+ Bronzer' in the summer. I like to start by dotting it on my face and blending it in with my clean fingers. Once I have blended it in most of the way, I take my damp Beauty Blender and finish really working in into my skin!
Step 3 / Correct + Conceal
I use this corrector to get rid of my dark circle (if you don't have a lot of darkness like I do, then you can skip this part) and then, I use Maybelline Age Rewind concealer in a triangle shape under my eyes to really help brighten up my face. I also use it to highlight a bit – on my chin, in-between my brows and a tiny bit on my eye lids to cancel out any darkness.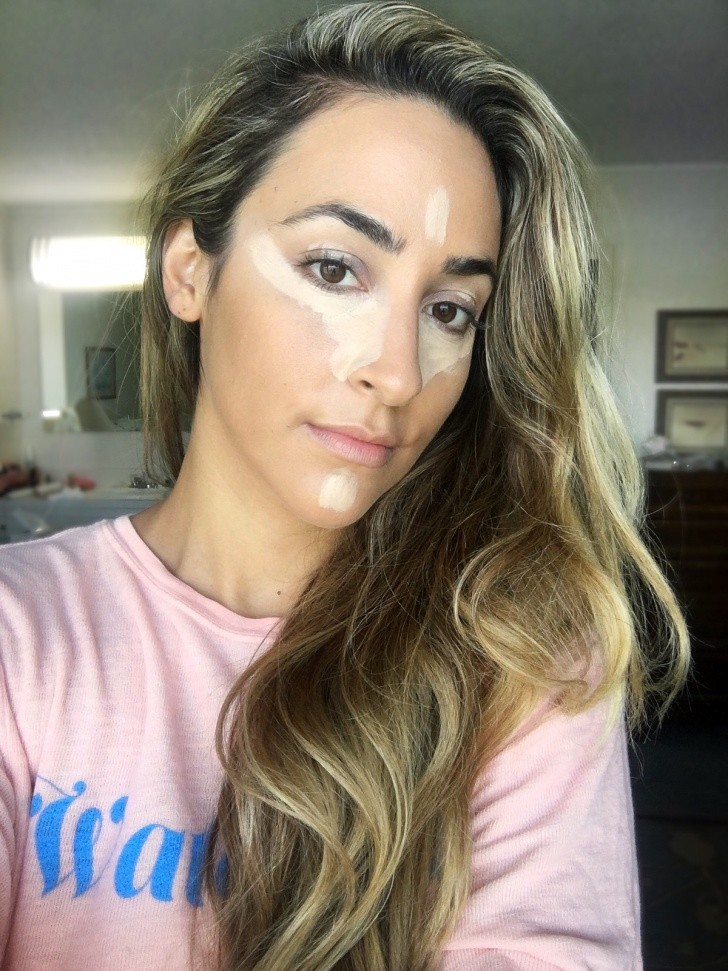 Step 4 / Set it + forget it
This is my absolute favorite setting powder at the moment. It's pricey, but worth every penny in my opinion! It leaves my skin looking so airbrushed and soft. I use it to lightly set my under eyes and the rest of my t-zone (basically everywhere that we put the concealer). If you're more on the oily side, use it to set your entire face! It's really finely milled, beautiful and doesn't look cakey at all!
I take a little bit of my favorite liquid bronzer on the back of my hand, dip my damp beauty blender in it and dot it on my face in the shown areas below: cheeks, around the top of the forehead and a bit on the nose, to warm up my skin. Then, blend away! I use the same damp beauty blender to really work it into my skin and help it look like a natural sun-kissed glow. I also love this liquid bronzer because it has SPF 30! Perfect for everyday use or beach days!
Then, I go in and lightly set the liquid bronzer with a powder bronzer to really lock it in and make sure it doesn't budget all day! I've been totally obsessed with this one lately (shade: 'Bronze').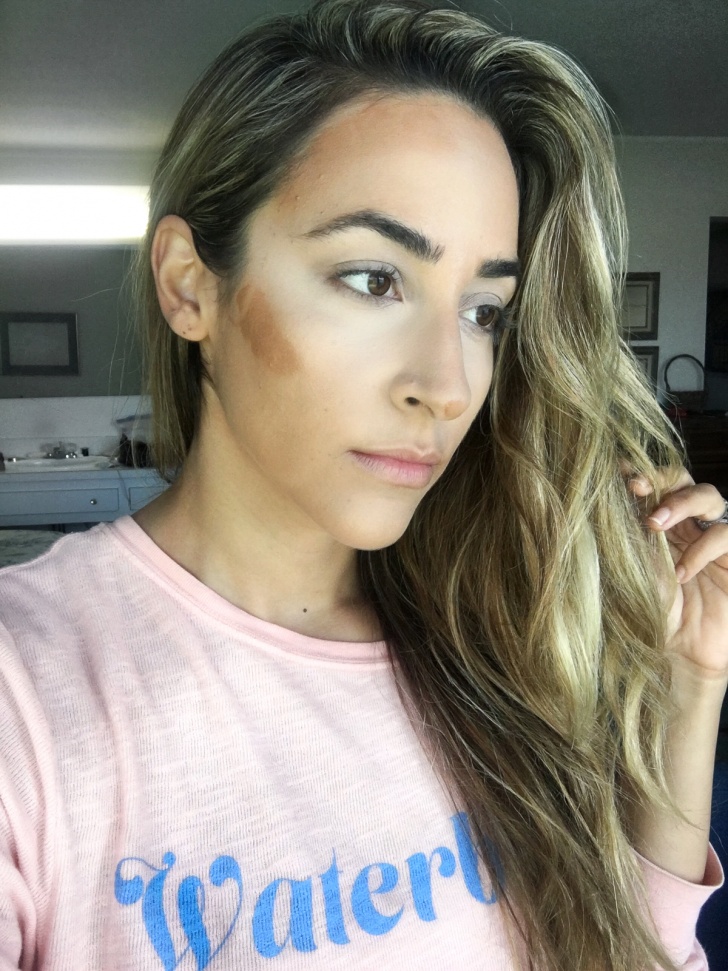 Set 6 / Blusher
I tend to change up my blush, but in my Snapchat GRWM, I used "Luminoso" by Milani! It's super affordable, highly pigmented, blends like a dream and is the perfect pinky/coral shade to add a little pinch of color!
Set 7 / Mascara
I always bring my lashes with this primer. I've gone thought about 10 of these bad boys, it's a totally must-have for me! Lately, I've been topping it off with Maybelline Lash Sensational.
Set 8 / Lips
If you've been following along on Snapchat then you know I've been obsessed with the NYX lip liner in the shade "Ever (SPL828)". It's my absolute perfect shade and has been a total go-to lately. I topped it off with NYX's Soft Matte Lip Cream in "Buenos Aires".
That's it for this super easy 5-10 minute makeup look! Do you guys like posts like this?