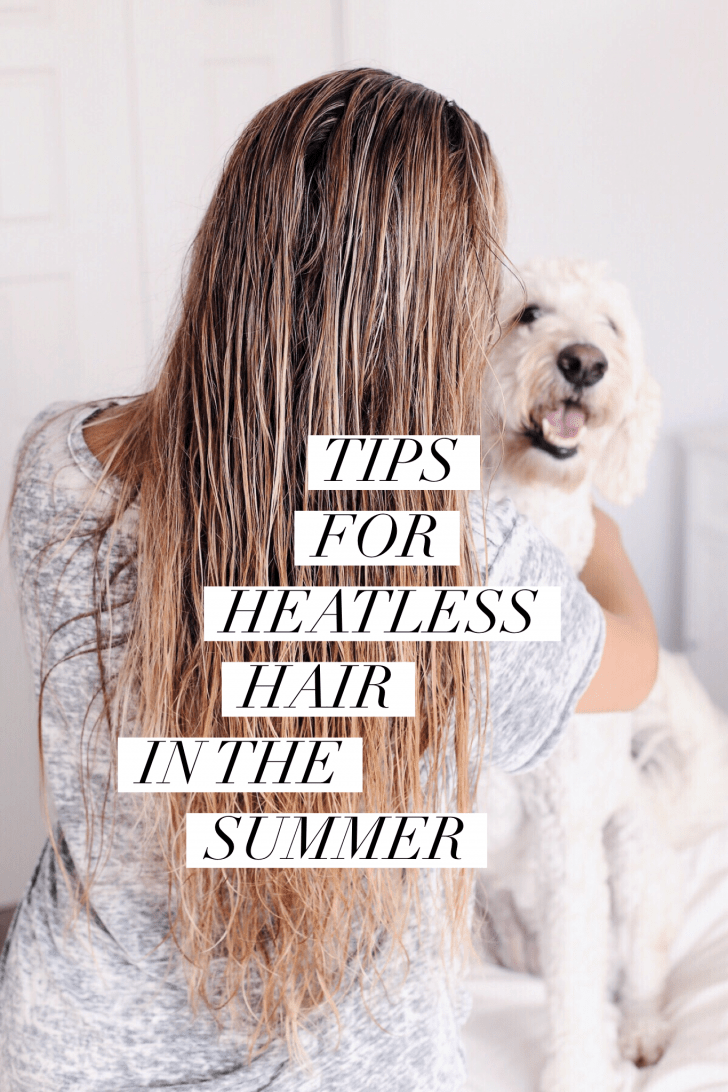 When I think Summer #HairGoals, a few things make it to the top of my list – healthy, beachy and effortless. If y'all are anything like me, you want your hair to be on point but don't necessarily want to spend the time to blow dry and/or curl it on a daily basis. Because, let's be real, ain't nobody got time for that! Don't get me wrong, you guys know that I love a great hair day, but it's so important to have days when you don't heat style your hair! Not only for time reasons, but also to help maintain the health of your hair.
I did a whole post on my haircare routine and tips for having healthy hair, you can read it here, but no-heat days are defiantly a must for me! On no-heat days, I usually like to do one of three things: Braid, bun or beachy waves.
KEYS TO HEATLESS HAIR SUCCESS
1 / Use quality products
It all starts in the shower and in my opinion, shampoo and conditioner are some of the most important and most under-rated parts of a good hair routine! I used to think "it's just shampoo and conditioner, I'm gonna wash it out!" but boy was I wrong! A great shampoo and conditioner are major keys to hair success. I use this and this to help keep my blondes a pretty shade and absolutely love them. I also love this and this to add moisture! So, if you don't have blonde (or what I like to call my 'bronde' aka. brown/blonde) hair, then I'd go with this and this. They can be hard to find in stores, so I recommend  ordering them online! And yes, they're pricey but totally worth it in my opinion!
Once I've showered, I always use this oil throughout my hair, especially concentrating it on the ends where I need the most hydrations! Then, I let it dry most of the way and spray either this or this to add a little texture and really help achieve that messy look that I like without leaving my hair too dry or sticky.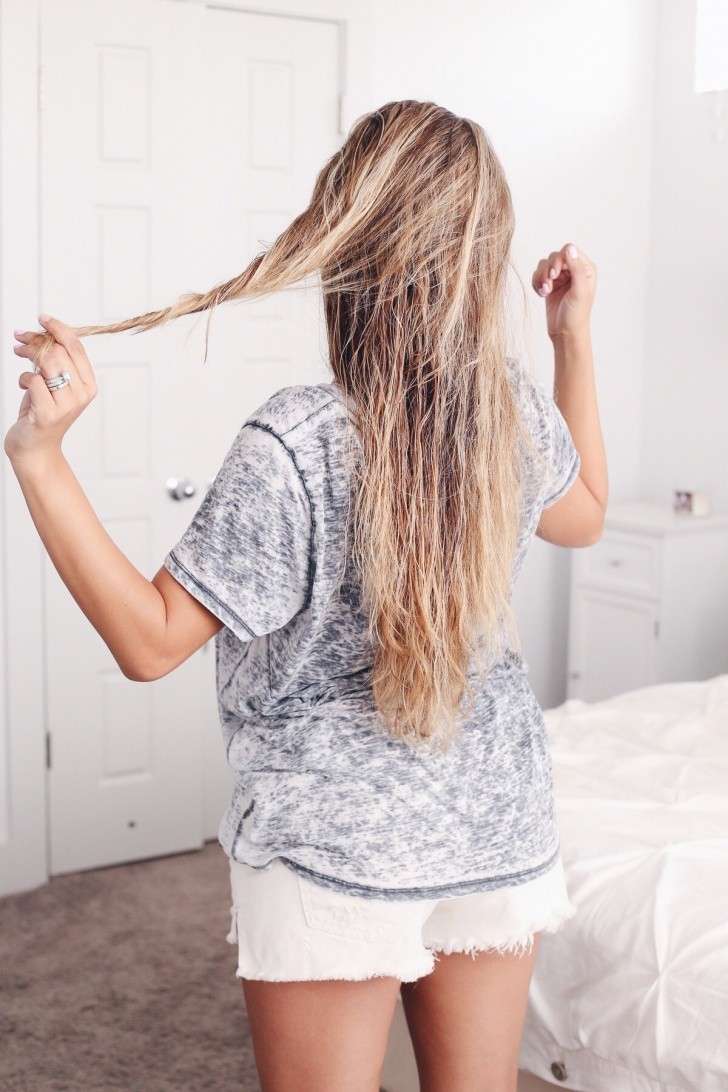 2 / Let it dry inside
Years ago, I learned a little trick that I've used ever since. Oh, and by little trick I mean total lifesaver! Let your hair dry inside. How did I learn this trick you may ask? Well, growing up in Austin we didn't have to deal with much cold weather. I'd vacationed in chilly temps every year with my family, but living in the cold weather and being in it for a week are two very different things! On the way to one of my classes freshman year of college, I did what I used to do all of the time and left my room with wet hair. Well, let's just say that I got to class and my hair had literally started to freeze! No joke. But, out of my one-time misfortune came the life long hair trick that I'm now sharing with y'all! Now that's what I call taking one for the team. Amiright?
There's something about letting your hair dry inside that really help eliminate frizz! I either wash it at night before dinner and then sleep on it or wash it in the morning (I work from home), and let it dry throughout the day. If the mornings aren't an option for you because or work of school, then I recommend showering at least and hour or so before bed so you don't go to be with it totally wet! There's nothing worse than a soggy pillow – cringe!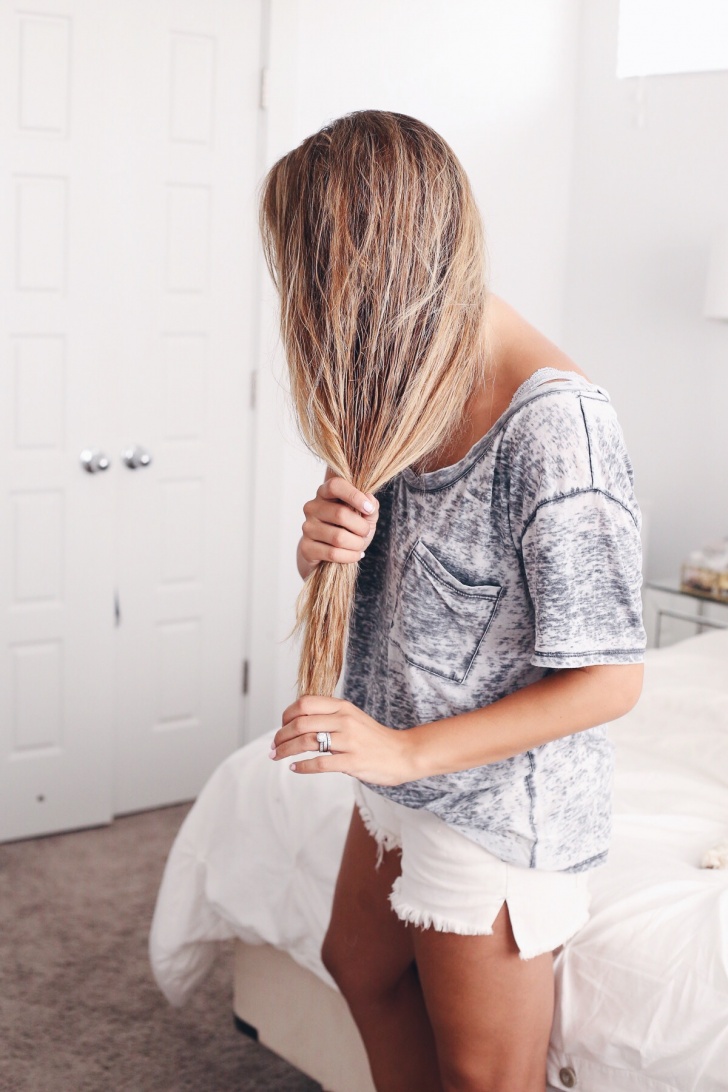 3 / Hydrate your hair
My favorite way to hydrate my hair is with this leave in conditioner and this above mentioned oil. Because I color my hair, I find that making sure it's hydrated really helps the over-all smoothness! My hair is really thick and long so it needs a few pumps, but if your hair is shorter and/or thiner, go light so you don't weigh it down.
4 / The two B's
My hair is naturally wavy, but if your wanting to achieve waves and yours is straight, let it dry about 50% and then put it in a really loose braid! I like to use this trick if it's extra humid out and my hair isn't cooperating! This will help give you that wave and add a bit of body.
On days when I don't want to wear my hair down, or don't have the time to let it dry inside, I like to stick with what I like to call the two B's. Braids and buns! Easy, effortless but still put together.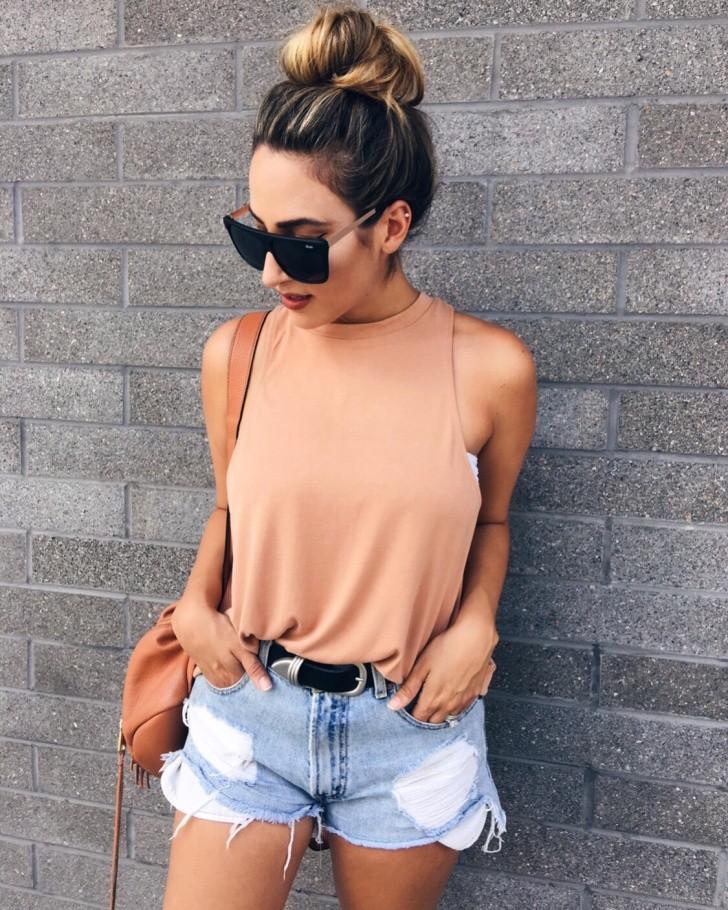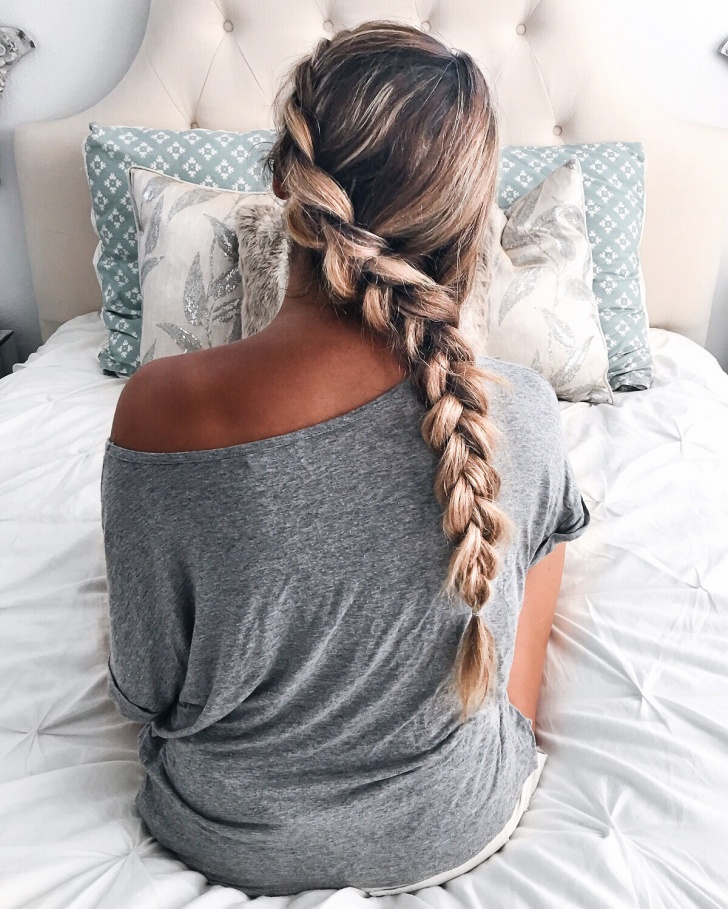 5 / Less is more
I like to keep the products to a minimum because I don't like feeling like a have a ton of product in my hair! I'm just weird about that for some reason. Anyone else? The leave-in conditioner and oil that I mentioned above, don't feel like anything once they dry! Then, I top it off with a little bit of either of the above texturizing sprays and call it a day! This combo leaves my hair feeling touchable!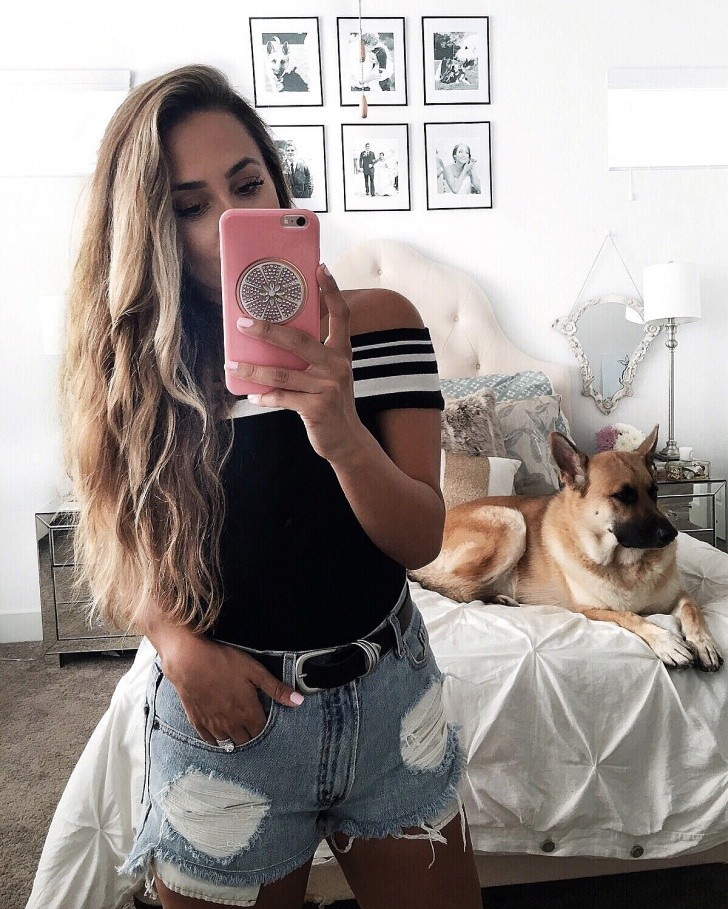 I've spent years figuring out what products work best for my hair via lots of trial and error and even a little frozen hair (opps!), and now I've gotten it down to a routine that I love! I hope these tips, tricks and products work for you as well as they do for me. What are your must-haves? Leave them in the comments below!