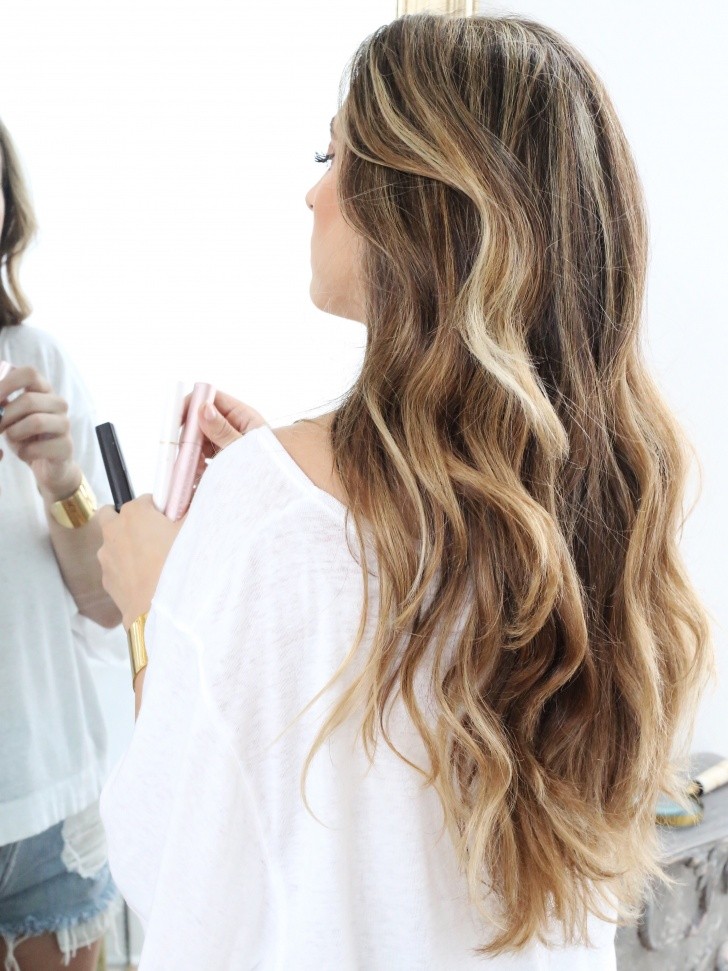 Happy Monday, y'all! When it comes to hair, I don't mess around. There's nothing quite like a good hair day, and nothing worse than a bad one. Can I get an amen?! Fun fact: I was a bald baby. My Mom used to have to tie  bows around my head so people wouldn't think I was a boy (haha), true story! And then there was that time when my hair decided to randomly turn curly and frizzy during middle school – thanks hormones! Aside from those few rough years in middle school, I've been really blessed in the hair department. When it comes to hair, although genes do play a big role, regimen, tips and products can make HUGE difference!
I'll be sharing all of my tips and tricks for healthy hair, my current favorite game changer products and how I use them. It's a long one, so grab a coffee or a snack and let's get into it :).
Tips for healthy hair…
Work with what your Momma gave you
I'm a big believer that you usually look best with the hair God blessed you with! By this I don't mean do nothing to you hair necessarily, I just mean look to your natural hair and see how you can enhance it. Enhancing your natural hair is not only (usually) really flattering for your features, but also makes life easier! My hair is natural kinda wavy, so most of the time I go for big, beachy curls/waves. Basically, a more polished version of my natural hair! You guys have seen my natural waves a lot of snapchat – if you want a no heat tutorial for beachy waves (how to, products etc.), let me know in the comments :).
Don't skip the haircuts
I can't stress how important this is! I think a lot of people skip on haircuts thinking it will help their hair grown longer, when really it does the opposite. Trimming your hair will not only keep it pretty but healthy and strong! This is key in the long run.
Take a break from heat
Go au natural when you can. I'm all for a good blow out and curl, but taking a break from heat is the key to maintaining healthy hair! One of my favorite tricks for no heat days is to let my hair air dry about 70 percent of the way, then braid it and let it finish drying in the braid. This will give your hair a really pretty and beachy look and even better, no heat! No heat days are also the time to keep you hair in the braid, or throw it up in a bun and call it a day.
Minimize the styling
On days when I know I have to, or want to style my hair with heat, I try to minimize the heat styling as much as possible! This tip plays off of the one above but instead of skipping all together, it's all about minimizing the heat you do use. For example: if you want to curl you hair, let it air dry first and then curl it. This way your eliminating the unnecessary step of blowing drying and only using one heat styling tool instead of two! If you want to blow dry it, then skip the curler that day! Pick and choose. This also forces you to switch it up :).
Invest in quality products + tools
Quality products make all the difference in the world! I'll get more into this during the 'routine' part of the post. It's also really important to invest in quality tools that will keep your hair safe and not damage or dry it out. The T3 wand is my absolute favorite! It really helps my curls last and has technology that seals your hair cuticle and helps your hair look really shiny and smooth, which I love! Highly recommend it.
Be patient
My hair color was achieved slowly. We added a little color to start and then a little more each time, to help keep it really heathy. I highly recommend being patient here!
The Routine + Products…
Now, let's talk about my routine and the products that make it up. These are just things that have worked for my hair! To give you an idea – my hair is really thick, pretty smooth and kind of wavy. If you have totally different hair, I would recommend looking into the different kinds of shampoo and conditions!
STEP 1: I've fallen completely and totally in love with Oribe shampoo and conditioner. When looking for the right one for you I recommend thinking of what your hair needs and addressing that.  Ie. tamed frizz, color safe,  volume, hydration etc. For me, I need hydration and something to keep my blondes a pretty color (ie. not to warm, just a personal preference). It's pricey, but honestly worth every single penny and has made the biggest difference in the health and hydration of my hair. I have and totally love the Gold Lust Repair + Restore Shampoo and Conditioner (for days when my hair needs a little extra love and hydration) and the Bright Blonde Shampoo and Conditioner (to keep the light parts of my hair light. Also great when I need to get the any unwanted warm tones out). I can't even tell you how much I love these! They have made a noticeable difference in my hair and I'm totally hooked. Of course getting both isn't necessary haha, but pick whichever of their selection sounds like it will best fit the needs of your hair!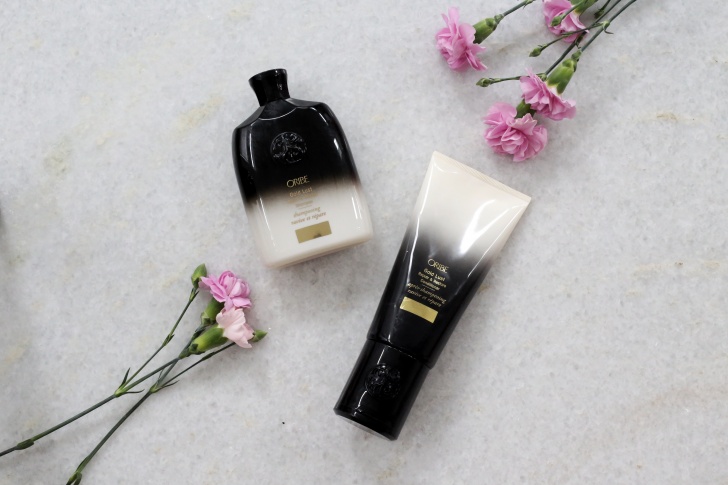 STEP 2: When I get out of the shower, I towel dry my hair and then immediately spray it will the It's a 10 Leave-In Conditioner. I've been using this stuff for years! It's my absolute favorite because it does the best job of detangling my hair! I also really recommend using a wet brush or a comb. This will really minimize breakage! I think the particular one is discontinued, but I've heard great this about this one.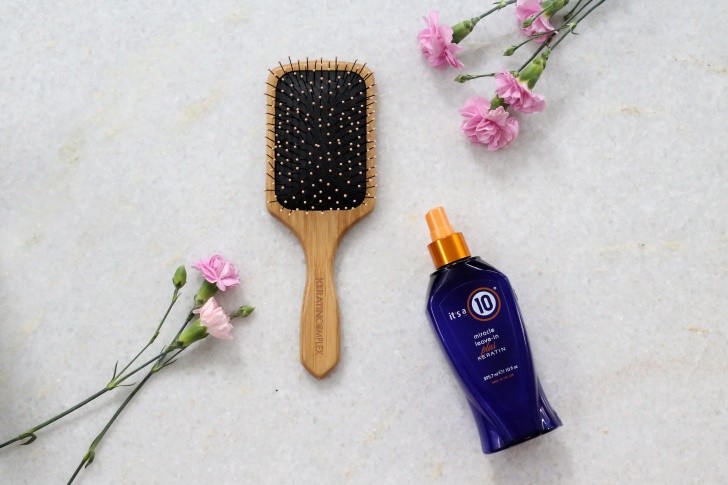 STEP 3: After my hair is all brush out and detangled, I use the Oribe Gold Lust. This stuff is the bomb! It adds smoothes and adds hydration.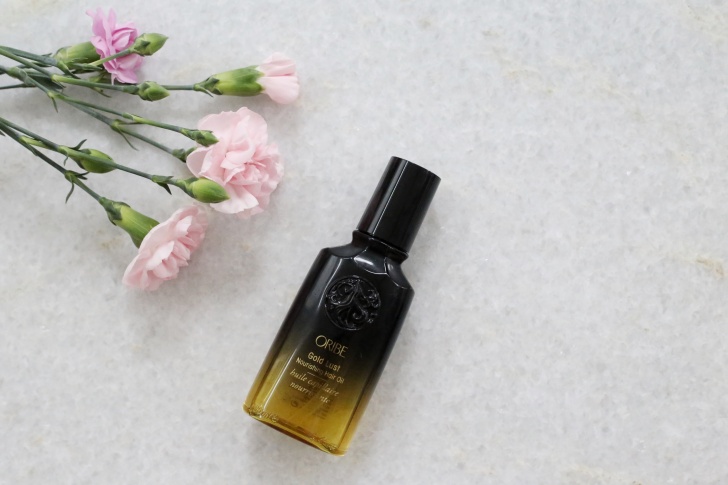 STEP 4: I'll either let my hair air dry or I'll blow try it. Once it's all dry, I spray my all-time favorite texturing spray, the Oribe Dry Texture Spray. Ahhh, I love this stuff! It add's texture, volume and helps my curls last multiple days. When it comes to curling – I'm currently using this heat protectant and this is my favorite wand. This wand is the best!
Well beauties, that about covers it all! I would love to hear what you guys think and if you want more posts like this in the comments 🙂 Also, feel free to ask any other hair questions you have! xx