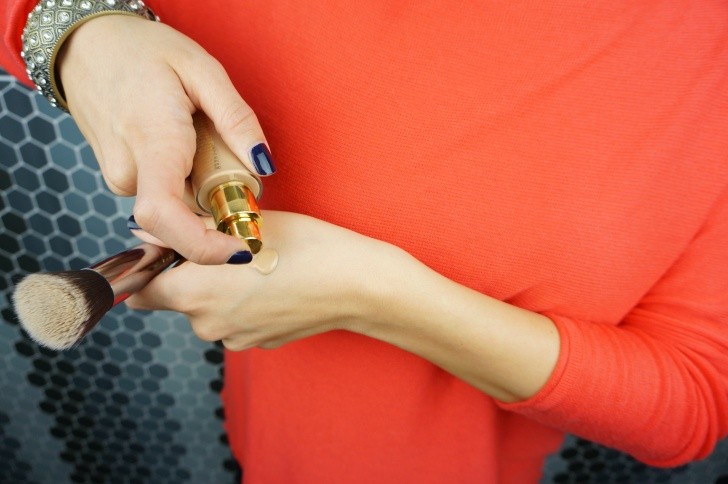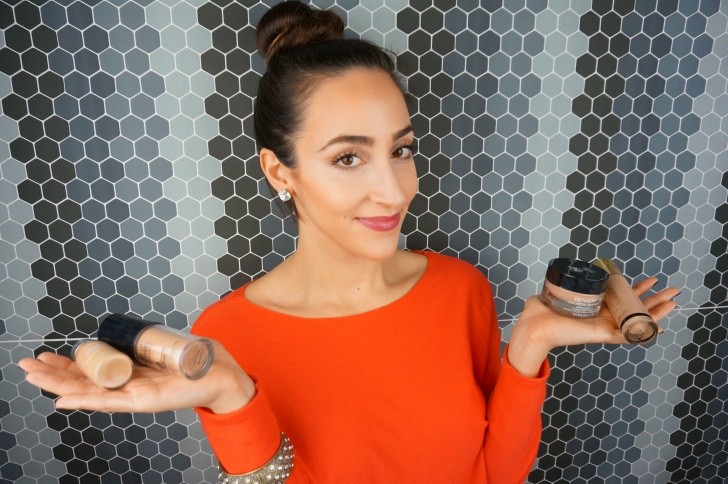 The hunt for the perfect foundation can be daunting. So many choices…how do you even know where to start? In the post I'll be covering how to pick the right foundation for your skin and your needs, the best tools the apply your foundation with, and how to obtain a flawless finish. Skin is the most important part of your makeup. It's the base layer to whatever else you want to put on (unless you prime your skin, but that my friends is a topic for another post). If you want everything else to look great, you must start with flawless base. I've done a lot of research and have lots of trail and error experience when it comes to foundation, so I apologize in advance for this post being long! #sorrynotsorry.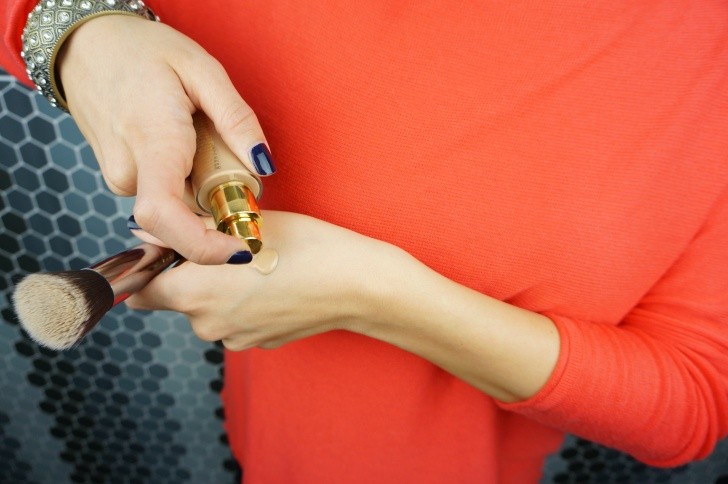 Asking the right questions
First, let's talk about picking out the right foundation for your skin. There are a few things to consider when entering into this process.
What kind of skin do you have? Dry, oily, normal/combination?
What kind of coverage do you want? Light, medium, full?
What kind of finish are you going for? Dewy/glowy or matte?
What is your price range? Do you want to invest in a high end foundation or drugstore.
Right away by answering these four questions, you can start the process of elimination. The last thing you want to do is walk in to Sephora or Nordstrom (or wherever), with no game plan. Now, you can walk in and say "I am looking for a medium coverage foundation for oily skin", or whatever it is you are looking for. Also, Sephora will give you a sample if you want to try a foundation without the full commitment of buying it.
My Current Favorites : 2 high-end + 2 drugstore
 I have 4 foundations that I use on the reg. It's hard to own just one foundation because your skin has different needs at different times. Your skins needs can change for a lot of reasons – weather, occasion (everyday vs. special events), skin color (summer coloring vs. winter) etc. For example, I have olive skin, ie. I get really tan in the summer, but I also I get fair in the winter and of course there are the months in-between where I'm somewhere in the middle. What to do? Tip – Get two foundations colors. A dark one (your summer color) and a light one (your winter color). In the summer, use the darker shade, in the winter, use the lighter, and for the in-between months mix the two! This is a GREAT trick. Mix and find your perfect shade.
My skin tends to be dry to normal. On the dry side in the cold months, and normal in the warm. When I want a light coverage, I go for a BB Cream. So, for foundation I tend like a medium coverage, with a natural/glowing finish. No powder foundation for this gal. It just doesn't sit well on my skin. I absolutely love all 4 of these foundations. If your a dry skin girl like me, I highly recommend trying these out. If you have oily skin these can also work for you but try these with a primer and set them with a powder (rather than wearing them alone) and you should be good to go.
YSL "Touche Eclat" foundation

– Ah-mazing.  Such a luxurious foundation. Feelings good going on and leaves my skin with a beautiful and natural finish. YSL always has gorgeous packaging and this is no exception. Worth every penny in my opinion.

Makeup Forever HD foundation

– This is a gorgeous foundation. This is my go-ro, the "HD" makes it the perfect foundation for pictures and  special occasions. For an everyday foundation you definitely want SPF, but for pictures you want no SPF. SPF is what gives you that white/flash back face in pics, no bueno.

Loreal True Match

– I talked about this foundation in my drugstore must haves. Amazing color selection, great everyday foundation.

Revlon 24 hr Colorstay Whipped Foundation

– I love this foundation for summer time. A little bit goes a long way, so you don't need much of this. Perk – It actually looks better as the day goes on, which is amazing!
TOOLS
Here are my two holy grail tools for applying foundation. These little beauties will help you achieve that flawless, airbrushed (while keeping skin looking very natural) finish.
The Beauty Blender

– This is my all-time favorite makeup tool. I use the beauty blender to put on my foundation, highlight and put on my concealer. You can use this with cream or powder. It's basically a makeup sponge with no edges, leaving no harsh lines and giving you that flawless, natural finish. The beauty blender cuts my makeup time in half. It makes the of applying foundation so easy. I plan on doing a full post on how I use this little guy.

Sigma F80 flat top kabuki brush

–  This is a really dense brush with a flat top that gives a beautiful airbrushed but natural finish.
(This is part 1 of a 2 part post – part two is cream highlighting, stay tuned.) 
What are you favorite go-to foundations?  Have you tried any of these or are you excited to? If you have specific questions about your skin type, feel free to leave questions in the comments below!