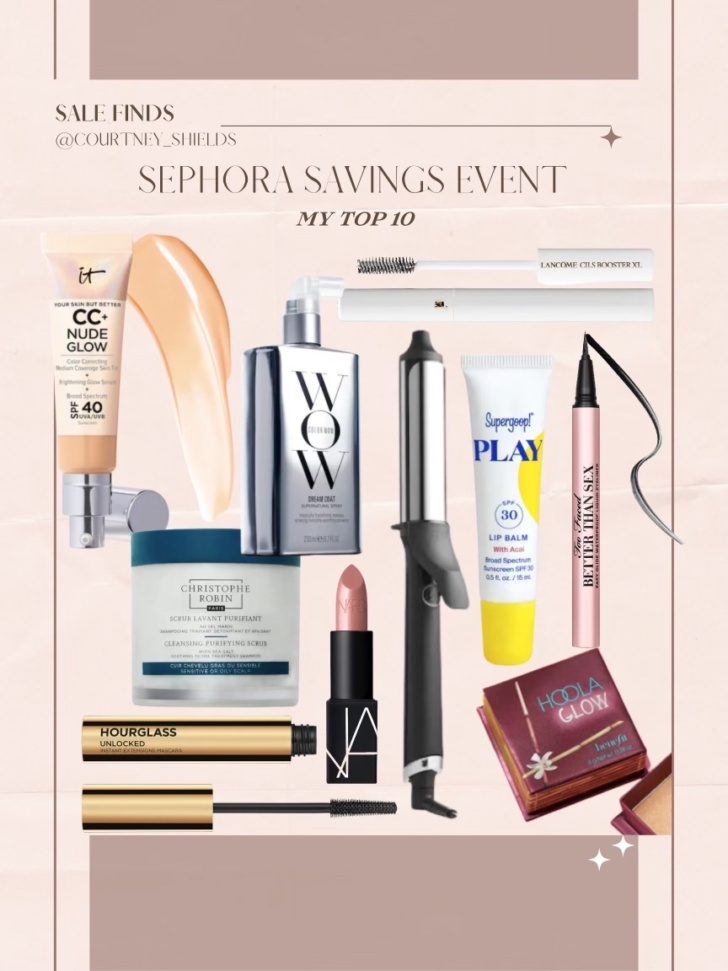 The Sephora Spring Savings Event is here!! The best of the year! They roll this sale out in stages, Rouge members can start saving 20% 4/1/21–4/11/21, VIB members can save 15% 4/5/21–4/11/21, and All Beauty Insiders can save 10% starting 4/7/21–4/11/21. The discount is applied at checkout using code : SAVESPRING
SKINCARE & PREP.
Tula Cult Classic Face Wash – AHHHHH Tula is at Sephora!! Such a huge moment. This face wash takes off all my makeup (mascara included) and is what I use every night! It doesn't dry my skin out but still purifys my skin with the glycolic acid it contains!
Summer Fridays Light Aura Vitamin C + Peptide Eye Cream –
Supergoop CC Screen – I wear shade 326 W. Such a good CC cream and is my go-to over summer for light makeup days, and the "no-makeup makeup look".
Tula Protect + Glow – This is one of my favorite sunscreens, perfect for summer & winter! Give such a nice glow and is amazing on the shoulders too.
Supergoop Play Lip Sunscreen Balm – Don't forget to protect your lips too!!
Cryo Rubber Masks by Dr. Jart – I'm SUPER into masks lately. I've been switching up my moisturizers & masks based on skincare concerns.
Dior Backstage Eye Reviver Patches – A definite splurge! Not a must but 100% enhances your skincare routine.
Laneige Lip Mask – Ride or die, next to bed, in every bag, type of a product. It's hyped, and lives up to it for me!
Moisture Surge Intense 72H Moisturizer – I've added this to my routine and have really loved how plump & hydrated it has made my skin.
FOUNDATIONS.
Charlotte Tilbury Flawless Filter – This can be used as a primer under your foundation, on its own, on top of your foundation as a highlight, you name it. SO beautiful and adds such a nice glow to the skin. This pairs so well with the DIBS Status stick, which isn't available at Sephora but you can still get 15% off with code COURTNEY15.
Lancome Teint Idole Ultra Longwear Foundation – Oil-free and long-wearing. This works for all skin types but is definitely great for those with combo to oily skin, or are prone to breakouts. I find this foundation last really long on the skin, is a weightless full coverage, and is transfer resistant.
Giorgio Armani Luminous Silk Foundation – I wear shade 6.5. This was my number 1 foundation for a long time, and I still absolutely love it, but I am reaching for the Lancome Teint Idole more lately. I think it's important to pay attention to where your skin is at and adjust your products from there! Sometime's I need the luminous finish of Giorgio Armani and sometimes I need the velvet natural finish of Teint Idole.
Ilia Serum Skin Tint SPF 40 – lightweight and hydrating with tons of SPF. I love this for a dewy look and it's perfect when you need that extra hydration in winter. I wore this 24/7 last year and is still an honorable mention for this year! It has SPF like the Supergoop CC Screen but more coverage, and hydration. I'd recommend it for mainly dry/normal skin types.
Hourglass Airbrush Concealer – I am OBSESSED with this concealer. It has such great coverage but does not dry out your under eyes and blends like a dream, it's also very buildable.
It Cosmetics CC+ Nude Glow Lightweight Foundation – I wore this product in my latest youtube vide. It's lightweight, full coverage, and does not leave my face looking oily but I still have a nice glow.
Kosas Concealer – New to my collection this year and I'm loving it. This is a creamy concealer that is not drying and does not crease under the eyes. It has good coverage and works really well with my favorite setting powders!
POWDERS.
Charlotte Tilbury Airbrush Flawless Finish Setting Powder – THE best for setting your under eyes. It's totally worth the money, trust me, and even better at the discounted price during this event!
HUDA Powder – I use the shade "cupcake".
Hourglass Ambient Lighting Bronzer – Gives the perfect summer glow (even in winter) this is key for the glow from within look. Also, for that glow from within look WITHOUT adding color use the Hourglass Ambient Lighting Powder in "Dim Light". I use this as a subtle highlight that gives such a beautiful glow but doesn't add shimmer or anything like that. It also looks great over tinted sunscreens for those no-makeup days.
Hourglass Ambient Lighting Palette – If you can't decide which color you want this gives you a little of all of them in one palette! I love Dim light, but when I use this palette I mix them all. I've recently been using their new shade as a powder bronzer over my DIBS Duo Stick.
DiorBACKSTAGE Glow Face Palette – You can't go wrong with either shade of this highlight palette, I have both and they are SO pretty. The highlight is beautiful without the chunky glitter that some have.
TOOLS.
Hourglass Concealer Brush  – I still use my beauty blender for my foundation but I've been adding in this concealer brush for a more precise concealer blend. Using a brush first helps set the concealer where you want it and doesn't allow it to be blended out too sheer.
LIPS.
Patrick Ta Monochrome Moment shade "She's Confident" – The formula on these is amazing and creamy but long-lasting which I love! I also love the glosses too.
Bobbi Brown Crushed Liquid Lipstick shade "Lychee"
Patrick Ta Major Glow Lip Shine shade "She's Expensive" – such a fun gloss that adds a really wet look to your lips, very J.LO.
INN Beauty Lip Oil – These lip oils are super hydrating and leave my lips feeling juicy and with a nice tinted glaze.
EYES.
CILS BOOSTER XL Mascara Primer – One of my top 5 beauty products ever. I SWEAR by this primer. It allows the mascara to really grab onto your lashes making them ultra-long, full, and more curled. It also conditions your lashes and helps them stay healthy. Pro-Tip: you can even wear this at night with no mascara as a lash mask!! That's how good this is for your lashes.
Lancome Lash Idole Mascara – This knocked the next two down to "honorable mention" haha. It's SO good and dropped in 2020. This paired with the CILS BOOSTER & Essence Mascara equals the winning mascara cocktail and the one I'm using 90% of the time.
Hourglass Mascara – This was a new mascara!! It's a tubing mascara so you don't need to use primer with it.
Better Than Sex Liner – The best liquid liner. I use this or the KVD Tattoo Eyeliner for my cat-eyes!
Benefit Roller Liner – I love this liner in brown. It's a softer pen than the Better Than Sex but I use the two interchangeably.
Summer Unrated Eyeshadow Palette – This palette has 16 gorgeous shades! I'm pretty sure it's limited edition (ugh) but grab it now and I think it will last you a longgg time!
HAIR & BODY.
Olaplex No 3 – Great for repairing damaged or colored hair. Use as directed on damp hair (the ends not the root) and 1 time a week! This product does NOT contain the ingredient that was going around TikTok. Any new No. 3 don't contain it so no worries there if you were curious.
Kérastase Nutritive Blow-Dry Primer Heat Protectant – I apply this to my hair, focusing mostly on the mid and ends. I use it every time I wash my hair as a heat protectant.
Moroccanoil Curl Defining Cream – I use this ALL last summer when I wore my hair naturally curly. It is great on the air dry days or with a diffuser.
Bumble & Bumble Bond-Building Repair Shampoo & Conditioner – New to me this year and I love it!! I shared it in my empties video on TikTok because I used every single last drop. It's hard for me to find shampoos and conditioners I'm obsessed with but these are great (really this whole line is great).
ColorWOW Dream Coat Supernatural Spray – This anti-frizz spray is amazing and a staple in my routine. You actually only need to use it once every 3 washes! It smooths hair and is activated when you blow-dry or heat style your hair.
BumBum Cream – The smell alone makes this one a winner, but it's expensive so it's definitely one to purchase during the sale! This body lotion soaks into the skin leaving it hydrated, glowy, and plump.
Tan-Luxe Drops shade "Medium / Dark" – I love these on days when I want to stay hydrated but still add color. I also use these on my face (even the body ones are fine on my face!).
St Tropez x Ashley Graham – This self tanner comes in 1 shade and you leave it on longer for a deeper tan, less for a glow. Audrey used this and loved it as well!
Fenty Butta Drop Whipped Oil Body Cream – The name says it all, it's a whipped texture that just melts into your skin. Pro tip: apply all your skincare when your skin is still damp!! Fresh out of the shower to lock in all the moisture.
GHD Curling Iron – I love this curler and has been my go-to since I purchased it. The one I use is the 1.25 and I also use it as a wand too (just wrap your hair around the barrel).
Dyson Hair Dryer – If you're wanting to splurge now is the time when you can get a good % off! I also recommend the Dyson Airwrap it's also a splurge but if you've been wanting it grab NOW! It is always sold out, so I will definitely let y'all know if it comes back in stock.