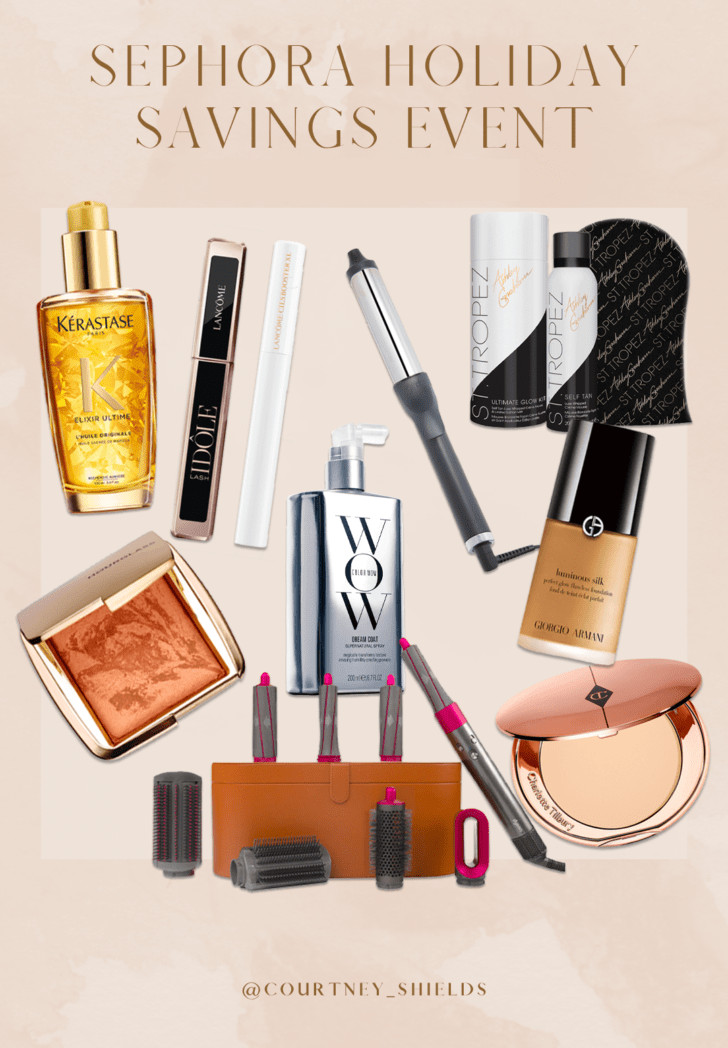 The Sephora Holiday Savings Event begins tomorrow. This is one of the best sales of the year. It's the perfect time to stock up on all your faves, try those products you've been eyeing, or save majorly on those luxe products you've been debating over. 
This sale rolls out in stages: Rouge members can start saving 20% 11/5/21–11/15/21, VIB members can save 15% 11/9/21–11/15/21, and All Beauty Insiders can save 10% starting 11/11/21–11/15/21. The discount is applied at checkout using code : YAYHOLIDAY 
To shop click the product image in the photos below or click the link.
Foundation, Concealer, & Tinted Moisturizer.
Charlotte Tilbury Flawless Filter – This can be used as a primer under your foundation, on its own, on top of your foundation as a highlight, you name it. SO beautiful and adds such a nice glow to the skin. I've used this for years but was recently reminded of it because of TikTok.
Lancome Teint Idole Ultra Longwear Foundation – Oil-free and long-wearing. This works for all skin types but is definitely great for those with combo to oily skin, or are prone to breakouts. Also recently fell in love with the Stick Formula of this foundation. It's SO good and super easy/convenient to apply. I reach for the stick formula now more often because it's just so easy to toss in my bag and apply when I'm in a rush, but still want the non-transferability of the OG formula.
Giorgio Armani Luminous Silk Foundation – I wear shade 6.5. The best foundation for photos and events, or when I'm doing someone else's makeup because it works well for all skin types, and is long-lasting.
Ilia Serum Skin Tint SPF 40 – lightweight and hydrating with tons of SPF. I love this for a dewy look and it's perfect when you need that extra hydration in winter. I wore this 24/7 last year and is still an honorable mention for this year! It has SPF like the Supergoop CC Screen but more coverage, and hydration. I'd recommend it for mainly dry/normal skin types.
Supergoop CC Screen – I wear shade 326 W. Such a good CC cream and is my go-to over summer for light makeup days, and the "no-makeup makeup look". It is great for evening out your skin, but does not provide a ton of coverage. 
Hourglass Airbrush Concealer – I am OBSESSED with this concealer. It has such great coverage but does not dry out your under eyes and blends like a dream, it's also very buildable. This is concealer provide a similar amount of coverage as shape tape but is creamier and more hydrating.
Teint Idole Ultra Wear All Over Full Coverage Concealer – This concealer was new to me this year (a new lancome launch!) and it wears extremely well. It is an all over concealer that works great for under eyes and spot concealing. I use a lighter shade on my under eyes and  my true shade on any spots to conceal. I also did a full wear test over on my Pinterest of this concealer and it stood the test through humidity and heat!
Setting Powder :
Charlotte Tilbury Airbrush Flawless Finish Setting Powder – THE best for setting your under eyes. It's totally worth the money, trust me, and even better at the discounted price during this event! This is the type of item that I stock up on during the sale. I know i'm going to use it a ton, so may as well grab it now!
Hourglass  Veil Translucent Powder – Such a pretty setting powder and isn't drying like some heavy-duty ones. I use this when I need to set my whole face before a long day out, especially in my t-zone. This is not an everyday product for me but is key for special events, parties, weddings, etc..
Makeup Forever Matte Velvet Skin Blurring Powder – The name is spot on, it smooths, blurs, and has an amazing velvet finish. Shade Y355
Bronzer, Highlight, + Blush :
Hourglass Ambient Lighting Bronzer – Gives the perfect summer glow (even in winter) this is key for the glow from within look. Also, for that glow from within look WITHOUT adding color use the Hourglass Ambient Lighting Powder in "Dim Light". I use this as a subtle highlight that gives such a beautiful glow but doesn't add shimmer or anything like that. It also looks great over tinted sunscreens for those no-makeup days. 
Hourglass Ambient Lighting Palette – If you can't decide which color you want this gives you a little of all of them in one palette! I love Dim light, but when I use this palette I mix them all.
Charlotte Tilbury Cheek To Chic Blush – I love this powder blush to top off my cream blush (I'll share that one soon!!!). I swirl my brush in this to mix both colors and it is so beautiful. Shade: Walk of No Shame and Love Is The Drug
DiorBACKSTAGE Glow Face Palette – You can't go wrong with either shade of this highlight palette, I have both and they are SO pretty. The highlight is beautiful without the chunky glitter that some have.
Brush :
Hourglass Double-Sided Veil Powder Brush – still my all-time favorite brush and is hands down worth the splurge even when not on sale. So with the discount, you definitely want to grab it! This always sells out, and I'm so scared of it getting discontinued (why do brands do this?!) so I always buy another one for each Sephora sale event.
Setting Spray :
Urban Decay All Nighter Spray – This stuff really does lock your makeup in all day and is a total must for events. Tons of people ask if a setting spray is needed and I 100% think it makes a difference in the longevity of your makeup. They recently launched a Glowy version and I am here for it! (There's also an ultra-matte version too!)
Lips.
Charlotte Tilbury Hot Lips Lipstick – shade "Kim K.W" and "Super Cindy" – My favorite nude/pink lip of all time. I have an embarrassing number of these around the house, yet I can never find them… someone please tell me how this works?! The Pillow Talk Lipstick is a part of a different collection but has the same great finish.
Charlotte Tilbury Lip Cheat Lip Liner – The perfect lip liner! These shades pretty much go with everything. Iconic Nude is more of a true nude with a brown undertone and Pillow Talk has a rose/pink undertone. Try the "Pillow Talk" for $25 Set to get both! I have so many favorite shades: Pillow Talk, Iconic Nude, Walk of No Shame, + Love Trap
Patrick Ta Monochrome Moment shade "She's Confident" – The formula on these is amazing and creamy but long-lasting which I love.
Laneige Lip Mask – This mask is ultra-hydrating and gives your lips the prettiest, slightly pink glow. I love to keep it on my nightstand and use it nightly.
Bobbi Brown Crushed Liquid Lipstick shade "Lychee"
Tarte SEA Color Splash shades "Salt Lyfe" + "Sundaze" – I love this formula and these two shades are my go-to. One very natural (also looks great on blondes) and one bright and ultra-fun for spring/summer. Sundaze is the perfect bright orange/red to give you that added mood boost.
Eyes.
Brows :
Anastasia Beverly Hills Clear Brow Gel – When I'm not using the Got2Be gel I use this brow gel. It was my holy grail before I was put on the Got2Be gel. If you love brow gels but don't need as intense of a lift as Got2Be, this one is for you!
Lashes :
CILS BOOSTER XL Mascara Primer – One of my top 5 beauty products ever. I SWEAR by this primer. It allows the mascara to really grab onto your lashes making them ultra-long, full, and more curled. It also conditions your lashes and helps them stay healthy. Pro-Tip: you can even wear this at night with no mascara as a lash mask!! That's how good this is for your lashes.
Gucci Mascara L'Obscur – Pricey but totally worth it because it basically does the job of two mascaras. I have been using this for about a month straight and loving it.
Lancome Lash Idole Mascara – This knocked the next two down to "honorable mention" haha. It's SO good and dropped in 2020. This paired with the CILS BOOSTER & Essence Mascara equals the winning mascara cocktail and the one I'm using 90% of the time.
Honorable Mentions.
Monsieur Big Mascara – My favorite mascara for lower lashes. It makes them look really pretty and fluffy without flaking or coming off during the day.
Better Than Sex Mascara – Another favorite mascara.
Liner.
24/7 Glide-On Eye Pencil – I've been LOVING pencil eyeliners lately. I wear shades "demolition" and "smog" the most.
Master Pigment Pro – This liner was new to me this year. It comes with a brush on one end and is my go-to for smudging out my eyeliner. I wear this eyeliner when I'm going for a soft winger look that I need to put on QUICK.
Better Than Sex Liner – The best liquid liner. I use this or the KVD Tattoo Eyeliner for my cat-eyes!
Eyeshadow :
Tartelette in Bloom Clay Eyeshadow Palette – A great, year-round, everyday palette.
Tartelette Toasted Eyeshadow Palette – I love the Tartelette collection and this is one I reach for in a ton.
DIOR Backstage Eyeshadow Palette – I love love this palette. I have it in shade Warm Neutrals and Amber Neutrals.
Tom Ford Eye Color Quad – I've used the Sous Le Sable palette for a while now but recently tried the Honeymoon palette. These shades have such good payoff and can be applied with your fingers, a brush, or a wet brush for a more intense color payoff. The shimmer in these shadows gives a wet look and it's stunning. I love to pair these shadows with the Tom Ford Cream Color for eyes.
If you notice I've listed a few palettes, this is because I never feel like 1 palette gives me an entire look! So the ones I've listed above are my most frequently used and mixed palettes. 
Hair + Body.
Hair :
Kérastase Curl Manifesto Shampoo and Conditioner – I use this combo when I plan to let me hair air dry and wear it natural. It doesn't weigh my waves down but still tames my frizz, this has been a go-to combo lately. It's sulfate and I would 10/10 recommend it for wavy-curly hair.
Dae Shampoo + Conditioner – A good all-around shampoo and conditioner. I have this in rotation with my other favorites listed. This combo is great for hydration so I add it in when my hair is needing a little extra love.
Olaplex No 3 – Great for repairing damaged or colored hair. My hair is feeling super healthy these days but I still use this and used it religiously when my hair was blonde.
Kérastase Nutritive Blow-Dry Primer Heat Protectant – I apply this to my hair, focusing mostly on the mid and ends. I use it every time I wash my hair as a heat protectant.
Kérastase Elixir Ultime Hair Oil Serum for Frizzy Hair – So so good to add shine back into the hair. This serum hydrates and fights frizz without weighing your hair down. You can apply it to wet hair before you blow dry, as a finishing oil, or even throughout the week in between washes to add shine and reduce frizz.
COLOR WOW  Dream Coat Supernatural Spray Anti-Frizz Treatment – I originally bought this product in the travel size, thinking I would just test it out and see if I liked it. I LOVED it and immediately went and got the full size. This spray acts as a mini keratin treatment and has made such a HUGE difference in my hair. It's safe on colored hair, has a heat protectant in it, and adds an insane amount of shine.
Moroccan Oil Curl Control Mousse – I recently started using this mousse when I began air-drying my hair and wearing it wavy. It SO great at helping me reduce frizz, add definition to my waves, and does not feel crunchy (you know what I'm talking about haha).
Tools :
GHD Curling Iron – I love this curler and has been my go-to since I purchased it. The one I use is the 1.25 and I also use it as a wand too (just wrap your hair around the barrel).
Dyson Hair Dryer – If you're wanting to splurge now is the time when you can get a good % off! I also recommend the Dyson Airwrap it's also a splurge but if you've been wanting it grab NOW! It is always sold out, so I will definitely let y'all know if it comes back in stock.
Body :
Nécessaire The Exfoliator – In winter an exfoliator is just as important (if not more) in your daily routine. Néssaire as a whole is my go-to for sensitive skin & all my shower needs.
Nécessaire The Body Lotion – This IS IT for sensitive skin gals. The fragrance-free is so good and so moisturizing. I use this to mix with the Tan-Luxe drops.
Nécessaire The Body Wash – I love the eucalyptus and sandalwood scent.
Tan-Luxe Drops shade "Medium / Dark" – I love these on days when I want to stay hydrated but still add color. I also use these on my face (even the body ones are fine on my face!).
St Tropez x Ashley Graham – I tested this out because you guys recommended it. I loved it on the first try, and I stocked up on more because, again, it's limited edition. Makes no sense, I hope they keep it forever because it's my new favorite. It comes in 1 shade and you leave it on longer for a deeper tan, less for a glow. Audrey used this and loved it as well! It's been in stock for a year, so I am hoping it is no longer limited edition. I haven't used it this summer because I have a natural tan, but I will add it back into my routine in winter.
Gucci Flora Lavender Perfume – One of my favorite scents ever, I tried this for the first time in 2020 and have been in love since. It's $85 and is worth it at that price, and even more so with the discount!