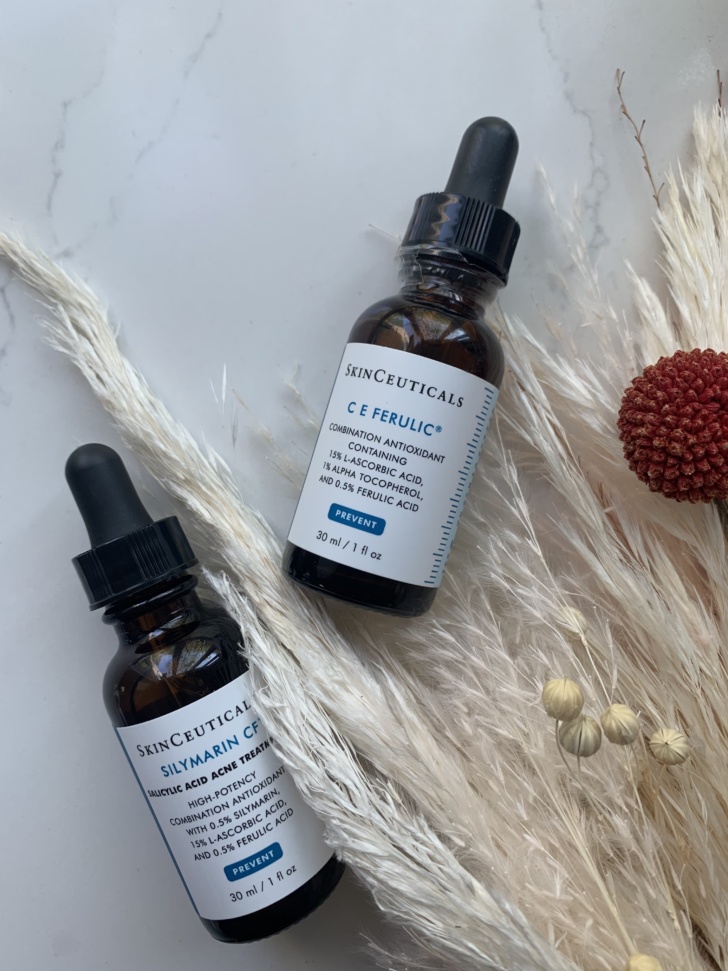 Happy (Early) Vitamin C Day!
I'm going to be honest, it seems like all of the sudden life has gotten crazy busy again and I find myself skipping out on my skincare routine. Anyone else? By the time I'm done for the day I'm way too tired and my skincare routine is the first to get tossed to the wayside. I've noticed a difference in my skin (not for the better) and I'm kicking myself back into skincare gear. One of the number one products my skin missed is the C E Ferulic! It's consistently one of the top 2 or 3 must-haves that every dermatologist recommends and I've personally noticed a huge difference when using it. It's my favorite Vitamin C serum (hands down, no contest) and has been a part of my morning routine for years. I apply this serum to dry skin after I wash my face. I also make sure to carry the product down my neck. Pro-tip: always carry your skincare down your neck and apply the excess on the back of your hands too! 
Adding a Vitamin C serum to your skincare routine is key and has a ton of benefits for your skin! The C E Ferulic is antioxidant-rich and also neutralizes damaging free radicals on the upper layer of the skin. Adding a Vitamin C product to your routine can help improve skin texture and dullness, improve the appearance of fine lines and wrinkles, improve skin firmness, and brighten the complexion. The SkinCeuticals C E Ferulic Vitamin C serum is also effective on your skin for up to 72hours! 
SkinCeuticals has a Vitamin C serum for every skin type :
C E Ferulic: This is the one I have used for years and love it! It smells like hot dog water, not going to lie, but it's such an important step in my routine and I NEVER skip it. This serum is antioxidant-rich and designed to improve the appearance of fine lines and wrinkles, loss of firmness, and brightens skin's complexion. This serum is great for dry, normal, sensitive, or combo skin types. 
Phloretin CF: This is also a Vitamin C serum that is antioxidant-rich and diminishes the appearance of fine lines and discoloration. This serum is more catered towards normal, or combo skin types.
Silymarin CF: This is SkinCeuticals NEW Vitamin C! This is an oil-free Vitamin C serum and is catered towards oily and blemish-prone skin. This antioxidant-rich serum helps reduce oiliness, refines skin texture, and visibly improves skin clarity and fine lines while packing in all the benefits of a Vitamin C serum too.