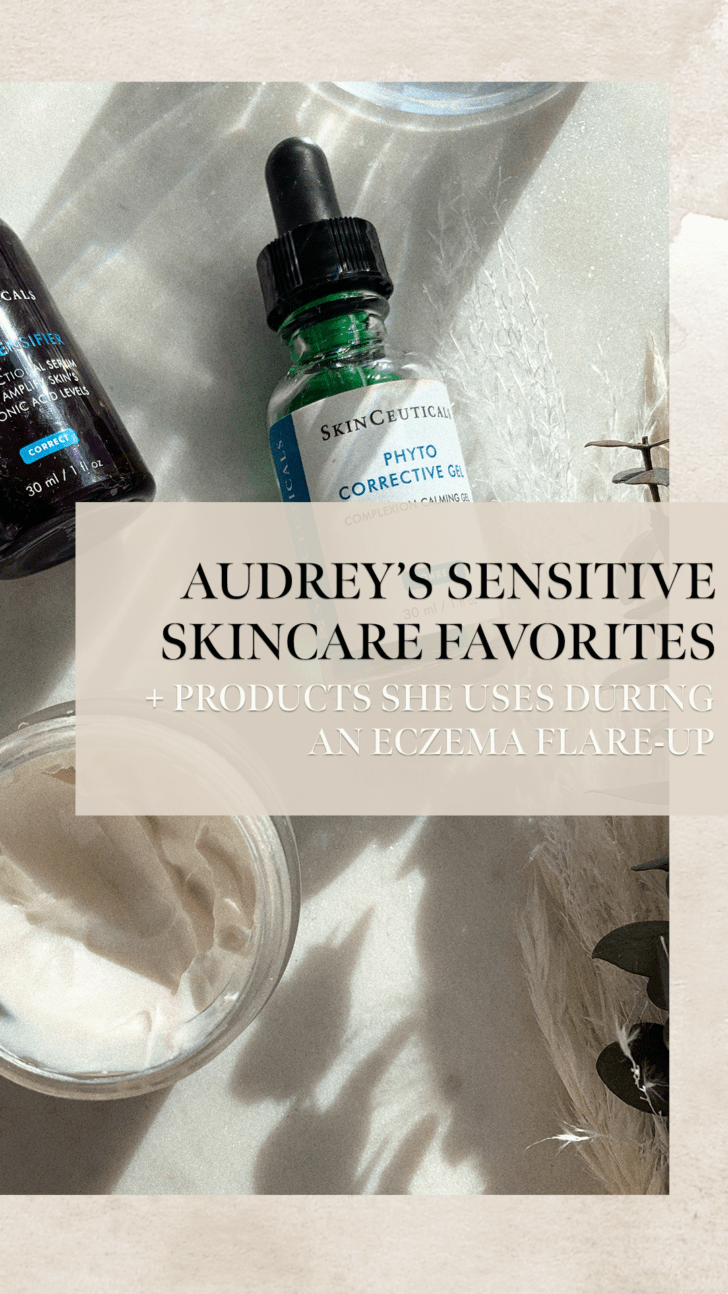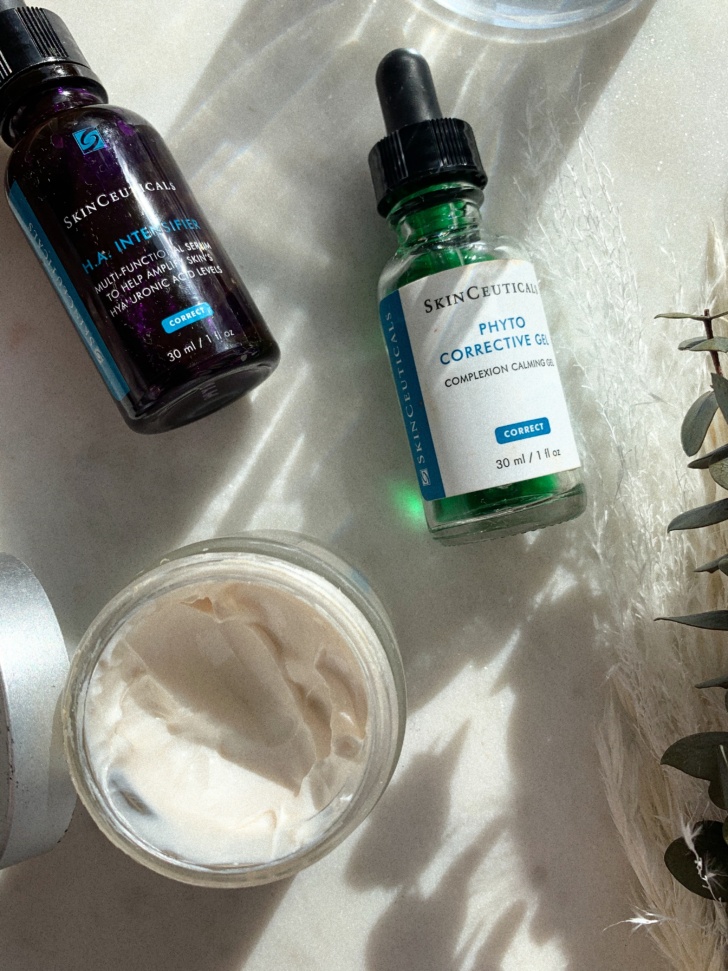 Hey Guys, Audrey here!
I'm going to keep this intro short and sweet so we can get straight into what you came here for! After the Q+A with Court this week, we found out a lot of you have sensitive skin too and were interested in seeing what products I use. I know skincare isn't a one-size-fits-all type of thing, but honestly, I LOVE watching youtube videos about people's skincare routines, and seeing what tidbits I want to try out for myself. In doing that, I've tested out tons of products and ended up with a routine that has been working for me.  I have combo skin, with an oily and breakout-prone t-zone, but very dry in other areas. I also have sensitive skin prone to nummular eczema (and rosacea). So it's a fun mix over here, hopefully, some of this can help those of you that deal with similar skin types.
ECZEMA.
I have Nummular Eczema and anything can cause a flare-up for me, dry skin, fragranced body wash, a mosquito bite, you name it. So the products I use are super important, down to my laundry detergent. The shower part of my day is probably the most crucial time in my routine for avoiding an eczema flare-up. Hot water can dry out your skin and the products you use in the shower (including your shampoo) can have fragrances or chemicals that irritate sensitive skin.
A key to dealing with my eczema is consistently taking an inventory of the products I use in my day-to-day, and how my skin reacts/feels after using them.
This meant getting rid of lots of my most loved body washes and lotions, changing my detergent to one that was fragrance-free, and being mindful of certain fabrics that caused my skin to react. That being said, I was able to find some products that my body doesn't just "tolerate", it LOVES.
I have two body washes that work for me even during a flare-up, the Aveeno Skin Relief Fragrance-Free Body Wash and the Necessaire Fragrance-Free Body Wash. If I'm going through a particularly rough eczema flare-up, I will sometimes even forego soap and just "rinse" every other shower, not ideal but with eczema you just do what you can.
Post-shower, I mean immediately after while my body is still damp, I apply coconut oil all over my body. Sounds weird, but for me, It has been the key to locking in all that water and prepping my skin for the lotion. After the coconut oil settles in, I have a few favorite lotions that I rotate based on needs: the trader joes coconut body butter (one of the only fragranced products my body loves), the Necessaire Fragrance- Free Lotion, and my go-to during a flare-up the Eucerin Intensive Repair Lotion. An extra to toss in if you have keratosis-pilaris "KP" (those bumps on the back of your upper arms) is Amlactin, it works wonders and doesn't irritate my skin (I don't use this during a flare-up).
As far as deodorants go, I use the Necessaire Fragrance-Free Deodorant, it's the most sensitive one I've found, and I'm able to use it even during a flare-up. I have no smell when using this product, and have had ZERO irritation, which is major.
When I'm in the midst of a flare-up my skincare routine is also totally different, I drop to the basics and apply the "less is more" theory using only: Vanicream. Gentle Skin Cleanser and Vanicream Moisturizing Cream until my flare-up is under control (this can take as little as a week, or as long as a month).
AM SKINCARE ROUTINE.
Step 1 – Cleanse. I use these reusable cotton rounds to wash my face with just warm water. Washing my skin with a cleanser AM/PM was too drying for my skin, and I found that using a cotton round with warm water was enough.
Step 2 – Serums. While my face is still damp I apply the SkinCeuticals H.A. Intensifier. This is a product that I use as often as needed. You'll get the most benefit out of this product by applying it when your skin is still damp. The H.A. Intensifier is good for dryness, dehydration, fine lines, and wrinkles. It's probably one of the products I can't do without. If you use a Vitamin C serum in your routine, apply that product before you apply the H.A. Intensifier. 
Step 2.5 – Extras. I add in additional serums as needed based on how my skins feeling. The SkinCeuticals Phyto Corrective Gel is one I add in when my skin is needing extra love, and feeling more sensitive/reactive. Specifically, mornings after I used retinol or any corrective serums.
Step 3 – Moisturize. I use the Lancome Genifique Eye Cream for my eye area and the SkinCeuticals Daily Moisture for the rest of my face. Since I have combo skin sometimes I need a little extra in the dry areas so I'll use the SkinCeuticals Emollience moisturizer instead and just avoid my nose (the oiliest area of my face that is prone to breakouts). Before I move on to step 4 I use this jade roller for a few minutes to let everything sink in. The coolness of the roller soothes my skin soooo much, I can't even tell you, and when I'm having a flare-up this gives me so much relief (major tip- keep it in the fridge in a ziplock to decrease puffiness even more).
Step 4 – Sunscreen. If you have sensitive skin you probably already know if your skin does better with a mineral sunscreen or a chemical sunscreen. I use the Tula Protect + Glow Daily Sunscreen. Never skip this step! Especially if you use any actives in your skincare routine, or if you have eczema. My eczema gets triggered by any kind of skin "trauma" so even a sunburn could set it off.
PM SKINCARE ROUTINE.
Step 1 – Cleansing. I double cleanse when I wear makeup, and on nights that I plan to use an exfoliating cleanser. You do you on this step, oil cleansing doesn't work for everyone. Regular makeup remover irritates my skin, so this helps remove my makeup before I go in with a face wash. I also oil cleanse before I use an exfoliating cleanser because it helps keep my skin from drying out. This Biossance Squalane + Antioxidant Cleansing Oil is my go-to, and the bottle has lasted forever. For face wash, I have a few favorites, and I use them based on my needs (do you notice a theme haha listening to your skin and adjusting your routine is key).
Exfoliating Cleansers – SkinCeuticals LHA Cleanser and Tula Purifying Cleanser (code COURTNEY)
Gentle Cleansers – Tula Gentle Sensitive Skin Cleansing Milk (code COURTNEY) and SkinCeuticals Soothing Cleanser
Step 2 – Treatment. This step took a long time to figure out, the key is to ease into using these kinds of products ESPECIALLY if you have sensitive skin. I use the SkinCeuticals Blemish + Age defense about 3 times a week. Recently I've started adding in the SkinCeuticals .3 Retinol I do not use these two products on the same night, and I'm currently only using the retinol 1 time a week.
Step 3 – Serums. Add in as needed. This is where I would put the H.A. Intensifier or the Phyto Corrective Gel.
Step 4 – Moisturize. I use the Emollience moisturizer at night. After I apply moisturizer I always use the jade roller for a few minutes. This is a little relaxation time for me and is so soothing, plus it allows all the products to soak in before getting in bed.
face masks – The IMAGE ORMEDIC Balancing Gel Mask is hands down my favorite face mask when my skin is feeling sensitive. I do This once a week.
PRODUCTS I'M TESTING.
I've heard some of these are great for sensitive skin (and some are recommended for redness) so I'm testing them out and will let y'all know my thoughts!

I hope this was helpful for those of you with sensitive skin! Let me know what y'alls ride or dies are for sensitive skin, and what your comfort zone is when having an eczema flare-up! I'm always wanting to learn more and find more things to try out.