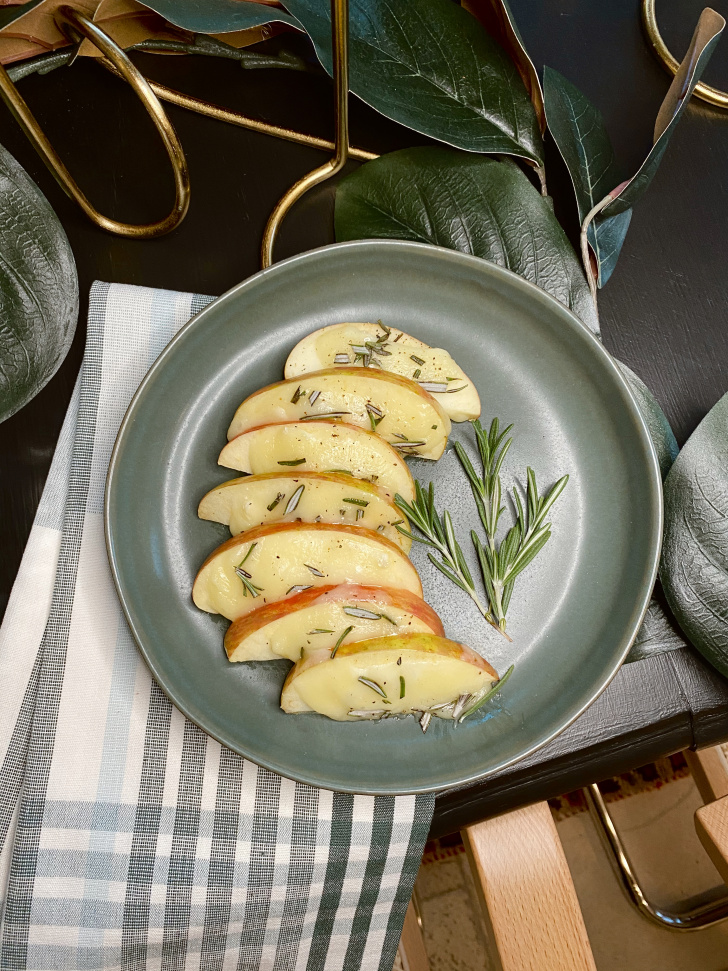 My mom hosts a monthly, socially distanced happy hour for her girlfriends. They sit in the culdesac, each brings an app and maybe a drink and chat. I attend when I can and love bringing Kinsley.  She's always a huge hit and at last week's happy hour, my mom made this super yummy app that was also a major hit. Nothing can top Kinsley, but brie is a close second.
I'm always on the hunt for easy but delicious appetizers – especially this time of year. Even though the holidays will look a little different this year with everything going on in the world, these kinds of classic recipes are good year after year, so I wanted to share anyways. I shared a brief step by step over on stories and I'll save it to my FOOD highlight when it expires.
Ingredients.
Honeycrisp apple (or any apple that you have on hand, granny smith apples are great too)
Brie (remove the rind and cut into thin slices)
Rosemary
Pepper
How To.
Slice the apples. Add a thin slice of brie (rind removed) on each apple slice. Sprinkle chopped rosemary to your taste over the apples and brie. Top with a sprinkle of pepper and place in the broiler for a minute or so until the brie is melted (keep an eye on it as this cooks quick and you don't want it to burn).
4-8 servings dependent on the amount of each ingredient used.