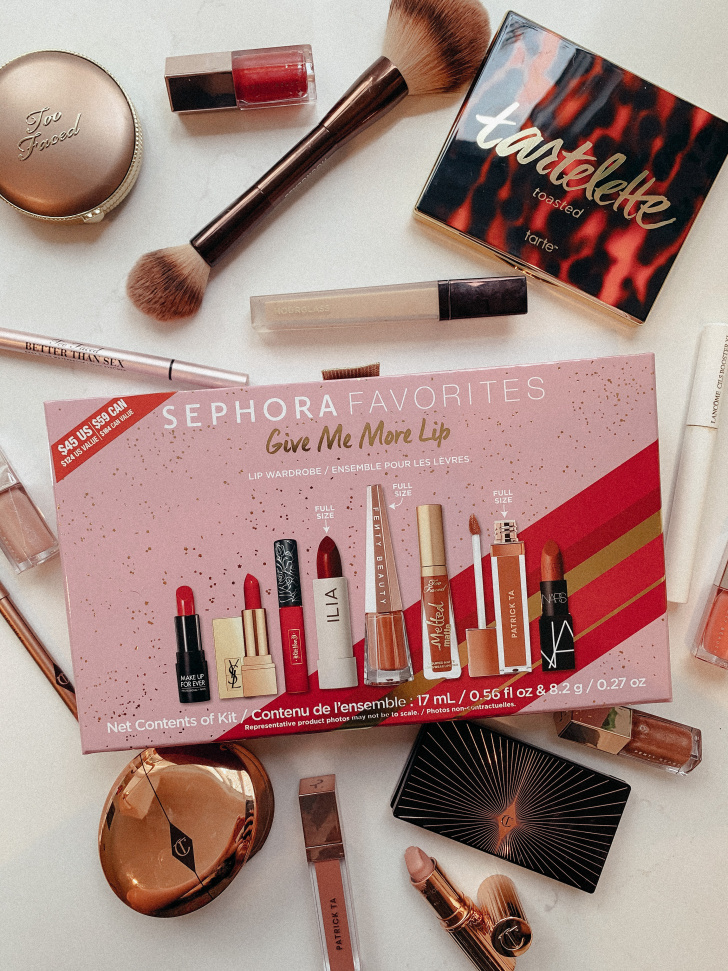 (you can click the products in the graphic below to shop)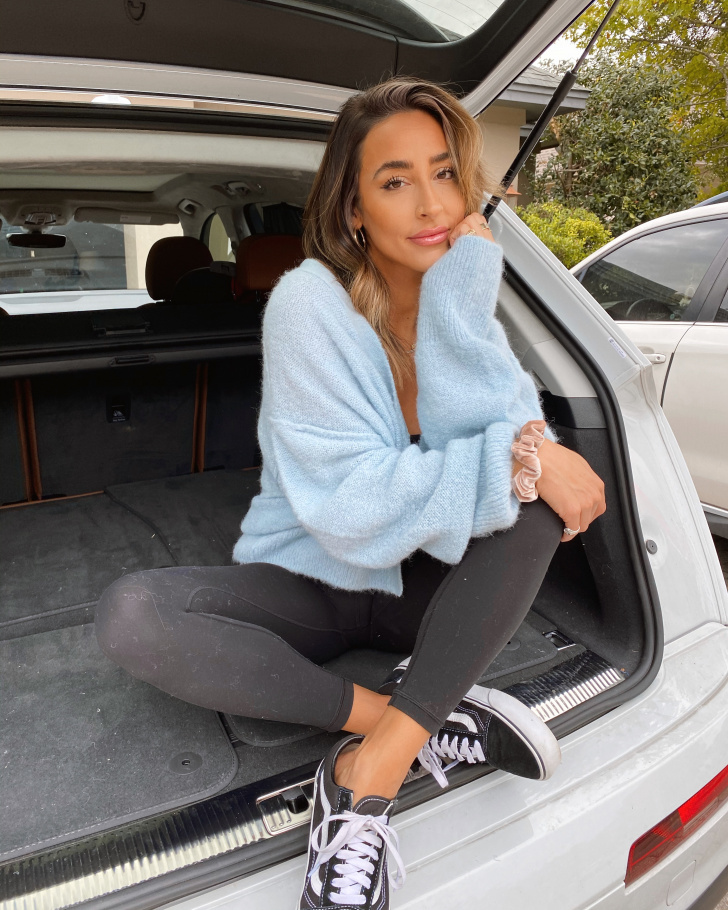 It's the (second) most magical time of the year, the Sephora Holiday Savings Event is here. They roll this sale out in stages, Rouge members can start saving 20% 10/30-11/2, VIB members can save 15% 11/3-11/9, and All Beauty Insiders can save 10% starting 11/5-11/9. The discount is applied at checkout using code : HOLIDAYFUN
Face.
Foundation / Concealer :
Supergoop CC Screen – I wear shade 326 W. Such a good CC cream and has been my go-to for "no-makeup, makeup days".
Lancome Teint Idole Ultra Longwear Foundation – Oil free and longwearing. This works for all skin types but is definitely great for those with combo to oily skin, or are prone to breakouts.
Giorgio Armani Luminous Silk Foundation – I wear shade 6.5. The best foundation for photos and events (weddings, etc..)
Smashbox Studio Skin 24hr Oil-Free Hydra Foundation – This one is super hydrating but still oil-free and stays SO long.
Ilia Serum Skin Tint SPF 40 – lightweight and hydrating with tons of SPF. I love this for a dewy look and it's perfect when you need that extra hydration in winter.
Hourglass Airbrush Concealer – I am OBSESSED with this concealer. It has officially replaced my Tarte Shape Tape if that tells you anything about how good it is.
Charlotte Tilbury Airbrush Flawless Finish Setting Powder – THE best for setting your under eyes. It's totally worth the money, trust me.
Bronzer, Highlight, + Blush :
Hourglass Ambient Lighting Bronzer – Gives the perfect summer glow (in winter) this is key for the glow from within look.
Charlotte Tilbury Film Star Bronze + Glow – This is more of a contour (slightly cool toned) and comes with a highlight side which I love.
Nars Light Reflecting Pressed Powder – I've actually been using this setting powder as a bronzer in the shade "sunstone"
Sun Bunny Natural Bronzer – I brought this back out recently and have been loving it to add that glow to where I applied my bronzer. It's such a pretty shade and the shimmer is subtle. This is perfect for my fair girls and can work as an all-around bronzer too.
Nars Liquid Blush in Torrid – This blush has been my obsession over the past two months! It's the most beautiful, lively shade that just looks like skin and gives you the best sun kissed, supermodel type glow. I know a lot of people get scared off by liquid blush, but just trust me on this one.
Milk Lip + Cheek – I love a cream blush and this is one of my favorites. I wear the shade "perk"
Brush :
Hourglass Double-Sided Veil Powder Brush – still my all-time favorite brush and is hands down worth the splurge even when not on sale. So with the discount, you definitely want to grab it!
Setting Spray :
Urban Decay All Nighter Spray – This stuff really does lock your makeup in all day and is a total must for events (when they can presume of course).
Lips.
Charlotte Tilbury Hot Lips Lipstick – shade "Kim K.W" – My favorite nude/pink lip of all-time. I have an embarrassing number of these around the house.
Charlotte Tilbury Lip Cheat Lip Liner shades "Pillow Talk" + "Iconic Nude" – The perfect lip liner! These shades pretty much go with everything. Iconic Nude is more of a true nude with a brown undertone and Pillow Talk has a rose/pink undertone. Try the "Pillow Talk" set here.
Patrick Ta Monochrome Moment shade "She's Confident" – The formula on these is amazing and creamy but long-lasting which I love! I also love the glosses too.
Laneige Lip Mask – This mask is ultra-hydrating and gives your lips the prettiest, slightly pink glow. I love to keep it on my nightstand and use it nightly.
Bobbi Brown Crushed Liquid Lipstick shade "Lychee"
Patrick Ta Major Glow Lip Shine shade "She's Expensive" – such a fun gloss that adds a really wet look to your lips, very J.LO.
Tarte SEA Color Splash shades "Salt Lyfe" + "Sundaze" – I love this formula and these two shades are my go-to. One very natural (also looks great on blondes) and one bright and ultra-fun for spring/summer. Sundaze is the perfect bright orange/red to give you that added mood boost.
Tarte Maracuja Juicy Lip Trio – Already sold out in singles so grab the trio while you can!!
Eyes.
Brows :
Anastasia Beverly Hills Clear Brow Gel – On most days all I do with my brows is brush them up with a clear brow gel!
Lashes :
Gucci Mascara L'Obscur – Pricey but totally worth it because it basically does the job of two mascaras. I have been using this for about a month straight and loving it.
CILS BOOSTER XL Mascara Primer – One of my top 5 beauty products ever. I SWEAR by this primer. It allows the mascara to really grab onto your lashes making them ultra long, full and more curled. It also conditions your lashes and helps them stay healthy.
Monseiur Big Mascara – My favorite mascara for lower lashes. It makes them look really pretty and fluffy without flaking or coming off during the day.
Better Than Sex Mascara – Another favorite mascara.
Liner.
24/7 Glide-On Eye Pencil – I've been LOVING pencil eye liners lately. These are currently a favorite and I'm reaching for shades "demolition" and "smog" the most.
Better Than Sex Liner – The best liquid liner. I use this daily for my cat-eyes!
Eyeshadow :
Too Faced Just Peachy Mattes Palette – I reach for this a lot during spring and summer because it has the prettiest, warm shades! I also really love the formula.
Tartelette in Bloom Clay Eyeshadow Palette – A great, year-round, everyday palette.
Lolita Por Vida Palette – Another great all-around palette.
Tartelette Toasted Eyeshadow Palette – I love the Tartelette collection and this is one I reach for in winter a ton!
Hair + Body.
Hair :
Olaplex No 3 – Great for repairing damaged or colored hair. My hair is feeling super healthy these days but I still use this and used it religiously when my hair was blonde.
Olaplex No 7 Bonding Oil – This is a reparative styling oil, and basically anything that repairs my hair is 100% being added to my routine right now. I love how this smells and leaves my hair looking healthier.
Dae Shampoo + Conditioner – A good all-around shampoo and conditioner.
Living Proof Perfect Hair Day Dry Shampoo – I'm going 5 days in between washes (still a work in progress) and this has been getting me through it.
Living Proof Color Care Whipped Glaze – Comes in two options one for blondes and one for brunettes. You guys have asked how I'm keeping my hair from getting brassy and this is it.
Living Proof Perfect Hair Day Triple Detox Shampoo – GREAT for really cleaning your hair and scalp of any product residue, this isn't an everyday shampoo for me it's an "I need a REALLY good clean" shampoo haha, but really you ever feel like your hair is looking lackluster even after it's freshly cleaned? It's probably from product build-up.
Living Proof Full Dry Volume Blast – Adds a ton of volume to your hair and if you need a dry shampoo while you're at it, this Living Proof Dry Shampoo is the perfect pair for the volume blast.
Kérastase Nutritive Blow-Dry Primer Heat Protectant – I apply this to my hair, focusing mostly on the mid and ends. I use it every time I wash my hair as a heat protectant.
Ouai Heat Protectant Spray – If you love a heat protectant that is a spray this one is a recent addition to my routine, but I'm loving it. Some people love a spray some love a cream, so I'm giving you both options that are a fave!
Tools :
GHD Curling Iron – I love this curler and has been my go-to since I purchased it.
Dyson Hair Styler – If you're wanting to splurge now is the time when you can get a good % off!
Eyelash Curler – The only one I use!
Body :
Nécessaire The Exfoliator – In winter an exfoliator is just as important (if not more) in your daily routine. Néssaire as a whole is my go-to for sensitive skin & all my shower needs.
Nécessaire The Body Lotion – This IS IT for sensitive skin gals. The fragrance free is so good, and so moisturizing.
Nécessaire Deodorant – My favorite natural deodorant.
Nécessaire The Body Wash – I love the eucalyptus and sandalwood scent.
Tan Luxe Drops shade "Medium / Dark" – I love these on days when I want to stay hydrated but still add color. I also use these on my face (even the body ones are fine on my face!).
Marc Jacobs Daisy Collection Perfume – I am still loving this perfume just as much this year!
Holiday Kits.
Hourglass Ambient Lighting Palette – Adds that natural glow from within look and if you can decide which color you want this gives you a little of all of them.
Give Me More Lip Lipstick Set – I grabbed this as soon as I saw it. An amazing value ($45).
Holiday Perfume Sampler Set – This is SUCH a good value and a perfect gift. Not only do you get to sample 13 perfumes, but it also comes with a voucher for you to get a full-sized perfume after you've tested them out and decided which is your favorite.
Olaplex Holiday Hair Fix It – Give your hair some r&r with this kit.
Pillow Talk Lip Secrets – This Holiday kit comes the lipstick, lip liner, jewel lip gloss, and collagen lip gloss.
Ambient Lighting Face Palette – I LOVE this palette and always mix a few of these blushes together to get such a pretty glow.
Laneige Dream & Wonder Gift Set – I stocked up on these last year for stocking stuffers, and for myself! Such a good value so with the added 15% off it's even better.
Tarte Eyeshadow Kit – 3 eyeshadow palettes for $46 PLUS 15% off… Definitely an amazing value.
Glossy Posse Mini Gloss Kit – I love these glosses, so I grabbed this when I saw it on their site a week or so ago.
Walk of No Shame Lip Kit – This comes with a liner and lipstick in one of my favorite Charlotte Tilbury colors.
Maracuja Juicy Lip Trio – I am obsessed with these! They're already sold out in singles but the trio is still in stock, so grab while you can.