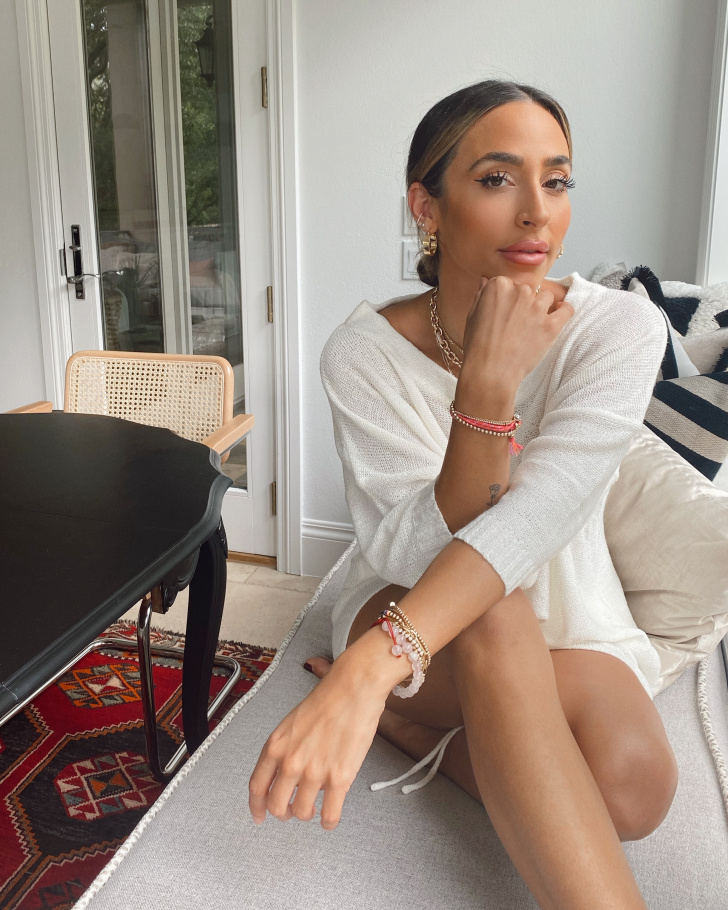 A few months ago, I put up a question box on stories and gave you guys a chance to ask Dr. Lain, SkinCeuticals Partner Physician all of your skincare questions. We sat in the office and I basically grilled him on all things skincare. We talk about everything from his personal routine (his skin is insane!) to the best order in which to apply your products, which products are good for specific skin types, and way more. Go grab some popcorn and enjoy our candid but super informative conversation.
What is your skincare routine?
AM – Discoloration Defense followed by a moisturizer and sunscreen.
PM – C E Ferulic followed with a retinol and moisturizer.
What 3-4 products would you recommend from the SkinCeuticals line that would be the most universal?
Sunscreen (Physical Fusion UV Defense SPF 50), C E Ferulic, H.A. Intensifier (adds hyaluronic acid to the skin and helps your skin produce more hyaluronic acid), Phyto Corrective Gel (naturally calming gel that reduces inflammation).
What order should products be applied?
Serums should be applied before moisturizer because they are aqueous-based (water-based) and have a much higher concentration of actives that you want to really be absorbed into the skin.
AM – Cleanser, antioxidant (C E Ferulic), serums (H.A. Intensifier, Phyto Corrective Gel, etc..) moisturizer, and end with a sunscreen.
PM – Cleanser, antioxidant, serums, retinol, moisturizer. You can also apply retinol with, or after your moisturizer, if you have sensitive skin.
Should you always take your skincare down your neck and decolletage?
The neck and chest skin is a little different than your face, it is thinner and more sensitive. So sometimes, with retinol, for example, it can cause more redness and inflammation so you may not be able to apply it as frequently, but you still should apply it to your neck. Sunscreen especially should always be carried down your neck and chest, don't stop at your jawline.
Is There a specific SkinCeuticals product you would recommend for the neck and chest area?
You will benefit from taking all the products down to your neck and chest, but SkinCeuticals does have products that specifically target those areas that you can add-in. Last month, they launched Tripeptide-R Neck Repair, targeted for neck aging, which I highly recommend. For volume loss and fine lines, the H.A. intensifier is really great for plumping the skin. Because the skin is so different from your face, sometimes you will need a different moisturizer as well. The Triple Lipid Restore 2:4:2 might be a good fit for your face but maybe your neck and chest need something different like the Epidermal Repair that is thicker.
Is there a difference between having dehydrated skin and dry skin?
Let's back up, so the moisture in the skin, the hydration of the skin (remember the very top layer of your skin is dead skin cells) they are the brick and mortar. They are what holds the water into your skin. They are super important. So, when you're applying a lotion, for example, you are applying water to your face (lotions are water-based). There are certain channels that allow that water to get into the layers of your skin so that is really important.
Usually, when your skin is dehydrated that will affect the hydration of the skin, but does not affect the oil production of the skin necessarily, in fact, dehydration can actually cause your oil production to increase.
The natural oils, along with the barrier, of your skin help to trap in the water. If you are dehydrated your skin barrier is probably still intact, it's just that it is not able to get as much water from the deeper layers of the skin. Dehydration can lead to dryness but it is not the exact same thing.
When your skin is dry (it feels dry) or is flaking that is because the barrier function of the skin is impaired in some way. That can be due to a lot of different variables, exfoliation, retinol, and different skin conditions.
Moisturization and hydration are two different things. Moisturization traps in the water and hydration is adding water to the skin.
If you have oily skin should you avoid products that contain oil?
Like dissolves like. If you have oily skin using a facial oil cleanser for example is not a bad idea because it is a great way of removing excess oil from the skin.
A common issue with oily skin is combating it heavily with acids, such as glycolic acid, and actually overdoing it.
That can cause your skin to produce more oil and can actually impair the barrier function of your skin, so you've got to be really careful. Using an oil cleanser seems counterintuitive but it works.
Do you have product recommendations for dehydrated Skin?
All SkinCeuticals serums will add moisture, but the H.A. intensifier would be at the top of the list alongside the Phyto Corrective Gel.
How do you tackle combo skin?
Combo skin can be really difficult. When you have the T zone oiliness and the rest of the areas dry you really need to decrease the amount of exfoliation and irritating products because while you know your T zone will be fine but your cheeks (dry areas) will go crazy. With combo skin, if you want an exfoliating cleanser the LHA cleanser is a very gentle but exfoliating cleanser. The Glycolic 10 Renew Overnight is also a great product for combo skin because it is gentle enough that you should be able to figure out how to use it to work best for your skin. Its use is versatile as far as the length of time you can keep it applied, for combo skin you could leave it on for an hour while someone with oily skin could leave it on overnight.
Let's talk about hormonal acne, how do you tackle that?
With hormonal acne, you really need to deal with the root of the problem first, hormones. What you apply topically to the skin is important but won't make a huge difference if you are not addressing the cause.
Hormonal acne tends to be on the lower portion of the face and is fairly deep, tender, and cystic.
I would recommend working alongside a skincare professional to treat hormonal acne.
Redness and Sensitive skin. What should you add-in to your routine?
The H.A intensifier is great for redness because anytime you have redness your barrier is likely impaired and you lose water so you really want to make sure you're doing as much as you can to maintain the hydration of the skin. The Phyto Corrective Gel is great for soothing and calming the skin. The Epidermal Repair would be a great moisturizer for very sensitive skin.
What products would you recommend for scarring?
For scarring, I would recommend procedures such as IPL and laser treatments. With depressed acne scars, you can also do a procedure called subcision where you use a needle to break the tethering of the scars. You can also use filler for depressed scarring.
Head over to my stories to watch Dr. Lain do a breakdown of a few of my favorite SkinCeuticals products.