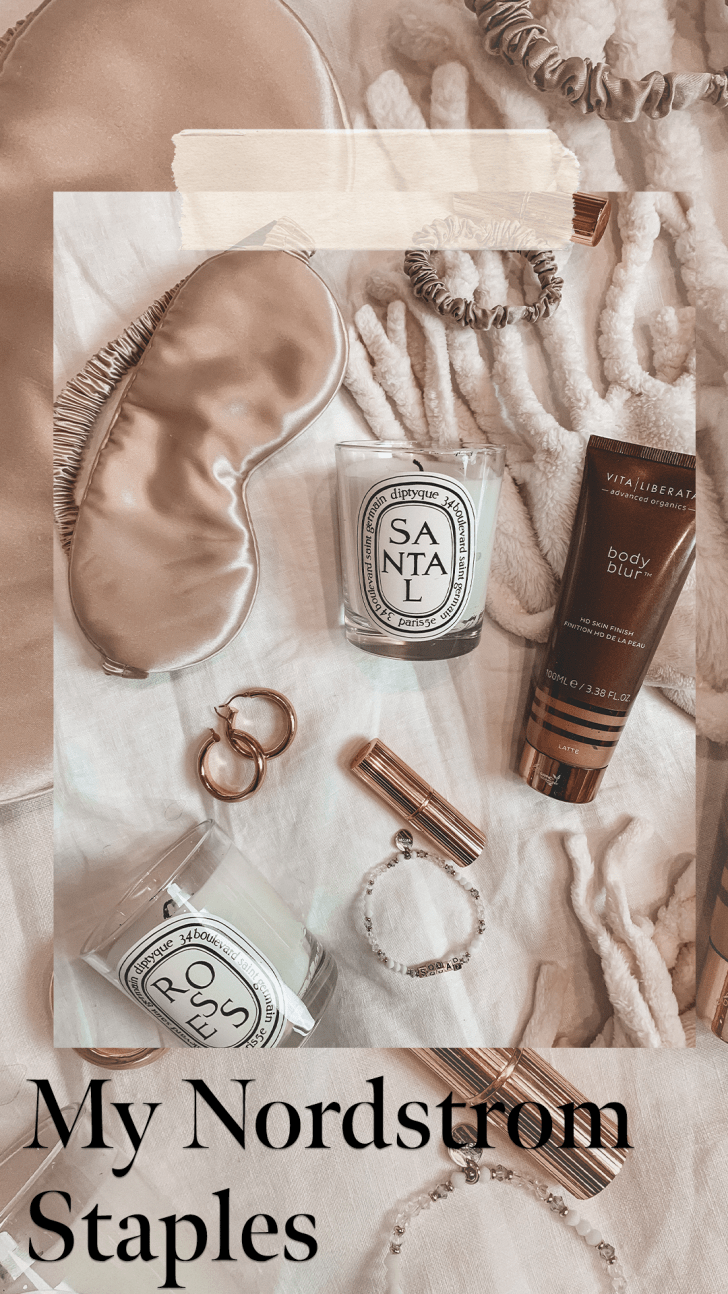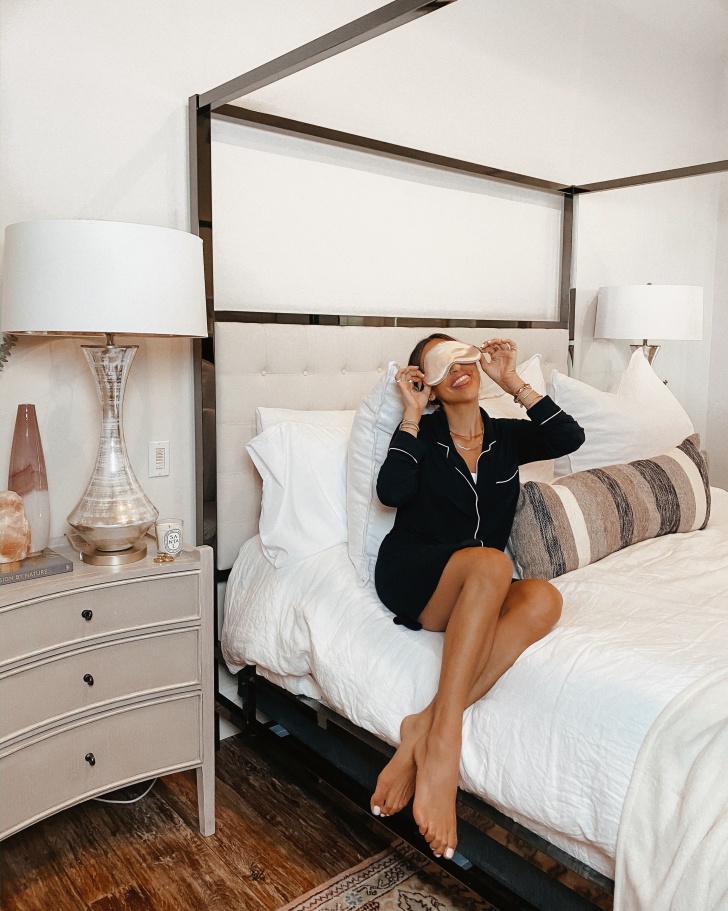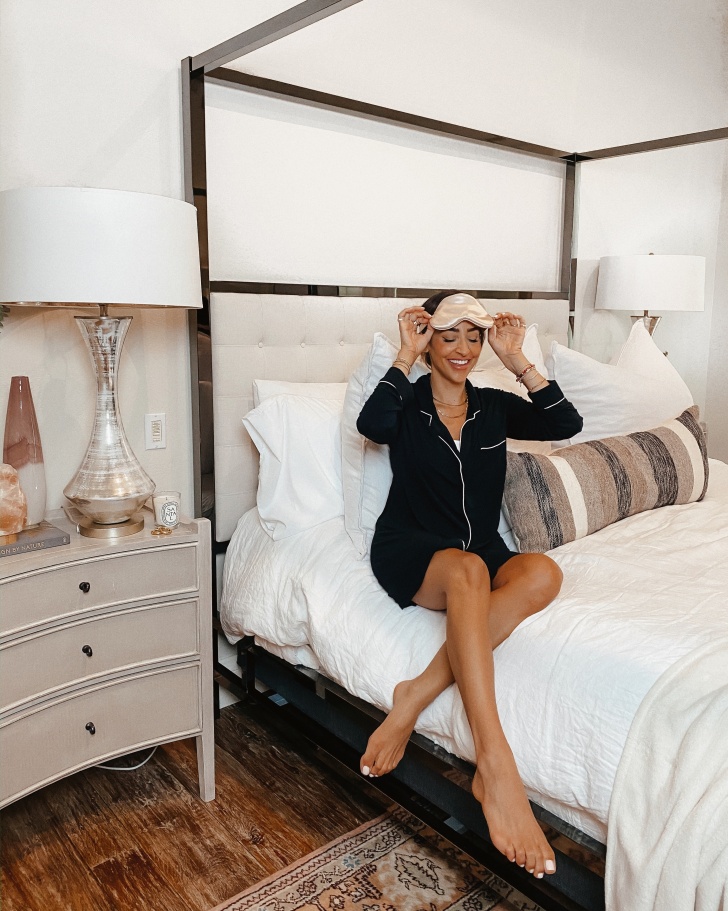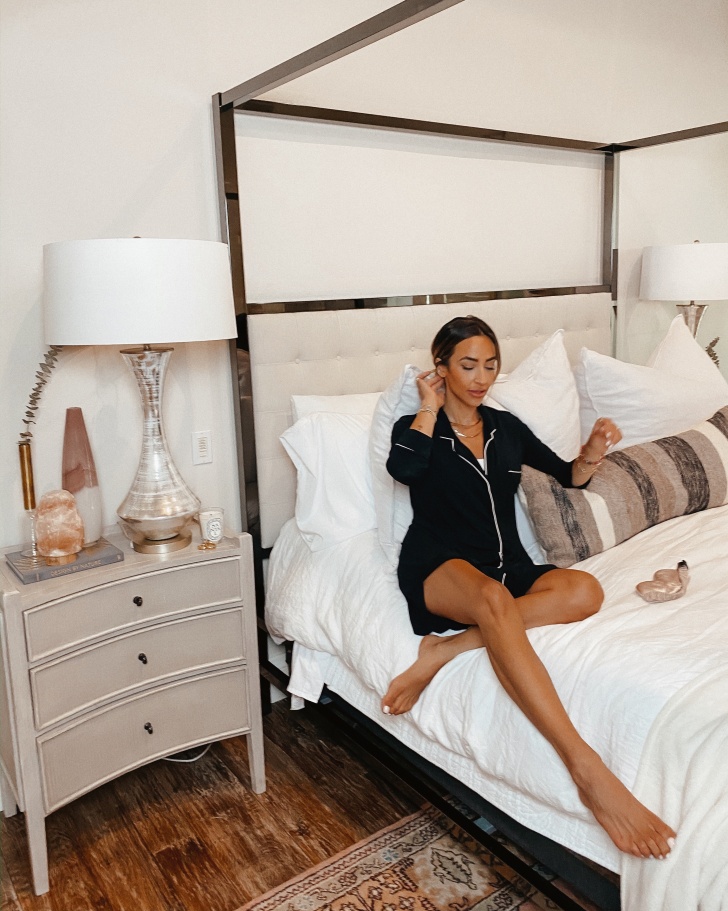 pjs. eye mask. scrunchies. blanket. candle. earrings.
click the products in the image above to shop.
Are you someone who likes routines or someone who's always down to shake things up? When it comes to beauty and style, I think I'm a bit of both honesty. I like trying new trends, but I also always have my staples and favorite things that I can't do without. My must-have gold hoops, a crisp white (and on-trend) white sneaker, a totally splurge-worthy candle, you get it. This post is basically a round-up of an assortment of all of my favorite things from Nordstrom in one place. There's a little it of everything from style, to home and of course my favorite nude lip. Nordstrom has always been one of my favorite go-to, "get everything in one place" spots, and has remained super high on my list with all of the stay-home orders over the past few months with free shipping and returns! They are also offering curbside right now, where you place your order for pick-up online, drive up, call them and they bring the items right on out to your car.
Gold hoops – I wear these almost daily and always get questions from you guys! They make a great everyday hoop that won't break the bank and have remained in amazing condition.
Airforce 1's – (getting low on stock) A recent purchase but already a staple in my closet. These go perfectly with EVERYTHING, I love pairing them with a dress to keep things casual, but also love them with a simple graphic tee and bike shorts.
White vans – Another closet staple. I painted mine and love the unique vibe the painted white vans give to any outfit.
Candle – Pro tip, burn Santal and Rose at the same time for the best-mixed scent. I love them each separately too, but something about mixing candle scents makes the vibe feel extra special.
Blanket – Perfect for cozying up and watching Netflix. These Blankets come in a ton of colors, so it's super easy to match whatever room you want it for.
Hair Ties – The slip scrunchies (and eye mask) are SO soft and silky. I love how these don't tug my hair so it's perfect for my evening bun.
C Tilbury lipstick – My tried and true lipstick. Some favorite shades: Kim KW, Penelope, Pillow Talk.

Thank you Nordstrom for collaborating with me on this post. As always, all thoughts and opinions are my own.