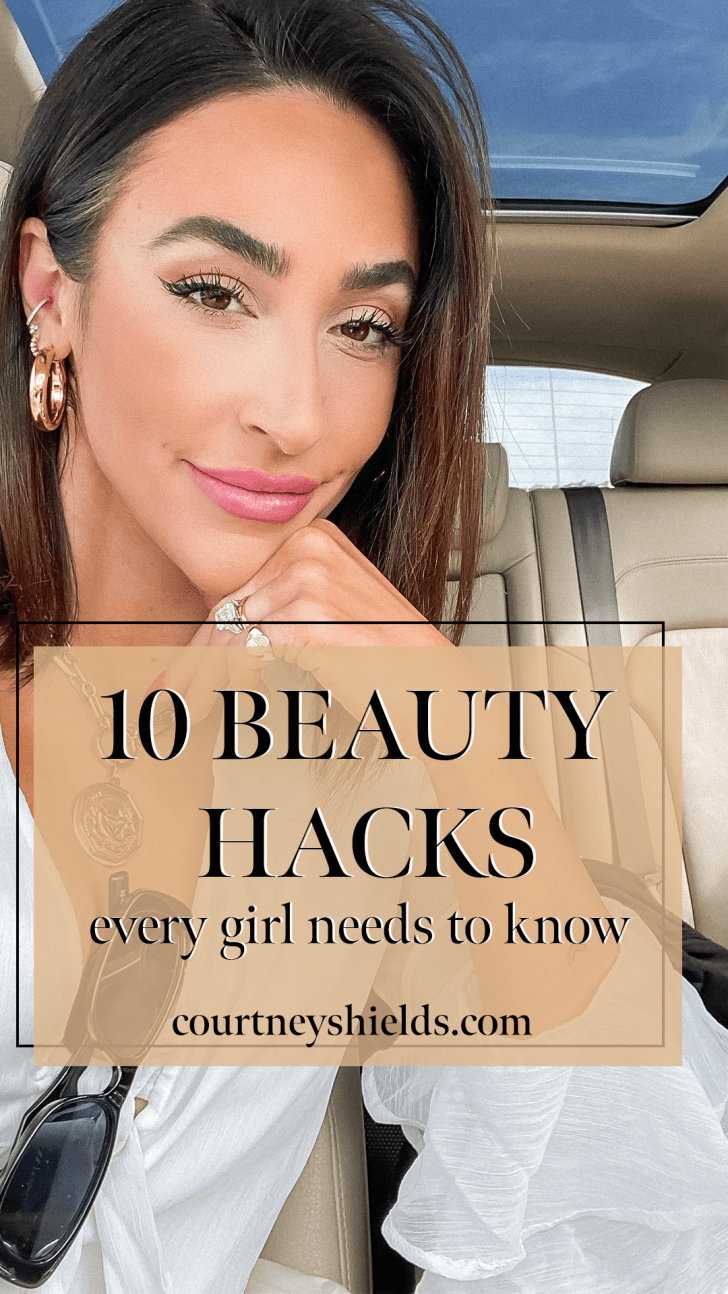 I have very early memories of sitting on my moms vanity watching her get ready in the mornings. It's one of my favorite memories, because it's not only the root and the beginning of my career, but it's also something that Kinsley now does with me. Talk about a full circle moment. She plays in the bathroom (which at 2 looks more like grabbing everything in sight) while I get ready for the day. It's a little hectic, but it's our time and I love it.
That's the thing, I've always loved beauty. Some of my very first memories surround it. I was the girl braiding everyones hair for volleyball tournaments—no joke, there was a line. Enter the other thing I've always loved, helping people feel good.
When I combined my love of beauty and helping—this blog was born. Mix in the fact that I'm a busy mom with less time these days and tip Tuesday was born. If you are new around here, "Tip Tuesday" is exactly what it sounds like. I share all my tips and hacks (a lot of them are beauty related but not all) on a Tuesday. So many of these tricks have come from the sheer necessity on my part, and others were requests for you guys.
If you've missed the Instagram stories, I saved the most popular ones in my highlights, here.
Having said that, I know a lot of you guys are readers, so I thought it would be valuable to write my top beauty tips and tricks in one place. That way, you can bookmark this and reference back to it at any point.
Consider this your bible for beauty hacks.
How to get mascara off your lids: The first thing you want to do when you get mascara on your eyelids is nothing! Yes, you read that correctly, nothing. Fight the urge to immediately wipe it away, and let the mascara completely dry before you do anything. Once the mascara has dried, grab a spoolie (looks kind of like mascara and can usually be found on the opposite of a brow pencil) and gently flake away the mascara. If you wait until the mascara has dried, this works like a dream! 
How to tame flyaways: I've always had some flyaways, but had tons postpartum. Use a clear brow gel or mascara and apply right on the hair you want to tame. The tiny wand allows you to be super precise in your application and acts as a little magic wand. I also like to do this on my side-burns lol.
How to avoid sunglass lines on your nose: You guys requested this one like crazy! I did a lot of experimenting to discover this hack. Take a translucent powder on a damp beauty blender (the powder being translucent is key) and apply it to the sides of your nose where the sunglasses will be sitting. Then, apply the same powder with your finger onto the nose pieces of the sunglasses (or whichever part will be touching your nose depending on the sunglass design). 
How to do your blush like a supermodel: I learned this from watching tons of supermodels do their makeup. It's a genius trick and so easy to do. Simply apply your blush (I like to use cream for this trick) to the apples of your cheeks and carry the excess onto the bridge of your nose. Adding a little bit across your nose mimics the look of a natural sunburn/suntan and gives a glowy, youthful look. 
Easy and flattering eyeshadow in 30 seconds: This is one of my favorite tricks in the book. I like to use my bronzer as eyeshadow. If you are an OG follower of mine, you will definitely know this tip because I've been doing it for YEARS. It will work with any bronzer you have (this is my current favorite). I just use a big fluffy brush and dust it in my crease, easy as that.
How to create an elongated eye shape without using liner: Take a small fluffy brush (I like this one) and flick your shadow out to the side. This draws the eyes outward and gives the prettiest shape! If you want to amp it up a bit, take the warm medium brown shadow under your eye on the lash line as well. Once you reach the edge, bring it up to meet the shadow on the top. I like to do this on my more natural days to create a bigger, pretty eye shape! 
How to make your lashes look as long and full as possible: This is another trick that I have done for YEARS, and I do mean years. I have literally been using this Lancôme lash primer since I was 15 years old (I'm 32, so you do the math).  If you haven't gotten on board yet, do it and thank me later. I see a lot of people apply mascara immediately after using this primer but I do it differently. I like to wait for about 30-45 seconds before applying my mascara to allow the primer to get a little tacky and really do its job best. If you apply the primer / mascara combo that way it makes an insane difference on your lashes!
How to stop your mascara from smudging under your eyes: Again with the translucent powder (my fave here) but I'm telling you, this is a game changer. Take a little brush (you want it to be pretty dense–but it doesn't matter too much) and apply some translucent powder to the ends/tips of your lower lashes after you've applied the mascara. The powder will act as a barrier between your lashes and skin to help avoid the fall out.
How to make your lips look bigger: There are tons of tips here, I recently did a full tutorial on my IG stories. I do have filler, but this works on any size and shape lips (I did it before I had anything and it worked great). Slightly over line your lips, mostly in the center. The key here is to focus on the center of the bottom lip and the cupids bow. Over lining the middle only and then following your natural lip line on the outside helps keeps things looking natural. Then, apply your lipstick and a slightly lighter nude on the center to make them really pop. If you want to take it up another notch, add a gloss! 
How to fill in your brows the best way: Before filling in your brows, brush the hairs down to see where your arch is and where you want to be. Go ahead and fill in where the arch should be before you brush the hairs up. Then, when you brush the hairs back up, they lay on top of where you filled them in and it looks super natural.