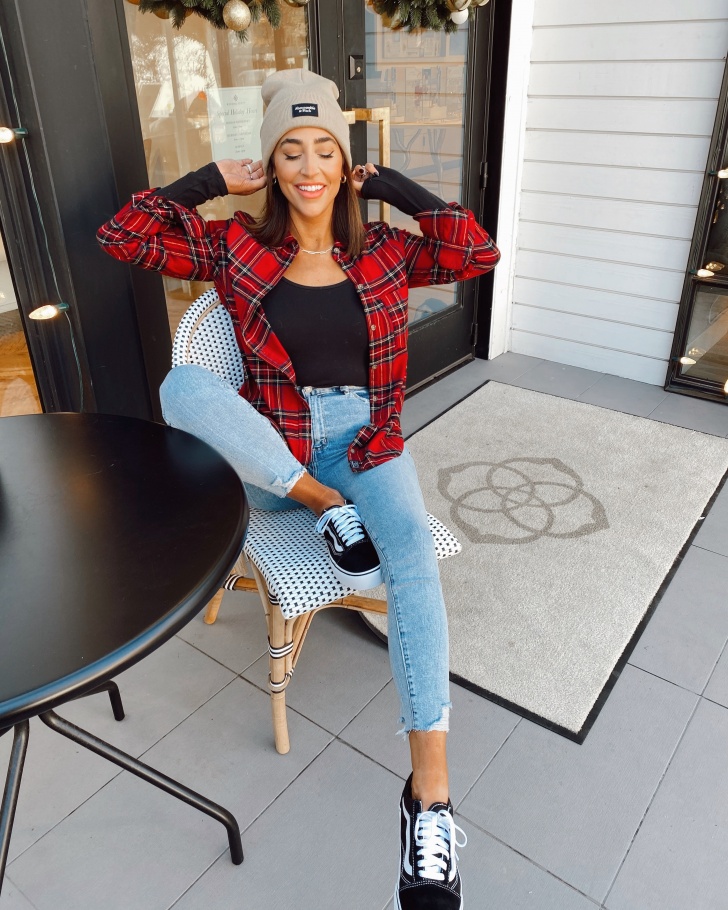 Beanie. Flannel. Bodysuit. Jeans.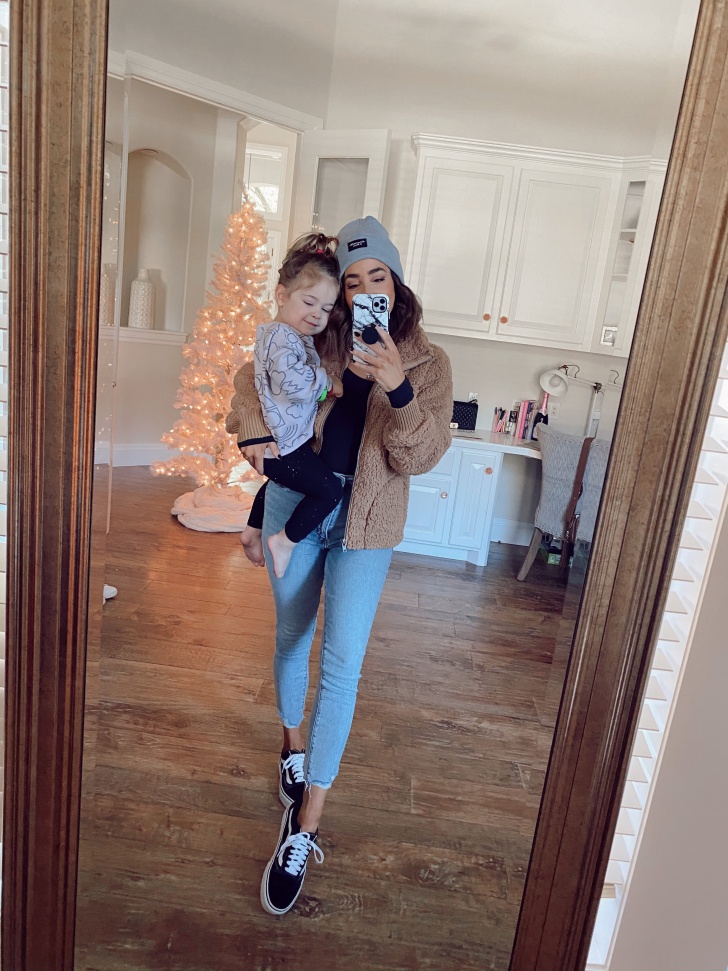 Beanie. Sherpa Jacket. Bodysuit. Jeans.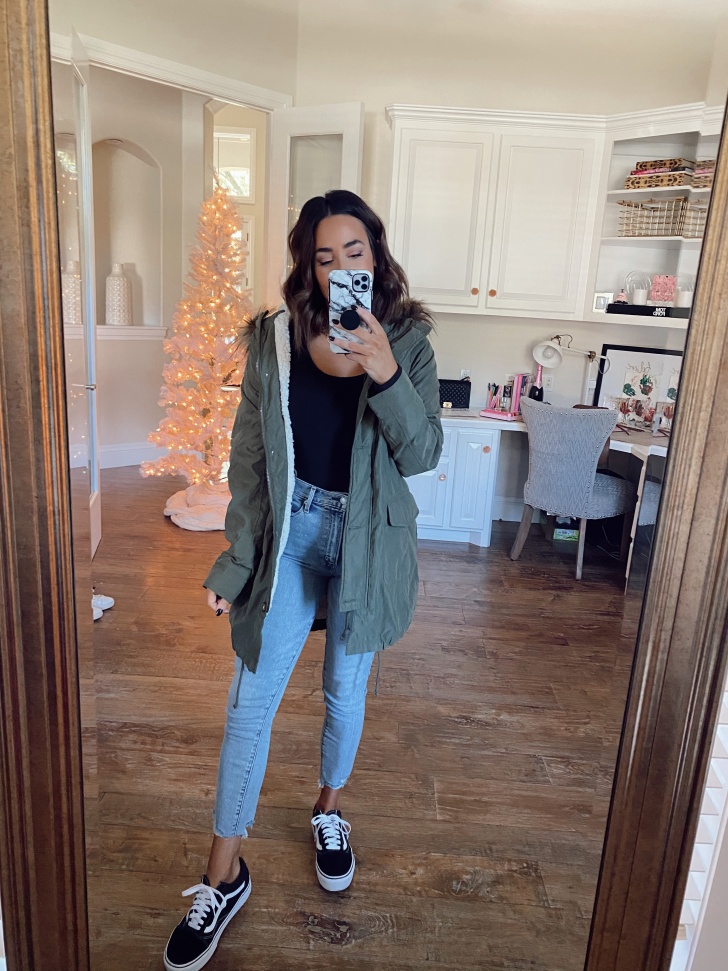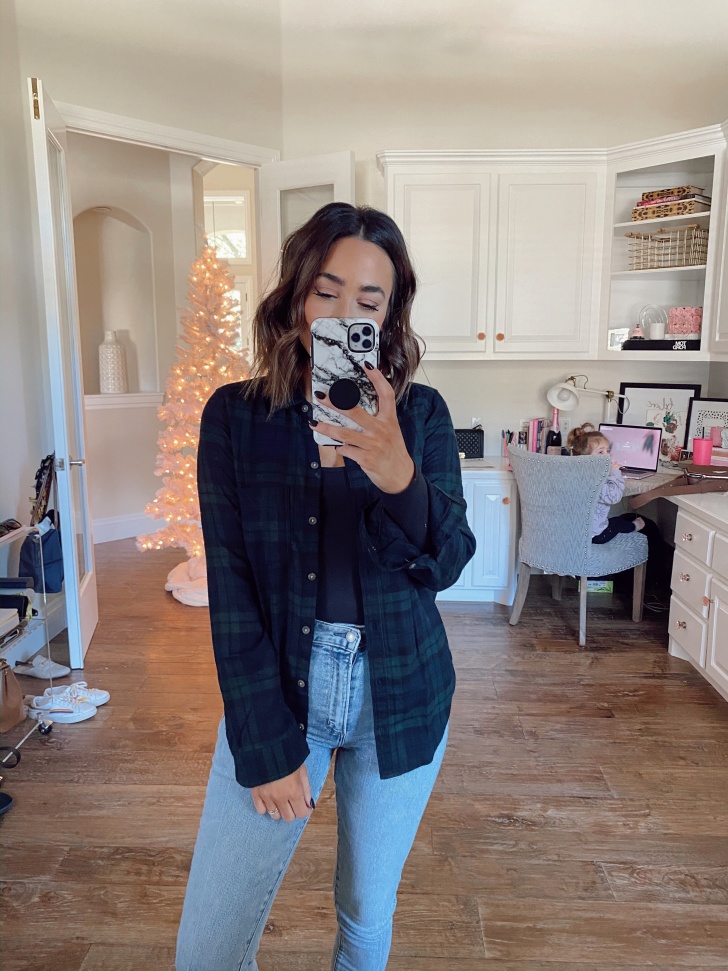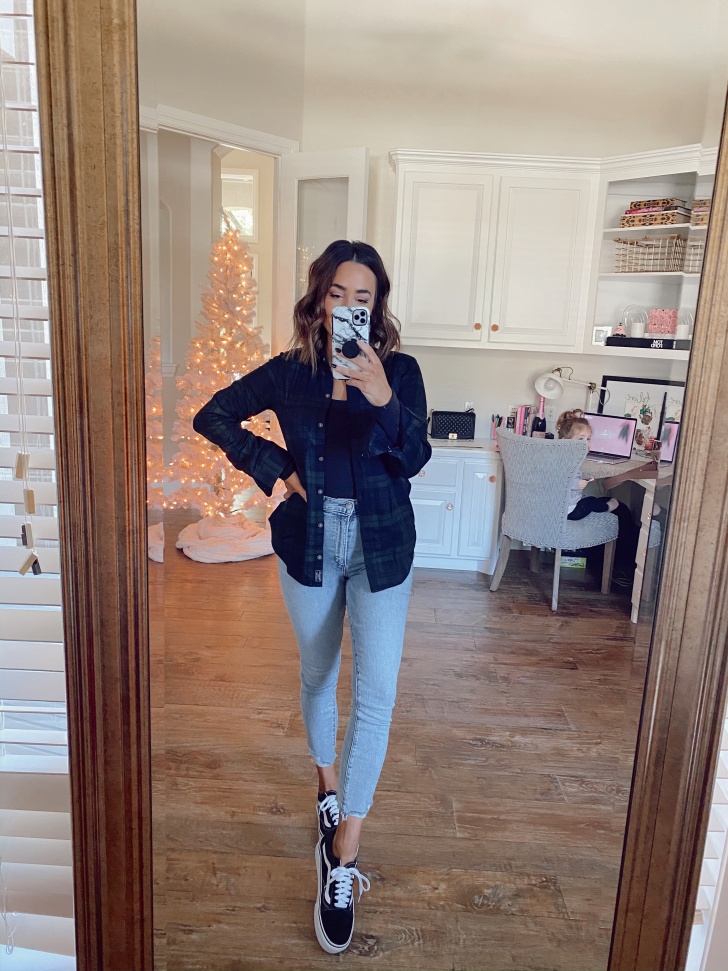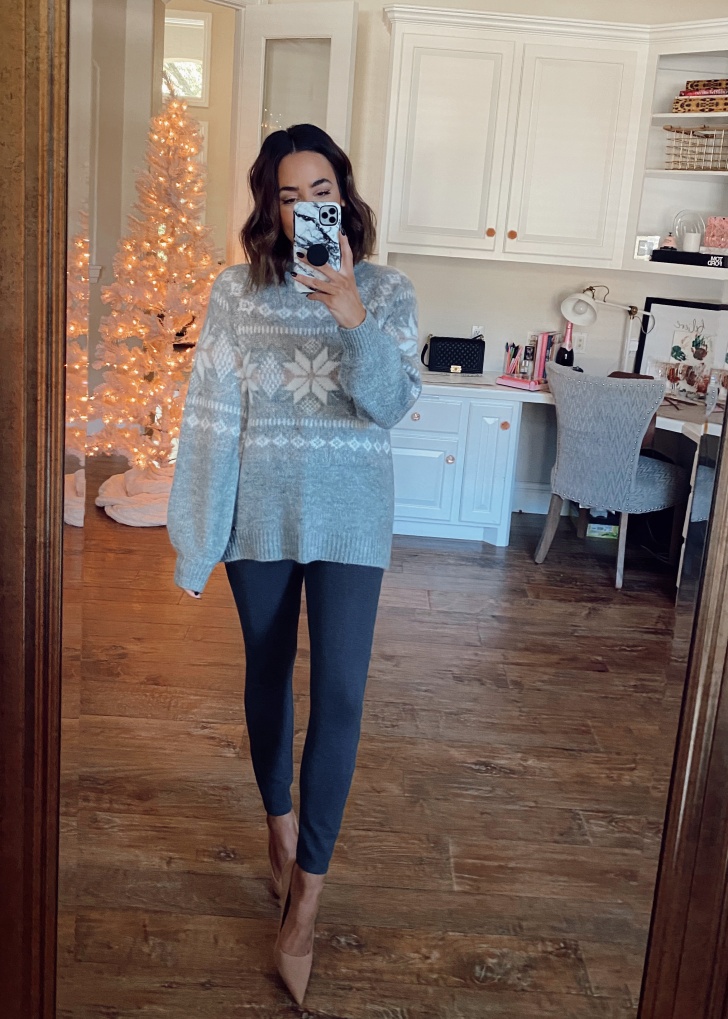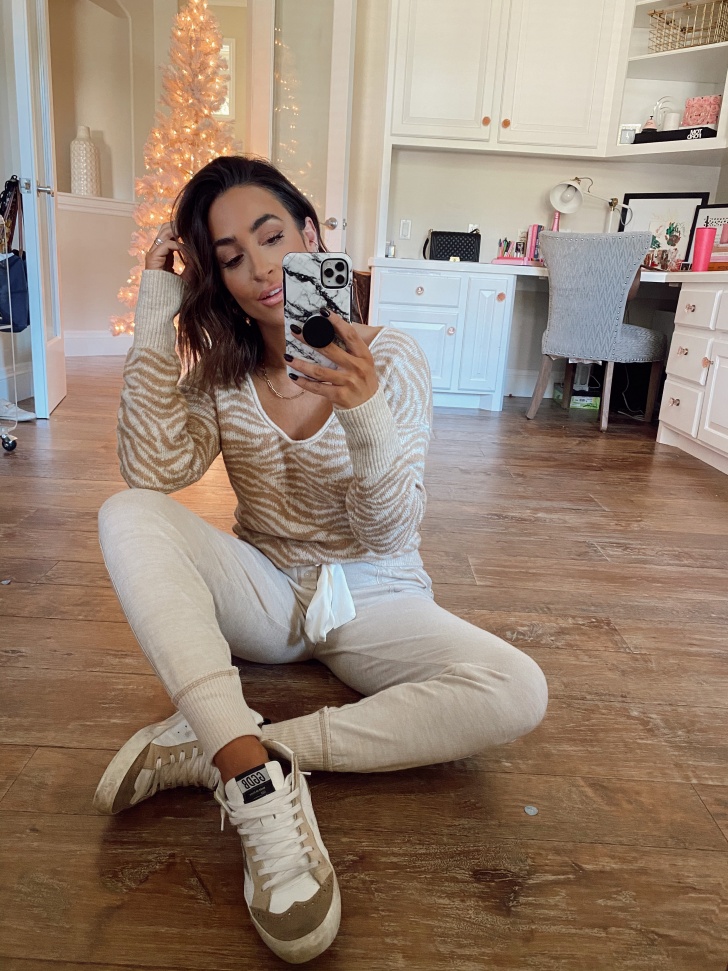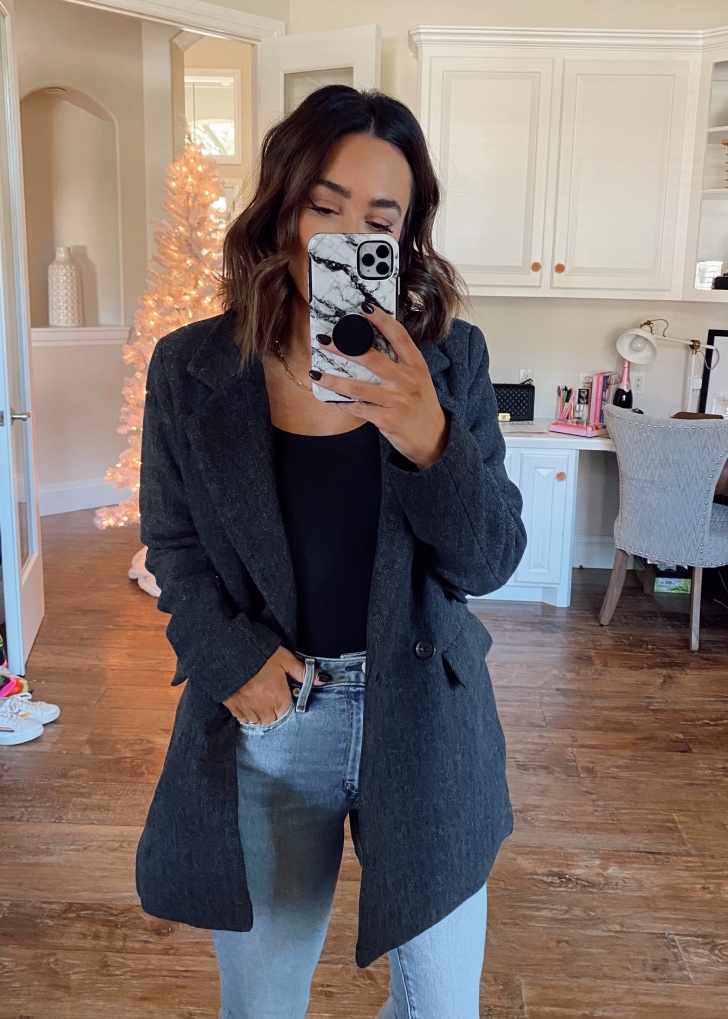 I seriously can't believe that Christmas is only 7 days away! Where has the time gone? Add that to the list of most cliche things ever said, but really, time is moving extra fast this year. I am finally feeling healthy and like myself again, and we are starting to prep for family coming into town. Every year, we do Christmas at my moms house. She still lives in the house that I grew up in, so it's amazing to be able to continue all of my family traditions with Kinsley.
One of my favorite memories of Christmas morning as a child is waking up and running down the hall to get my parents. Then sneaking into the living room where the fireplace was drenched in decorations, stockings stuffed to the brim with gifts from Santa, and of course, the now empty plate and cup that my brother and I left out for Santa with milk and cookies the night before. Every year Santa left big footprints in soot on the base of the fireplace from when "he came down the chimney". Having a kid of my own has given me a new perspective of all the wonderful things my parents did for us during the holidays, and it gives me inspiration to create traditions that Kinsley will cherish too.
With Christmas so close, I am in full blown cozy mode over here and wanted to share some of my current favorite cozy pieces from Abercrombie. Over the past two years I have re-fallen in love with Abercrombie. The pieces are perfect for my everyday style, I love the fit (I usually wear a small), and the quality is always on point. Their denim is hands down my favorite denim! I've pretty much stopped buying designer denim because the AF denim is more flattering, more comfortable, and a better price. Basically, it wins out in all categories. Ya, it's that good. They also totally kill it when it comes to cozy pieces and flannels. 
Shop Some of My Favorites Below.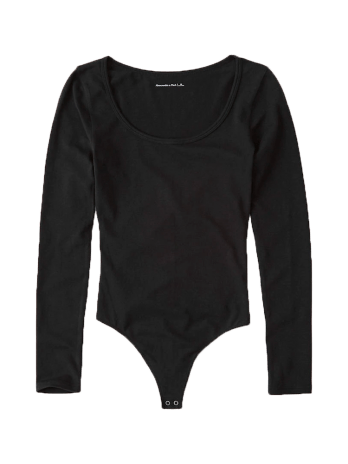 A long sleeve black bodysuit is a closet staple! I get so much wear out of this top it was such a good purchase. The bodysuit runs small, so if you are between sizes size up. I generally am between an xs and a small and had to go with a small with this top.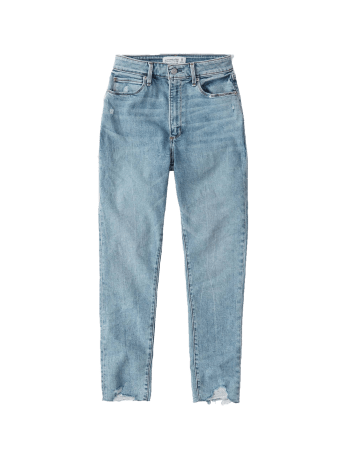 I always love high rise jeans, but these curve love high rise from A+F have quickly become my new favorite! They fit SO well and have a ton of different washes. This particular wash is EVERYTHING. They run TTS and manage to fit my waist AND my booty. Can I get a YASSS?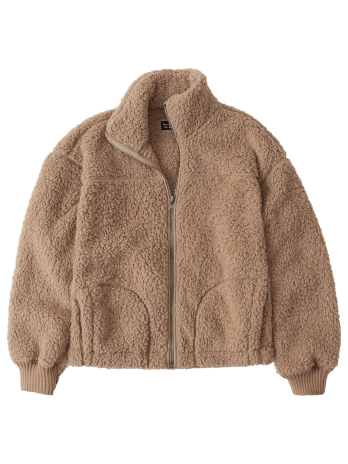 I've always loved a good sherpa jacket, this one is insanely soft and very slightly oversized, but not sloppy. It's so much fun to pair a big jacket like this with a fitted top and some mom jeans. I'm wearing my normal size small and love the fit.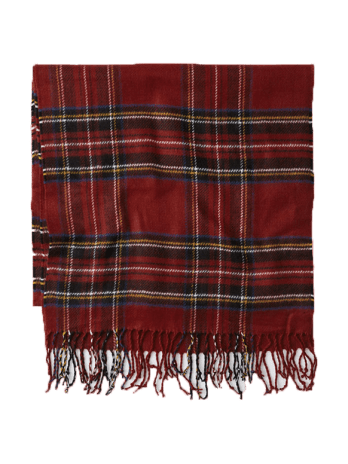 This blanket scarf is one of my favorites!! It is such a good price point (and today it's on sale for $19!!) and a plaid scarf is such a winter staple.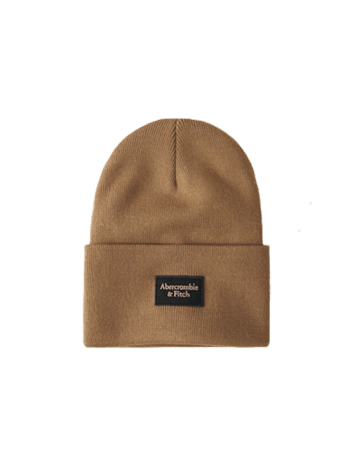 You guys know I am obsessed with beanies in fall/winter and these are top of the list! I have this beanie in red, tan, blush, and grey. Think I like it? I can seriously never have enough beanies. Today is the day to stock up on these because they're on sale for only $10!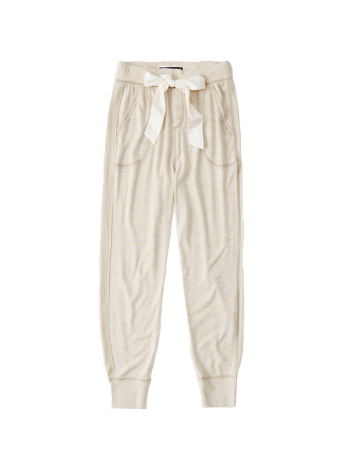 These are the softest joggers ever. They are definitely more PJ like because the fabric is SO soft and buttery. I have the blush color but they come in 3 other colors.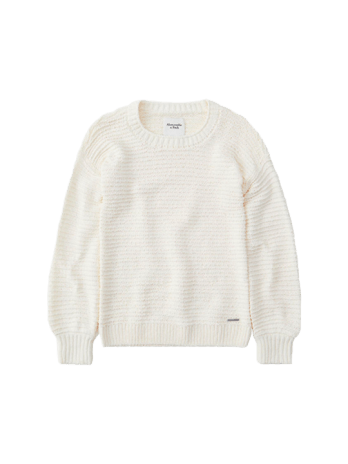 This is such a soft sweater, you know how some can be itchy / scratchty? This one is not whatsoever, it is amazing quality (nice and thick) and is also on sale today ( 1/18) for only $28!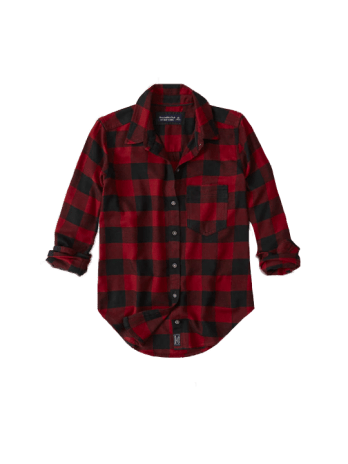 I have an Abercrombie flannel that was my dads from the 70's and it's still amazing. That's how good these are! I used to only wear one brand of high-end flannels until I fell back in love with these. They're a steal, super soft, and actually flattering for a flannel (very hard to find!).  They get a ton wear and are perfect for layering. The fit is pretty TTS and aren't an oversized fit like some. I'm wearing the small.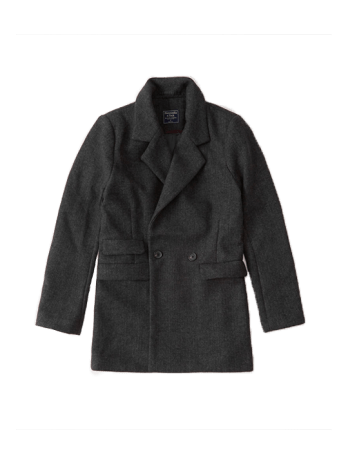 The perfect hybrid between a blazer and a coat. If you love the blazer look but live somewhere colder, this is the perfect option. It is a thick coat, and will definitely keep you warm.
These are such a good pair of leggings. They are really thick, so they are almost like a pant and can be dressed up and down.
Thank you Abercrombie for collaborating with me on this post. As always, all opinions are my own.