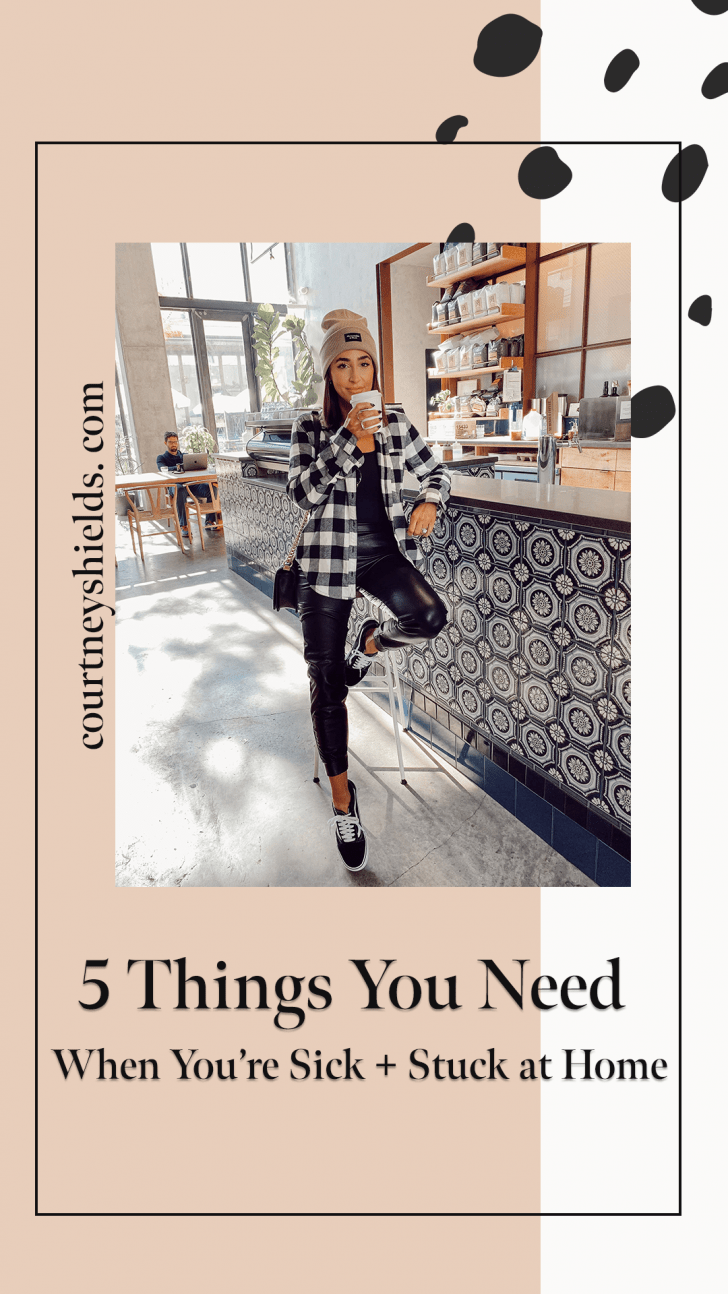 Hello from my bed! Riveting, I know. If the flu doesn't take me down, the boredom just might. But, in all seriousness, if there is one thing that being sick has given me, it's a great reminder of how blessed I am for my health (usually I mean). It can be easy to take the day to day things for granted, or think of them as givens, but they aren't and it is always a good reminder to be extra grateful for health.
I woke up and took a long bath this morning. While I was attempting to relax and relieve a bit of the aching, I started thinking of all my sick day essentials and thought it would make the perfect post, especially since so many of you are also sick.
Cozy outfit.
When you don't feel good, comfort is key. My go-to is usually leggings or joggers and a sweatshirt! I'm linking up a few of my cozy favorites here.

Netflix shows to binge.
This is basically sick person 101! A good Netflix series is essential in not losing your sanity on those long sick days. Here are a few of my favorite and totally binge worthy shows..
Virgin River – I just binged this and it's SO good. There's only 1 season, so it's any easy binge.
Happy Merry Whatever – Light, funny and easy to watch!
The Resident
Dirty John (this one came highly recommended by you guys)
The Crown (another recommendation for you guy, I may start this one next)
Riverdale
Schitt's Creek
Suits (I was SO sad this show ended. This one has tons of seasons and will definitely hook you)
Find endless recommendations on this post!
Warm Beverage.
You can find my tutorial on How To Make a Medicine Ball at home  here. I love making mine in the Yeti mug because it keeps it nice and hot for basically as long as you want.
Instant Tan.
There is something about being sick that just drains all the color from your face. I woke up this morning looking extra ill in that department (yikes), washed my faced and mixed my favorite temporary tan (Drunk Elephant D Bronzi ) into my daily moisturizer. I INSTANTLY felt/looked instantly better. They are such a game changers for sick, tired or just lack luster skin days.
Major hydration.
Hydration is KEY when you're sick, so try and hydrate on all fronts. I use my  Trader Joes Moisturizer, mix a liquid IV into my water, and lather up my lips with the lip balm!
That's it for now, back to Netflix. Hope these sick day hacks help you out! Comment any of your sick day must-have xo