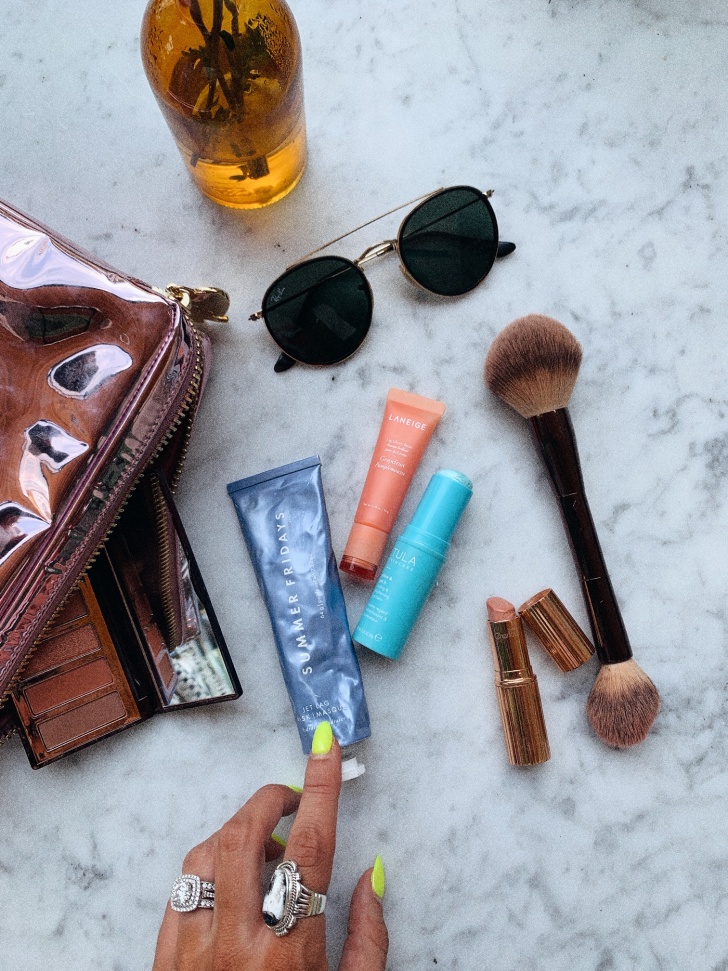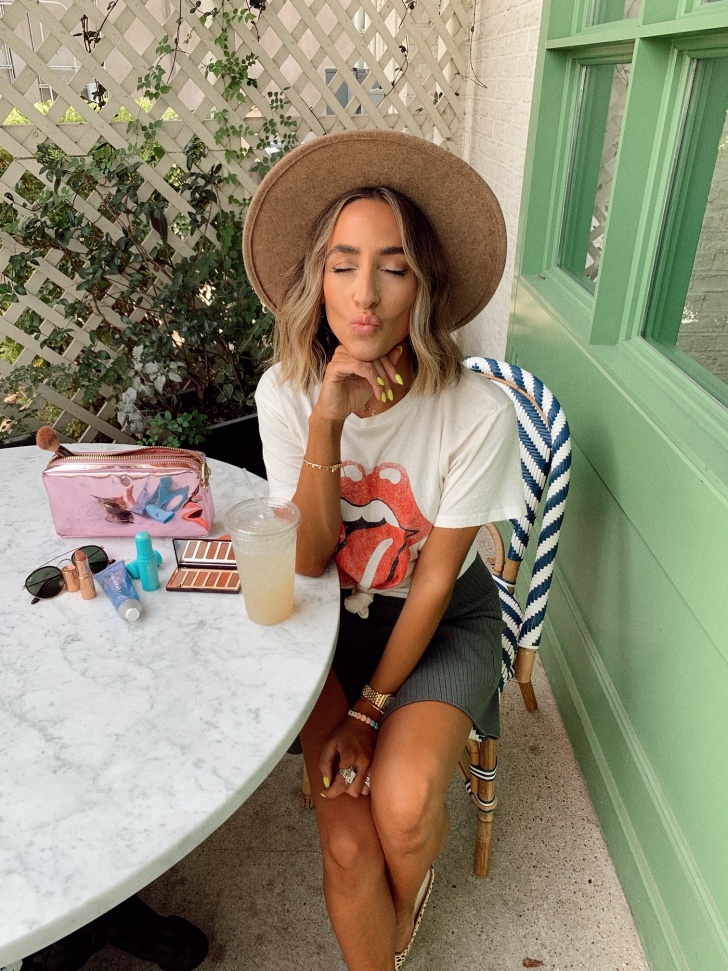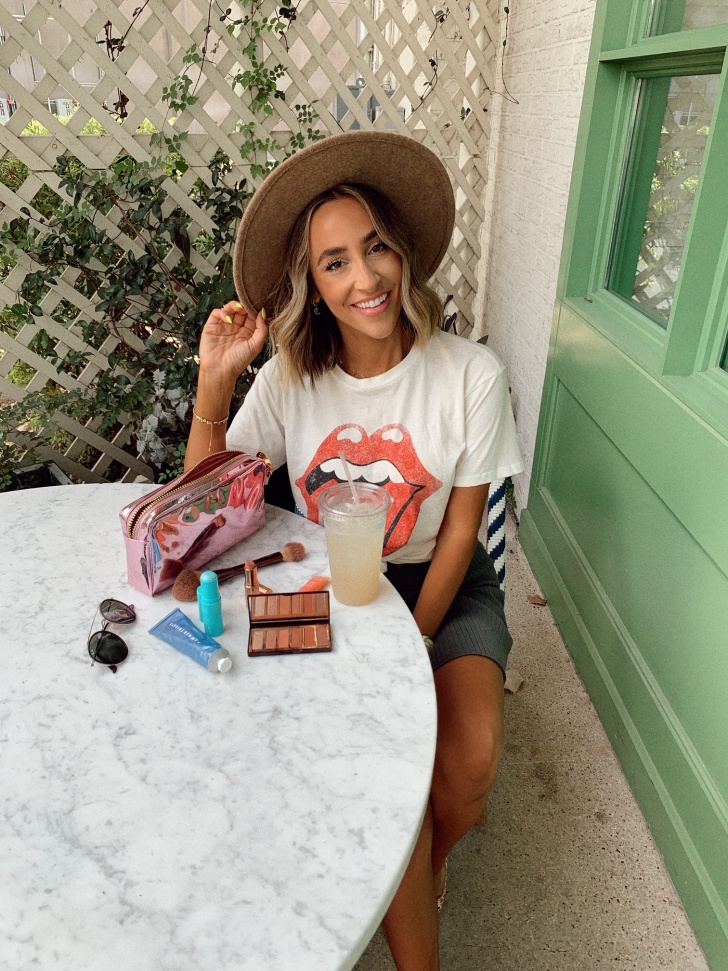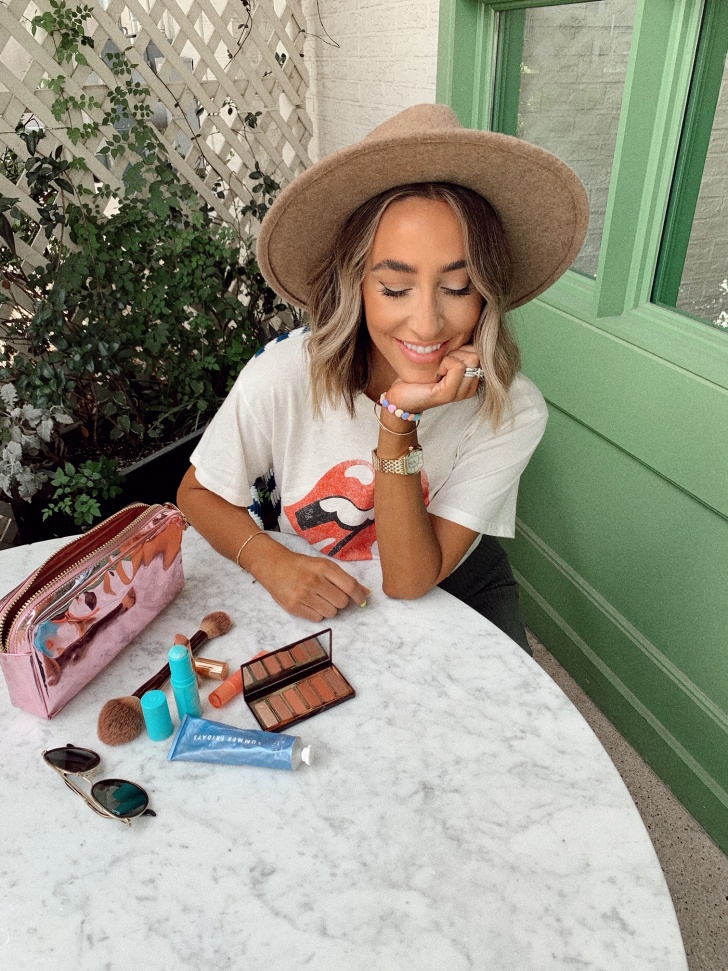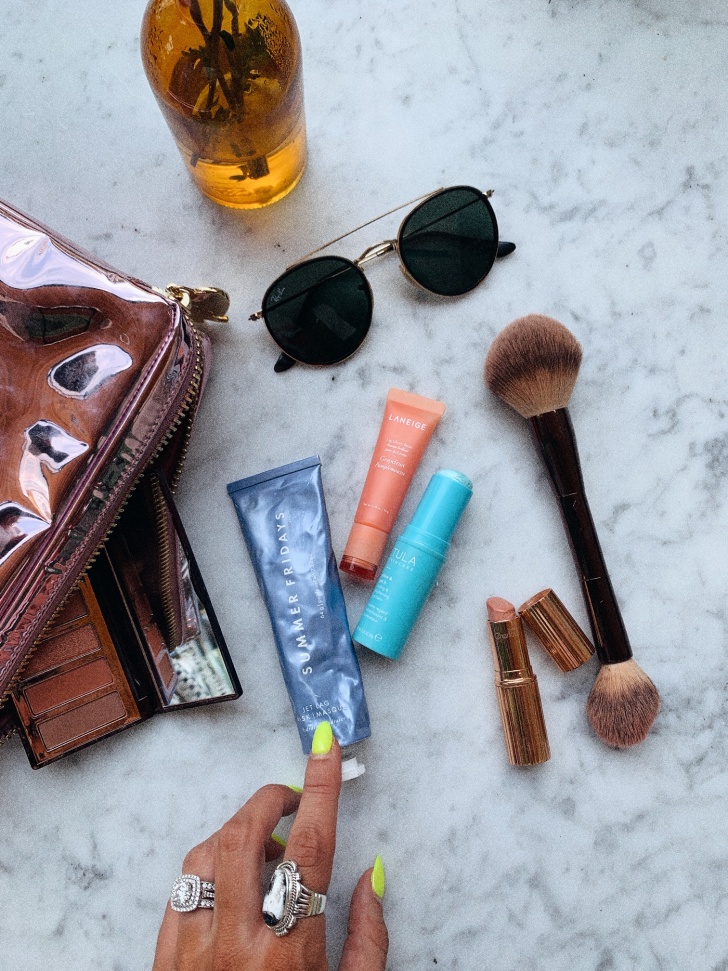 I've done a good amount of traveling as of late and it has really forced me to step up my packing game. I am an over packer when it comes to beauty, but I have spent the last few trips really trying to only bring what I need. Novel concept, right?
Honestly, it is such a challenge for me to narrow down my beauty products because I enjoy my beauty routine so much, and I really like to have options. After trial and error I have dialed my beauty items down to a much more manageable checklist of my must-haves.
I've also found that packing less helps me get ready faster which is key on vacation because who wants to spend all their time getting ready when you could be out enjoying the trip? Not to mention my suitcase is lighter—no more overweight bags lol.
I also pack specific skincare products for hydration to help combat the insanely dry airplane air like the Jet Lag Mask, my everyday lip balm, and a few other gems that can plump your skin up during your travels. We'll dive into the full skincare list in another post, but I especially can't travel without my Cooling Eye Balm (code: COURT20). I'm typically a little more tired/puffy when traveling, so this is a must. It cools, de-puffs and is basically a shot of expresso for your under eyes.
Bookmark this post and pull it up before a trip to ensure you pack everything you need and nothing you don't. You can use this as a packing checklist, or if you don't have any trips in the works, use it to simplify your morning routine and try some of my must-haves (because clearly I couldn't leave town without them).
The Makeup List.
Now that you have my master pack list, let's get into why I picked the specific products. Most of these products won out over others because they have three major traits: They WORK, they LAST and most of all, they are versatile and can be used day to night.
1 / Primer: This primer has been my #1 since it came out. It gives your skin the prettiest glow, adds hydration, kicks redness to the curb and my favorite part, it can be worn alone OR under makeup. They market it as a primer to wear under makeup, but I also really love to use it solo. This is typically what I wear to actually fly, workout, run quick errands etc. It adds just enough to make me not feel totally naked and I love that it's skincare, so I know my skin is absorbing the benefits (unlike just makeup).
2 / Foundation: I have a few foundations I love and keep on pretty heavy rotation, but if I had to pick JUST ONE, this would be it. I've worn it for years and always find myself going back to it. It has a beautiful skin like finish but totally evens everything out (aka: it's not cakey at all). I would say it's a medium coverage but is buildable and perfect for day or night. It also photographs really well (no flashback). I did my own makeup for our wedding and this is the foundation I wore, so that's definitely saying something. Shade: Fall/Winter: 5.75, Summer/Spring: 6.5. 
3 / Concealer: It's full coverage which I love but I can also wear it on lighter days. For those days, I just use a tiny little dot and blend it out with a damp beauty blender. Shade: Light Medium Honey.
4 / Powder: This is hands down the best under-eye setting powder. Shade: Fair for a bright under-eye.
5 / Bronzer: I have a lot of bronzers I love but I always go back to this one. Shade: Luminous Bronze Light.
6 / Liquid Blush: I've been really into the cream blush lately and love how easy it is to travel with. The less powders I bring the less I worry about them breaking in my suitcase. Some liquids can be shady and break or spill also, but this one is in a plastic tube and has a turn closure that ensures it doesn't spill out when you close it. Shade: Pinkgasm
7 / Liquid Highlight: Same as the blush, this highlight is ideal for travel!
8 / Mini Eyeshadow: Any small eyeshadow palette will work. I've been really been into small palettes lately – they take up less space and totally do the trick. Mostly, I look for a palette that has lots of natural shades, lighter tones for day time, something dark to create a smokier night look and bonus if it a shimmer shade!
9 / Eyeliner: Keep it simple, black one liner. My personal favorite is liquid, but if you prefer a pencil, you do you here!
10 / Lash Curler: Packing a lash curler is a must for me! It totally helps to open up your eyes and make you look more awake (which we all need on vaca).
11 / Eyelash primer: I could talk about this primer until I'm blue in the face. If you haven't tried this primer yet, it's a game changer. It make lashes so much longer and I find that my mascara doesn't flake off during the day.
12 / Mascara: If you've been following for a while, you know I typically use more than one mascara to create what I call my "mascara cocktail", but if you are traveling and want to keep it light, this is your mascara. It looks good on top and bottom lashes (not all do), doesn't bleed or flake, and adds both length and volume.
The rest are pretty self explanatory! Lipsticks: I try to pack at least 1 nude and 1 red, if I have those two options, I can create basically any look!
Pro tip: If you pack one of each, you can even mix them together to create different shades.
A setting spray if also a total must for me, it helps you makeup last all day. Before trying one, I thought it was a little hokey, but I've been using this one for years now and can say it really does help my makeup last all day or night.