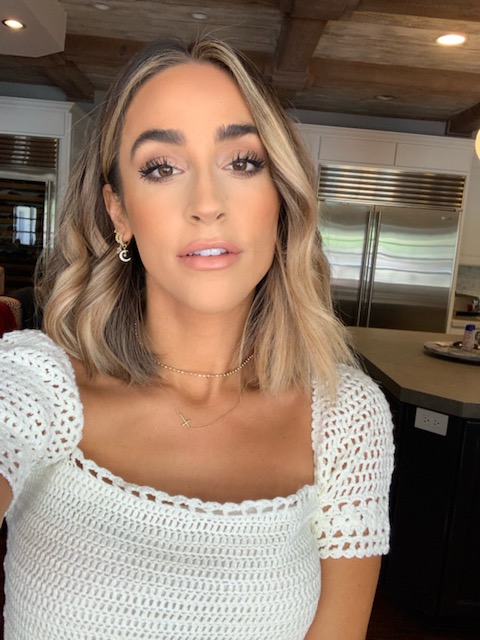 I'm coming at you from my last day in California with a rare Sunday post, but I have been getting so many questions lately about my updated, everyday makeup routine that I wanted to go ahead and get this post up before the week kicked off. I've shared a bunch of these products in my stories and even here on my blog, but I think it's easier to round everything up in one place for you guys. That way if you ever have questions after the fact, you can reference this back. I change up the order from time to time, but I tried to write it out in the basic order of how I apply. I also tend to switch up my nude lip combo, but I listed my main favorites under lips! I'm wearing one of those 90% of the time!
I will also save my tutorial to my highlights if you want to watch it back.
Face.
Sunscreen.
Elta MD Sunscreen (I also love Supergoop)
Primer.
Foundation + Concealer.
Nars Natural Radiant Long Wear Foundation – Shade: Barcelona
IT Cosmetics CC Cream – Medium/Tan (I use either this OR the Nars)
Tarte Shape Tape – Shade: Warm Sand (I have a whole "How I Cover My Dark Circles" blog post and IG highlight, but on a daily basis, I just use this concealer and the following powder to set it).
Powder.
Charlotte Tilbury Flawless Finish Setting Powder – Shade: Fair (I use this powder to set my under eyes)
Fenty Beauty Instant Retouch Setting Powder – Shade: Butter (I use this one on my t-zone or anywhere else on my face I want to mattify!)
Bronzer, Blush, Highlight.
Hourglass Vanish Foundation Stick – Shade: Almond. I use this on my cheeks and forehead, then go over it with my powder bronzer. It gives a more natural look!
Hourglass Ambient Lighting Bronzer – Shade: Radiant Bronze Light
Milani Baked Blush – Shade: Luminoso
Milani Highlight Trio – Shade: Rose Glow
Eyes.
Eyeliner.
Kat Von D Tatto Liner – Shade: Trooper
Mascara.
IT Cosmetics Superhero Mascara
Lips.
I tend to switch it up often but these are my go-to lip products lately!
Liner.
Lipstick.