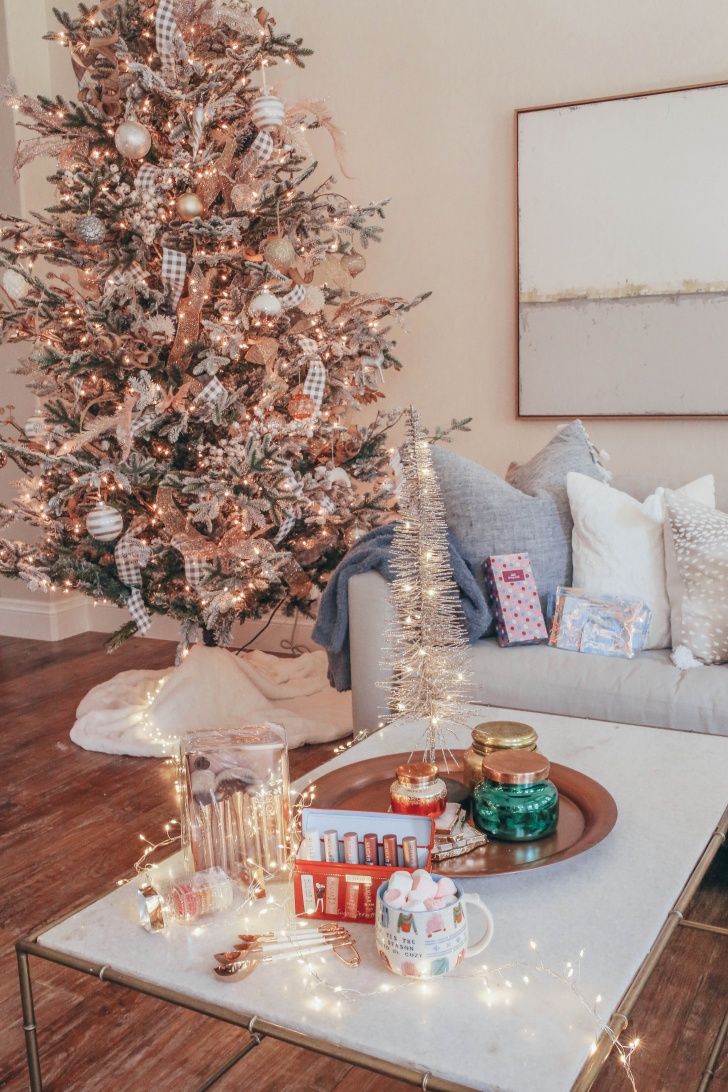 Welcome to the Ultimate Women's Gift Guide for 2018.
When brainstorming about this year's gift guides, I knew I wanted to do something different than I had done in the past and also different than what I see typically being done. So, instead of breaking each of these categories up into several gift guides for women, we decided to create one post. This way you can find everything for everyone in one place!
Whether you're shopping for the bestie who loves beauty, a fashion girl, the homebody, the luxe lover, the mama or mother-in-law in your life, the girl who can't get enough fitness, or the queen of entertaining, we've got you covered. There's literally something for everyone.
When I say this was a labor of love, I truly mean it! Countless hours went into creating this super comprehensive and all-inclusive gift-guide for you guys. I hope you love it, find it ultra-easy to shop, and that it's a great source for you this holiday season!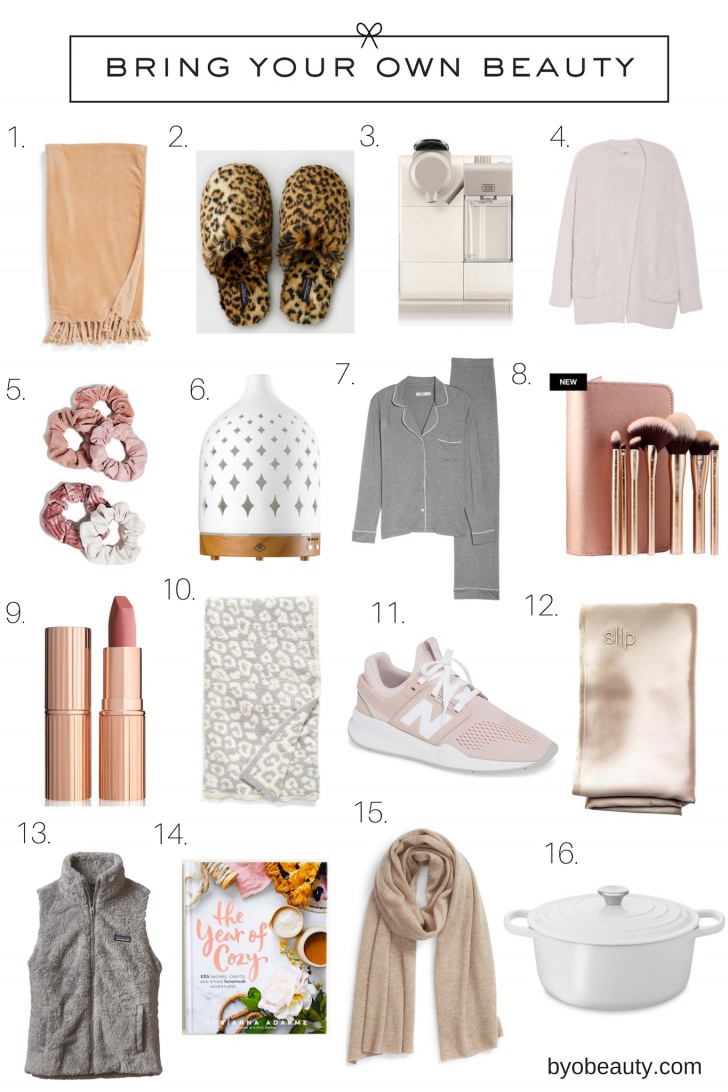 The Homebody.
Home Kennebunk Bliss Plush Throw – 

This is such a great blanket! It's crazy soft, really great quality and an awesome price.

AEO Leopard Slippers – Every girl needs a cute pair of slippers, and these are perfect in leopard.
Nespresso – Amazing espresso machines, and nothing says 'I love you' like coffee! Can I get an amen?! I love that this one is white and it's aesthetically pleasing.
Barefoot Dreams Cardigan – I'm wearing this cardigan as I type out this post for you guys! It's *the* coziest – perfect for lounging around the house, traveling etc. I'm a S/M for a super oversized and comfy fit.
Kitsch Velvet Scrunchies – I've been wearing these 24/7. They're a super cute addition to any casual outfit and would make a great stocking stuffer or even coworker gift.
Serene House Supernova Diffuser: I use my diffuser daily and love that this one is not only functional but pretty!
Ugg Pajamas – Every homebody needs a cute pair of pajamas – or three! These are so pretty and would also be great if you're a nursing mama.
Sephora Collection Spellbound Brush Set – I get asked daily about my recommendations for a good brush set! The holidays are the perfect time to grab a great set for a better price. I ordered this gorgeous rose gold set from the Sephora sale and have been loving them! I love that they have both face and eye brushes in one kit. They're definitely a total steal.
Charlotte Tilbury Pillow Talk Lipstick – This lipstick literally looks good on everyone! I've tried it on several of my friends and it never disappoints.
Leopard Barefoot Dreams Blanket – This is hands down the coziest and biggest blanket we own! It's on the pricey side, but totally worth it in my opinion.
New Balance Sneakers – I have and love these sneakers! They are really comfy and perfect for lots of walking, travel days etc. (they run TTS).
Slip Silk Pillow Case – This pillowcase is a game changer! I love it so much that it made the gift guide twice. They're basically super luxe, silk pillow cases that not only feel good to sleep on but are also better for your skin and hair than a standard pillow. They also minimize face wrinkles from sleeping!
Patagonia Vest – These are just a staple and an easy win for anyone in your life!
The Year of Cozy Book – This would be a pretty coffee table book!
Halogen Cashmere Scarf – Another favorite that I had to include twice, this scarf is a really beautiful cashmere that will last (in quality and style) for years!
Le Creuset Pot – These pots are actually on my wish list this holiday season. They're non-stick, super high quality, and come in a bunch of beautiful colors! I've noticed lately that having things you enjoy cooking in and with can make all the difference in the world. This is also beautiful left out on a stove top.

The Queen of Entertaining.

The Luxe Lover.

The Fitness Fanatic.
There's a little less explaining required with this gift guide, but I love all of these and think they're perfect for the workout lover in your life!
APL Sneakers– APL sneakers are super lightweight and perfect for runners or anyone who loves to work out!
Hershel Gym Bag – Really cute for the gym and a great size to throw a change of clothes in for work etc.
Zella Low Profile Socks – I love wearing these while traveling, when I typically need a sock but don't want them to show! This would also make a cute stocking stuffer.
Alo Support Ribbed Tank – Such pretty colors!
Beyond Yoga Pearlized High Waisted Leggings – How cool are these?! I've never seen anything like this before, but I thought they were so fun and I love a good high waisted legging.
Alo Funnel Neck Sweatshirt – A great pullover to throw on top of your tanks on the way to the gym in cooler temps or even to wear around running errands.
Swell Water Bottle – These come in a bunch of colors and patterns and make a great workout water bottle.
Alo Yoga Mat – I'm actually not one for yoga, but I am one for at home workouts and I always use my mat for that. This would be a cute gift for a busy mama trying to get her workouts in at home.
Invisibobble Hair Ring – These are the best. They hold my hair back great (I have thick/heavy hair) and they also don't crease your hair like a standard hair tie!
Outdoor Voices Sports Bra – My current favorite sports bras. These are very supportive because the straps are thick and they're perfect for bigger busted girls because they're really high, so you don't have to constantly be pulling your bra up during the workout.
Apple Watch – I have an Apple Watch and use it all the time! This would be a homer gift for any gal who loves her iPhone but also likes fitness, tracking workouts, etc.
Alo Moonlit Sports Bra  – Perfect sports bra for day to day use or low impact workouts!
Beats Wired In-Ear Headphones – Love the gold color!
Adidas Ultra-Boost Running Shoes – These would be great for running/working out or as athleisure.

The Fashion Lover.

Beauty Buff.
 
The Mama.
Well guys, that's it for the world's most detailed gift guide! I hope you love it and found something for every lucky lady on your list…and maybe even a few 'treat yourself' finds! Oh, and let me know if you liked the gift guides all in one post like this or if you prefer them spaced out.
The Amazon Echo section of this blog post is sponsored by Amazon.