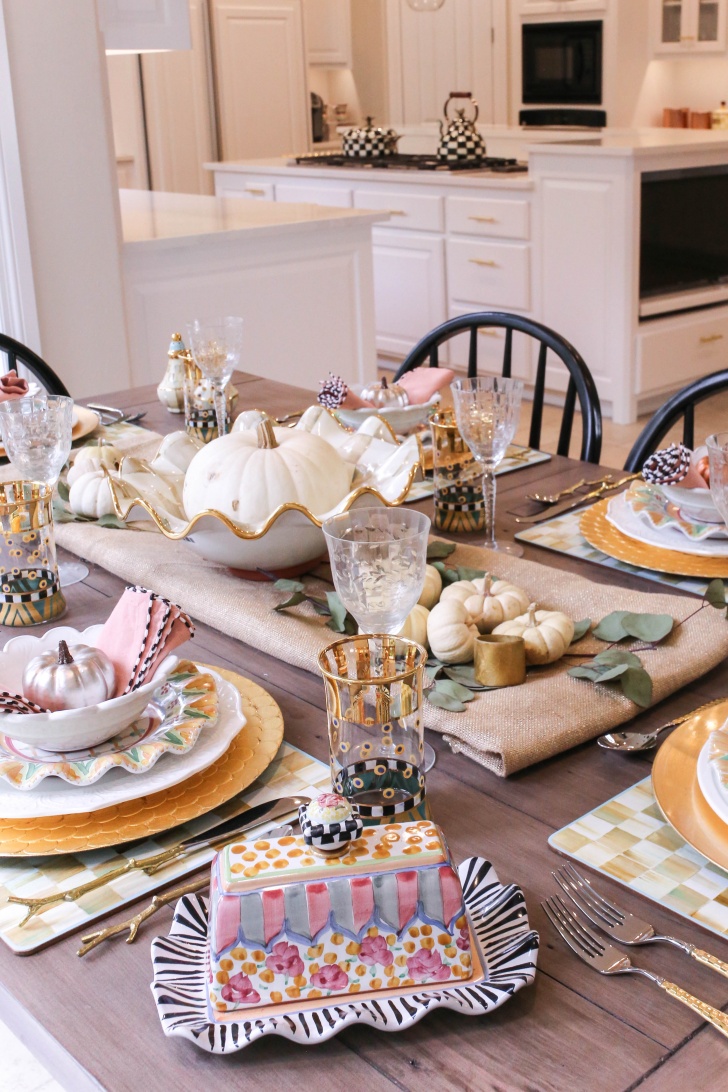 Late last month, I had the opportunity to visit the cute and charming little village of Aurora, NY for a very special week at Camp MacKenzie-Childs. My time at Camp MacKenzie-Childs was honestly nothing short of magical. I spent the week with the sweetest group of gal pals, getting to know a brand I have been a long-time fan of.
If you're new to the wonderfully whimsical world of MacKenzie-Childs, let me introduce you to the most fun you'll ever have setting a table.
Growing up, my mom loved the brand and I loved watching her do her thing. She had the sweetest pieces around our home, a vase in particular I always loved, and of course the beloved Courtly Check. I remember walking through a MacKenzie-Childs store in New York when I was probably around twelve, being amazed at all the adorable silhouettes and explosion of mixed prints.
We kicked off our time at MacKenzie-Childs with a flower arranging class. A local florist came in with a bunch of beautiful blooms and a few tips of how to create the perfect flower arrangements!
A few tips to share…
Tip 1: Start with a base of greens! They really help fill out the arrangement
Tip 2: Just keep going! Keep adding and filling and things really start to come together.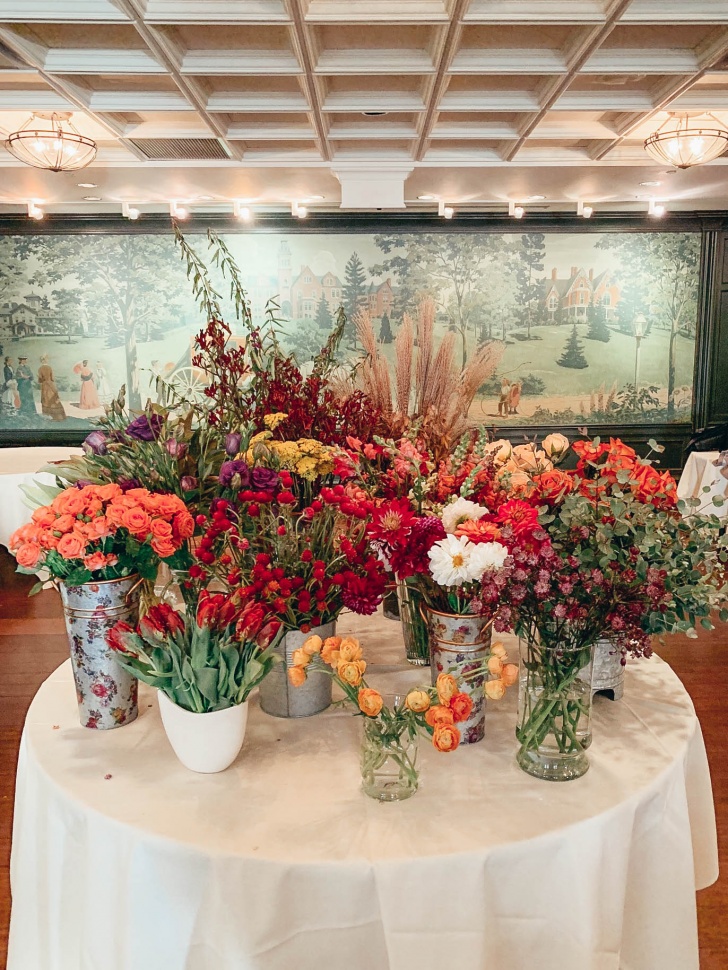 We kicked day two off with the pleasure of meeting Rebecca Proctor, the chief brand officer and creative director of MacKenzie-Childs and you guys, she was a total joy! You can tell after being around her for about 30 seconds how passionate she is about the brand and how much heart and soul goes into each and every collection. She told so many amazing stories about how the brand got started, how collections came to be and was basically just a super inspiring girl boss!
Then, we got to tour the MacKenzie-Childs production headquarters, which was a total highlight of the trip for me. We got to see the full scope of pieces being made and it was truly amazing. I have such a huge appreciate for the craftsmanship that goes into each hand-painted piece. They literally have stations all around of people sitting, mixing colors and painting each individual pieces. How cool is that?! It also means that no two pieces of their pottery are exactly alike, which I LOVE.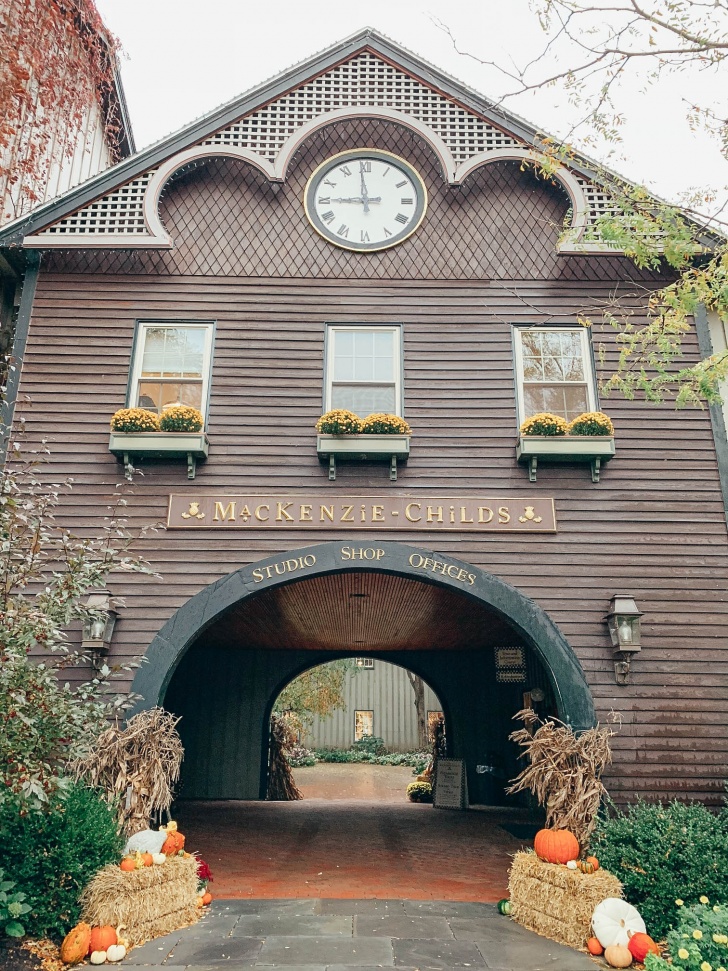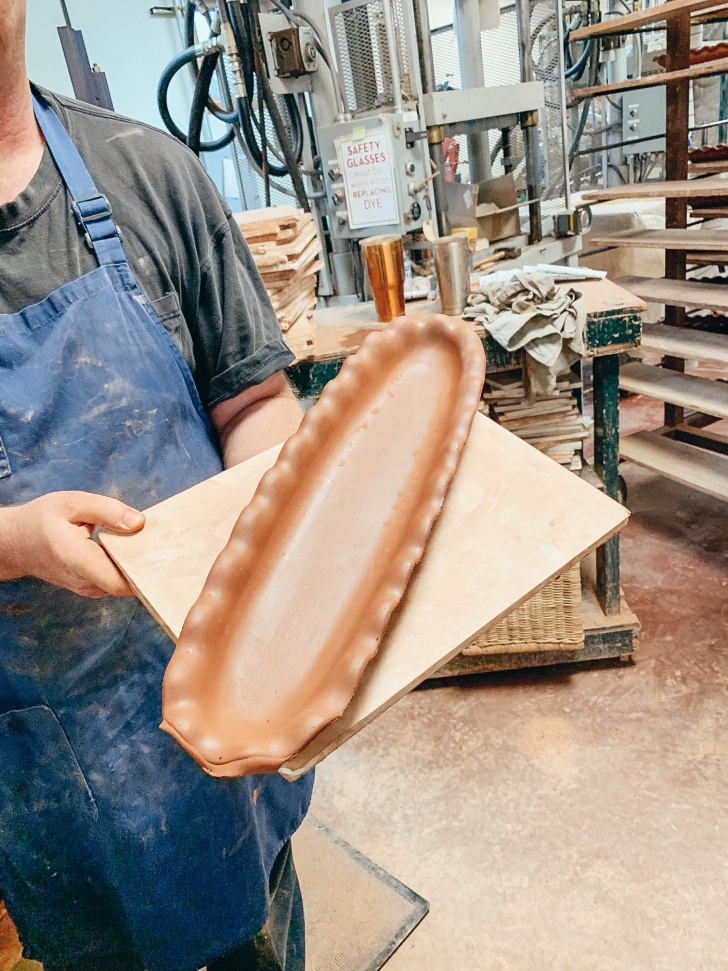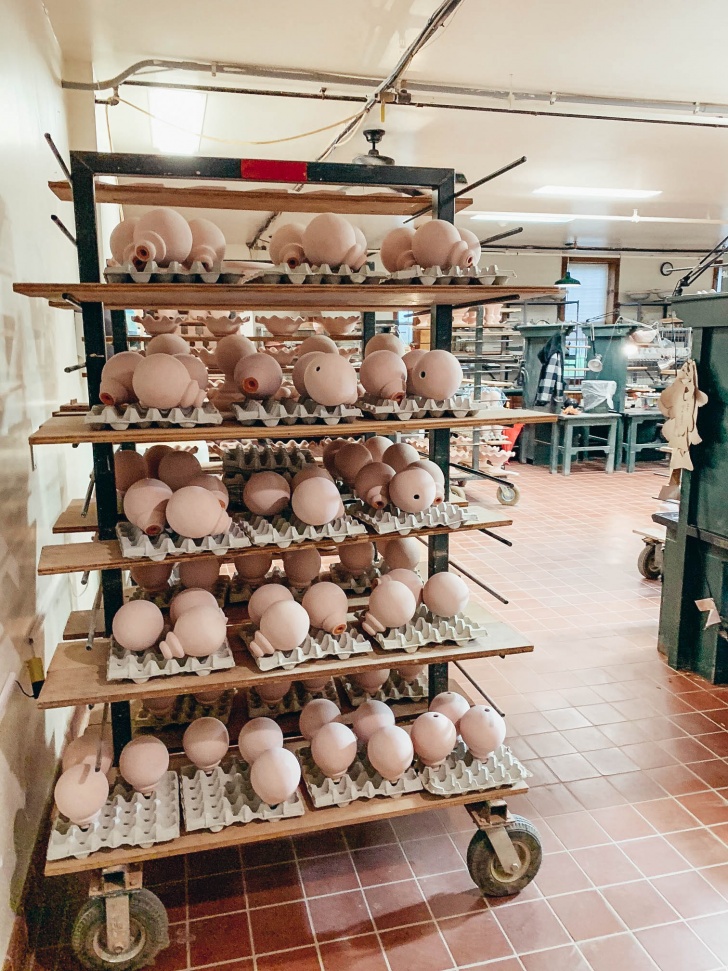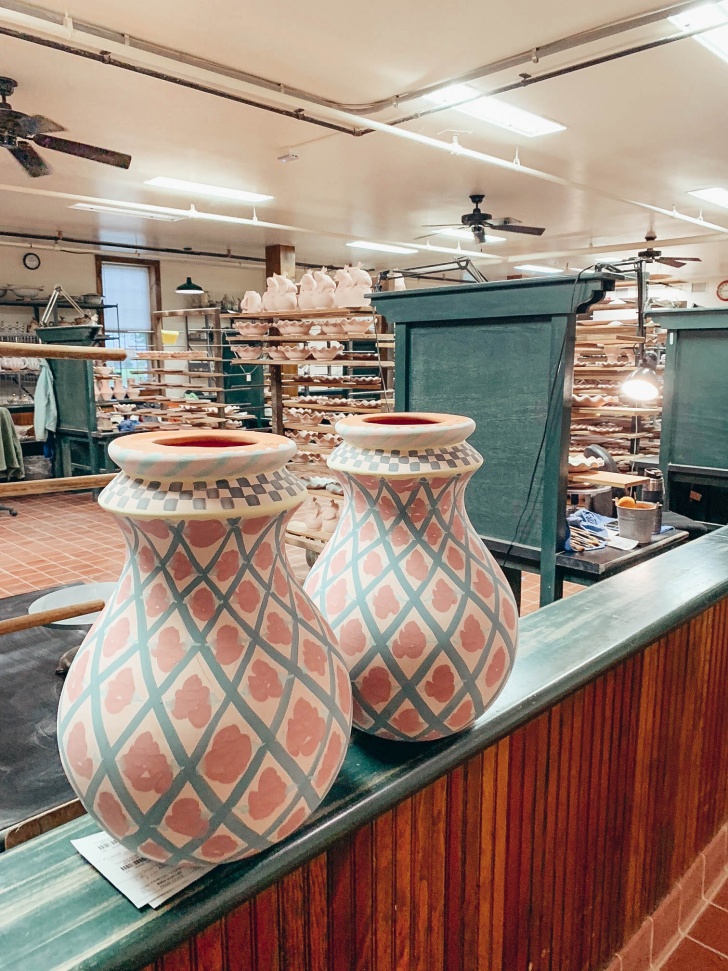 Another highlight of my trip? Getting to paint a pie plate! I don't think I've ever shared this, but my mom is super creative and an artist and my dad was too. I grew up with an art room and a few years ago, my mom turned my life sized playhouse in the backyard into her personal pottery studio, so getting to sit in a station and paint my very own pie plate with whatever pattern I wanted, was so much fun! Seriously, like grown up Alice and Wonderland kinda fun. I honestly could have sat there painting all day. I went with some sweet roses, classic MacKenzie-Child stripe (in my own colors) and of course some polka-dots.
Before and after it got fired. Pretty amazing to see it come to life! What do you guys think?!
We even got to bake our own pies in the pie plates! Who wants the recipe?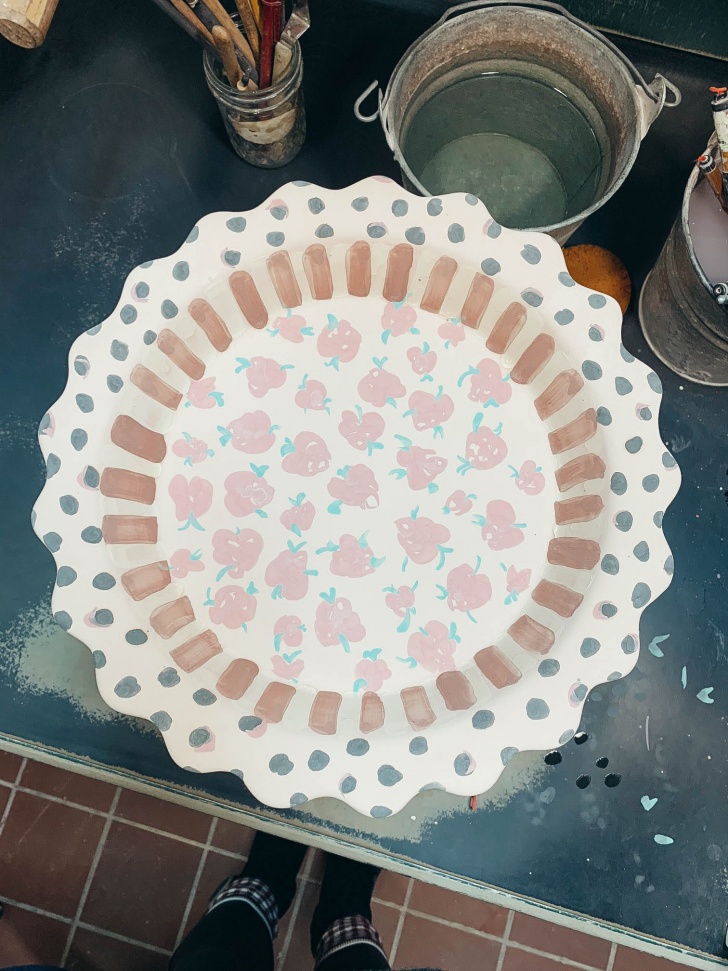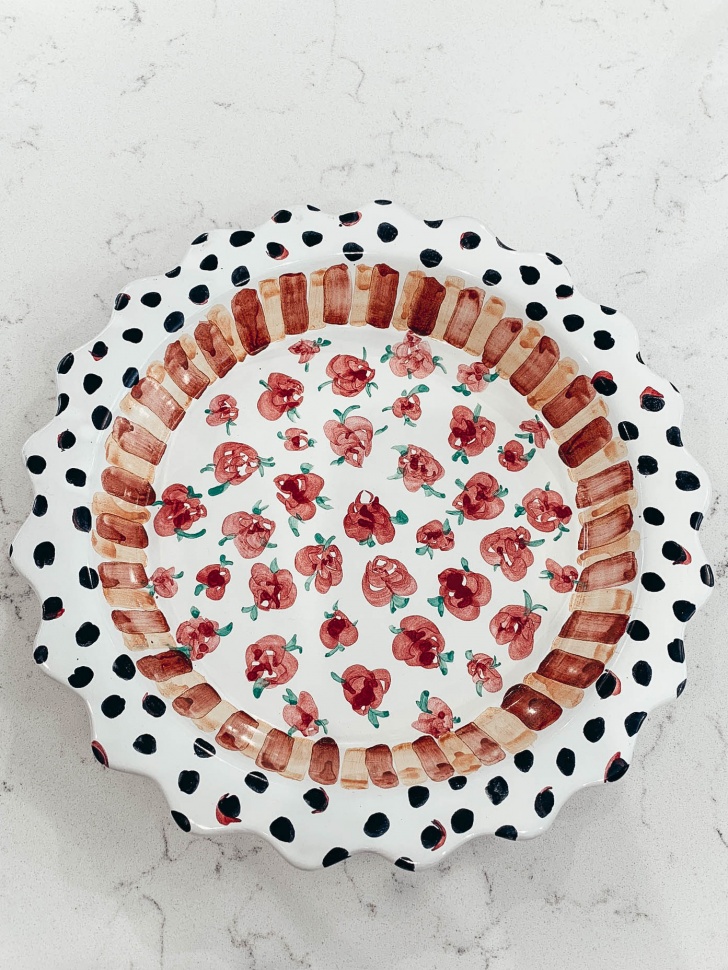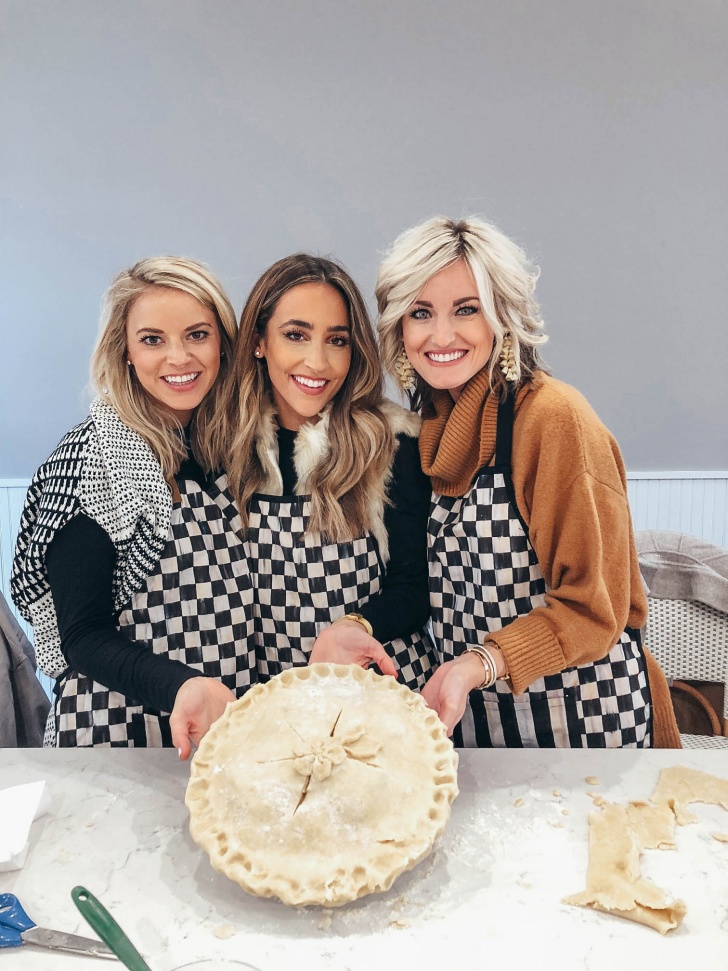 I got so much inspo from popping into their shop (hello Christmas wonderland!) and all of the decadent table-scapes they created for all our meals.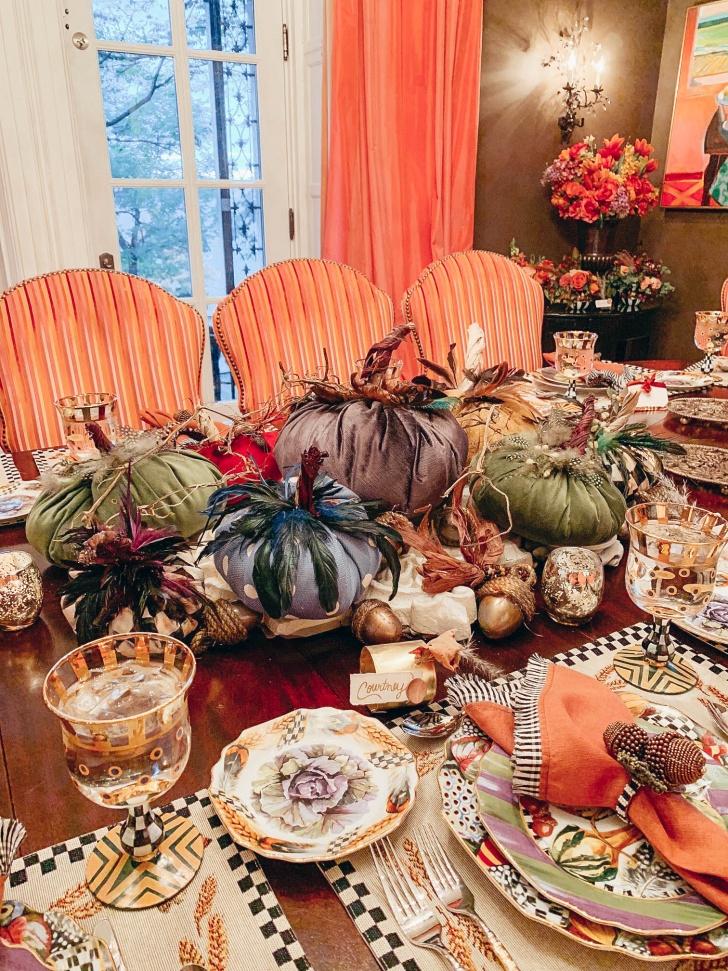 I came home from the trip feeling so inspired and refreshed. I've been eagerly awaiting the pieces I picked out to arrive so I could deck out the new kitchen and create our Thanksgiving table-scape. I thought it would be really fun to include it in this post, so you guys could use it for inspiration this year! I'll also list out all of the products I got below.
One of my favorite things about the brand is how fun each and every piece is. I love that you could completely immerse yourself in all things Parchment Check or Courtly Check, or start small and pick up a piece or two to start your collection. The tea kettle is one of my favorite pieces in the entire brand and I think it would make the cutest Christmas gift!! I'm also totally obsessed with the mugs!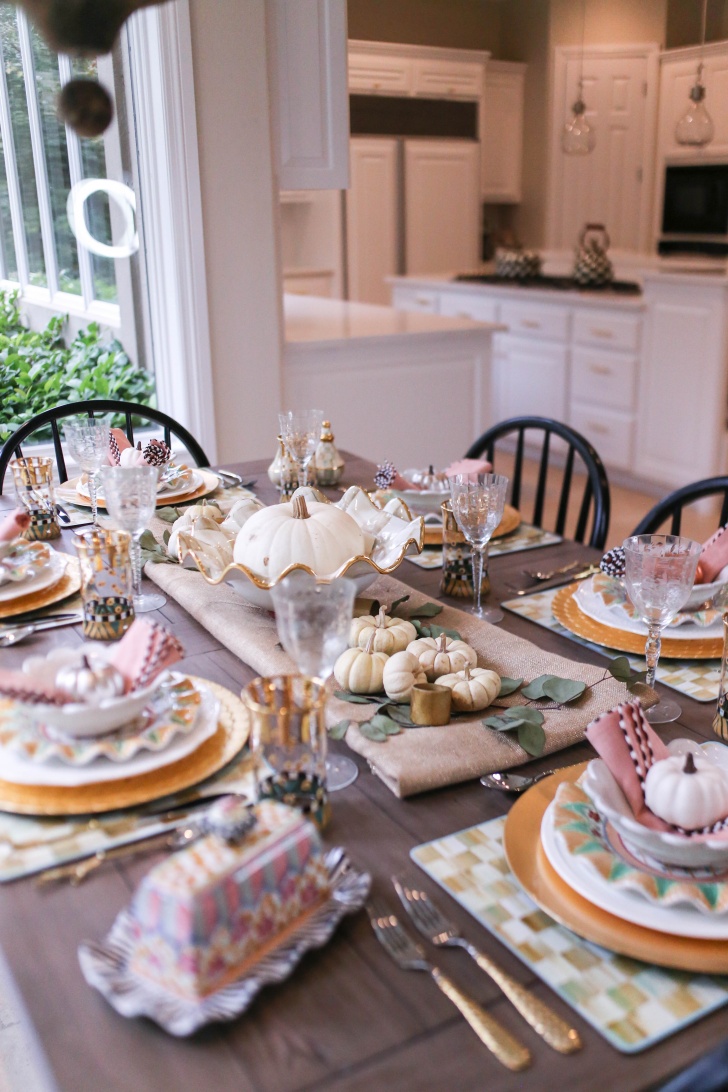 Picking my favorite MacKenzie-Childs pieces turned out to be harder than imagined, everything is so beautiful and unique in it's own way. Of course the products look gorgeous on the site but in person they are so much more. When you hold them in your hand, you realize how much craftsmanship and work goes into each and every pieces. I knew I for sure wanted pieces in the Parchment Check and the Courtly Check, they are classic staples and can go with so many things. I love how you can incorporate a few statement MacKenzie-Childs pieces into what you already have while you grow your collection. Here, I incorporated in antique crystal wine glasses passed down to us from Alex's grandmother with the Pheasant Run Highball Glasses and love the way it turned out (all of the gold you see on the pieces, is real gold! How cool is that?!).
While I styled a Thanksgiving Tablescape for this post, it was important to me to chose pieces that can work year round. One of the main things I learned from my week at Camp MacKenzie-Childs is to worry less about the rules and to have fun while setting a table or using these stunning and timeless pieces around your home!
Here are some of the pieces I picked out and incorporated into our kitchen.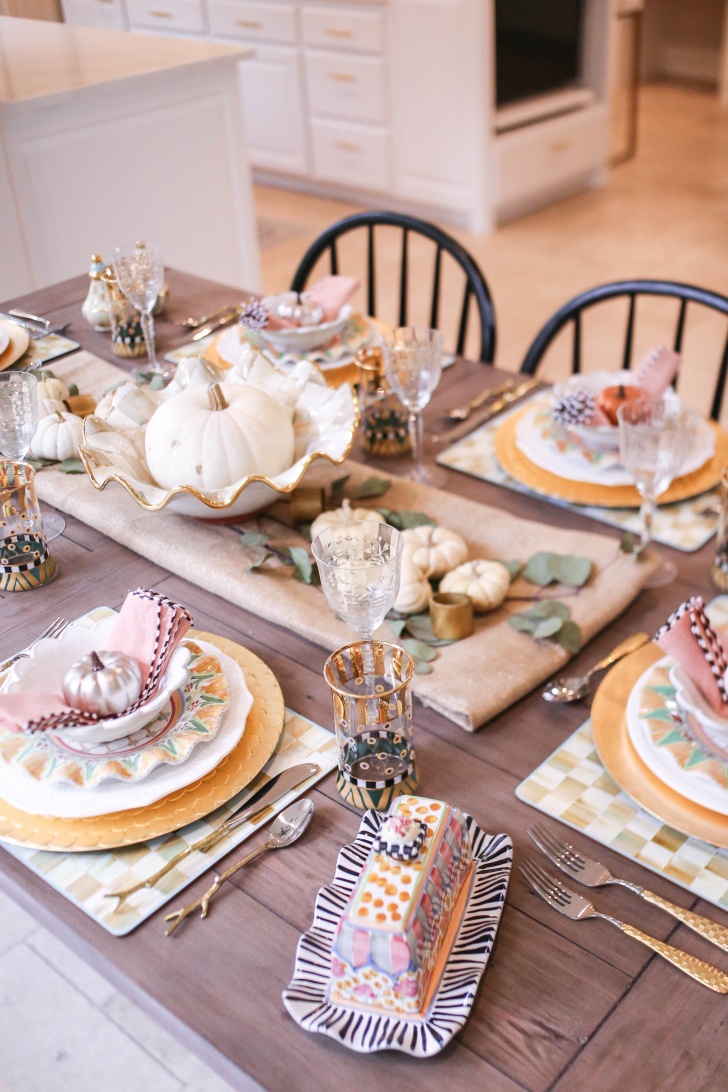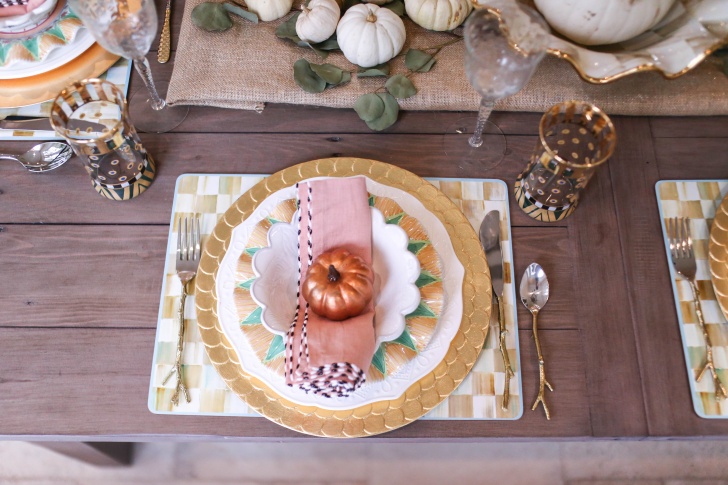 Taylor Fluted Luncheon Plate – Kings Corner. Sweetbrier Small Bowl. Pheasant Run Highball Glasses. Gold Check Flatware. Blush Napkin.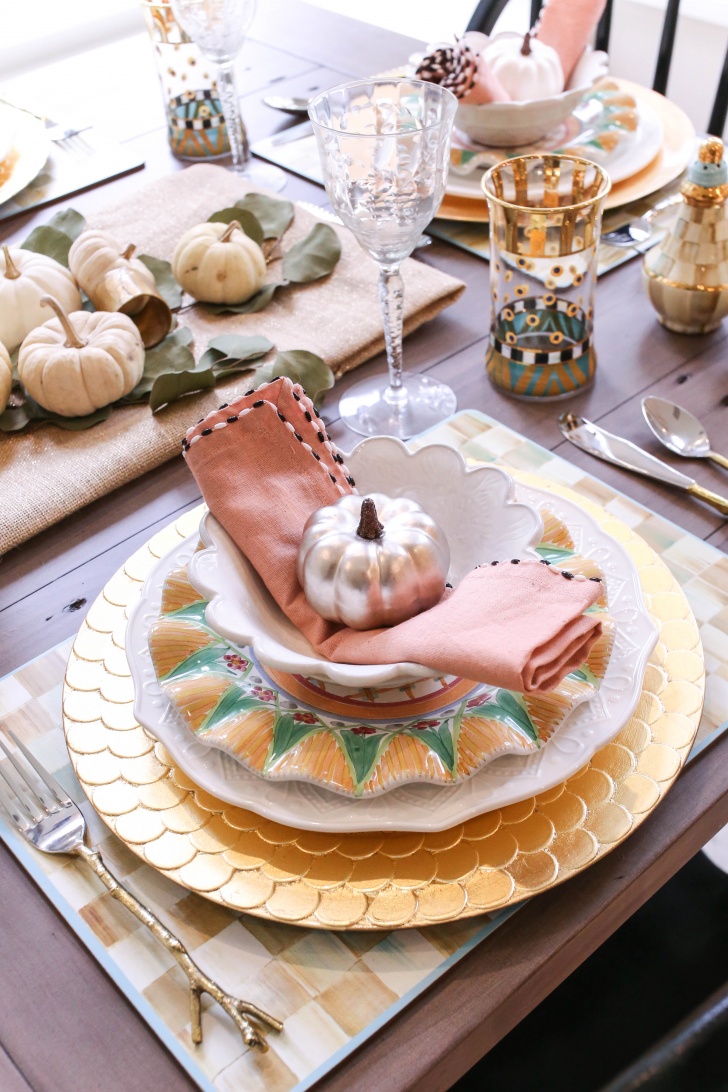 Taylor Fluted Luncheon Plate – Kings Corner. Sweetbrier Small Bowl. Gold Check Flatware. Blush Napkin.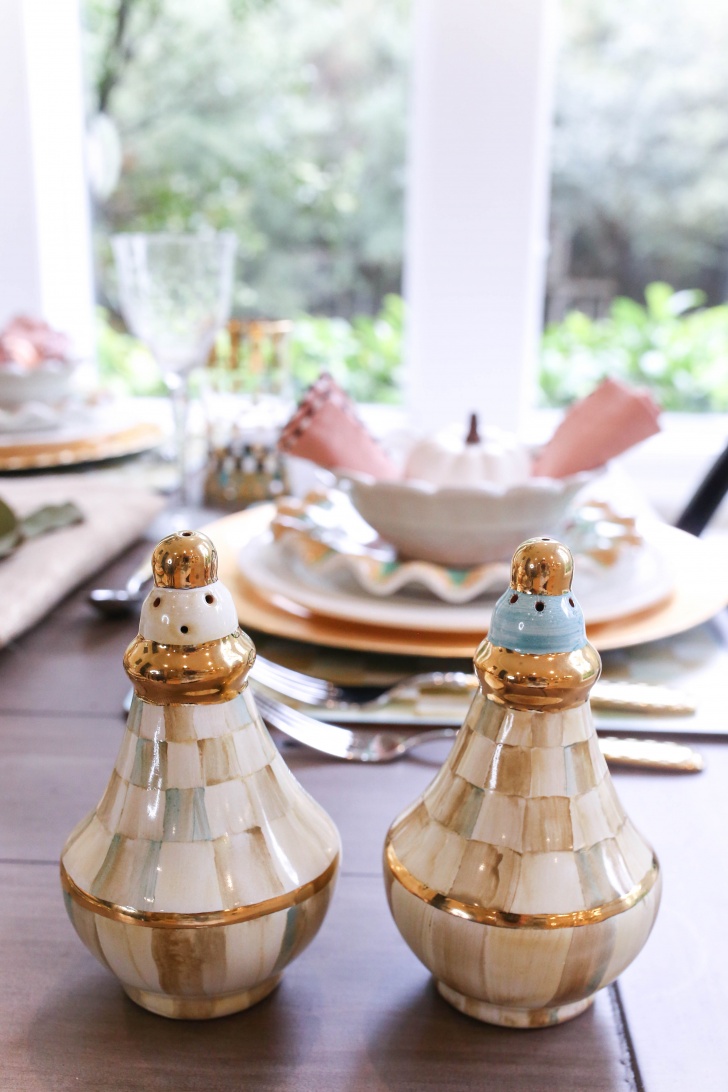 Parchment Check Salt and Pepper Shakers.
Pheasant Run Highball Glasses.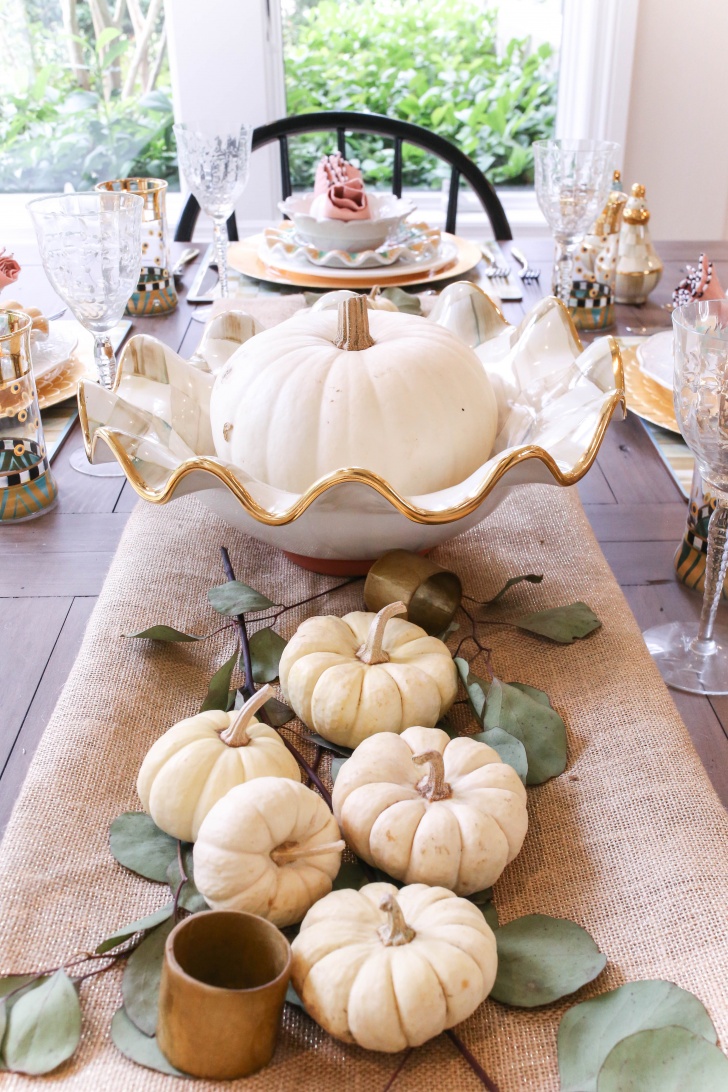 Parchment Check Medium Serving Bowl.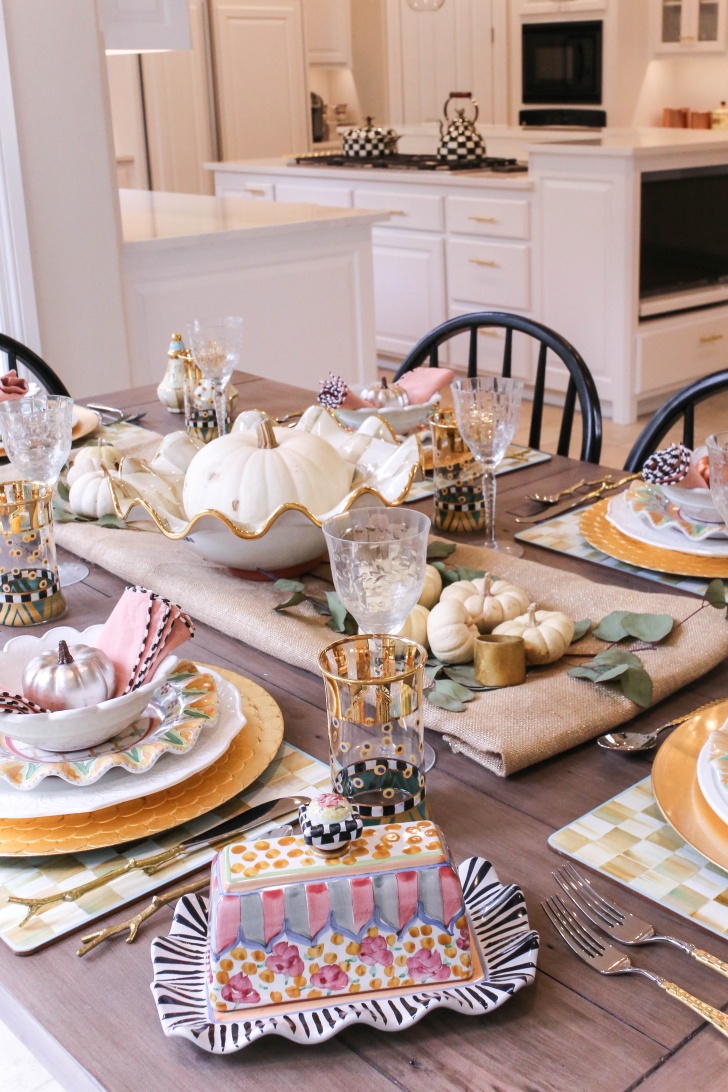 Parchment Check Medium Serving Bowl.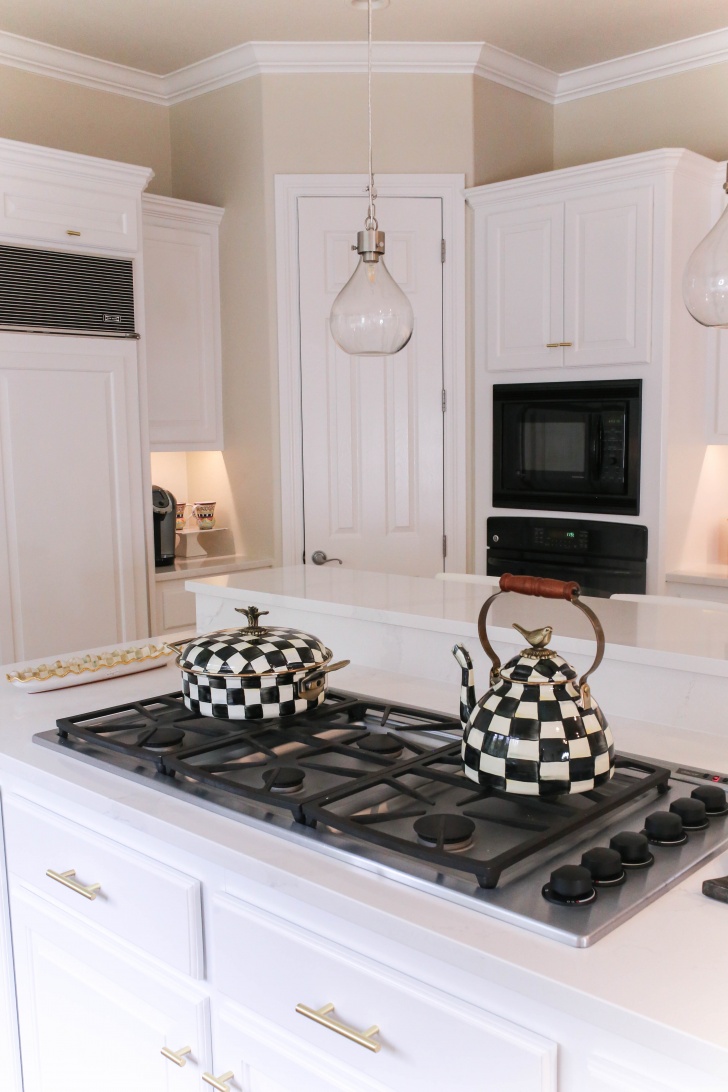 Courtly Check Tea Kettle with Bird (3 Quart). Courtly Check Casserole (5 Quart).