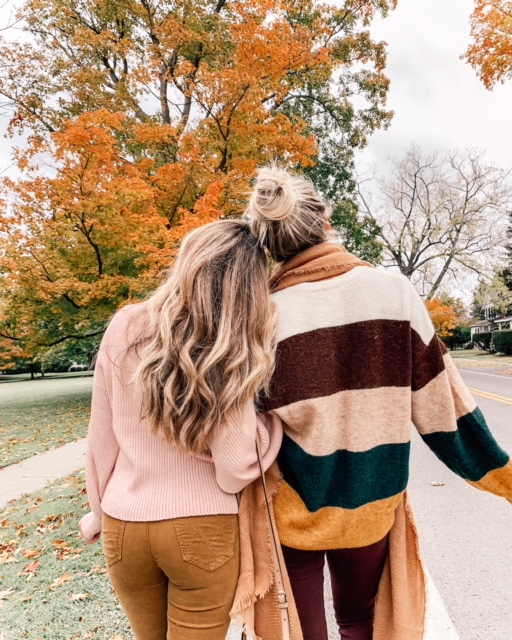 I'm finally sitting down to write the HIGHLY requested "What I Ask My Hair Dresser" for post!
Let me start off by saying, I have been going to my hair last since I was in 8th grade, so by this point, she knows what I like which helps! At my last appointment, I chatted with her and asked all the questions y'all wanted answers to, so I'm hoping this post is super helpful!
A little background: my hair is naturally dark brown, but I had natural honey blonde highlights when I was little/baby. So, even though my hair is dark, it lightens easily! One more thing before we get into my hair – I wanted to share a few tips for getting the hair you want. My number 1 tip is always to show your hair dresser a photo of what you want. Your version of something may be totally different than what he or she has in mind. As simple as it sounds, showing a photo is a super easy way to make sure you're on the same page. Secondly, be realistic! I'm a big believer in enhancing what you have, so try to find inspiration pics that won't fry your hair. Don't sacrifice color or health! Healthy hair is ALWAYS best.
The 411 & What I ask for?
COLOR.
I always want my hair to look really sun-kissed, like I've been at the beach! I like to have face framing pieces that are lighter and the rest to be really rooty and have a natural, grown out look.
I get a what my hair dresser and I call a "foiled balayage combo". She foils the top on my darker hairs (like a normal highlight) and depending on what I want, will sometimes balayage the preciously lightened ends. I only get it lightened, i don't have any browns or base color! Any base or root or darker that you see, is my all natural hair color.
TONE.
I typically like my hair toned with an ashy toner and use this purple shampoo and conditioner to keep my color fresh between appointments.
CUT.
I keep my hair pretty long (I feel most me that way!), but always get regular trims to keep it looking healthy and fresh. There is nothing worse than damaged, stringy ends! I don't ever compromise health for length, so if she needs a trim, snip, snip!
I usually ask for some long layers and we keep things on the blunt side.
Shop everything else from what I use to curl my hair, to my favorite dry shampoo here and what I use to get volume, here.

That's about it for what we do! I hope this helps Xo