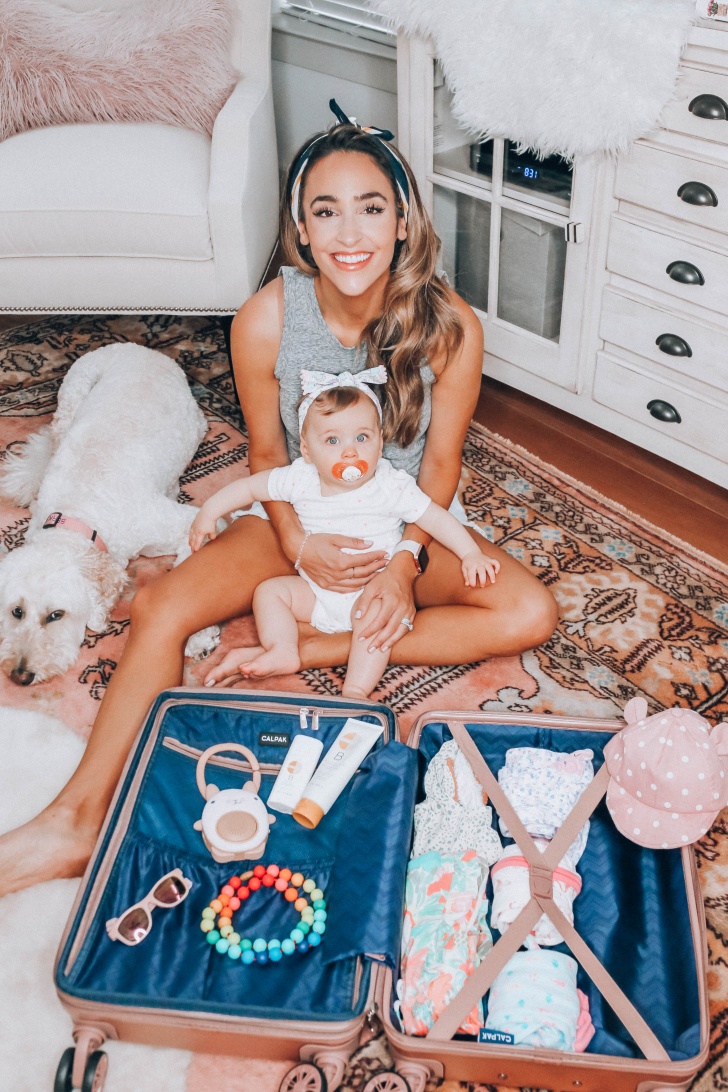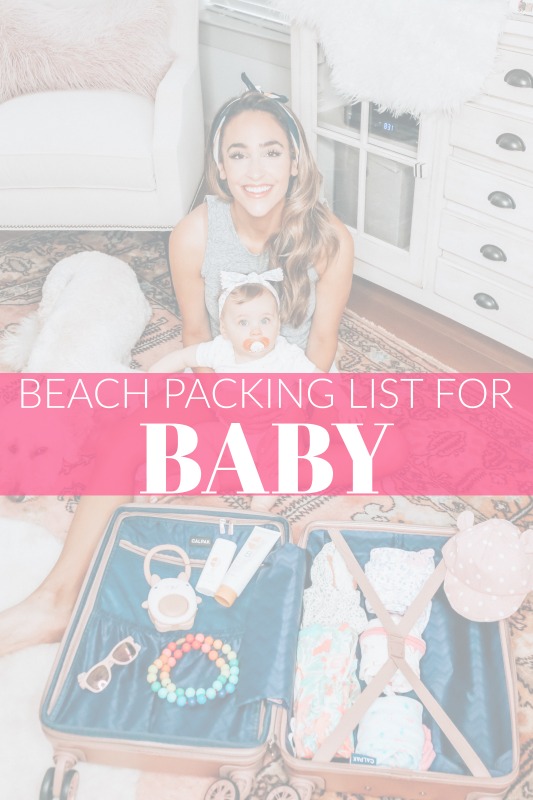 Alex, Kinsley and I are heading up up and away on a much needed vacation Thursday. We decided on a whim about two months ago that we needed a trip to the beach – so good for the soul, ya know?! Where to? A place near and dear to our heart, Seista Key. If you're new around here, Siesta Key is where we got engaged about 5 years ago. Thursday is our 4 year anniversary, so we thought it would be the perfect time for a sunny little getaway and Kinsley's first ever trip (ahh!!).
She will be 8 months old Wednesday, and is an on the go kind of girl. I'm talking ALL OVER THE PLACE and fast haha, so send us all the good flight juju! I'm currently a mix between ridiculously excited to put my toes in the sand and totally nervous Kinsley won't fall asleep on travel day, so I thought in efforts to quiet my anxious mom brain, I would go ahead and get started on her packing list.
If I know one thing as a new mama, it's that I don't want to forget anything! I thought as I made the list, it would be fun to share some (not everything) of what we are bringing for Kins.
As a quick side note, Alex's family will be meeting us there and decided to stay in an air b&b, so we could all stay! We decided (per lots of recs from mom friends) to rent a bunch of stuff there – crib, stroller etc. 
Kinsley's Packing List//

One.
Cat & Jack Yellow Lemon One Piece. A couple cute swimsuits are a must for a beach vacay!
Two.
Three.
Organic Fitted Crib Sheet. We are renting a bunch of stuff through a rental company when we get there, like her crib for example (which I will be throughly wiping down!!!) So I wanted to be sure we are bringing our own sheets to put on her bed!
Four.
Five.
Breathable Baby Mesh Crib Liner.  This is what we use as a safe alternative to having bumpers on her crib. It helps protect her head if she hits it on the side but it's breathable. A friend of mine recently when on a trip and reminded me it was a must bring.
Six.
Organic Cotton Bees and Triangles Bubble Romper.
Seven.
Chewbeads Gramercy Baby Teething Carseat Toy.
Eight.
Sunba Youth Baby Beach Tent. You may have caught me dying laughing and Alex struggling to put this bad boy back in it's case on Insta stories. If you missed it, it's basically a baby tent, you dig a hole in the sand, fill it with water and put this tent up to keep baby cool and shaded!
Nine.
Ten.
Eleven.
Baby Kids Smart Phone Toy. Kins is always grabbing my phone so I figured this would be a fun toy for her!
Twelve.
Thirteen.
OXO Tot Baby Block Food Storage. I snagged these on Amazon and thought they would be perfect to put a few different snacks for the plane in or even to take out to the beach.
Fourteen.
Fifteen.
Playtex Baby Nurser Baby Bottles.
Sixteen.
Clip on Fan for Baby Stroller. I've been on the hunt for the perfect clip on fan for our daily strolls around the neighborhood and decided to pick this one up per some of your recommendations. Since our destination is a warm one, I thought this was perfect to throw in her suitcase.
Seventeen.
Christopher Teether Necklace.  I plan on wearing this on the plane. It goes around my neck like a necklace and its a teether for her. She loves the feeling of the beads and loves the bright colors. I'm hoping this will be a good little airplane distraction! Plus, she's currently getting a top tooth so I want to be sure that she has things to chew while we're in the air.
Eighteen.
Nineteen.
Waterproof Baby Bibs. I thought these easy to wipe/waterproof bibs will be perfect for travel since we won't have time to throw them in the washer like we do at home. These are so easy to wipe down after she eats!
Twenty.
SoundBub White Noise Machine.  I shared this on my instagram a few weeks ago. It's a travel sound machine that you can hook on the carseat or stroller. I thought it would be perfect for the plane if she needs to block out some noise and catch some z's.
Twenty One.
ThunderCloud Kids Protective Wide Brim Hat. I thought this bucket hat was super cute for the beach. It has UPF (Ultraviolet Protection Factor, meaning the fabric will protect from the sun. Team no wrinkles, start them young!)
Twenty Two.
Baby Navigator Shades. – I read a *ton* of reviews before ultimately deciding on these cuties! I went with these because not only are they super cute (hello pink mirror shades!) but they also bend. How cool is that?! They are totally flexible, so if baby gets a hold of them, they won't snap. They also come with a little case, cloth to wipe the shades and have an attached elastic band that keep them on.
Twenty Three.
Beauty Counter Protect All Over Sunscreen. This is my absolute favorite sunscreen and the only one I will use on Kinsley Elizabeth! I've got a full post with all the details coming Wednesday.
What are your travel essentials for baby? Stay tuned for an updated tips for traveling with baby post.