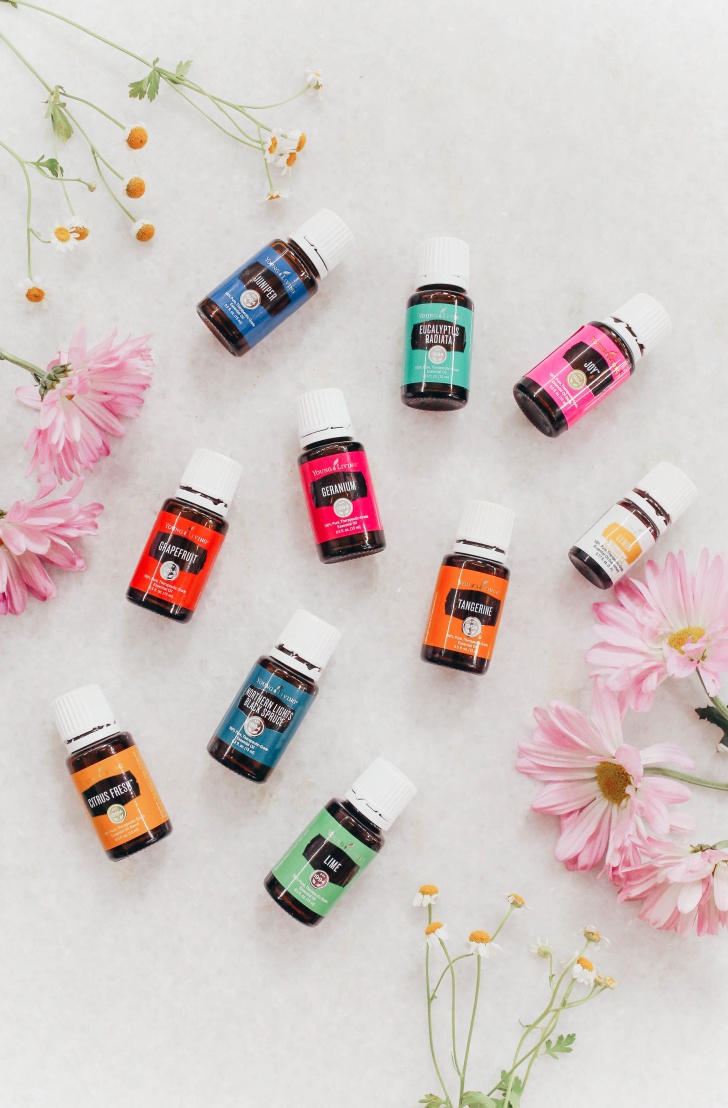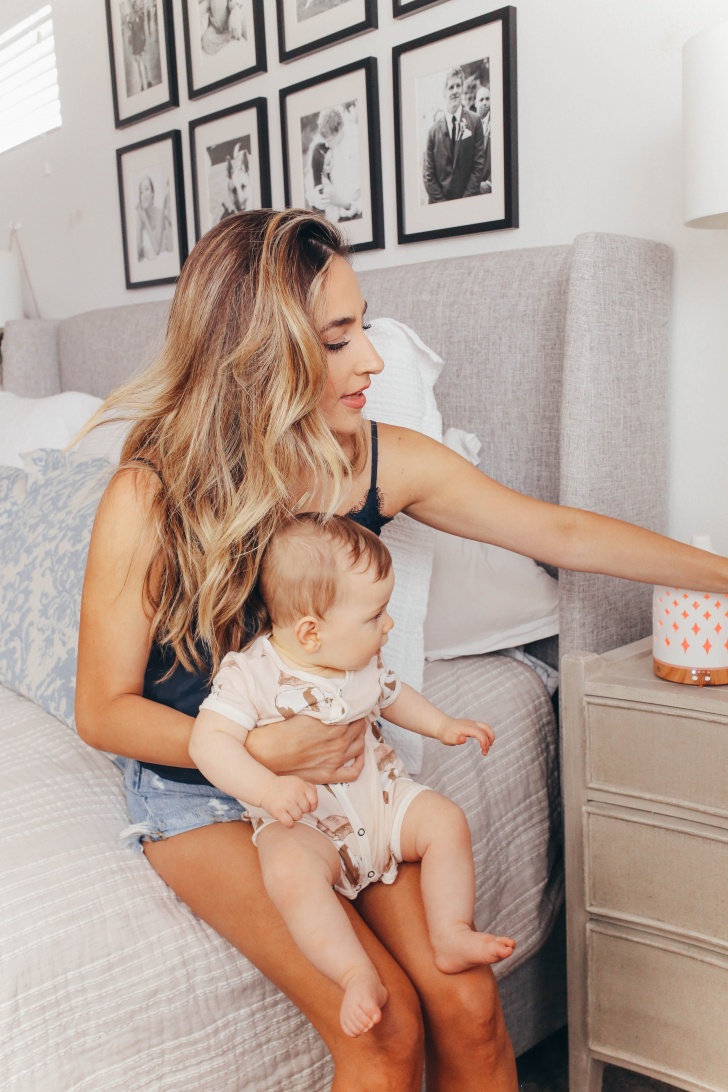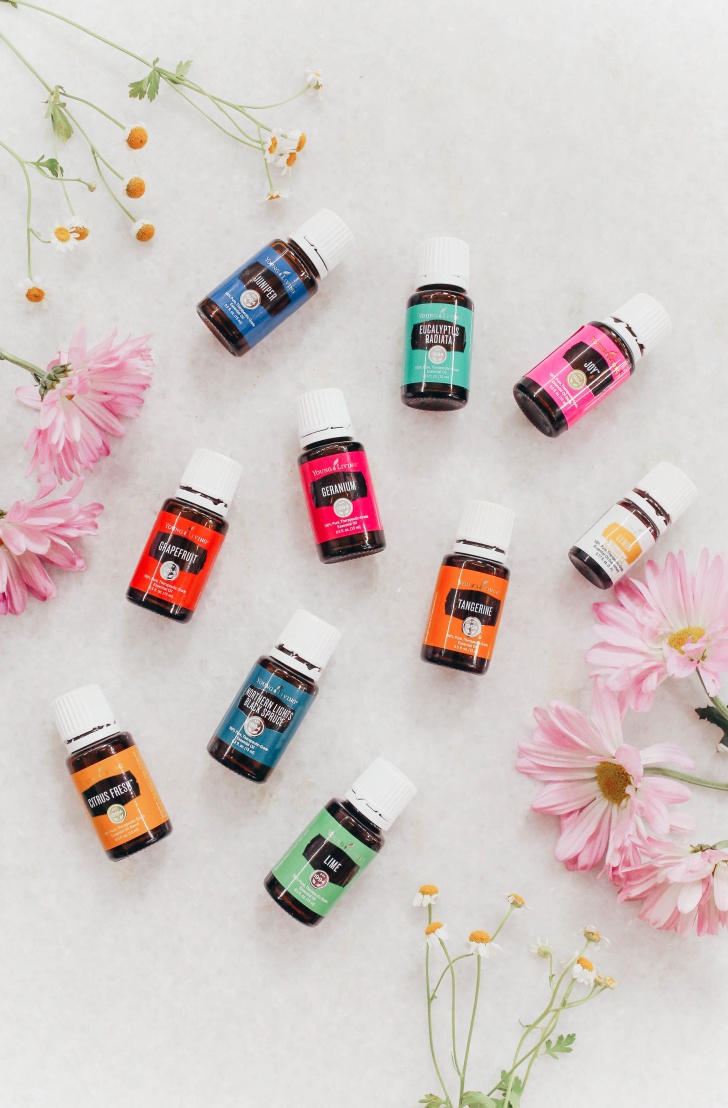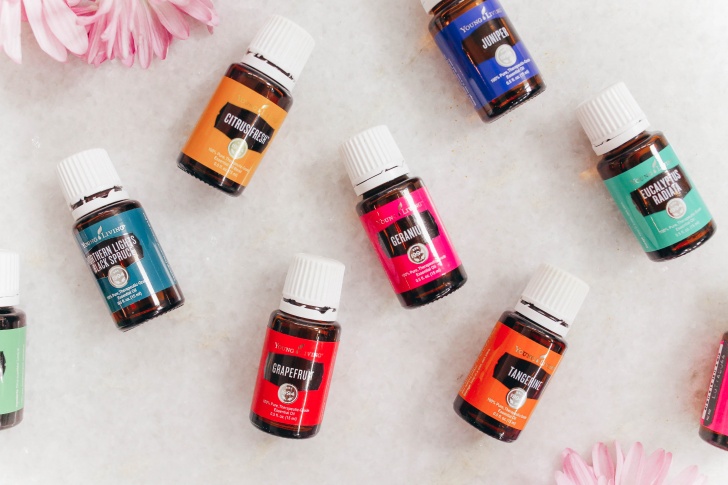 Before getting pregnant with Kinsley, I honestly didn't think much about what was in the products we used around the house, or really in general for that matter. But since the very minute I found out I was pregnant, I have been so much more aware of not only products I used WHILE pregnant, but now that she's crawling around too. The products we use to clean our house, my hand soaps etc.
I'd heard amazing thing about essential oils and how they were great to help support so many things: sleep for example (something I was definitely struggling with!), headaches, seasonal stuffies and so many other things. Not to mention, I just couldn't handle the thought of spraying chemical cleaning products everywhere and inhaling them while I was developing a mini human…no thank you!
I have a very distinct memory (pre-essential oils) of walking around with Alex's huge spray painting mask on while cleaning our kitchen because of course at the time I wasn't using safe products. I looked like something out of an alien movie – you're welcome for the visual! lol – Shortly after, I realized, I wanted to find something I knew would be safe (and mask free lol).
To be honest, I think when I first heard about essential oils and the switch the cleaner home products I thought it was a bit too "granola" for lack of a better word. However, after doing my research I was not only totally convinced it was the right move, but excited to start my oil journey!
Since then, I've become totally obsessed (my obsession grows daily!) and haven't looked back. After recently sharing on my love of oils on my Instagram stories, I received a ton of messages from you guys asking what I use them for and where to start, how to buy?
I just kept thinking, oh my gosh this was totally me last year! Before I knew anything about oils, I was overwhelmed and had no idea where to start. So today I thought I'd break it down and give you the 411 on all things oils.
Why Young Living? Can I just buy essential oils off Amazon instead?
I chose to go with Young Living because simply put, they are the best. Young Living is the world wide leader in essential oils and has an unmatched seed to seal promise that the oils are actually 100% pure oils – no added dilutions, fragrances etc. Where as if you buy them on Amazon etc., even when they say 100%, they often aren't! Actually kinda scary if you think about it. In my opinion, if you don't plan to purchase the real deal, what's the point?
I also chose Young Living because of the amazing community. I still feel like such a beginner and choosing to be on the YL team has totally given me a group of women I can ask for help from! If you chose to order you starter kit here and join my team, then you have access to the amazing Facebook group too.
Where to start and what to buy?
The Starter Kit is definitely the best way to start! Order the member starter kit give you 24% off for life (YES, life), plus you get a diffuser to use with your oils. The kit is also 50% off the actual retail value of everything – normally $360, but you can get it for $160 in the kit bundle! YASSSS! The kit comes with 11 of the most popular oils and you will use them daily! They are definitely a great starting place and ones I still each for on the daily.
STEP 1: To enroll on my team, ORDER HERE and make sure the number 11296434 appears in both the "Enroller" and "Sponsor ID" fields.
STEP 2: Sign up as a Member. This does not mean you have to sell oils, it just means you are getting a starter kit & will get 24% off retail prices.
STEP 3: Set up your Essential Rewards monthly wellness box. This isn't required, but I totally recommend it as a way to order things you want that don't come in the kit. You can start to cut toxins from your home and go with cleaning products, kids, baby, pets, men's, beauty/makeup etc.! All while getting free products too! You can basically earn free oils etc. as you buy (which you can't do if you just make an order). I like to think of this as a monthly Target run to stock up on cleaning supplies, soaps, detergent etc.
If you do want to sign up for an ER wellness box monthly (I am), here are a few things I recommend: Thieves everything! This line is so good y'all. Thieves household cleaner, dish soap, hand soap,  laundry detergent. Thieves is a great way to start swapping out products around your house! I also love the following oils: Peace and Calming, Stress Away, Orange (I love diffusing orange + peppermint, it smells like a dream-cycle!), Cedar Wood, Citrus Fresh, and Eucalyptus Radiata (helps with stuffy nose!). If you have kiddos Young Living has a whole kids line – "Sleepyize" is amazing! I follow this book when knowing how much to dilute for certain ages. For Kins for example, I only ever use 1 drop in a diffuser and leave her door open or make sure if I am diffusing more, it's in a big over room like our livingroom.
What happens after you buy a kit? You're in girlfriend! I can add you to the above mentioned Facebook group and you can connect with a ton of amazing people, ask questions etc.
If I sign up as a member do I have to sell anything or order monthly? No! There are no crazy catches here. I had that same thought lol. You can simply purchase the kit and then order whatever you want afterwards with your 20% discount. If you want to share and sell, you of course can do that too but there is zero obligation. It's totally up to you! I have been using them for over a year and just now starting to share because I've had so many questions.
My diffuser you see on IG?
I have one of the ones from Young Living I got in the starter kit, but as my love of all things oil grew I realized I needed more than just one and pick up this one! I LOVE it!! It goes forever and is so cute. I also really want the one from the wooden base from YL and plan of splurging soon because oh-my-gosh it's so pretty!
How I use them daily?
I have a whole separate post coming all about how I use oils in my daily life and also plan on sharing on my IG stories, so stay tuned!
Are you excited to join that oil life?! If you already use oils, what are your favorites? I would love to hear!