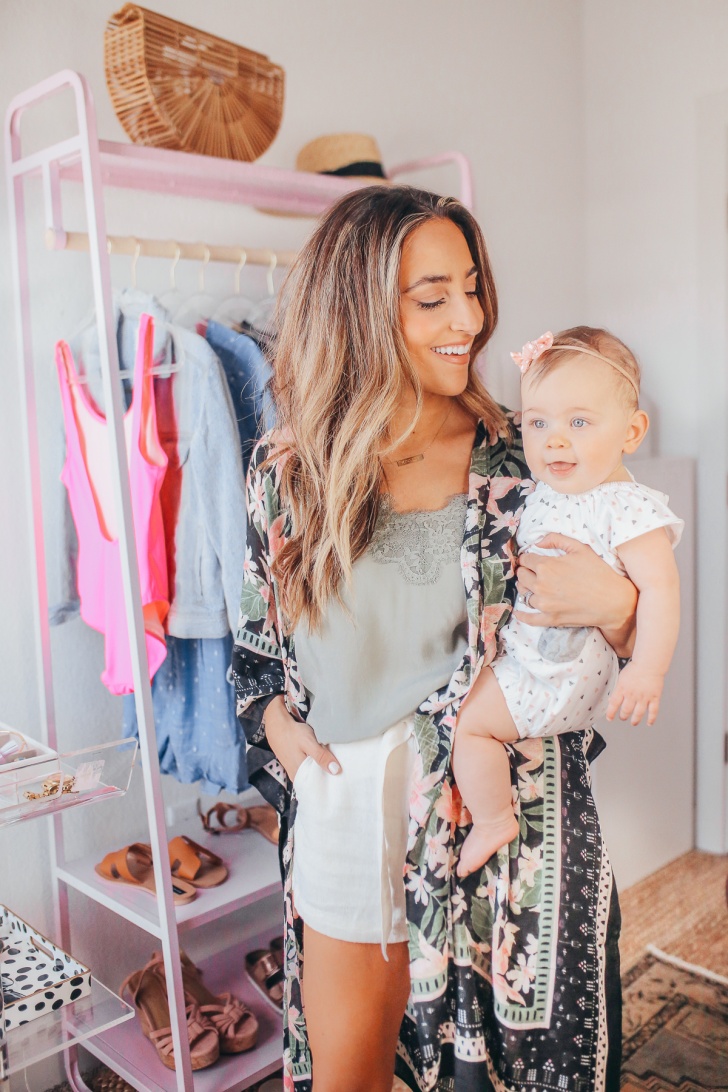 Spoiling my mom on Mother's Day has always been a priority of mine. I don't necessarily mean with material things. When I was little it was with acts of love (breakfast in bed etc.), but I like to seize any opportunity to show her she is appreciated. For whatever reason I think so many moms end up doing for everyone around them and sometimes find themselves last on the totem pole of priority. So, I've always viewed this holiday as a fun time to show the special ladie(s) if your life a little extra lovin'.
This being my very first mothers day as a mama (cue all the sappy emotions!!), I'm especially excited.
Shopping for the perfect Mother's Day gift is always fun but can be a bit tricky. Lucky for you, that's why I'm here! I've come up with a gift guide broken down into interest, so it's extra easy to shop. I've also included ways to take some of these gifts a step further and really add a personal touch. I also made sure to gifts at different price points, so there is something for every budget.
You can treat your mom (or whomever you celebrate with) for $150 or under $50, because after all, it truly is the thought that counts!
THE BEAUTY SAVVY.

Beauty Counter Set (Need Courts code) – Y'all know that I have been loving all things Beauty Counter lately and this kit is such a cute gift or the health conscious beauty lover (no toxins here!).
Jo Malone, Travel Cologne Collection – I love Jo Malone scents and this little collection is the perfect gift. You can layer them, they're easy to travel with and overall smell amazing.
TooFaced, Natural Matte Neutral Eyeshadow Palette – What mama wouldn't love a beautiful eye palette?
Beauty Blender, Nude Makeup Sponge Applicator & Cleaner – A beauty blender is a total game changer for any makeup routine and a great gift for anyone who doesn't have one.
Tula x Courtney Shields R+ R Kit – I may be a little biased here, but this kit it LEGIT. Four of my absolute Tula products bundled in one adorable (and limited edition) mothers day box. Use my code (COURTNEYKIT) to get 20%, making this cutie the perfect pamper preset for mom.
Essie, Mint Candy Apple & Between The Sheets + a mani – You could really include whatever colors your think the lady in your life with love and pair it with a gift certificate for a mani pedi. It's the perfect way to put a personal touch on the whole thing!
Dior, Addict Lip Maximizer – One of my all-time favorite glosses. It makes your lips ultra shiny and since it's just the slightest tint of pink, it flatters all skin-tones!
Nurse Jamie, Uplift Facial Massaging Beauty Roller – Give me all the anti-aging tricks please! I picked up with roller a few weeks ago and have loved adding it into my routine. It's a fun and outside the box gift for anyone into skin and looking young!
THE HOME OBSESSED.

Serene House, Supernova Electric Aromatherapy Diffuser and essential oil kit – If you watched my IG story a few days ago, you may have seen my sharing my newish (with the past year) found love for essential oils. I started using them when I was pregnant with Kins and have been hooked ever since. I love diffusing them around the house and coming up with yummy blenders to imitate my favorite candles. A pretty diffuser is a great gift for the already essential oil loving gal OR this starter kit is the perfect way to introduce the mama in your life to all things oils.
New to oils? I've broken down how to start and what to buy below.
To enroll on my team, ORDER HERE and make sure the number 12706593 appears in both the "Enroller" and "Sponsor ID" fields.
Sign up as a Member. This does not mean you ever have to sell any oils, it just means you are purchasing a starter kit and will get 24% off retail prices (for life! – yasss).
Why should I start with a kit and not just one or two oils? #1 – ordering the kit gives you that 24% off member discount for life, plus a diffuser to use with the oils. That alone makes it totally worth it. #2 – you can use oils for everything! The 11 oils in the kit are the most popular and easy to use daily. These are the one you'll always reach for for just about everything! Whether you are looking for oils to help you sleep, for natural immune system support, for energy, for focus, for relaxation, for your kids, for natural alternatives to cleaning products, the list is endless, there is an oil for that! The starter kit is where you'll get your feet wet and learn! The kit is also a $360 value, marked down to $160 in the bundle. #nobrainer
Anthropologie, Petal Palette Mug + Starbucks gift card – I love the idea of simply sticking a Starbucks card into a cute mug for the coffee obsessed girl. It's an easy way to personalizes a gift that you know she'll love.
Bliss, Plush Throw – I own three of these blankets. No joke, three! They are super soft, amazing quality and come in a ton of colors depending on your preference! I also gifted one to my mom a few months ago and she loves it too.
Slip, Pure Silk Pillow Case – A silk pillow case is such a unique gift. The silky texture doesn't tug on your skin or hair making it a total game changer for clear skin and hair growth.
Anthropologie, Tia Infuser Water Bottle + Tea – If you're anything like me and my mom, this would be a much welcomed gift! You can fill it with cute little bags of her favorite tea.
Anthropologie, San Sola Dishtowel – A cute little gift for the kitchen loving momma in your life. A few of these towels with your favorite printed recipe would be super cute!
Nordstrom, The Fashion Book. I personally love getting new coffee table books because I like switching things up and a coffee table book is an easy way to do that! You can choose the type of coffee table book biased on the interest of the person you're buying for.
Nutri-Ninja, Pro Blender –  We recently gifted the Daily Harvest smoothies to Alex's mom and she LOVED it. You guys already know I'm a huge fan and drink these daily, I can't recommend them enough! My code byobeauty will get you three free smoothies! These are perfect for the busy mom.
The Style Icon.

Street Level, Reversible Faux Leather Tote & Wristlet – A really cute and affordable tote is always a great gift! This one is perfect for the price, it comes with a wristlet and it's even reversible.
Marc Jacobs, Henry Bracelet Watch – A watch is a classic gift. A little more on the safe side than some of the other unique things mentioned. But if the person you are buying for doesn't have a great everyday watch, this is the perfect gift.
Bauble Bar, Faidra Thin Drop Acrylic Oval Hoop Earrings –  You can't go wrong with a pair of cute earrings! These are a great statement for summer.
Kendra Scott, Kristen Earrings – Depending on what you want to spend, these are another great option!
Hobo, Lauren Leather Wallet. – I am so obsessed with this wallet. I had been on the hunt for one for years and I definitely found what I was looking for in this. I switched over from my Louis Vuitton to this and I'm honestly enjoying it so much more. It holds everything I could possibly want! It's perfect for day to night.
Birkenstock, Arizona Eva Sandal – If you read my spring shoe guide, you may have seen these cuties. Birkenstocks are the perfect moming around shoe.  This specific pair is made of a rubber like material and are super light weight.
J. Crew, Gingham Pajama Set – P.J's are the best gift for the homebody. Personally, the older I get, the more into P.J sets I get. It's the little things in life that make you smile.
The New Mom.

Kate Spade, One in a Million Initial Pendant Necklace – I know as a new mom I love having Kinsley's name or initial around my neck as a sweet little reminder. This one is really pretty and perfect for layering! 
Teether Necklace, Christopher – These are the cutest new momma chewy bead necklace! Rainbow is really on trend so it's a fun statement. Kinselus' tlose to chew on thes. They are also perfect for upcoming summer travels.
Beauty Counter Set – Make your own package! Toxin free and perfect for any new (breastfeeding mommas included!). Since every product is safe, it's the perfect gift for moms who want to be conscious of the products they put on they skin and babies (there is a whole line of baby products that we love also).
A few of my favorites I would recommend starting out with…
Body Oil (hello J.Lo legs!)
Hobo Glory Leather Wallet – You already read about my obsession with this wallet. Its especially perfect for the new mom because it can hold a ton of things. You can store everything in here!
Slip Eye Mask – A luxurious way to enjoy some much needed beauty sleep!
What are you picking up for your mom this year? I'd love to hear.