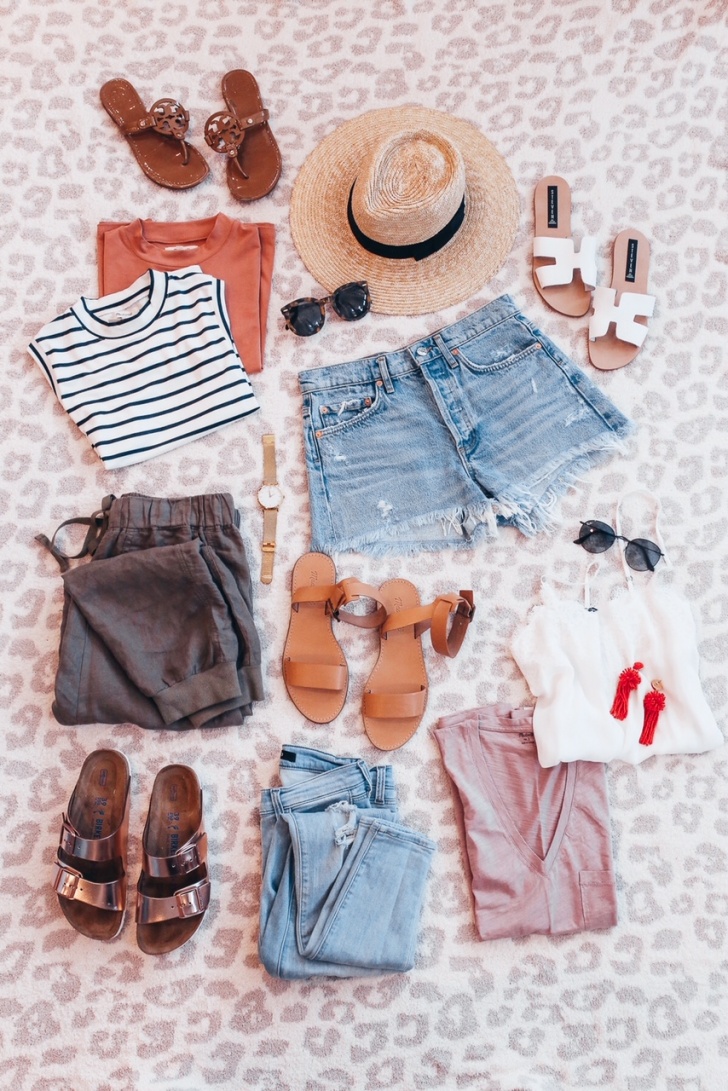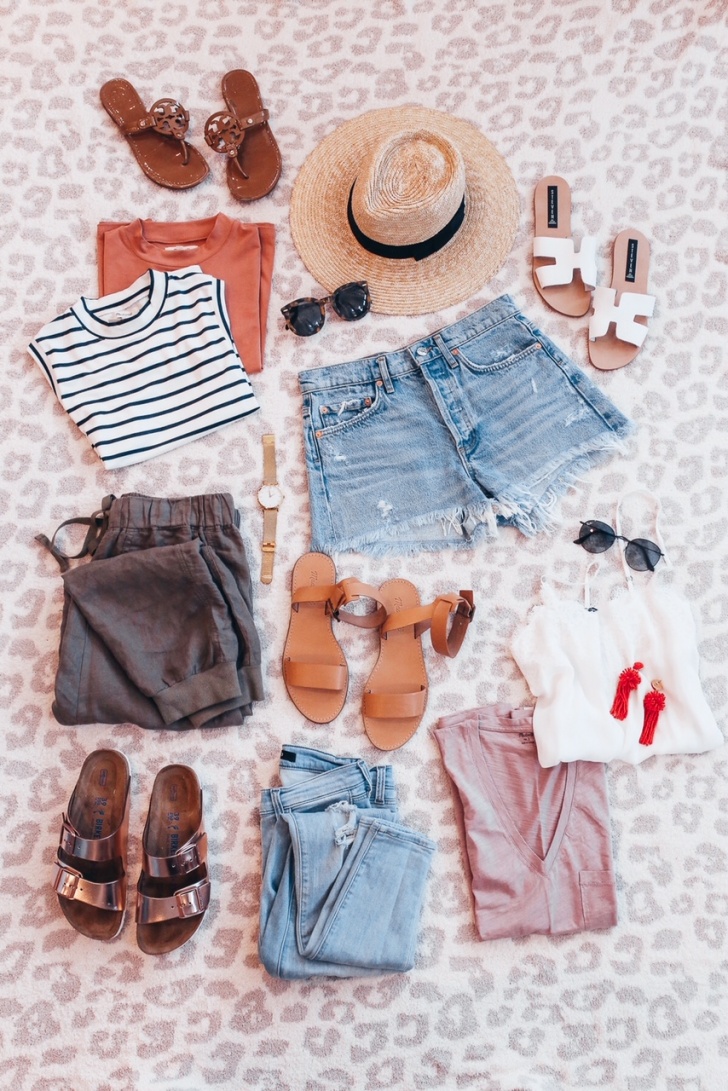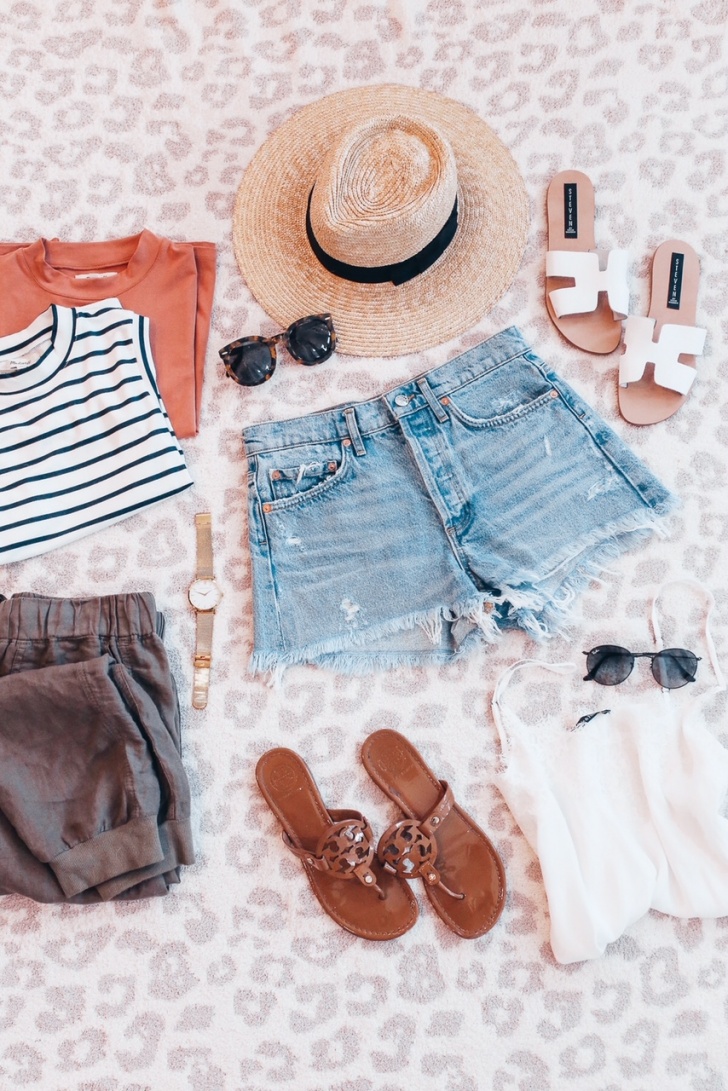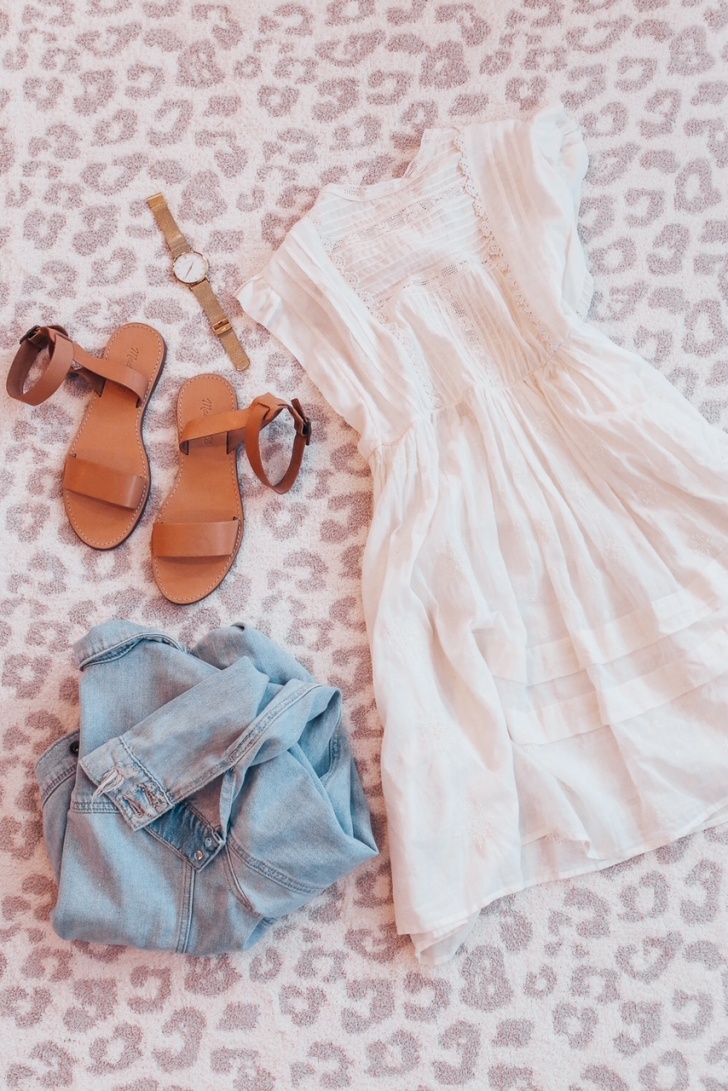 I'm all for a fun trendy top or a romper here and there, but the pieces I find myself gravitating towards on a daily basis are the good old basics. I don't know about you guys, but my classic closet staples are always on repeat. There's nothing better than a fresh, white tee and a good pair of denim. So, today I am sharing my version of a spring and summer capsule wardrobe -the absolute best basics that I think every woman needs in her closet! These pieces are the perfect foundation to build on, and can be mixed, matched, and worn a million and one different ways.
I really wanted to condense the list to just my top-10 favorite things. It was hard, but these are the 10 things I find myself wearing over and over again.
The Top 10
The Perfect Basic Tee – These just may be the most-worn items in my closet. I have this tee in about 8 colors and wear them all constantly. If you don't have a classic white shirt, this is a great place to start. I also wear my "asher silver," blush, and grey ones a ton.
Denim Shorts – No spring or summer capsule would be complete without a great pair of denim shorts. I have a full post coming on all the best pairs, but spoiler alert, these are amazing. They're super high-waisted, the perfect wash, and flare out slightly, giving a really slimming look to your legs.
Distressed Jeans – For my body type, these are the unicorn of jeans. Ahhh, the magical perfect pair. They fit like a glove and are super comfortable. I chose the light-wash pair for this capsule because they just scream summer! They would be super cute with sandals, sneakers, or espadrilles.  Although the distressing makes them casual, they're still really versatile. White jeans are also a great addition to a capsule for spring and summer, but I am still on the hunt for the perfect pair. I'll keep you posted!
Classic Stripes – This boat-neck stripe top is perfection. Admittedly, I'm a stripe addict and this one is a favorite. I would recommend sizing down one in this.
A Great Tank – I recently feel in love with these and think they make the perfect addition to any capsule. They can be worn with cut-offs, over a cute bathing suit, or dressed up with a pair of high-waisted jeans and wedges. I have the peach color and the classic stripe.
Linen Joggers – These are the perfect run-around pants for warmer months. I love having another option (other than just shorts), that I know I won't be totally dying in. They're lightweight, comfy, and also the ideal travel uniform!
The Perfect White Dress – This one is so flirty and girly, while also being really versatile.
Silky Cami – I think a silky cami is essential when creating a spring and summer capsule because again, it's really easy to dress up or down. It literally goes with the cut-offs, distressed denim, and linen joggers while being a dressier option than the tank and tee mentioned above. This one is a steal under $50.
Button-up – My favorite for the past few years has been a basic chambray. I also love this white one for a super affordable option. It's easy, goes with everything, and is breastfeeding friendly! I love wearing it with linen pants, white denim (another STAPLE) and even over dresses, unbuttoned or tied up!
Denim Jacket – A great denim jacket is an investment piece that will last you years.  It is not only a staple for spring and summer, but also for fall.
Must-Have Accessories

Staple Shoes

What are you're staple wardrobe pieces?