Welcome to the Home Sweet Beauty's spring living room tour!
I have been looking forward to this post for months now. As someone who works from home, creating and maintaining a space that inspires me on a daily basis is of the upmost importance! When the house is messy (which totally happens), I can't think straight, so I try to keep things clean and, of course, pretty.
It all started with the couch. Our old one was getting worn out, and it was just time for a change! I knew I wanted something lighter and aesthetically pleasing, but that was also functional and made sense with two dogs and a baby! I googled and googled, asked you guys (so much good advice, thank you!!) and eventually ended up at Back Home Living, my favorite Austin home store. I consulted Mari (owner of Back Home and an interior designer), shared all the info I had learned from you guys, and ultimately decided to go with the "Jude Sectional".
We picked the color "Leona Oatmeal" in the Crypton fabric – which is supposed to be the most stain resistant material on the market. Back Home also has hundreds of fabrics to choose from and a wide variety of frames too. I'm not an inherently patient person, but I must say taking the time to pick out our fabric and wait for the couch to arrive was SO worth it!
If you're in the market for a new couch, and interested in ours or anything else in our home from Back Home Living (a LOT of things are via Back Home), you can call their store (512) 328-8421 and see if they could ship! If you're in Austin, you could also stop by the store. I typically get a ton of questions about where things are from, so I will share the names of everything I can, so that if you're interested, you'll know what to ask for.
In an effort for this post to not be 100 years long, I'll let the photos do most of the talking and include brands/sources for everything I can.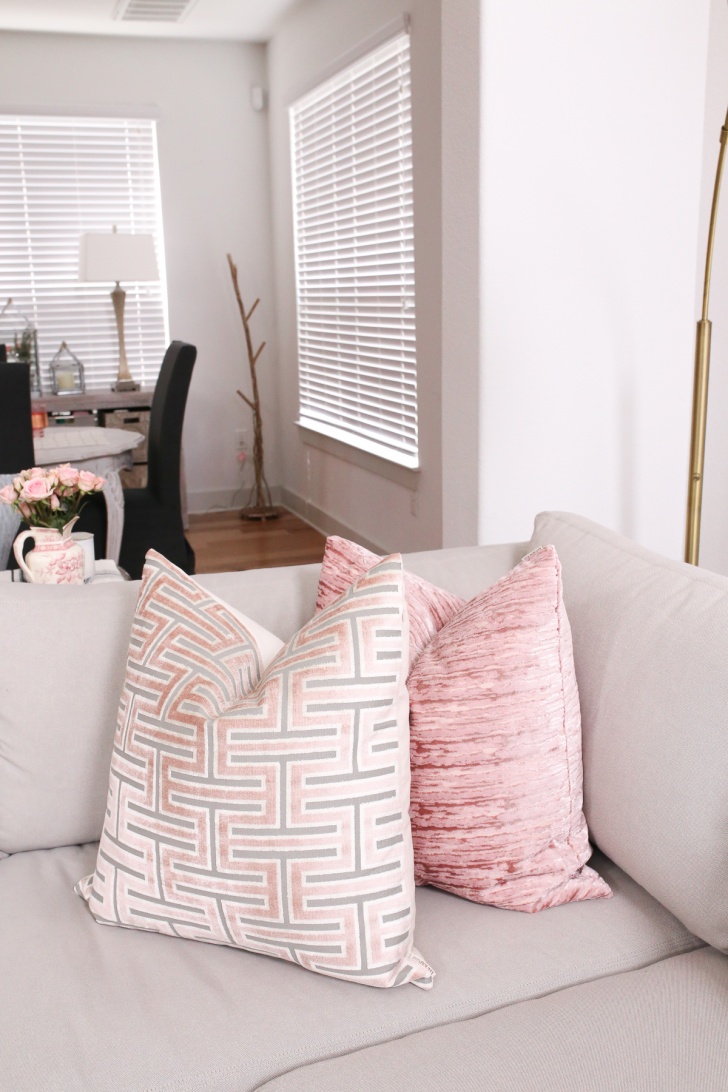 These gorgeous, blush beauties (via Back Home) are by DV KAP Pillows. The quality of these is amazing! So plush and comfy. They're definitely a happy spot for me. You guys know blush is my favorite color year round, but especially now since they scream spring!
Pillow names: "Carlye Square pillow" and the "Wake Square Blush Pillow".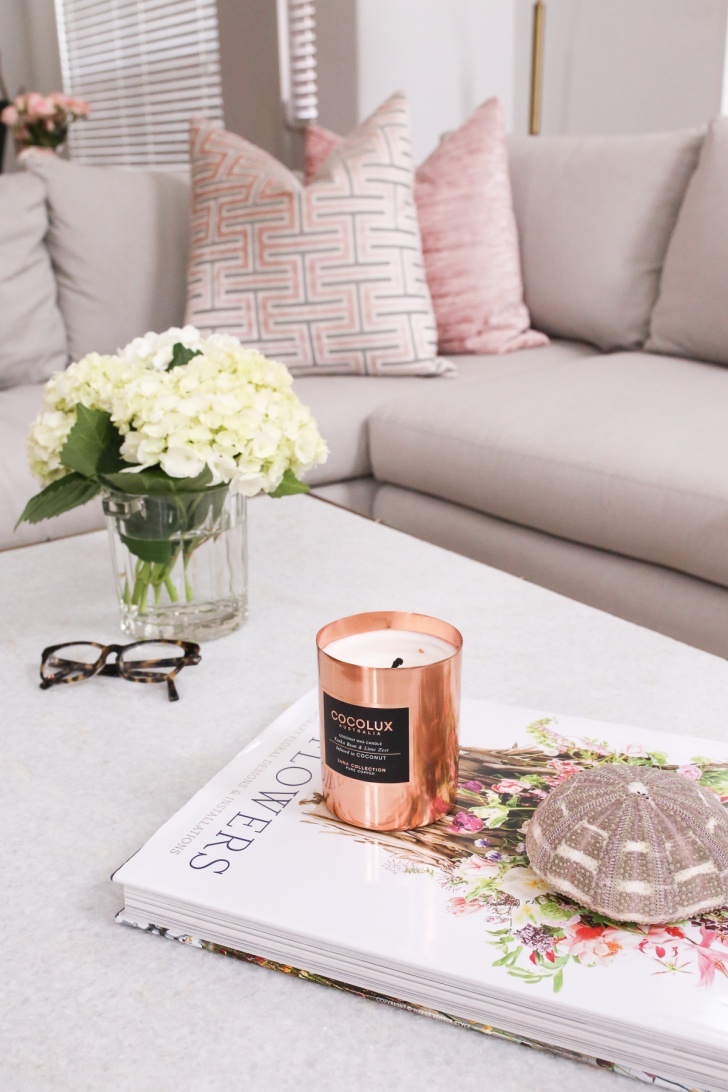 My rose gold candle smells amazing! If you're a coconut lover, definitely check it out. Speaking of coconuts and beaches, I picked this shell up at the Outer Banks two years ago. It's always a sweet reminder of the beach and time spent with family.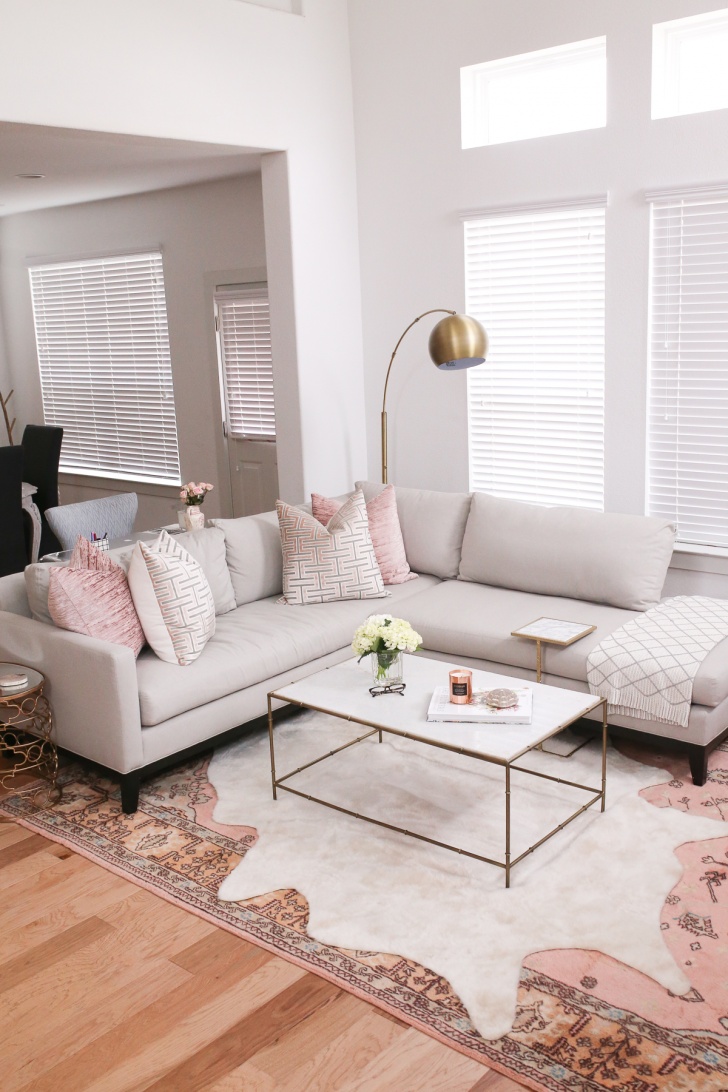 Y'all, this rug! I have been searching for the perfect rug for so long. This pastel beauty is one of my favorite pieces in our home. Right when I laid my eyes on this beauty, I knew it was meant to be. It was sourced by the girls over at New England Loom, so you can't get this exact one but they are constantly finding and selling amazing rugs.
Shop our exact lamp here. If you've been following me for a while, you may remember I picked it up on sale a few months back!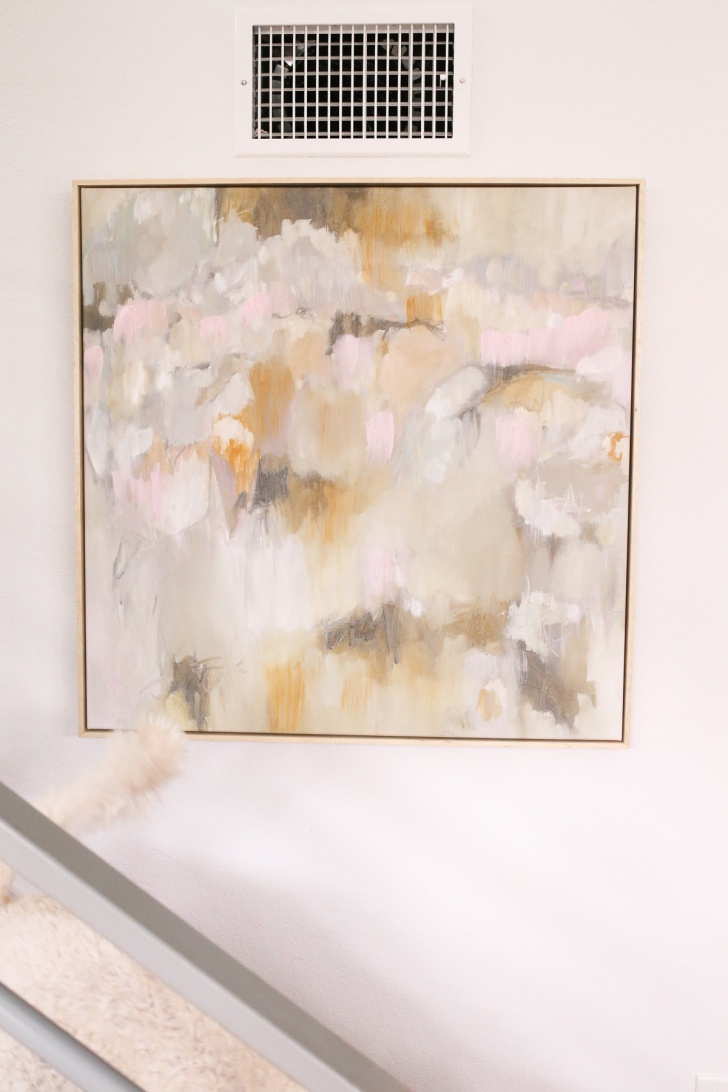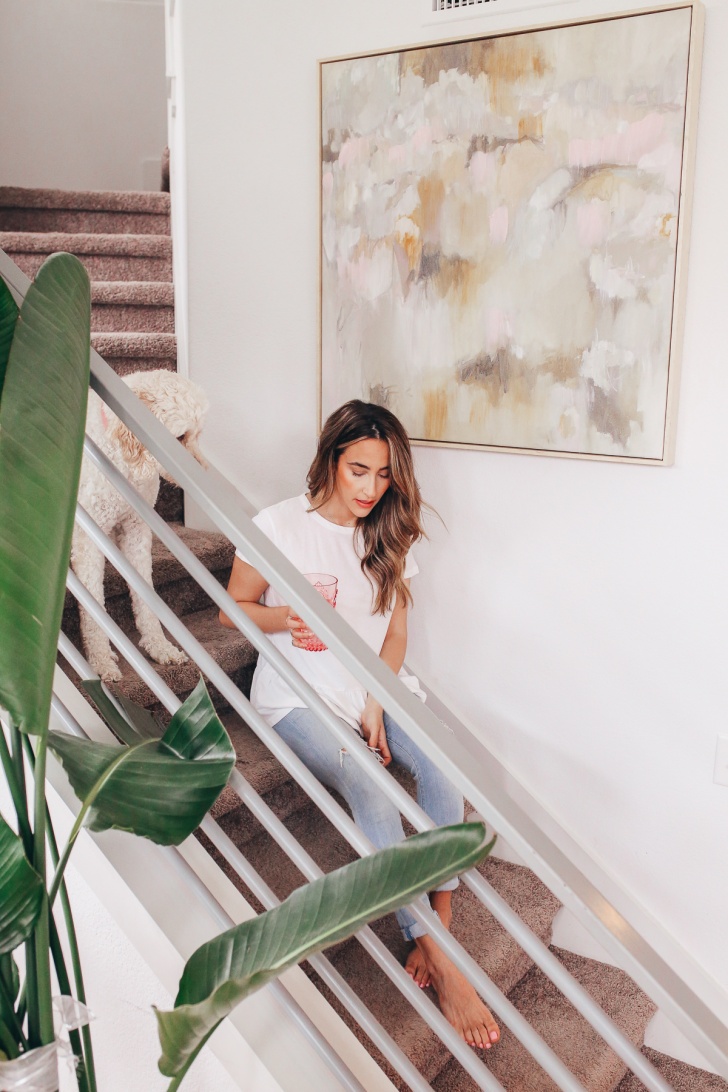 Ahhh, this piece of art has my heart y'all! It's by Wendover Art Group (via Back Home) and so dang pretty in person. We ended up putting it on the stairs, and I think it made such a statement in the overall vibe of the room. You guys have already started to notice it in the background of my Instagram stories. Cool fact I learned through this process? The images are hand applied by the artist herself, so no two are exactly alike…which I love.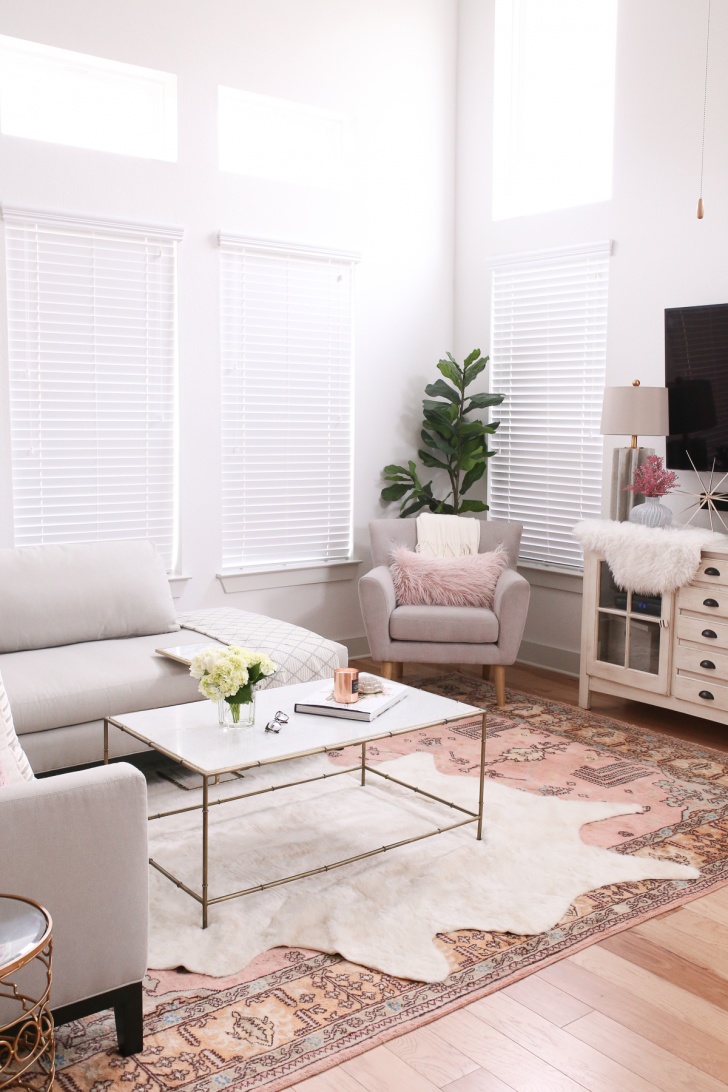 "Cowhide" is vegan, durable, easy to clean, and also from Back Home. I love the layered look because it not only adds a neutral pop over the colored rug, but it also gives texture and makes the room interesting.
We ordered two cream-ish colored chairs to sit opposite the couch, but they haven't arrive yet! So the grey chair in corner will be swapped out for a cream one and a matching one on the other side. Hopefully they'll be in soon :).
Side table and the nesting table and both via Homegoods a few years ago.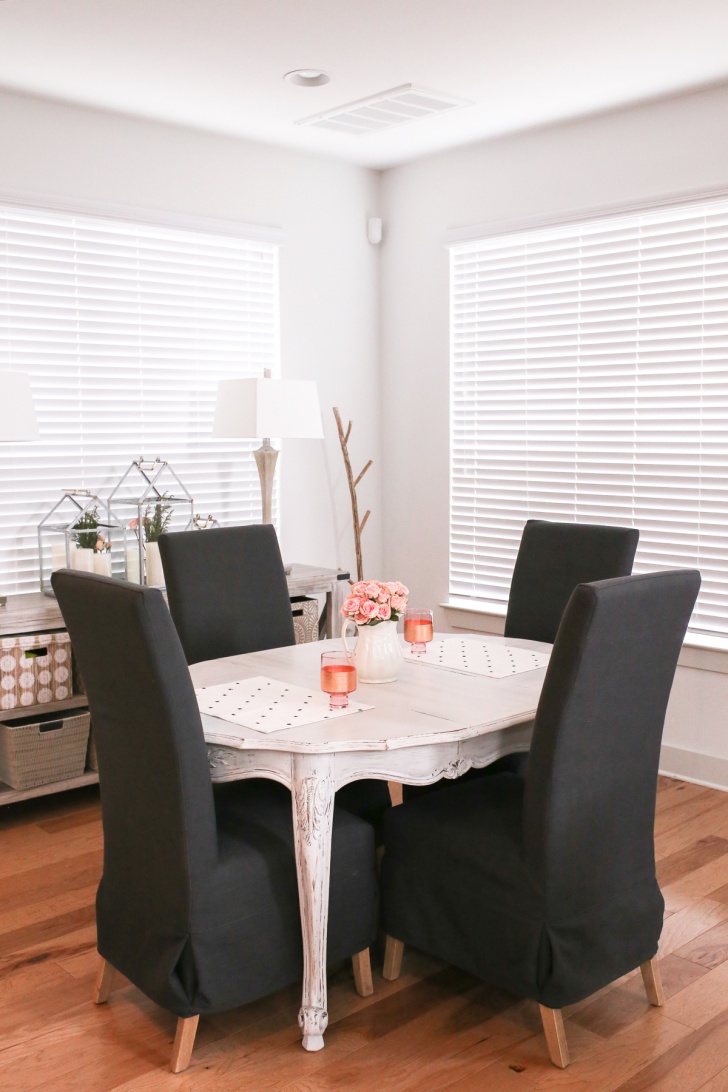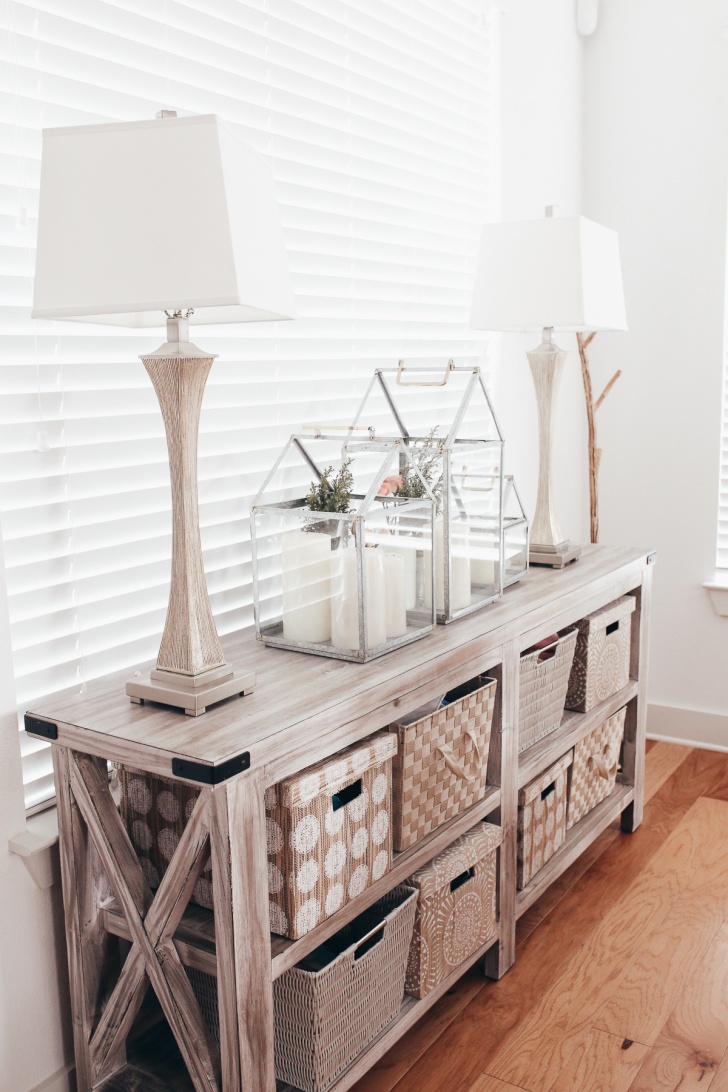 Two more additions to the downstairs are our table and chairs. If you've been following me for a bit, you may remember me sharing the table (and drooling over it) a few months ago. It is a French antique, so you can't buy this exact table, but Mari does find other amazing, one of a kind pieces so it's worth checking back.
Let me start off by saying that these chairs (made by Furniture Classics, via Back Home) are Alex approved. Those of you who don't know, my husband is 6'5, so when I say these babies are Alex approved, I mean they are the best. They are sturdy, so comfy, and slip covered, which is easy to take off and wash if need be.
Lamps – by "Uttermost" via Back Home. They're called the "Vella Lamp". I LOVE the wide, crisp, white shades.
Wooden console piece and pull out baskets are all from Homegoods.
Place mats are from Target (Magnolia Line) and the rose gold cups are also a Homegoods find.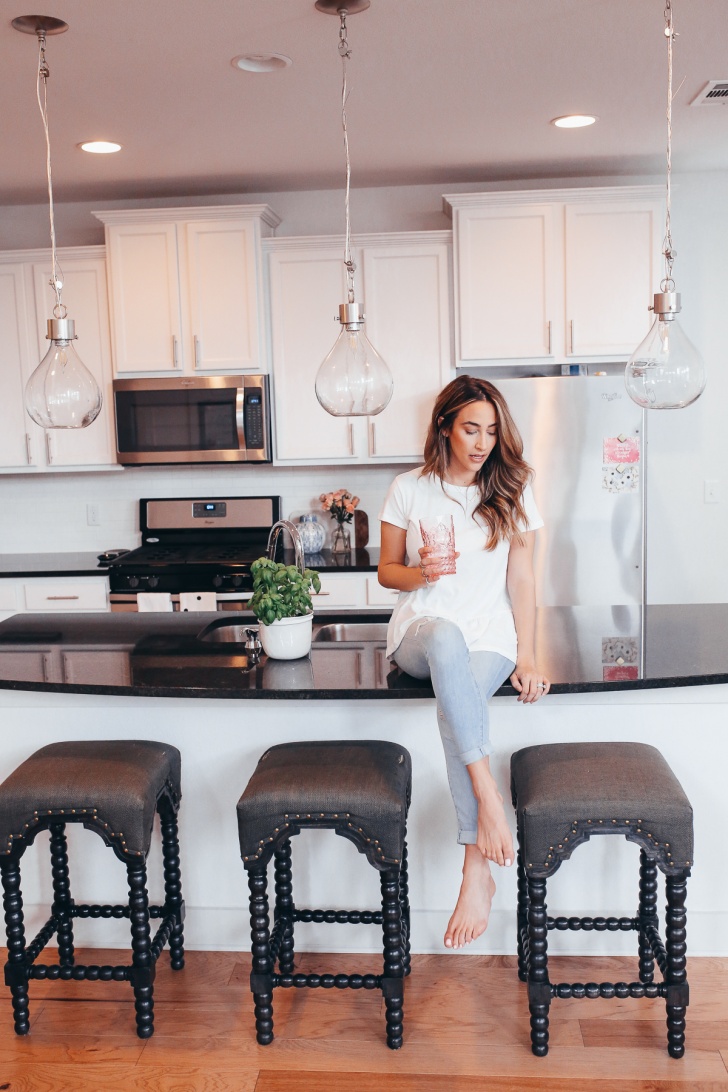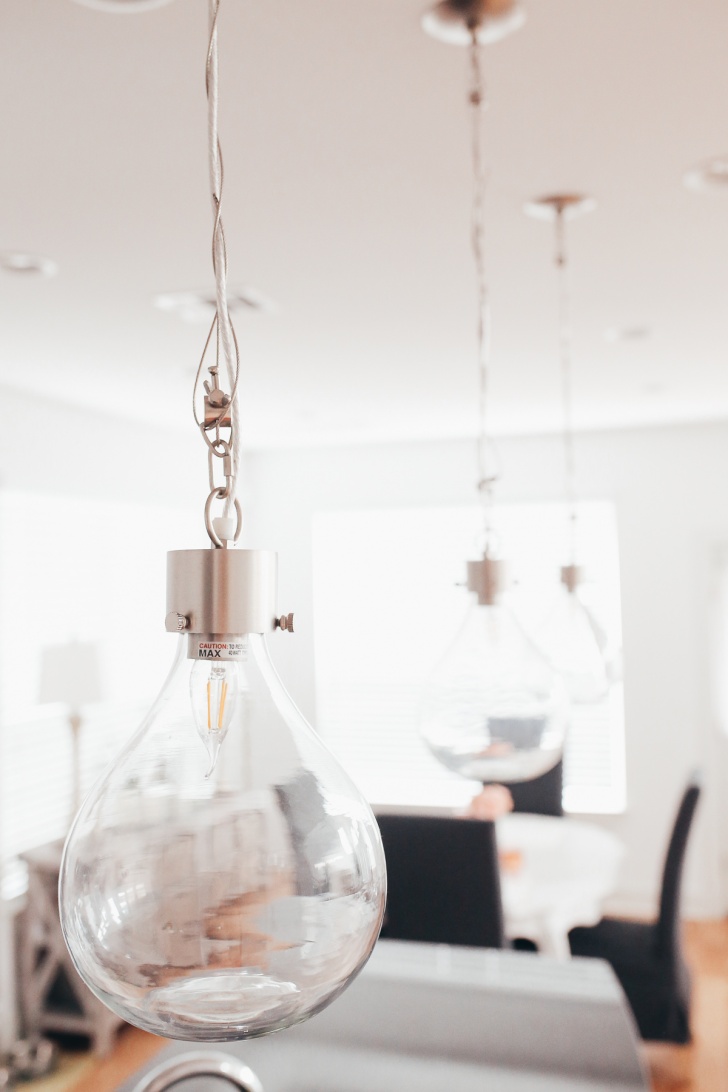 I've been dying to upgrade the kitchen pendants for a while now! These are so fun and totally elevate the whole kitchen in my opinion. They are from Bobo Intriguing Objects, again via Back Home.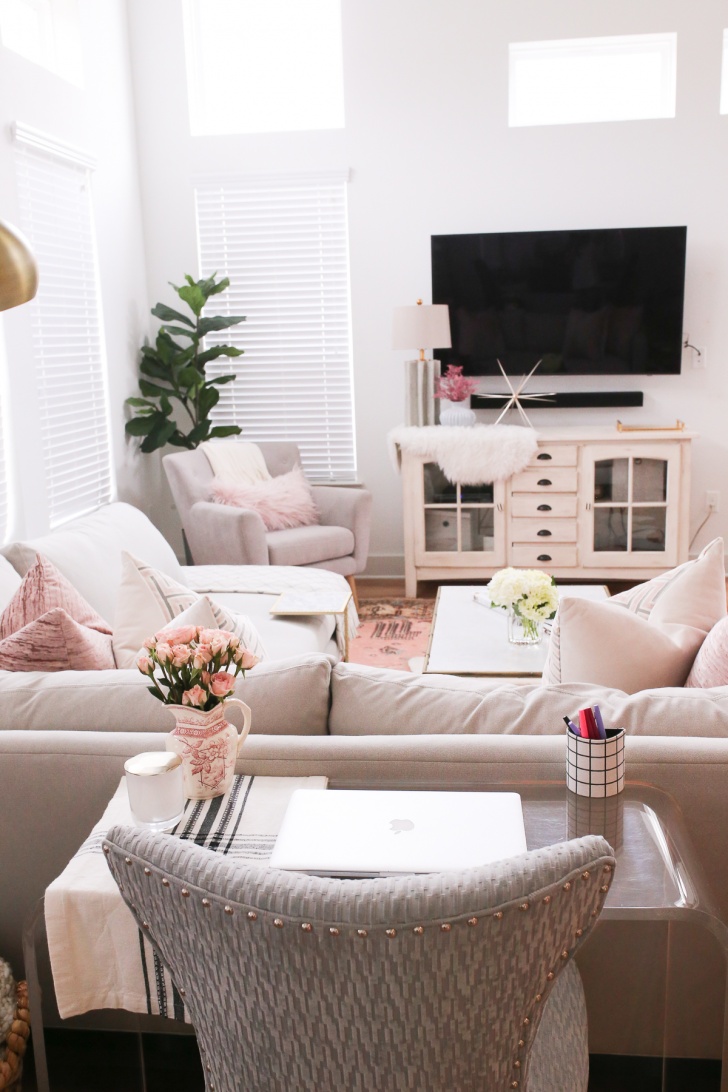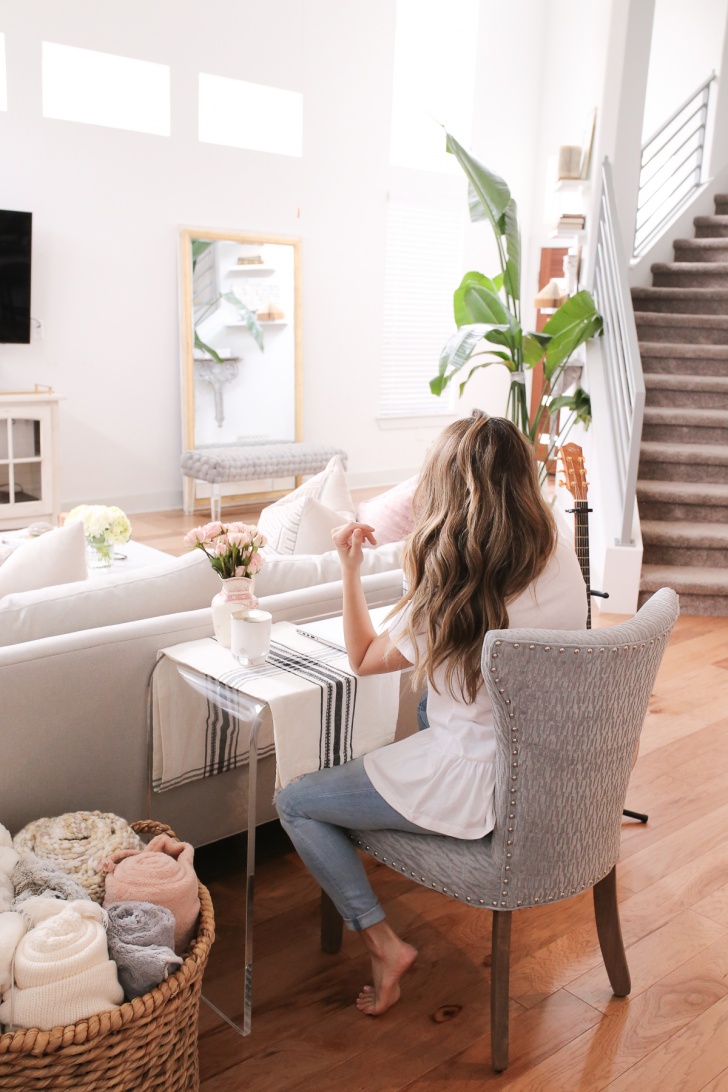 I LOVE sitting here to work. Even though I have an office upstairs, I find myself sitting here more on a daily basis. The Lucite desk is from Homegoods, Candle is Kendra Scott and chair is also Homegoods.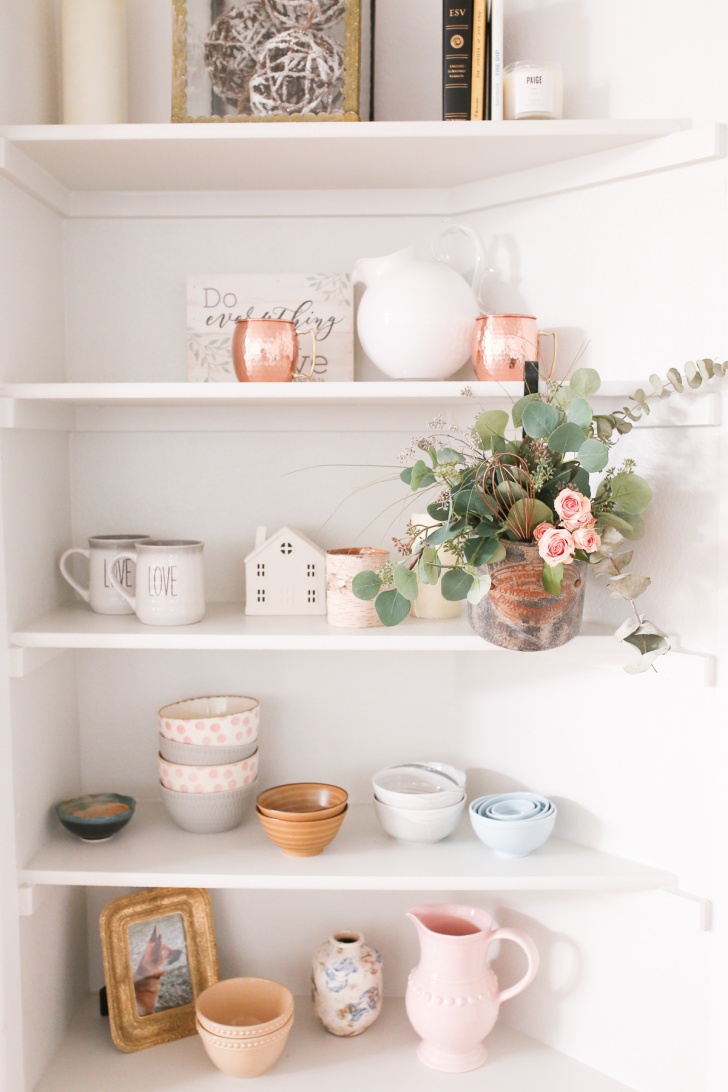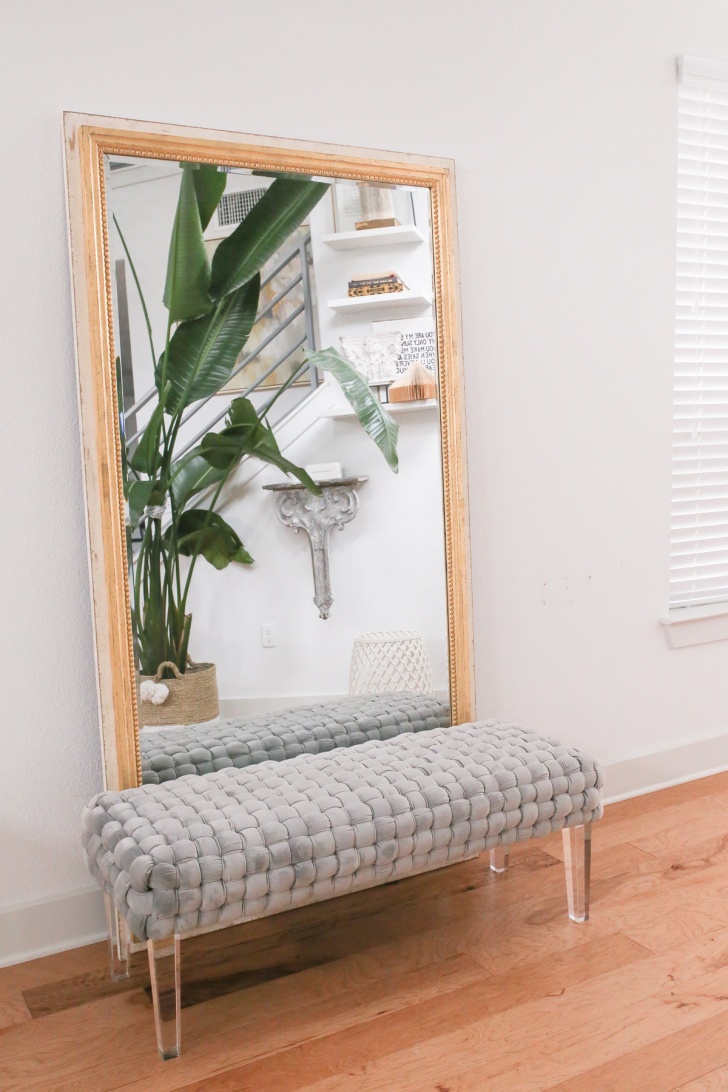 Mirror via Back Home Living / Bench (here and IN STOCK! It usually sells out!)
I hope you all enjoyed this peak into our Spring Home decor. xo