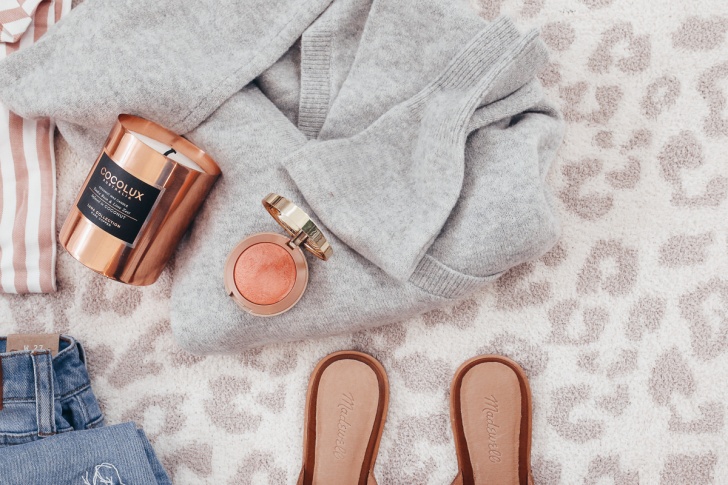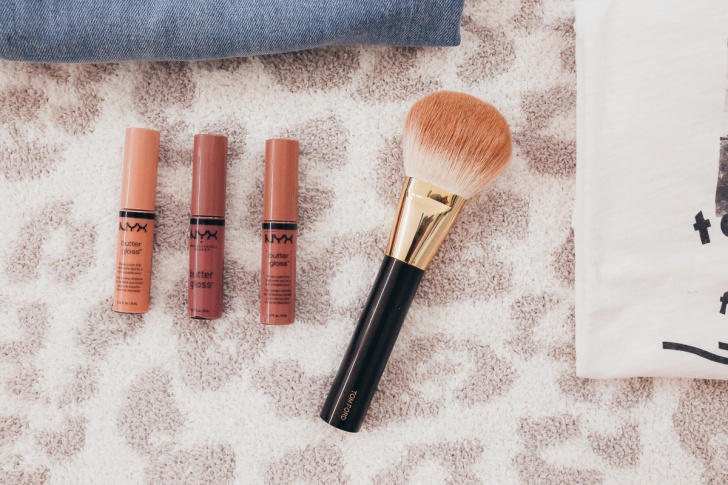 It's easy to go crazy in the drugstore beauty aisle, because everything is just so affordable! Am I right?! Unfortunately, not all products are winners. My goal, when on the hunt for the best find, is to only buy products that are as good as or better than my high end products. I personally have never seen the point in buying 3 $7 mascaras that are just ok, instead of purchasing a $21 product that works great. So, rather than making a huge list, I've narrowed it down to the absolute best finds at the drugstore. These are all things I love and reach for a lot that are in my opinion as good as the pricier buys!
1 // L'Oréal Foundation Blender
I've tried many 'beauty blender' type sponges and this is the only one that compares! I love this one as much as the beauty blender and maybe even a little more. The density is on point, and I really like that it has a little indent in the middle, making it easy hold.
2 // Physicians Formula Butter Bronzer
This is hands down the best drugstore bronzer I have ever tried. It's smooth and creamy, such a beautiful neutral, and smells like coconuts! I mean, what else can a girl ask for? That was rhetorical, because…nothing! The only downside is that there is no color range, which is a little disappointing for my darker skin toned babes. I wish they made a few colors for different complexions, but as of now there is only this one. Just wanted to give you a heads up on that! Having said that, if you're my skin tone (paler me, in winter lol) or lighter, you will love this bronzer! Especially my very fair girls, this will be your jam.
3 // Milani Baked Blush
This blush in the shade "Luminous" is a total drugstore gem! I've loved it for years, and it's stood the test of time. It's a gorgeous pink-y/peach that gives the skin the prettiest "awake" and glow-y look. It also comes in other colors, this is just my personal favorite shade.
4 // L'Oréal Mascara
Two of my favorite mascaras from the drugstore are L'Oréal Voluminous and L'Oréal Telescopic! My current favorite mascara is this one (I swear by it!), but I do think that there are some good options at the drugstore, and I highly recommend these two. Voluminous does just what is says, it adds volume and Telescopic is great for length and separating your lashes! I also love Telescopic on my bottom lashes because it doesn't bleed underneath like some mascaras do.
5 // NYX Butter Gloss
Hands down the best gloss for the money! I reach for these just as much, if not more, than my high-end glosses! The colors are beautiful, the formula is amazing (not sticky) and they smell heavenly. A few of my favorite shades are: "Tiramisu", "Fortune Cookie", "Angel Food Cake", "Crème Brûlée" and "Maple Blondie".
6 // NYX Soft Matte Lip Cream
If gloss isn't your thing, these matte lip creams are everything! They're long lasting and matte, while still being really comfortable on the lips. Two of my favorite shades are: "Stockholm" and "London".
7 // Maybelline Color Sensational Creamy Matte Lip Color
I love these matte lippies! So many beautiful colors and again, not drying which is major key when it comes to matte lips. My favorite colors are "Touch of Spice" and "Clay Crush"!
8 // Flower Beauty Miracle Matte Lip
I recently received these in a PR package, and fell in love! I even gifted a few of them to my Mom in her stocking this year. They have a huge and beautiful color range, and they last for hours on the lips.
9 // Garnier Naturals Soothing Facial Mist
My last pick is another new discovery from a recent PR package — and y'all, this spray is the bomb! It's hydrating, refreshing and legit smells like roses! If you are on the market for a good drugstore facial mist, this is for you!
10 // Maybelline Age Rewind Concealer
I can't even tell you how many of these I've gone through over the years. It's without question the best concealer at the drugstore! It lays smoothly under the eyes and has great coverage!
What are your must-have drugstore beauty finds? Would love to know if I'm missing out on any goodies!