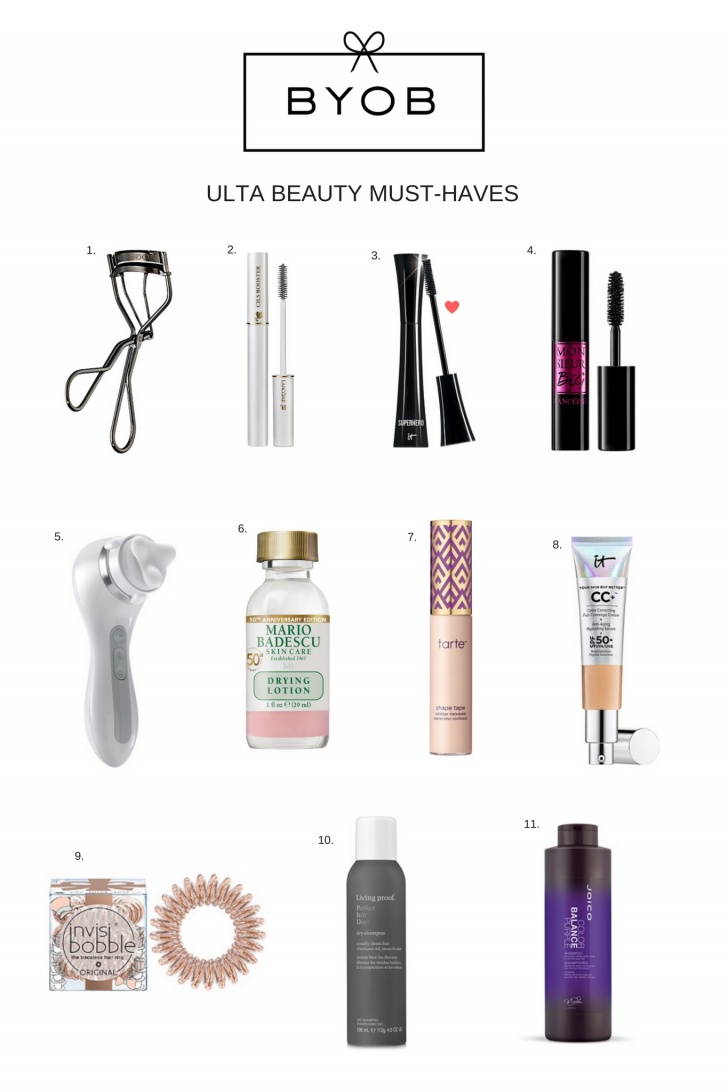 Every few months I restock on my Ulta favorites! As I was restocking, I realized all of these products are either things I've gotten a ton of questions about lately or items that would make the prefect last minute gifts! So, I did a little round up of my Ulta staples, including my favorite hair ties, my new mascara routine and the concealer I can't live without.
1 // My favorite eyelash curler! I love how you can replace that rubber inserts when they get worn out.
2 // This is the absolute best lash primer I have ever tried. I've been using it since high school and honestly don't think I'll ever stop. I've done tons of posts on why I love this baby so much, but to sum it up – it makes my lashes extra long and thick! BYOB Tip: Let it sit on your lashes for roughly 30-45 seconds before applying mascara. This primer is one of those items that I can't do my makeup without and even like to have backups of!
3 // I discovered this mascara a few weeks before Kinsley was born and have been obsessed with it every since! Every single time you've seen me wear mascara the past few months, its been this! It's thickens, lengthens and currently my all-time favorite mascara (not an easy title to obtain in my book).
4 // Another mascara love of mine recently. I like this one because of the big flurry brush! It give my lashes a really pretty look and pairs well with my above mentioned favorite.
5 // I recently got this facial massager and have been living for it! This thing is amazing for anti-aging and would make the perfect present for any lady in your life.
6 // So many of you recommended this drying lotion to get rid of "Ted" (aka. the friend on my face), so I just ordered it and can't wait to try!
7 // Hands down the best concealer of all-time. It has the absolute best coverage, stays all day and doesn't crease! Bonus, it comes in a ton of shades!
8 // I wear this CC cream everyday and absolutely love it! I'm currently wearing shade "medium", my winter shade.
9 // These are the only hair ties I use on my hair! They keep it healthy and don't crease. A lot of retailers are sold out of these right now, so I was excited when I found them in-stock at Ulta! These also make the perfect stocking stuffer.
10 // The best dry shampoo and a total staple in my hair routine! I love that it also adds body to my roots (even on clean hair).
11 // I love washing my hair with a purple shampoo every few shampoos. It's helps keep my highlights the perfect color and fend off any brassy tones. I highly recommend this one!
Thank you to Ulta for Sponsoring this post. All opinions are of course, my own.