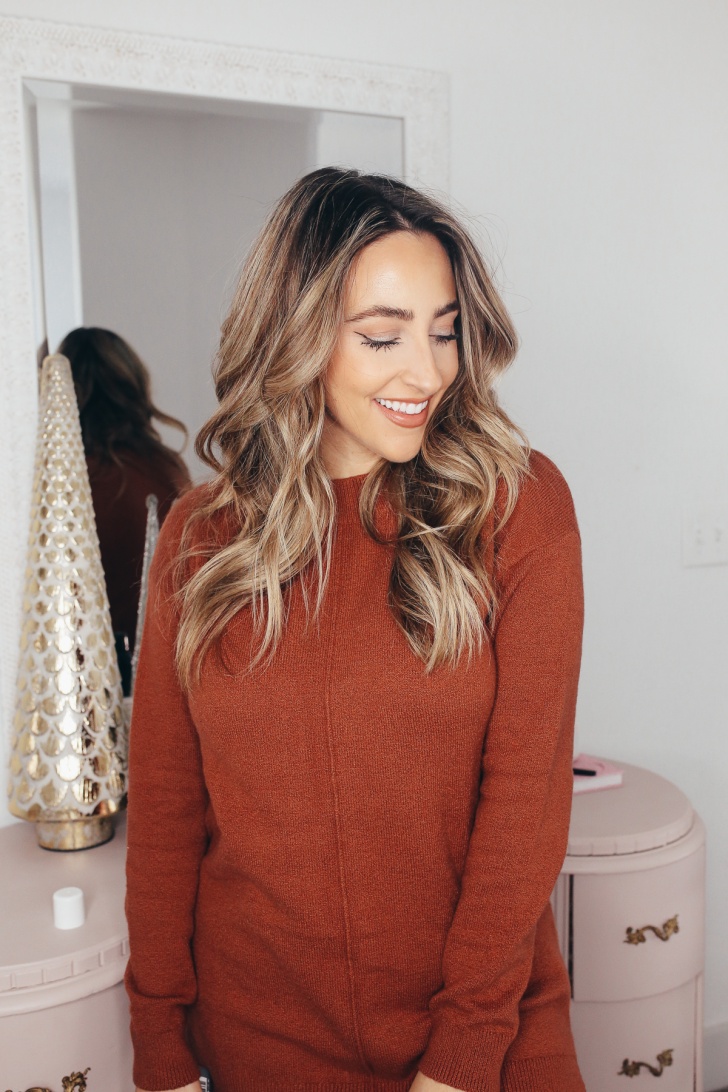 My favorite, go-to hairstyle is and has always been big, voluminous, effortless curls. I especially love the way they look during the holidays and you guys seem to also, because I've gotten tons of requests to share my secrets! Over the years I've tried a million different products, irons, wands and techniques and have finally found what works best for me.
HAIR HEALTH + HEAT SPRAY
A quick note before we get into products and styling: one of my biggest tips is hair health. Taking care of your hair is major key to achieve big, bouncy curls! I'm a big fan of a good haircut and try to get mine trimmed about every 6 – 8 weeks (even if it's just a little) to keep it nice and fresh because at the end of the day, healthy hair is pretty hair.
So, not only are these products amazing, but they've also helped me keep my hair healthy as well. Since my last haircut a few weeks ago, I've been exclusively using these hair ties! They help minimize any damage and eliminate any creasing like a normal hair tie…win, win!
Speaking of hair health, I always always always make sure to use a heat spray on my hair before I curl or do anything that requires heat! This one and this one are my two favorites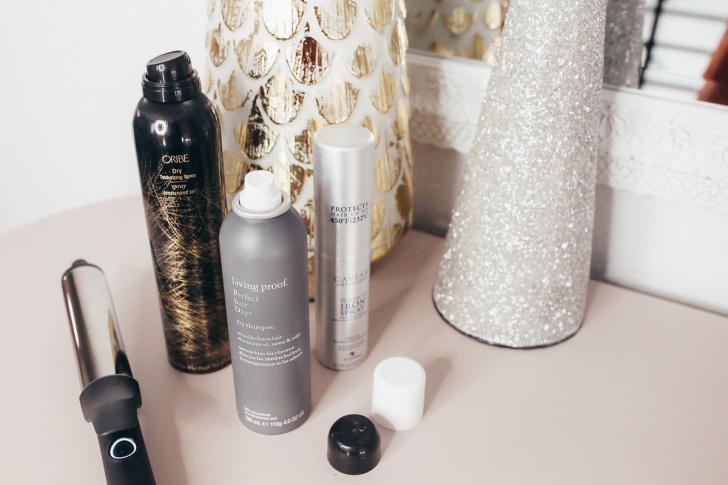 TIPS FOR CURLING
This curling iron is my absolute favorite. It's a new discovery for me and was basically love at first curl! Since I started using it, I've noticed such a difference in both my curls and the overall look and feel of my hair. It only gets up to a certain temp (to keep from damaging your hair), gets hot super quick and creates the most beautiful curls. I have a lot of hair, so I start by sectioning it off into three secretions, but you can tweak this depending on how much you need. I like to hold the hair up and out, clamp and twist, leaving about an inch or so of hair out at the bottom. I've found this helps achieve that effortless, I woke up like this, kinda hair.
BYOB tip: Always curl hair away from your face! This is what I find works best of my hair, but if you have thin or fine hair, try curling every other piece in opposite directions to fake the feel of more hair — ie. curl one away and then one towards your face etc.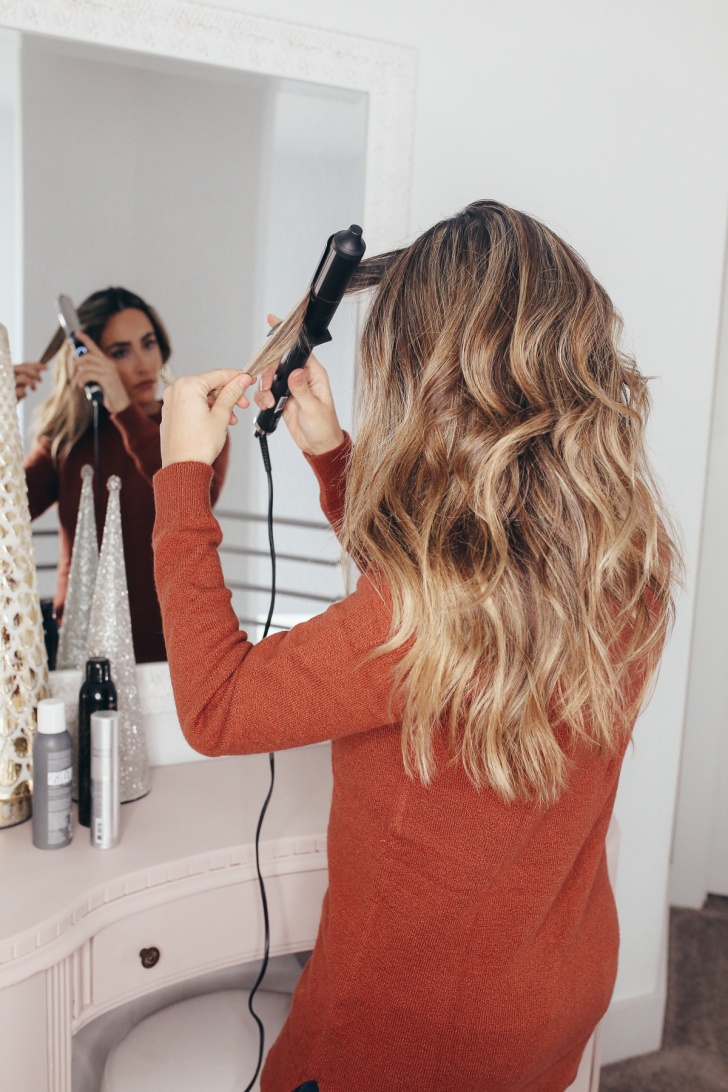 FAVORITE PRODUCTS
Once I've curled all my hair, I like to use a little dry shampoo (mostly on the top layer, around the crown) to create some added volume at the roots! I know a lot of people wait to use dry shampoo until their hair is dirty, but it's actually a little trick of mine to do it on clean hair too. I only really do it on the top layer, but find it totally helps had some umph and make things look less flat. All I do it spray a little in the roots and really work it in with my fingers!
If you follow along on my Instagram stories than you know that a few weeks I ordered a bunch of different dry shampoos from Nordstrom to test and try and this has been the one I've found myself reaching for the most! It smells amazing and works so well. Do yourself a favor and add this to your cart! Bonus, Nordstrom has free shipping. I was really surprised when testing out dry shampoos how many really didn't do much of anything at all!
BYOB tip: Another tip (in addition to applying on fresh hair), is when your hair starts to get oily and you want to use the dry shampoo to extend the life of your style is to put it in at night! It allows the product to really absorb any oils and do the best job at re-freshening your hair!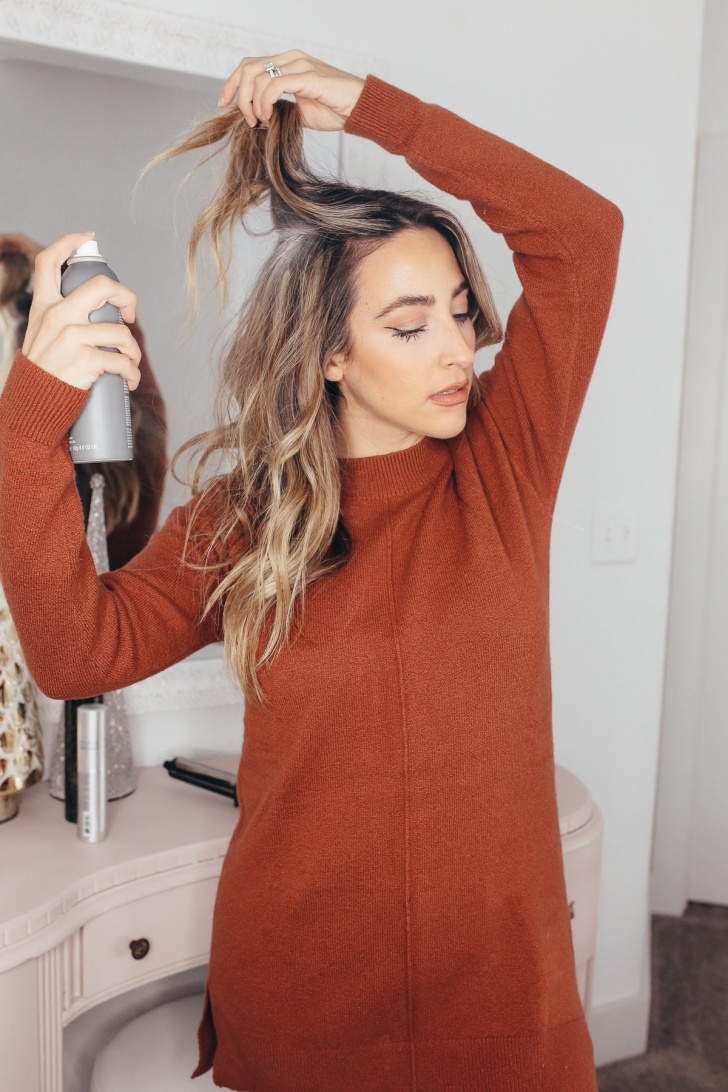 ADD A LITTLE TEXTURE
The last time I do when I want to add a little texture is spray my favorite texturizing spray by Oribe. I love this one because it adds just enough grit, without weighing your hair down! I have thick hair, so I don't always do this step, but if you have thinner hair I would really recommend trying this out. Again, I hold my hair up and out, but this time spray the mid to ends of the hair. I was so excited when Nordstrom started carrying Oribe because previously I had to buy it in store at a local Salon and y'all know I'm an online shopping kind of gal!
BYOB tip – Spray a little bit up and at an angle (see pics). As you spray, slowing release the your hair a little at a time and let it fall. This will really help give your hair that piecey, lived in look.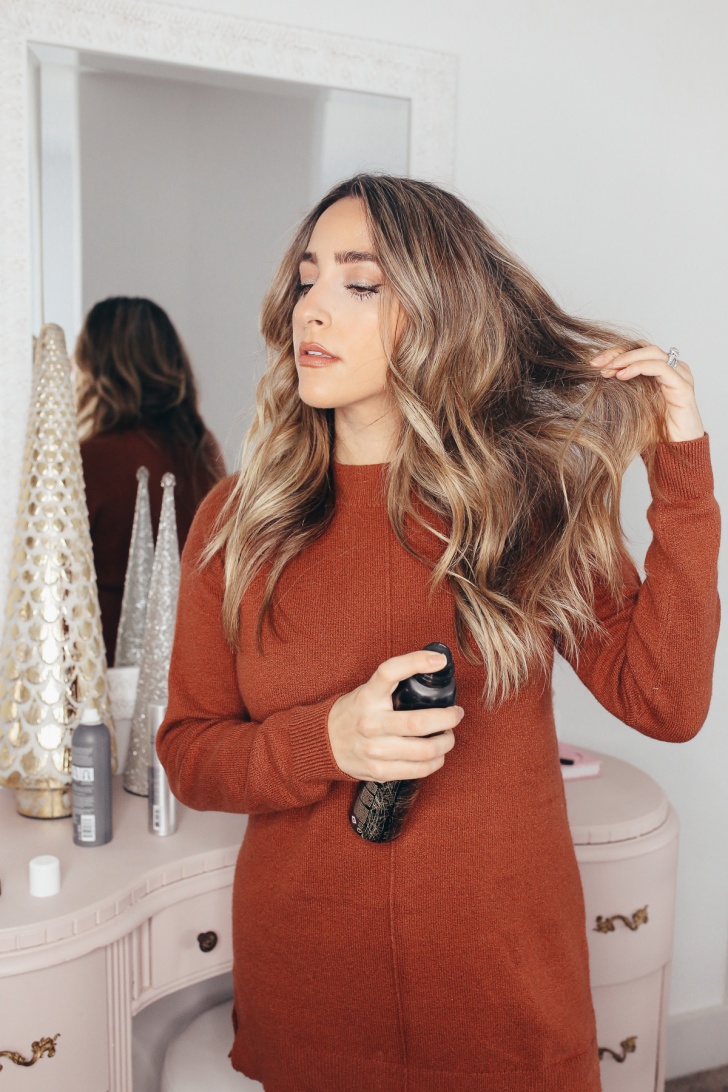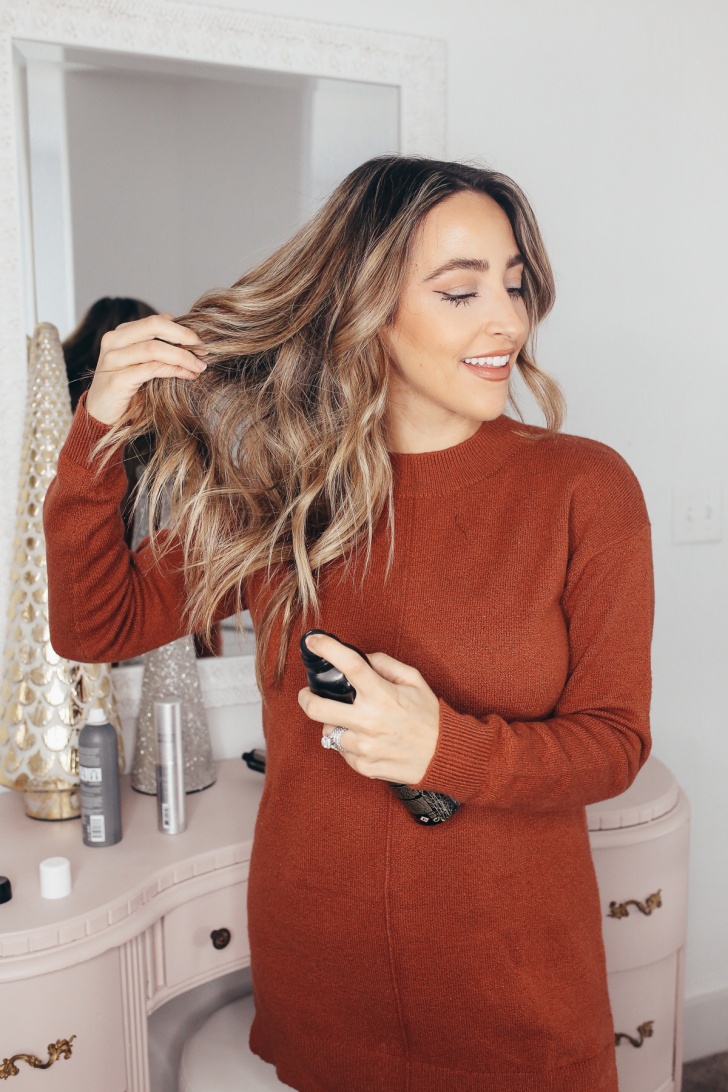 Typically my curls will last multiple days! If I have worked out a lot or they need a little extra TLC, I'll just re-curl a few pieces and bam, good as new!
WHAT I'M WEARING
This outfit is PERFECT for turkey day and in-fact, I think it may be what I end up wearing (weather dependent). This sweater is so comfy and the perfect Thanksgiving color. It's also really flatter and elongating, perfect for hiding all that pie! It would also totally work with a bump if you're preggo. Throw on a scarf like this one, and you're good to go.

Thank you to Nordstrom for Sponsoring this post. All opinions are of course, my own.