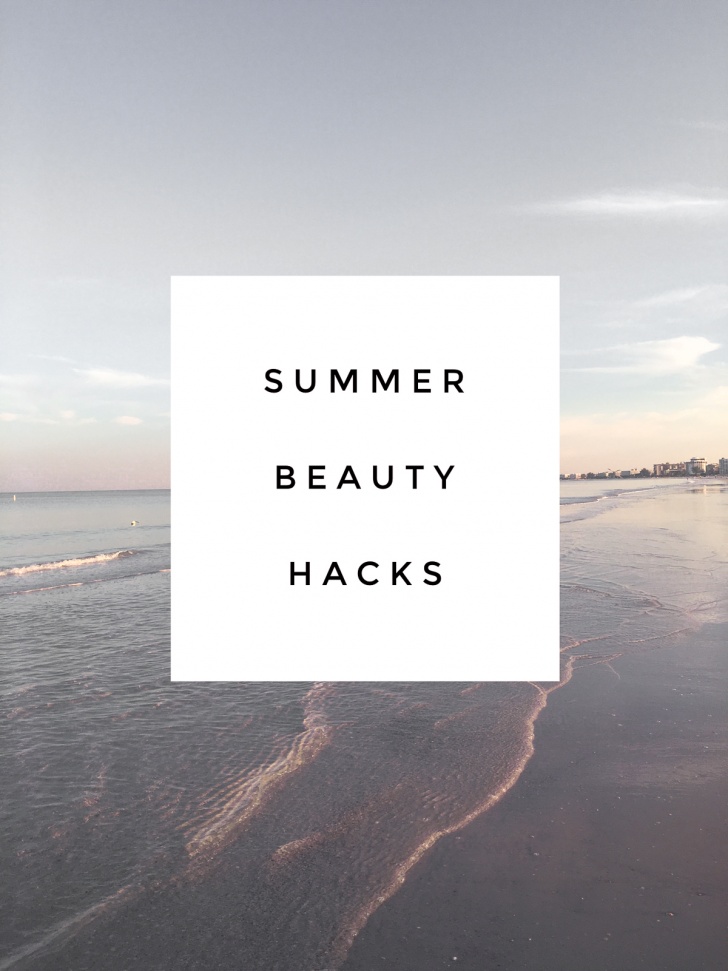 When it comes to summer and beauty, I'm all about one thing: cutting corners. You won't hear me say that often, because I am typically a huge fan of hard work, but when the sun is shining and you're on holiday, the last thing you want to do is be stuck inside spending unnecessary time getting ready. Not to mention the heat, the heat does all sorts of fun things like cause breakouts and dry out your hair – so, here are my summer beauty hacks – things that will make your beauty life easier this year.
HACK #1
This little tip is actually what gave me the whole idea for this post. Before going in the pool or ocean spray conditioner in your hair to protect it from the sun, salt (drying), and especially the chlorine. This tip is applicable for everyone, but especially if you have highlighted or colored hair. I shared this on my IG story yesterday and got so many messages from you guys saying that you had never tried it etc., that it got me thinking…what other summer hacks do I have up my sleeve?
This is my all-time favorite leave-in conditioner. I use it every time I get out of the shower. It's great for detangling and hydrating hair – it's also what I use for hack #1 and bonus, it already comes in a spray bottle.
HACK #2
I can count on my fingers the number of times I have dried my hair this summer. YES – really! Between dips in the pool, working out, and the insane Texas heat, what's the point? haha. I view the summer as a great time for hair health to supersede my hair looking "perfect" everyday. So, I opt for one of my many no heat styles that I shared here. Lately, my favorite has been the braid. I wash my hair, add my leave-in conditioner and some hair oil and throw it in a French braid. I take it out when it's almost all the way dry (but not quite) and voilá – no heat waves!
HACK #3
On an everyday basis, I skip the eyeshadow and just go for a little bit of bronzer in my crease. I love doing this, because it requires less products and looks really natural.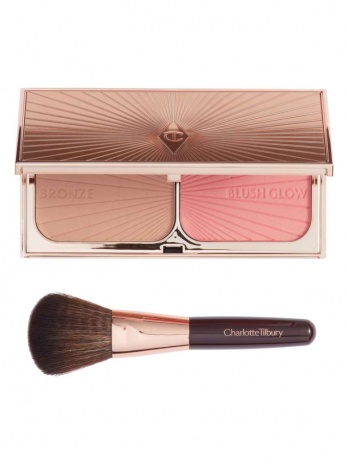 One of my favorite beauty finds from the #nsale, this duo has become a staple for me! The contour/bronze color is perfect for eyes and face.
HACK #4
Have you ever accidentally left a lipstick in your car or bag in the heat? Instead of opening when it's melted and hot, pop it in the fridge. Take it out a few hours later and it'll be as good as new!
A few Nordstrom Sale favorites…
HACK #5
Deodorant isn't just for your underarms. Something you may not know about me: I have Raynaud's disease, which in this case means that I typically don't sweat. I'm talking, post spin class, no sweat. Before you envy me, just know that this is about the only perk. Well, being pregnant (hormones) in this crazy summer heat has caused me to sweat a little more than normal in an unfortunate place (i.e. in between 'the girls'), so I learned a new trick. A quick swipe of deodorant and you're good to go! You could apply this to basically anywhere that you tend to sweat to prevent it.
What are your summer beauty hacks?