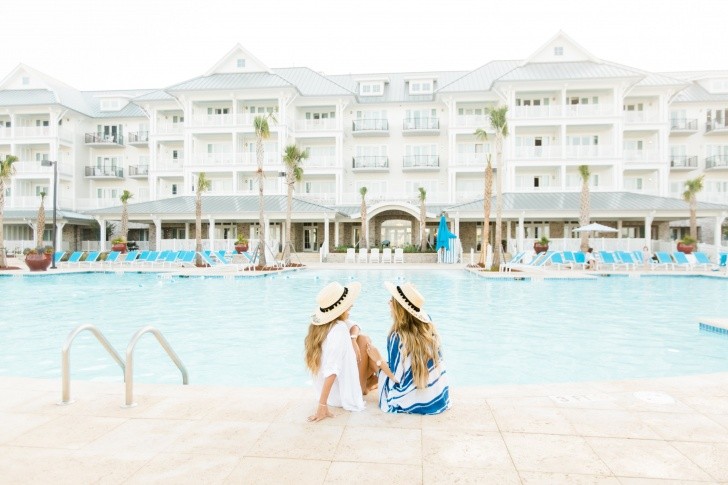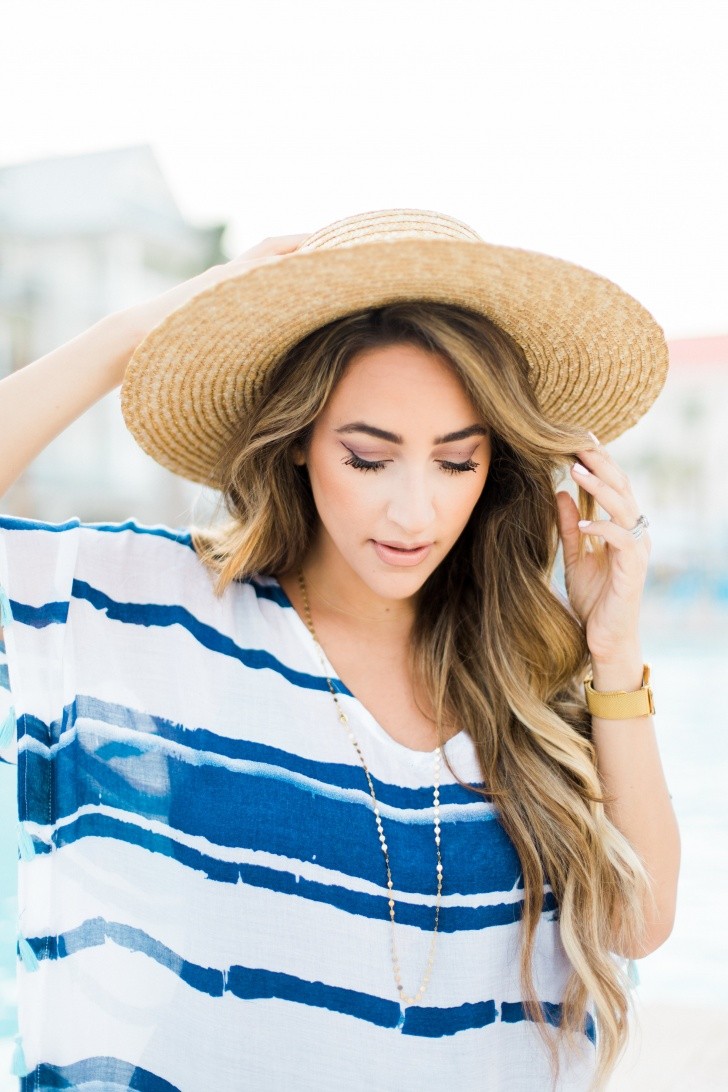 Our recent stay in Charleston can be summarized in one word: charming. It's safe to say that I majorly overused that word during our trip, but it really does describe our whole Charleston experience. From the adorable colored walls (that reminded me of my trip to London a few months ago), to the overflowing flower boxes, to our delicious (mostly fresh seafood) meals and, of course, to our gorgeous hotel – The Beach Club at Charleston Harbor Resort & Marina, everything was perfect.
Jessi and I are both beach gals at heart, so when brainstorming where we wanted to stay in Charleston, we decided staying by the water and spending long afternoons in the city would be ideal. That way, we would get the best of both worlds! From the minute we walked into the adorably decked out Beach Club, we knew we had chosen well! The sweet staff instantly made us feel at home. The decor was out of this world cute – let's just say, I picked up some major BYOBaby nursery inspo that I am just dying to put to use! Speaking of, can you guys believe that we find out baby's gender in a few days? It seems so surreal, but I'm honestly so excited that I could burst!
We didn't realize when choosing our trip dates that the tail end of our trip was the beginning of race week but we were pleasantly surprised when we got to experience a little more of Charleston's *charm* as the sailing teams (are they called teams? Not sure. but we'll just go with that) arrived and filled the marina!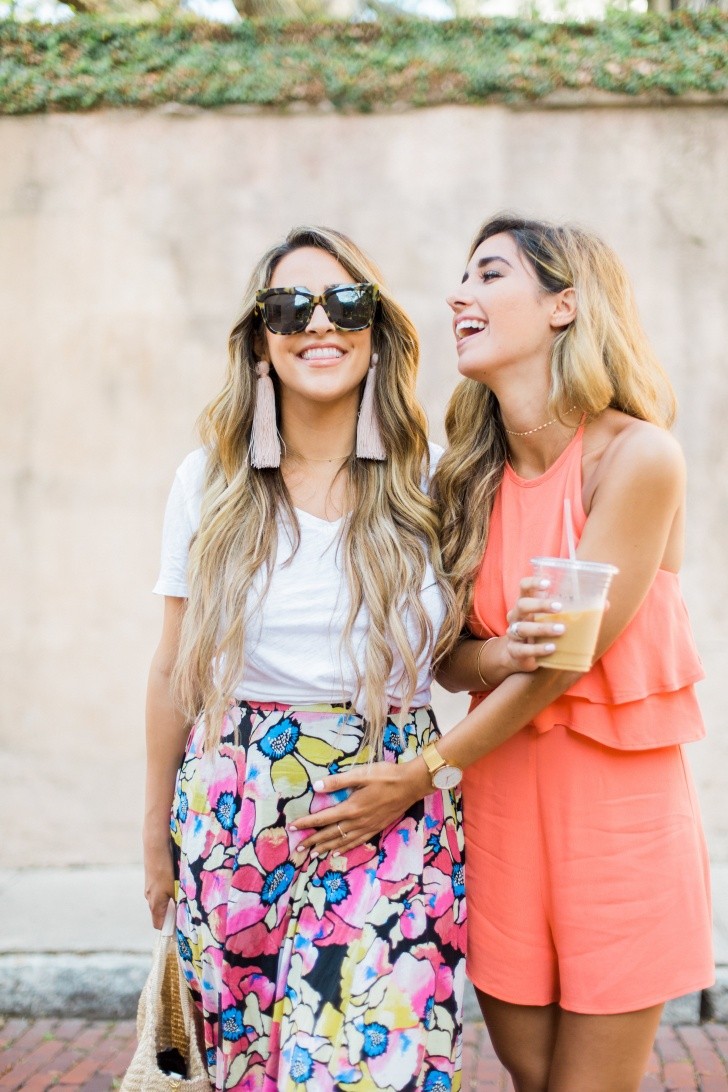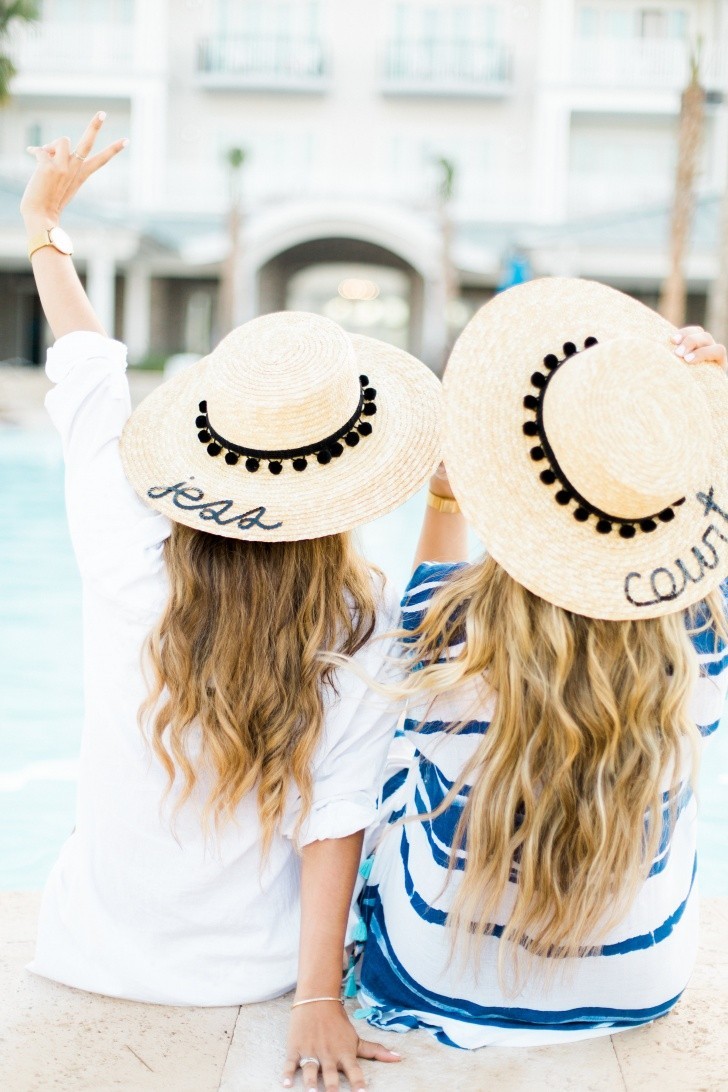 Charleston was just as adorable as I imagined it would be.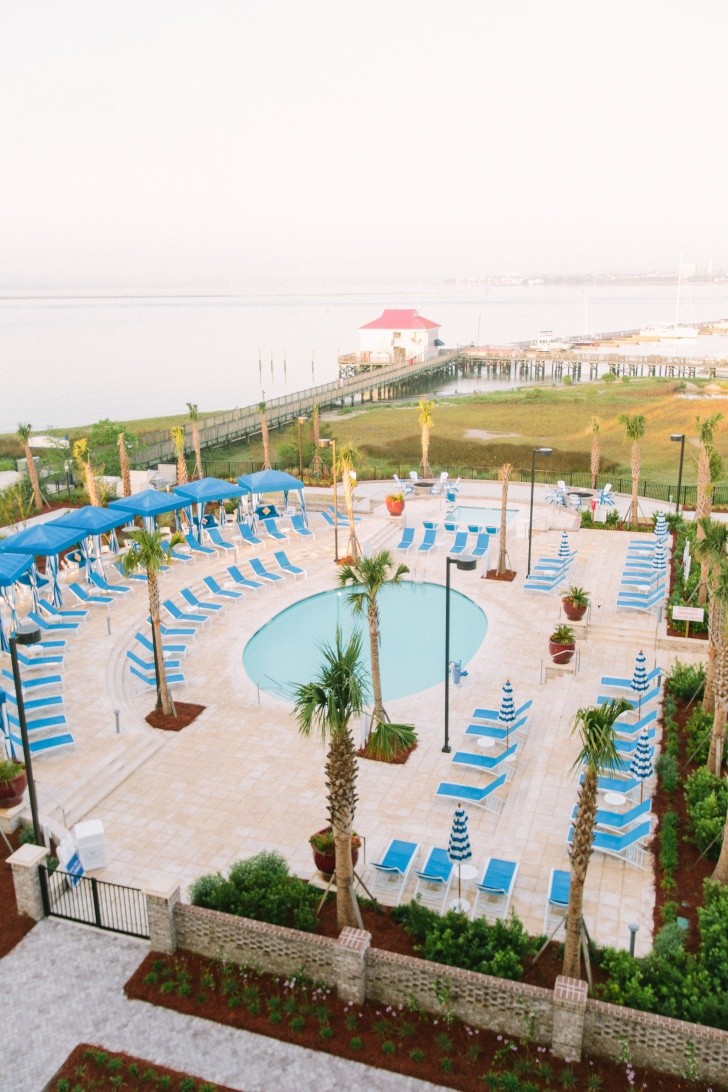 So many of you were asking about my favorite things to do in Charleston, so I thought I would share a little list of a few of my must-do's.
ONE // Exploring
We walked around the city, exploring and soaking up all that Charleston cuteness. We even spent a morning with Rachel, our amazing photographer, who also turned out to be a total gem of a person too! You guys should check out her Instagram – it's so beautiful. The three of us walked the city streets and Rachel snapped a few pics along the way. We became totally obsessed with the historic district – talk about classic Charleston vibes!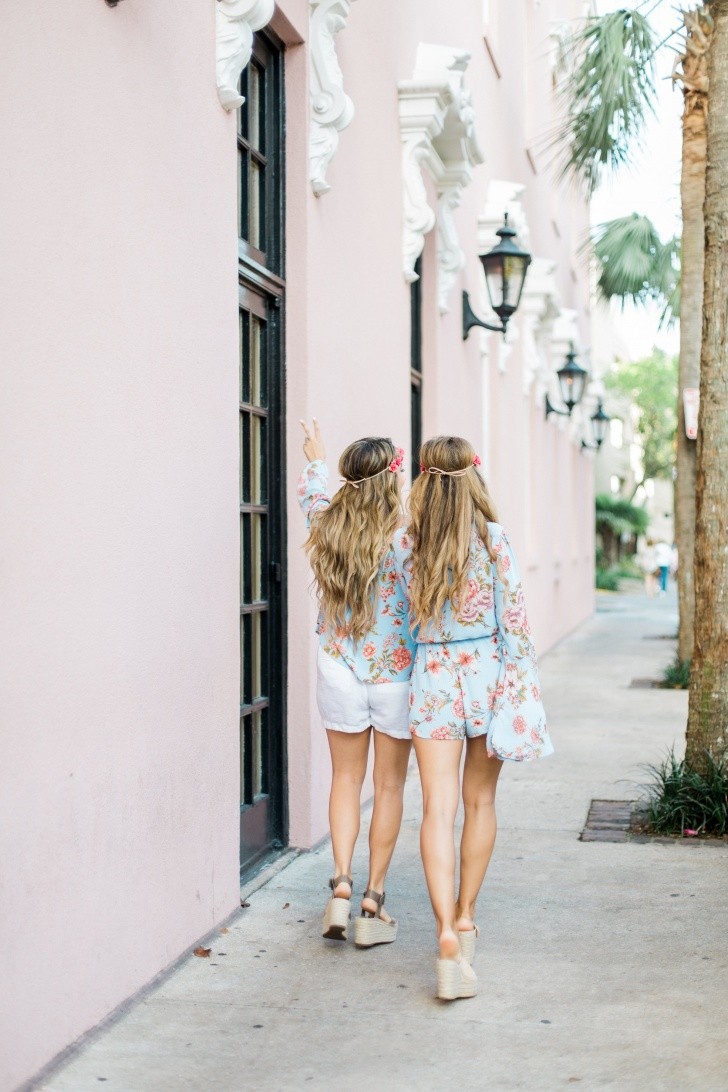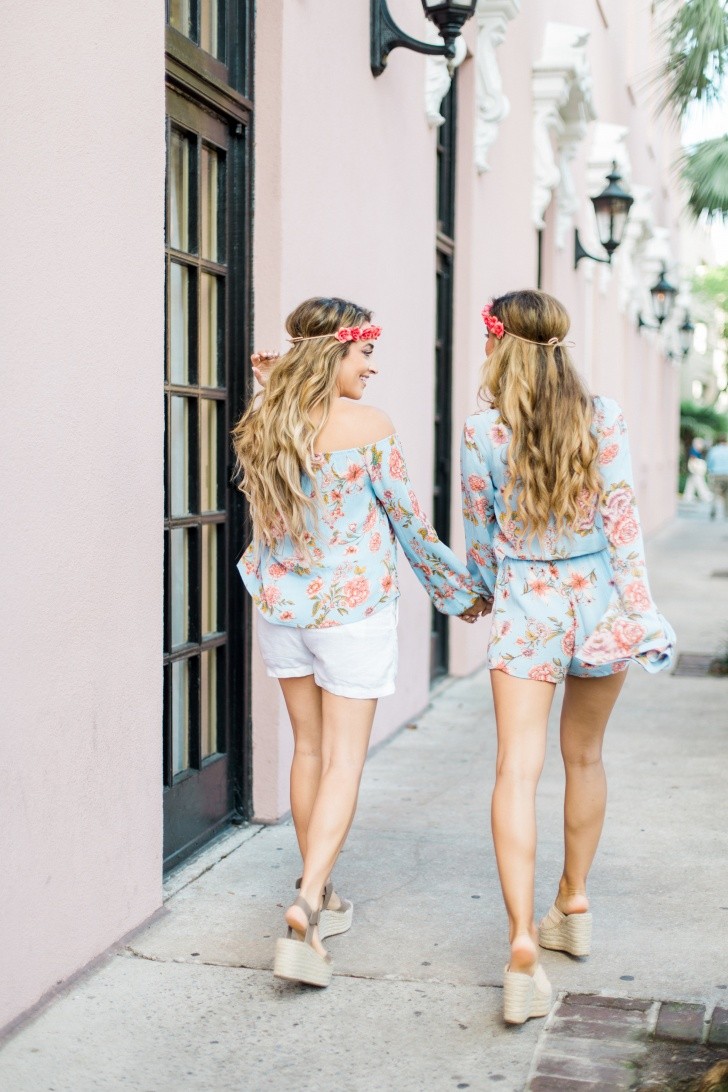 TWO // Shopping
There were so many adorable shops everywhere we turned. We ended up getting sweet little matching bracelets as daily prayer reminders and a memento from our trip.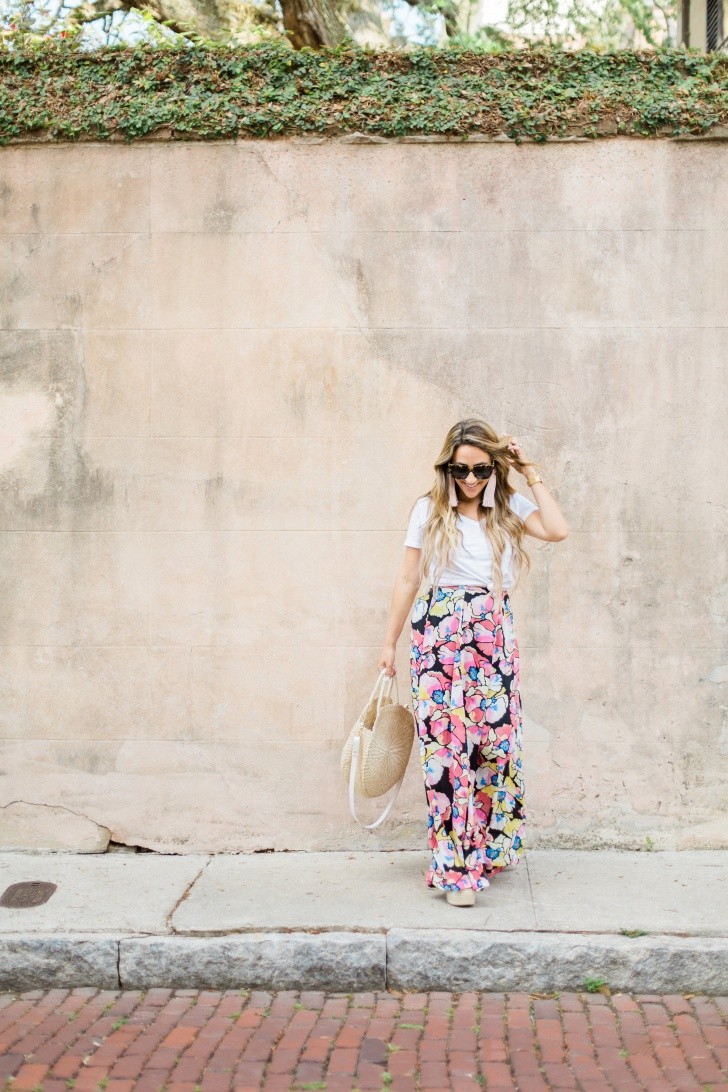 THREE // Dining
Being the major food lovers (we both eat constantly) that we are, Jessi and I mapped out our must-do restaurants nightly and planned things out that way! We were definitely glad that we made reservations in advance, because every one of our favorites was pretty slammed! We were a bit more challenging than the average diner, me being pregnant and Jess having an allergy to gluten and dairy. However, each place was extremely accommodating.
Our favorites were…
The Darling Oyster Bar – We had heard such great things and since Jessi's blog is "The Darling Detail", we just couldn't resist this one! I had the 'blue crab tagliatelle' and it was ahhh-mazing. Probably my favorite meal the entire trip, and they made me a delicious mock-tail that started quite the mock-tail theme. I don't know if it's just me but, I'm going be real with y'all, mock-tail's taste WAY better than cocktails – just sayin'. Speaking of, the Beach Club had a fantastic virgin pinã colada that I got to know quite well during our time by the pool!
Cannon Green – This was a recommendation from a friend of a friend and the restaurant had the dreamiest interior and exterior! It was perfectly filled with greenery, dimmed lights, and beautiful ambiance. It was raining the night we went, so we couldn't sit outside, but it was so cute out there. This would be the perfect date-night spot!
The Ordinary – This was another favorite of mine. Mainly because the crab toast was to-die-for!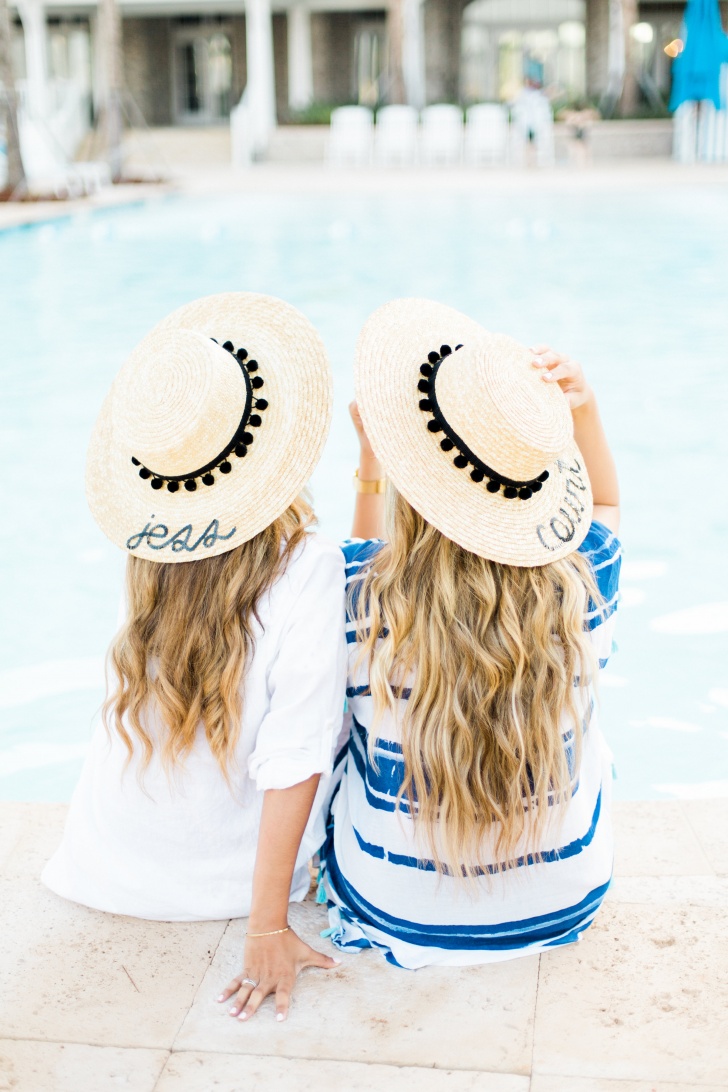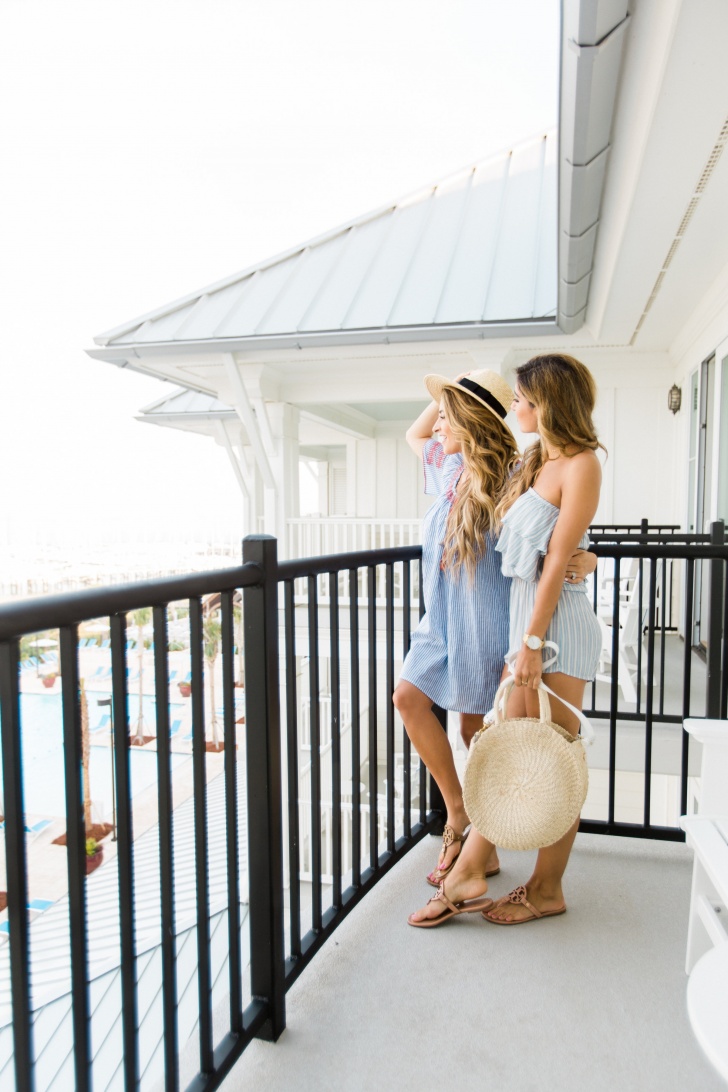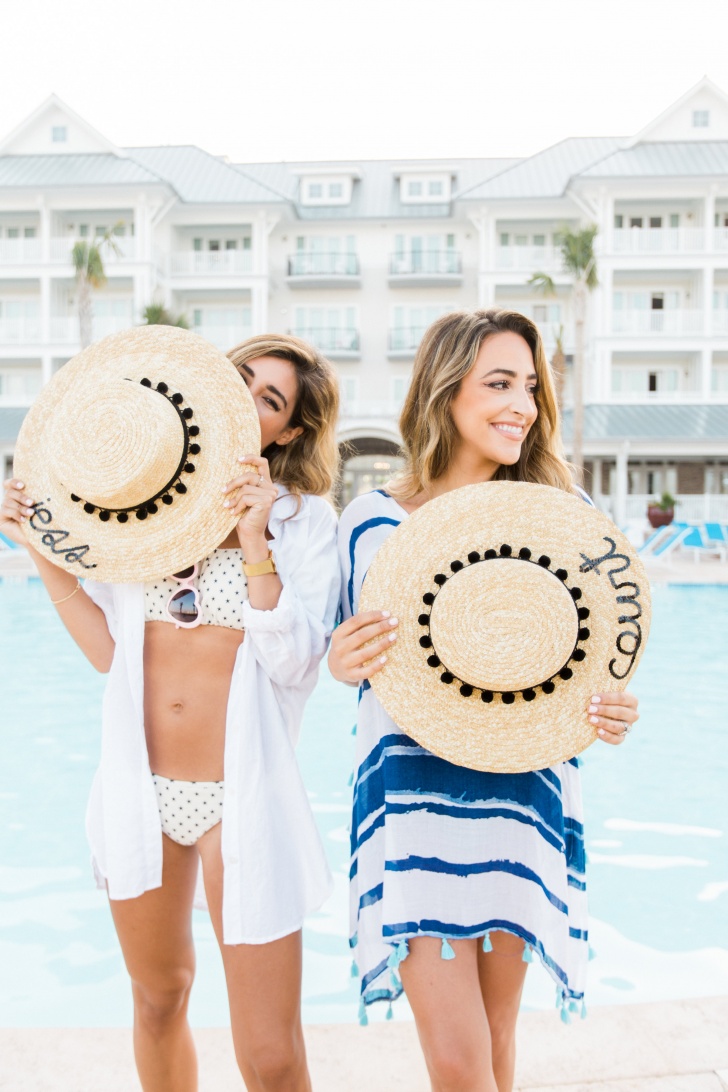 FOUR / The Beach Club
We spent about half of our time soaking in the beauty of our hotel and we were so glad that we did. We'd take a car into town for a fun dinner each night and always looked forward coming home, cozying up in our seer sucker robes and spending quality quiet time reflecting and being thankful for our day. Jessi brought fun and super soothing sheet masks for us and I brought these eye patches for our nightly wind-downs. We loved giving our skin that little extra help that is always so needed after travel days!
We also spent MANY a day pool-side. I loved soaking up the sun and spending time with Jess while indulging in (virgin) pinã coladas and, in her case, sipping the occasional rosé (her fave!)
As you can tell, we totally adored Charleston! It was the perfect spot for a girls trip (it would also be great for a Bachelorette party). We also saw so many cute families and kiddos, I look forward to coming back with Alex and our little one day. Have you guys ever been?
All photography by Rachel Red Photography
Monogrammed hats by Hats By Olivia