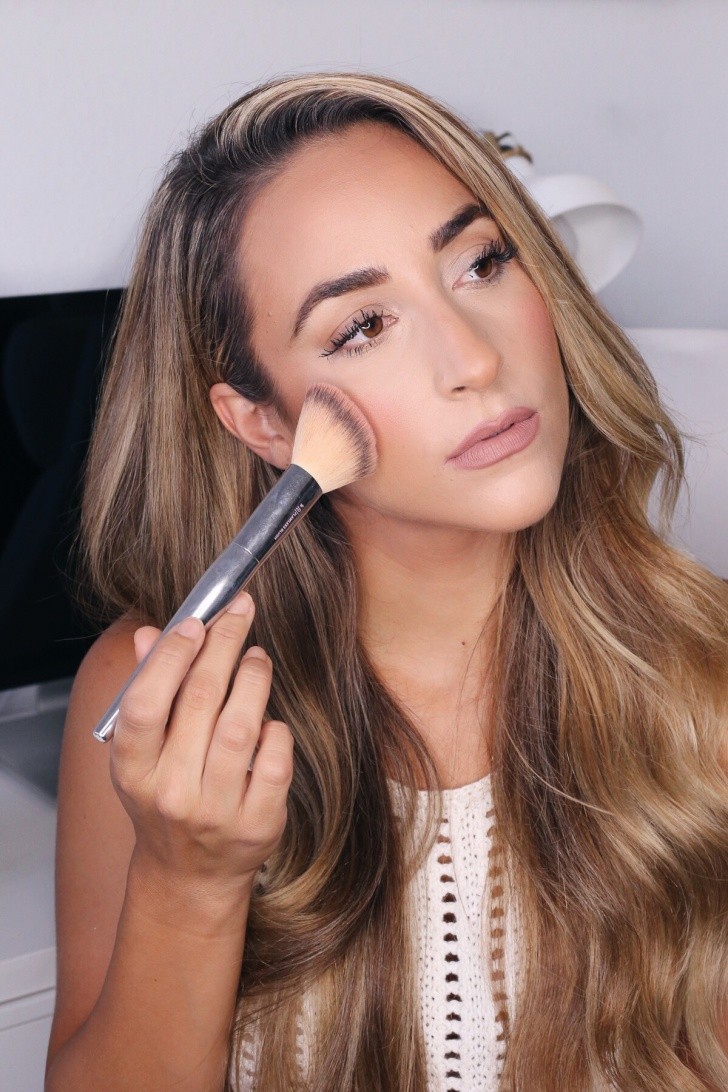 Lately, I've been all about a minimal 'less is more' beauty look and to my surprise, I've actually felt like my best self! I always thought that I was a 'more is more' kinda girl when it came to beauty, but recently I've been the most confident with less!
Ulta is one of my favorite destinations for all things beauty. I love that they've truly got it all  in one place. Everything from high-end beauty brands, to hair care and even affordable finds. Recently, I've found a few products that have become absolute can't live without staples for my signature look! I'm excited to share not only my go-to routine today, but how you can find yours also.
How to bring your own beauty?
The first thing to ask yourself when going for the less is more beauty approach: what are my best features? For me, it's skin, bone structure, brows and lashes. So, that's where I like to draw the focus.
When choosing products for your look, ask yourself: is this helping to enhance my natural beauty? Anything that doesn't help to give those features a little TLC, skip!
For example: I like to play up my long lashes, so I've been ditching the eyeliner and shadow.  If you want to enhance your eye color, you may consider using liner and going for less on the lashes and lids. You should tweak this approach based on what you want to play up! If you have green eyes, try ditching the shadow and use a rich chocolate brown liner like this one on your lash line. If you have blue eyes, try skipping the liner and using a nice gold shadow to really make the blue pop!
My skin and bone structure are two other features that I like to enhance! I prefer to keep it looking fresh and take a 'my skin but better approach', focusing on really accentuating my summer tan and adding some glow! Because who doesn't want that lit from within glow?! If your skin is something you're less confident with, avoid products with shimmer because they'll draw attention to it. Instead, opt for a pretty lip color to draw the eye there instead.
Tutorial + Favorites
Here's a quick little tutorial on the look I've been going for lately, using all of my must-haves from Ulta!  I always love saving a few dollars here and there with their loyalty program!  They also just launched their new Ulta Beauty Ultamate Rewards Credit Card, you can find all of the details here.
This is what I like to call my "Flawless Face Routine". It's light, fresh and has been my everyday look lately!
1 / CC Cream
This CC cream is my absolute favorite! If you've been following me for a while, then you already know how much I love this because I've shared it in so many posts! It's my everyday go-to, can't live without face product. It has great coverage for a CC cream, SPF 50 to protect my skin and an anti-aging serum built in!
I use my fingers (make sure you have freshly washed hands of course!) to blend this in all over my face.
2 / Cream Highlight + Contour
Ok y'all! Drum roll please…I have found a new favorite concealer! You guys know how crazy picky I am when it comes to concealer and this one is amazing! I have really dark circles, so I need something with great coverage, but it's also really important that it doesn't crease on me throughout the day! Aka. It's really hard to find one that meets my standards, but this one has been everything and more lately! I have used this and only this since I picked it up at Ulta a few weeks ago (it's an Ulta exclusive). I loved it so much that I picked it up in two colors, one to highlight and use under my eyes, and one to add a little warmth and dimension to my face!
I use the concealer in shade 'light-medium' to highlight and shade 'deep' to contour! Then, blend it all in with a beauty sponge. See the below photos.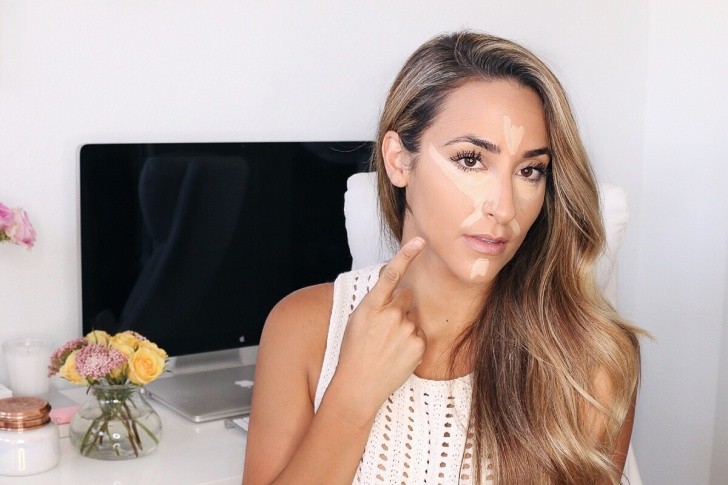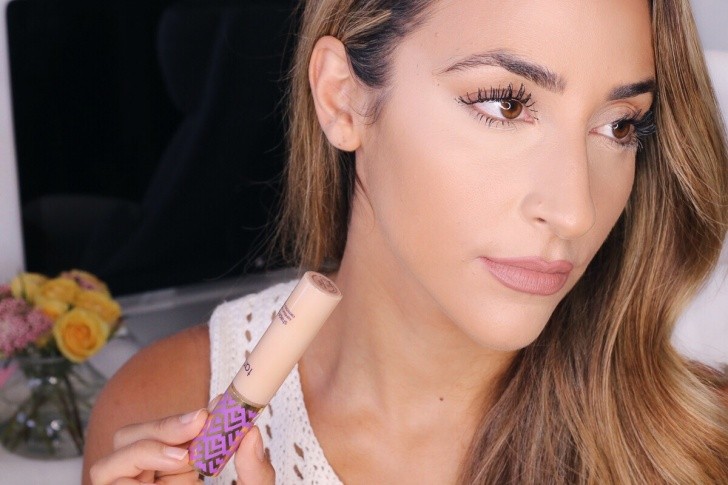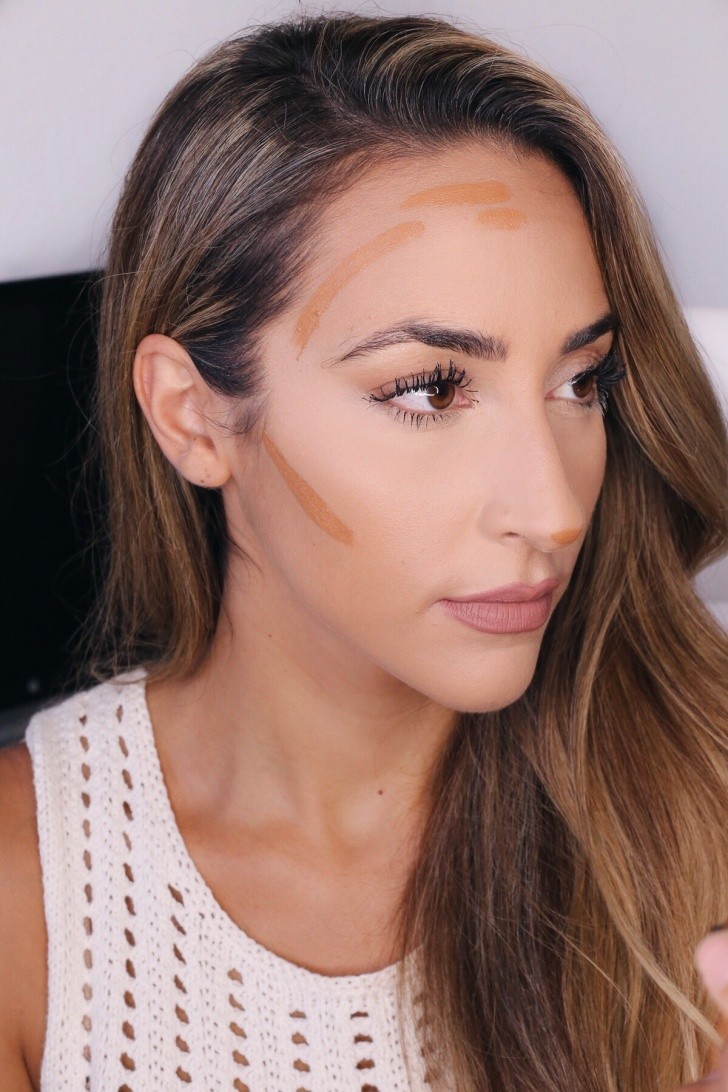 3 / The Powders
Setting my concealer so that it doesn't budge all day is a must for me! But, having dry under eyes I have to be careful what powders I use. I picked this one up and I've been obsessed! I love it for a few reasons: It's super finely milled so it doesn't crease (which most powders do under my eyes), adds a little extra coverage and bonus, it smells like cocoa!
Next, I like to set where I used the darker concealer! This bronzer has been my absolute go-to for about two months now! It's the only bronzer that I took with me on my beach trip last month :). It's just the most beautiful shade and really adds to perfect summer time bronze.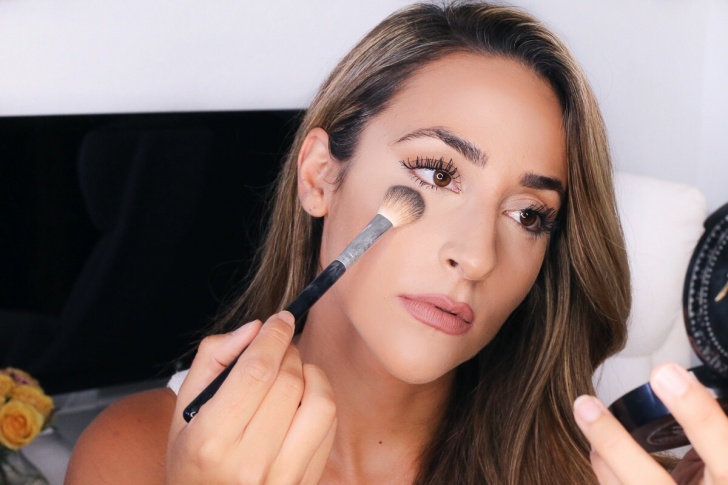 4 / Blusher
I love adding a pop of color to my cheeks! I find that this really helps liven up my skin. These blushes by Becca are so stunning! They're crazy pigmented, so a little bit goes a long way.
Shop the rest of the products I used below 🙂 Ps. Snapfam: The lipstick I was wearing on Snap the other day that so many of y'all asked me about was this one, in the shade "Out Loud" xo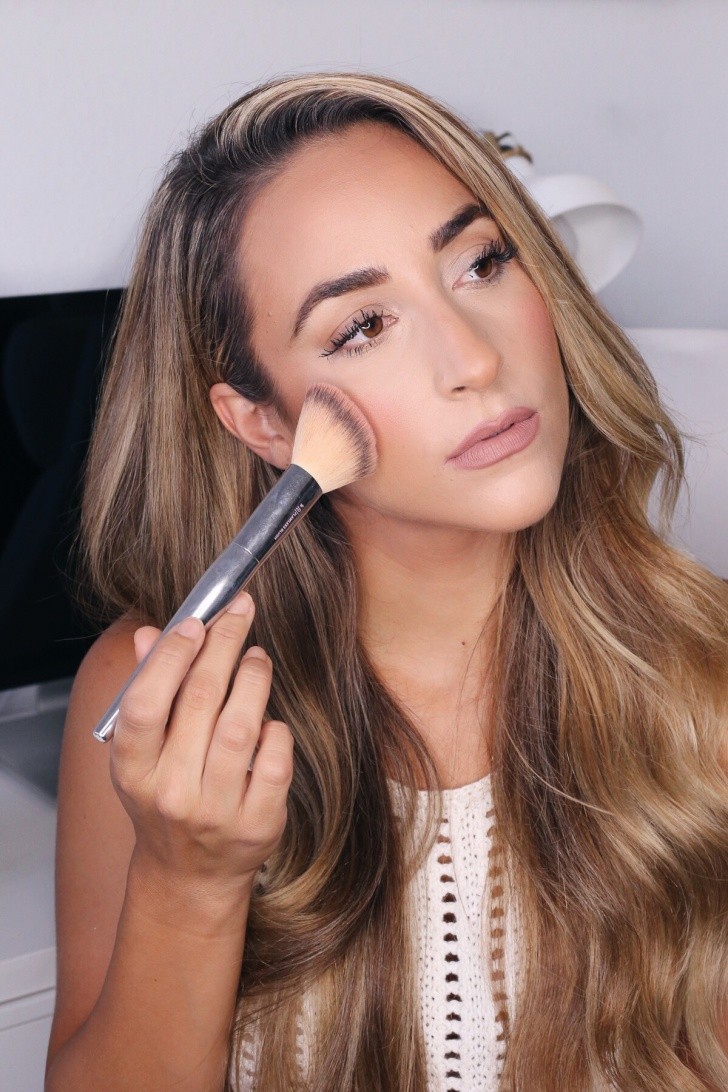 What are your favorite features to play up?
Thank you to Ulta for collaborating with me on this post! xx