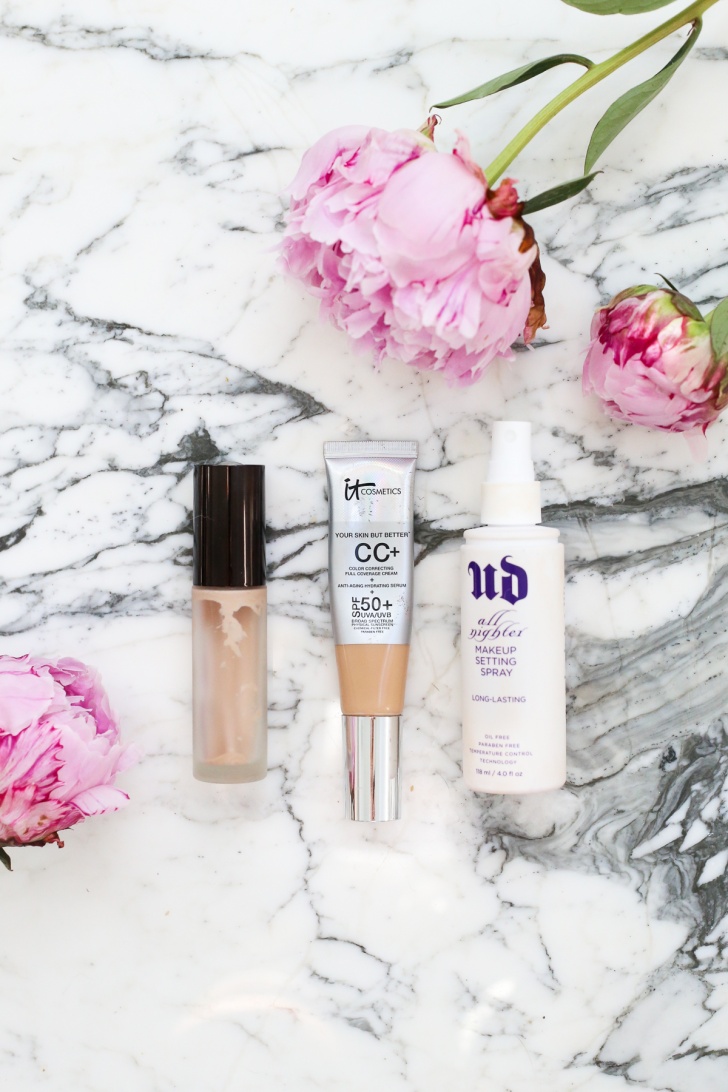 Happy Memorial day, beauties! What are you guys up to today? Alex and I are heading over to my friend Taylor's house for some sunshine and good times! Follow along on Instagram and Snapchat (CourtShields87).
As summer rolls around, I like to incorporate a few key products into my makeup bag that meet my new warm weather needs! Particularly, I switch up my skin routine. I want to be bronzed and glowy, but need my makeup to stay put and last all day long! This Austin heat is fierce so I need all the help I can get. Anyone else?!
I know it can be hard to totally revamp your makeup bag as the seasons change, so I've narrowed it down to three products that will effortlessly transform your routine and have you ready for summer!
Prepping your skin for summer is a must! It will not only act as a barrier between your skin and the makeup, but help to your makeup to last all day. My current favorite is this one by Becca! It gives the most beautiful glow from within look – perfect for summer! It is STUNNING. I'm almost totally out of it and plan on repurchasing it asap! I especially recommded this for my girls with dry or normal skin! If you have oily skin, try the Makeup Forever Step 1 Equalizer in the mattifying formula.
Sunscreen is an absolute must for summer! I think a lot of people make the mistake of thinking that they only need sunscreen for a day at the pool or beach, but sunscreen is essential for everyday use! In the summer, I love keeping it as simple and easy as possible! On an everyday basis, I recommend ditching the foundation and using a CC or BB Cream. This one by It Cosmetics is the best of both worlds! It has just the right amount of coverage, lasts all day long and has SPF 50. I picked it up a while ago and recently, have fallen totally in love!
There's nothing worse than looking in the mirror halfway through your day, only to realize that your once perfect makeup has done a disappearing act and magically left your face! Am I right?! The solution? Setting spray. Think of a makeup setting spray as hairspray for your face – it helps to lock your makeup in and increase its longevity! Setting sprays are great for nights out, events (weddings etc.) and especially summer time! This one by Urban Decay is my favorite! I've been using it for years and have yet to find something that does the job quite like this little guy!
I hope this post helps you get summer time ready! What are your must-have warm weather products?