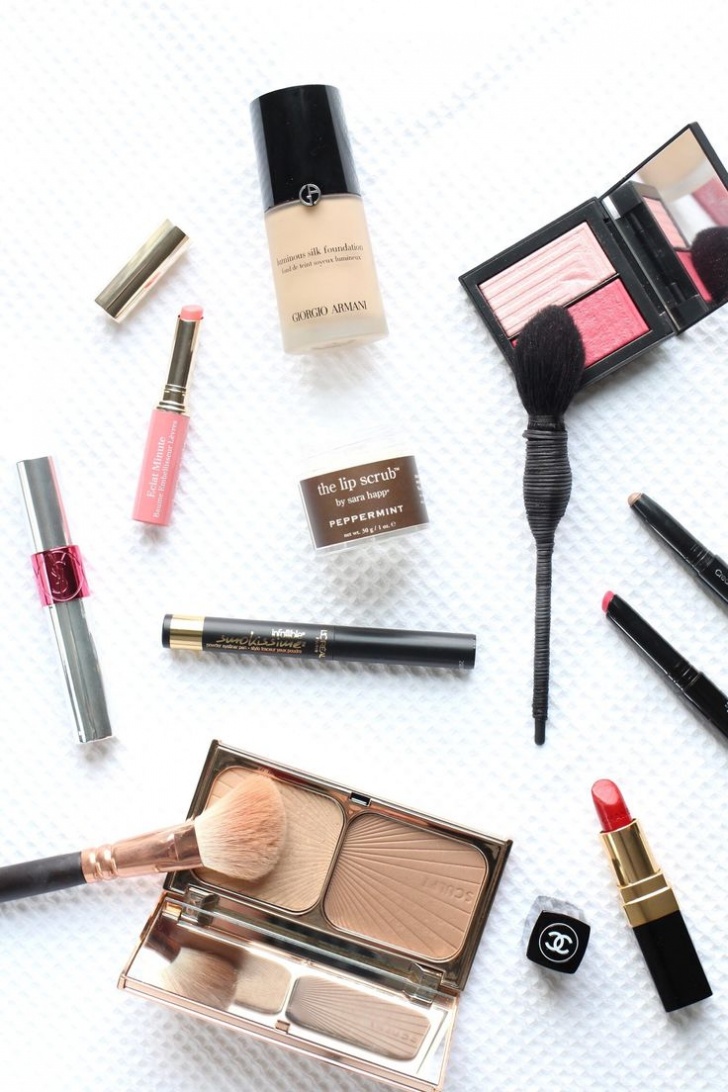 The love I have for all things beauty is no joke. Sephora is a small little slice of heaven, minus that fact that I actually have to purchase the products. I think in real heaven they'd be free, or I could at least negotiate. Or maybe use Monopoly money, I'd be fine with that too! This blog spurred from my love of three things – makeup, style + helping woman feel good. That's the real beauty in beauty products. The way feeling your best on the outside, helps you feel great on the inside. How a good lipstick can change your whole day. If you don't know what I mean, you haven't found the magically one. A quick side note and something that I find really important to remember – it's ok to love yourself with makeup and love yourself without it. I think too many people confuse a love of beauty products for either being too vein or too insecure. Makeup is fun. That's the bottom line! It's fun to change the color or your lips, or nail polish with you mood. Being the makeup loving gal that I am, I am constantly trying new products. Products come and go, but the check list of must-haves stays the same. Here's a list of products that I think every woman should own.
Mascara

– Mascara is an area where I think the drugstore really brings it. My current favorite is Loreal.

Concealer

– If you're a gal on the go, like myself, a great under the eye concealer is key! Bright under eyes make all the difference in the world. I have tried everything under the sun, and this is by far my favorite.

Bronzer

– Bronzer will bring a healthy glow to your skin minus the sun damage. I have a ton of favorites in this category, but lately I've been reaching for this a lot.

Nude lip + a red lip

– Lipstick is one of those things that will completely depend on your skin tone! I recommend checking going to Nordstrom or Sephora and trying a bunch to see what works on you.

Foundation

– This is currently my favorite for normal skin.

Moisturizer with SPF

–  I can't stress how important skin care is! Just trust me. This is my absolute favorite daily moisturizer with SPF 50. It lays really well under makeup and doesn't break me out or clog my pores.
The right blush – This is again one of those harder to recommend things, because everyone has a different skin tone, but this one in 'warm soul' is one of my favorites and very universally flattering.

Lip liner

– You'll be amazed at what a little lip liner can do for the overall look and longevity of your lipstick. Lately, I've been loving this one in 'whirl'. For something more nude try 'boldly bare'.

Eye Cream

– The skin underneath your eyes is very thin and an eye cream is crucial to hydrate! It will also help your makeup lay beautifully.

Transluscent powder

– This one takes the cake, hands down.

Contour/Highlight

– I adore this one. It comes with a contour and highlight color in one, perfect for traveling!

A Beauty Blender

– I can't (well, don't want to) do my makeup with this little baby. One of the most essentials things in my whole makeup bag!

Primer

– This one is pricey, but worth the money.

BB Cream

– It's important to have something for those low key days when you just want a tiny bit of coverage and SPF in one. I have been loving this one recently! It also has skin care built in – bonus!

Hi-Shine Lip Gloss

 – An extra shiny gloss with give the appearance of plumper lips. This one is my current go-to! The formula is amazing and the colors are beautiful.
That's it for now, beauties! What are your must-haves? xx
Image via pinterest