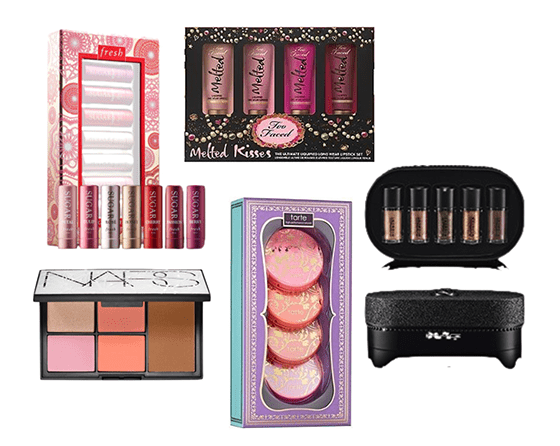 Alex and I started our Christmas shopping a few days ago and I gotta say, it feels great to be ahead this year! Oh, and bonus, it's defiantly getting us in the holiday spirit :). As an avid beauty junkie, there's little more exciting than holiday gift sets. Great deals, limited edition packaging… I mean, need I say more? So, I thought it would be fun to do a holiday gift guide specifically for beauty junkies. I did some major recon (it's a hard job, but somebodies gotta do it!) at Sephora, Ulta and Nordstom and here are a few finds that will defiantly have you on the nice list this year.
1. Fresh – Sugar Lip Legends – I love Fresh – Their products are made with natural ingredients, the prettiest packing and completely addictive scents that definitely have me hooked! These are perfect to gift as a set or break up and use as stocking stuffers or part of a curated goody bag for the lip lover if your life!
2. Too Faced Melted Kisses Lipstick Set – This set has two mini sizes of the Too Faced Melted Lipsticks. If you haven't tried these – here's your chance! They are so creamy, long wearing and very pigmented. I adore all 4 colors in this pretty little set. 
3. Tarte Chic to Cheek Blush Set – This cute little set comes with 4 of Tartes (adorable) long-wearing blushes. The colors are universally great and the 12 hr wear time is hard to beat!
4. Nars Virtual Domination Cheek Palette – If you've been reading my blog for a while now, you know that I am a big time fan of Nars cheek products, so this beauty should come as no surprise! Again – I just can't get enough of this packaging! If you have a lover of Nars or blush/bronzer in your life, they need this in theirs!
5. Mac Objects of Affection – Mac has lots of cute sets this year but I thought this one added a little variety to the mix! This set features 5 pigments / glitters that are sure to dazzle any sparkle loving glam gal.
Well friends, this wraps (pun indented) up our first round of beauty gifting – I'll keep you posted on what else I find when I'm out and about playing Santa! Hope this helps you find the perfect gift for the beauty lover in your life.