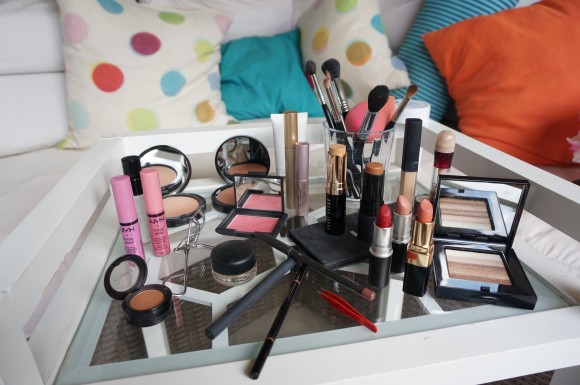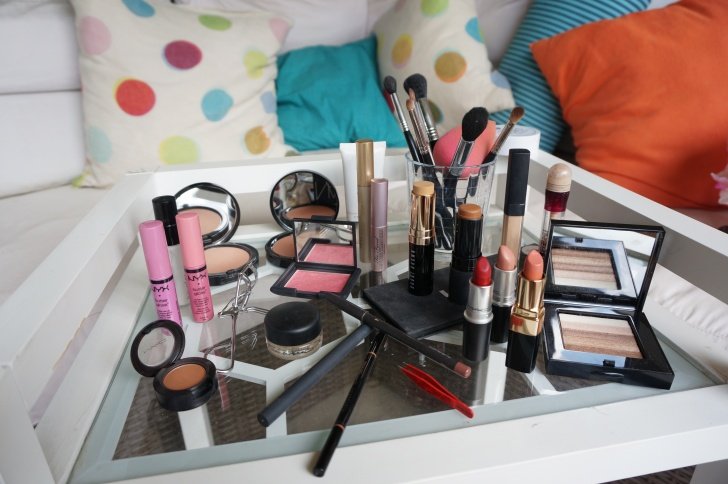 Happy Monday! If you're like me, you do a good amount of summer traveling. When I'm packing my beauty products for vaca, I like to cover all my bases but not over-pack (been there!). I typically go for products that are versatile, compact and long-lasting. Day time, night time… I got you covered! So, after much traveling, here are my go-to travel products.
 

Primer

– This primer is Ah-mazing and will help your makeup last all day, not matter the weather. It also comes in a mini size! Perfect for traveling (or trying a product out for the first time).

Foundation

– I've always been a liquid foundation girl, but this foundation stick is so perfect for traveling. There's nothing worse than opening up your makeup bag and realizing the top came off and your foundation got everywhere. It looks so beautiful and natural on the skin and you don't have to worry about messy liquid foundation! Win, win :).

BB/CC Cream

– If y'all follow my blog, you already know how obsessed with this CC cream I am. SPF 50, can't beat it! I use on days when I know I'll be outside. Sight seeing, beaching etc.

2 Concealers

– I am such a concealer girl. I love a highlighted under eye so this is always a must for me. I usually bring two with me when I travel depending on what kind of makeup I'm doing (one drugstore and one high-end). I absolutely love this Nars concelear. If you're looking for a good drugstore alternative, this is my absolutely favorite.

Bronzer/Contour

– I usually only contour at night for a "going-out" or date night look. For traveling, especially in the summer, I like to bring a cream and a powder just to be safe. For cream, this Nars Matte Multiple in the color Vientiane is perfect for summer. For powder, If your looking to contour, go with something matte like this and for an all over bronzy glow,I have been loving this Bobbi Brown one.

Blush

– If you're a makeup junkie like me, it can be hard to narrow it down, but for summer I usually just bring one coraly color that I know will just give my skin and glow and look good with everything. Nars Orgasm is a classic peachy/pink summer blush and a cult fav.

Highlighter

– Pick your fav and throw it in da bag. I love this Bobbi Brown shimmer brick. It's one of the most beautiful highlighters of life – SUCH a must have.

Eyeshadow

– Palettes are travel made. Everything you need in one spot. My favorite palette of all time in the Lorcac Pro palette. I really can't say enough good things about it! The only thing it's missing for me is a warm brown, so I typically throw this in and call it a day.

Eyeliner

– When I'm on the go, I usually just stick to liquid liner. Easy, lasts all day and gives a clean, fresh looking finish. Here's my favorite.

Mascara

– I have a few travel size mascaras that I've gotten from Sephora that are ideal for the traveling gal. Mini products are not only adorable but such an easy way to save space.

Lips

– Pick a daytime shade (in the summer, usually go with a pink or coral), a classic nude, and a red or other fun statement lip incase you're feeling sassy! Throw in a lip liner and a gloss or two and you're good to go! I have been really into lip liner lately, I love this Bite Beauty liner in Nutmeg. The liner twists up, perfect for travel so you don't have to pack a sharpener and the tip is slanted, which makes it really precise and easy to apply. Not to mention it's long lasting and the perfect everyday color!

Makeup brushes

– The BeautyBlender is my #1 fav tool. If you don't have one, you need it in your life! I promise, you will thank me. Throw in a few other of your favorite brushes, but keep it as minimal as possible. If y'all want a full post on my favorite makeup brushes and what I use them for, let me know in the comments below!

Randoms

– Randoms are usually very easy to forget and always necessary. Tweezers, nail file, brow pencil and an eyelash curler!
Well, that's it for now summer babes! Hopefully this check-list of my go-to travel products makes packing your makeup bag a little easier :). Do you have any fun trips coming up?
Come say hi on instagram!