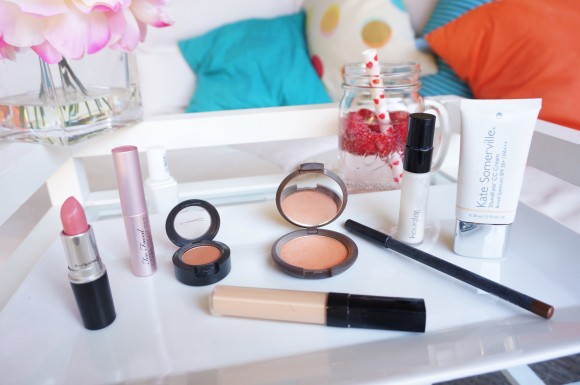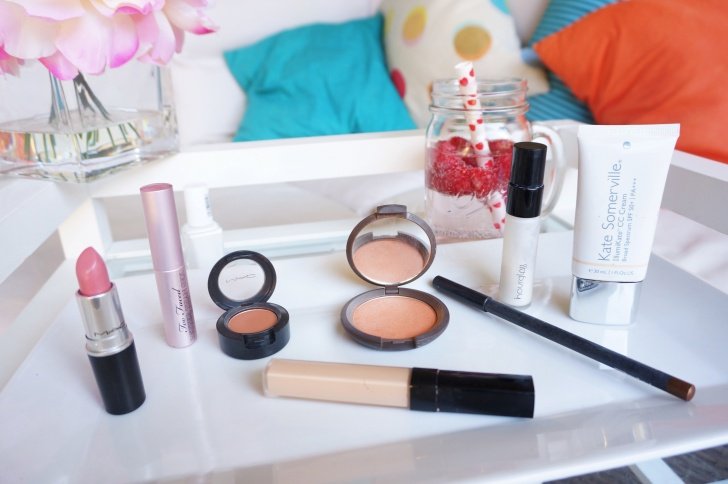 I like to keep my makeup fresh and natural in the summer and focus most of the attention of my skin. The key to the perfect day-time, summer makeup is a fresh, sun-kissed, healthy looking glow. As I was organizing my makeup yesterday and prioritizing my most used products, I realized that I have been a few staples that I always grab for when doing a quick everyday look. Without further adieu, a few summer essentials, along with my 5 minute summer makeup routine 🙂 …
1. Primer – Priming the skin is very important step to take in the Summer months because it'll help your makeup last in the hot temps. Lately I've been loving this primer – It has SPF 15, is mineral based, makes my skin feel SO soft and my makeup stay all day! A keeper for sure.
2. CC Cream – I prefer a CC or BB cream instead of a foundation in the summer because it's lighter and has the bonus of a SPF. I recently discovered my all time favorite CC cream and have been wearing it every day since. It has beautiful, natural coverage that just looks like your skin but better. It feels really light on the skin and gives that glow from within look that we all go for in the summer. Not to mention that it has SPF 50! Win, win.
3. Concealer – Concealer immediately brightens and gives a youthful and awake look. They key to picking a good summer concealer is two main things – 1. It must be hydrating 2. No creasing! This is my current high-end fav and this is a great drugstore alternative. Make sure to take the concealer up onto the eyelids and use it as a primer.
4. Blush or bronzer – I usually don't opt for both on an everyday basis. Like I said, I like to keep it light and easy in the summer months, so I'll either do a bronzer or a coral/bronzy/peach blush. Just a little something that adds some color and gives that sun kissed glow effect. Lately, I've been rocking this mineral blush and this coral one 24/7.
5. Eyeshadow – All you need is one eyeshadow for this easy, ever day look. I used this warm brown Mac shadow and just dusted it in my crease with a big, fluffy, blending brush. You can also just use a bronzer for this. You basically just want something to add a little dimension to your eyes.
6. Eyeliner – This step is totally optional, but If I do go with a liner, I prefer a brown in the summer. Brown rather than black will add definition to your lash line but look really natural. This gold/brown Mac eye coal in Powersurge has been my go-to lately.
7. Mascara – Pop on a few layers of your favorite mascara. Try this or this for lots of volume.
8. Lips – Top this easy look off with your favorite summer lip color! Opt for an everyday nude/pink or spice it up with a bright lip for that extra somethin' somethin'.
That's it for now you summer babes! What are your summer essentials?
xo Court