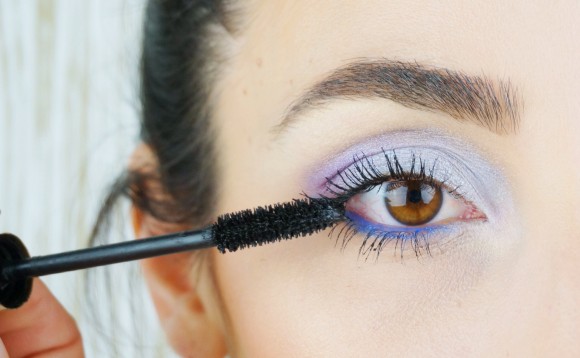 TGIF, am I right? With Coachella right around the corner, I thought it would be fun to do a color makeup look that I would consider festival appropriate. We all know that music festivals are not only known for their music, but for neon colors, crop tops, and other craziness, so what better way to express your inner wild child than some colorful makeup! As far as eye makeup goes, I usually keep it neutral but I can't get enough of this vibrant blue eyeliner. I plan on wearing it a lot this spring and summer, even with neutral eyeshadow, or just mascara. Ahhh, I just love it. I paired it with more pastel colors and created a bit of an ombre effect on top that compliments the liner but allows it to be the star of the show. Tay is coming in town this weekend for my dress fitting! The wedding is SO close, Alex and I can hardly wait! Follow me on Instagram to see what we are up to all weekend! Ok, let's do this…
Step 1
Apply Maybelline Colorstay Tattoo in Blue Paradise on the lid and in the crease as the base – UGH, this is a such a GORGEOUS pastel, iridescent blue/purple color.
Step 2
Apply Mac Satellite Dreams eyeshadow in the crease. Blend back in forth in windshield wiper motions, focusing most of the color on the outer corner of the eye.
Step 3
Line the lower lash line with Urban Decay 24/7 Glide-On Eye Pencil in Chaos. I will say it again, this pencil is gorgeoussss.

Step 4
Use the same Chaos eye pencil and line the waterline to really amp this look up. Tip – Extend the line a little bit to past where your eye ends to give the illusion of elongated eyes!
 Step 5
Apply a light color, I used a really pretty Mac color called Digit (but any lighter color will do), to inner corner of the eyes to brighten it up! Also, apply a light color under the brow bone to tie everything together.
Step 6
Pop some mascara on and ta-da! You're festival ready!
Whether it's totally neutral (my normal looks, minus the bright lips!) or fun and outside the box, makeup can be such a creative form of expression that can totally amp up any outfit. Are you attending any fun festivals this year?