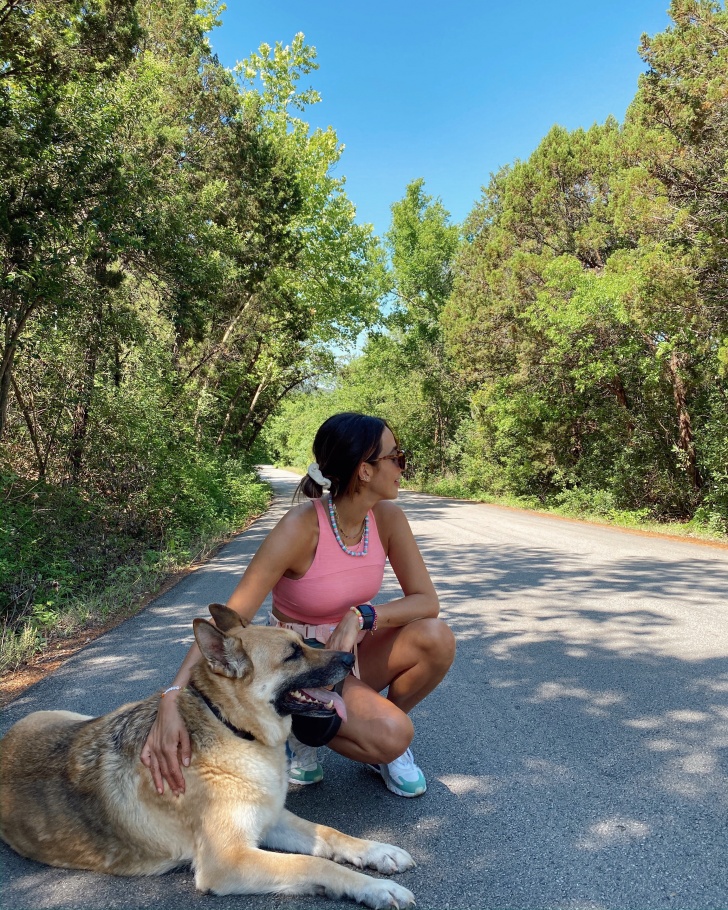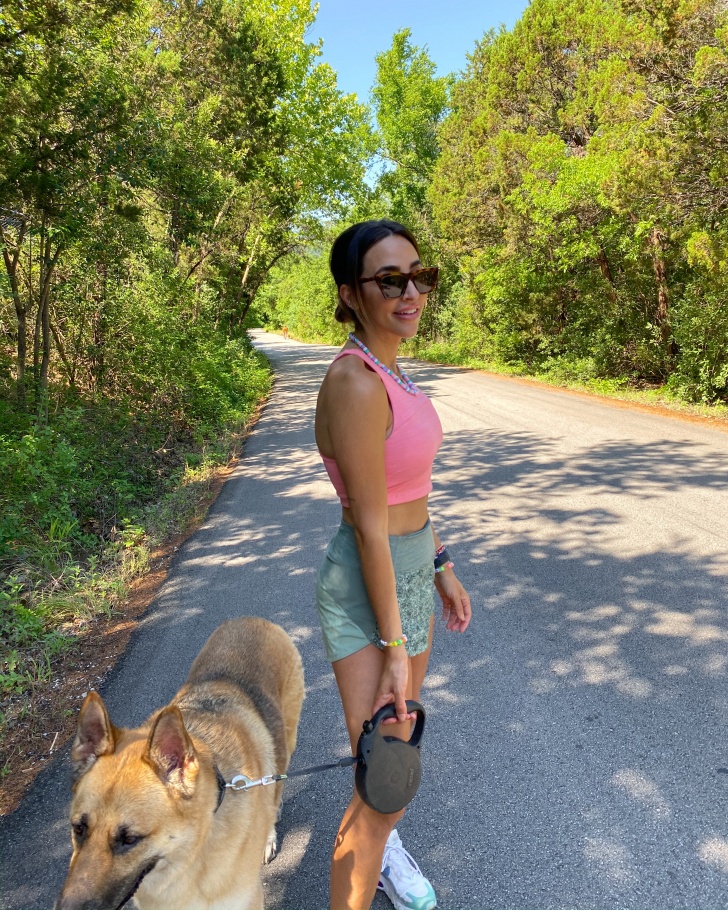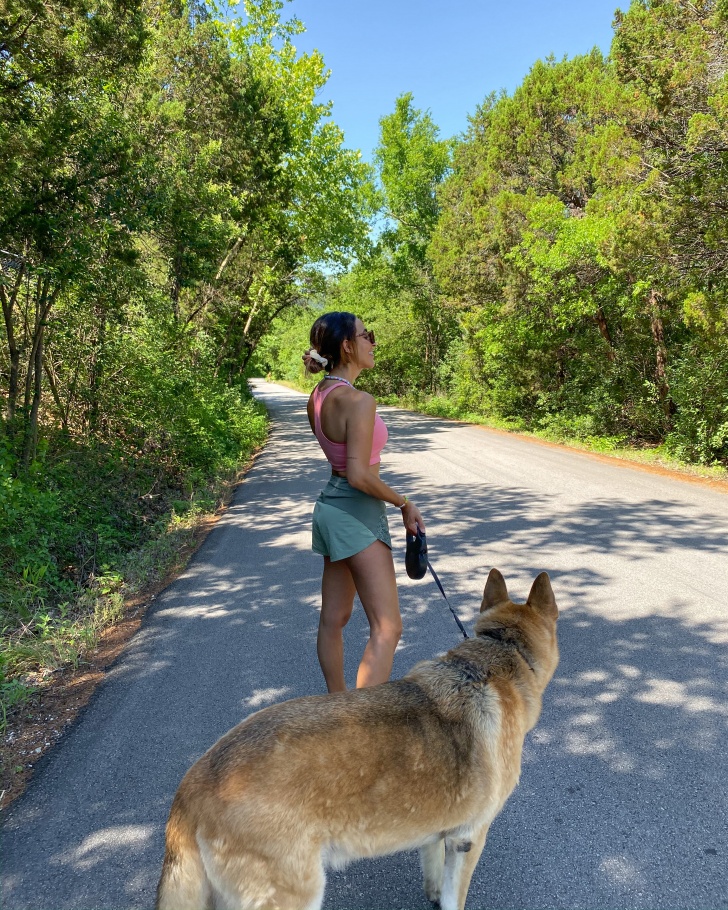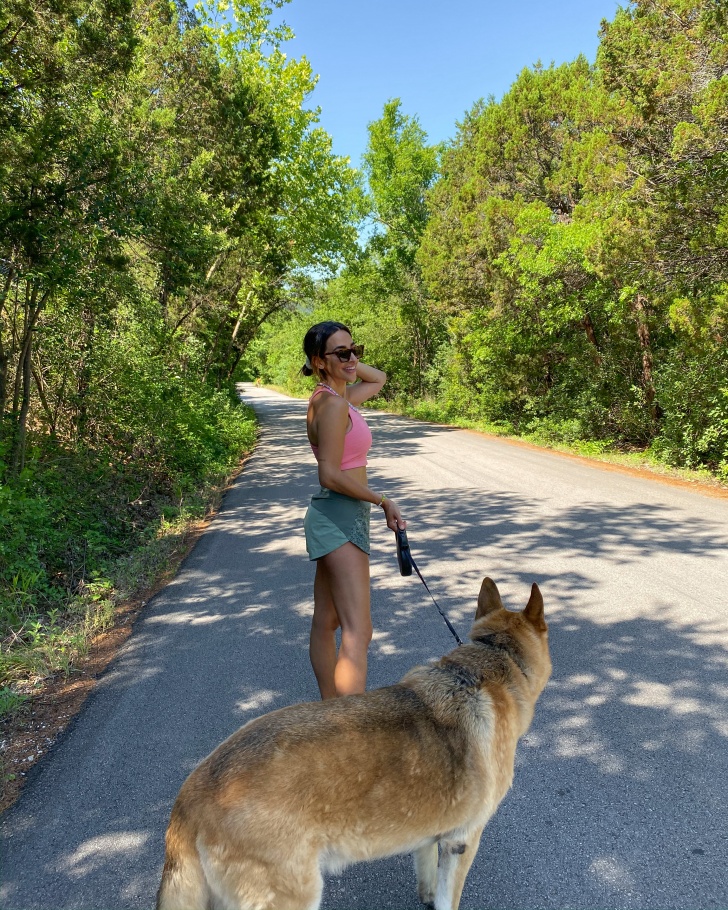 (click the products above to shop)
I've come to the full and totally serious understanding that I am simply a better person after I've had my morning walk. I walk as many weekday mornings as I can (pending when I have help with Kins and usually go for about 3 miles.
For the past several years I've mostly worked out inside. I used to go to the pilates studio 3-4 times a week and before that I went to spin classes. While my walks started out of necessity to move my body (and the inability to be able to do the workouts I was used to), they quickly evolved into one of my favorite parts of the day.
I usually throw on a workout outfit (one of my favorites linked in this post), grab a fanny pack, load it up with a lip balm, AirPods, phone, grab a water bottle (another fave) and head out the door. On my walk I listen to my chill playlists, a book on Audible or a podcast. I take deep breaths, enjoy nature, and come back refreshed and with my workout for the day under my belt. While walking has become a great way to get my cardio in, it has become much more from a mental standpoint. The walks are my "me time", time to think, time to breath, time to come up with creative ideas, and time to really ground myself for the day.
Even though we can't go many places at the moment, being able to see where everyone is in the world has been pretty amazing. Whether you're somewhere chilly with mountains, or warm and blessed with beaches, I've loved seeing every story of your walks. From the insane views to the happy pups and strollers, the walks unite us all in a pretty cool and simple way. No matter how grandiose or simple the walk, keep tagging me because they make me smile daily!
Oh and my second chill playlist is finally ready, so get excited.
1. A Chill Playlist :
Hold It Together – JP Saxe
Like No One Does – Jake Scott
The Stranger – Ingrid Andress
If We Never Met – John K
Jealous – Lennon Stella
Left My Woman – The Wild Feathers
Tuesdays – Jake Scott
Lady Like – Ingrid Andress
We're Not Friends – Ingrid Andress
The Few Things – JP Saxe
Sad Corny Fuck – JP Saxe
Homecoming Queen – Kelsea Ballerini
Losing Me – Gabrielle Aplin
Changes – Lauv
We Don't Talk Anymore – Charlie Puth
Keep It To Yourself – Kacey Musgraves
Anti-Everything – Lost Kings
Hurts Like Hell – Madison Beer
You Broke Me First – Tate McRae
Stupid – Tate McRae
One Day – Tate McRae
Let's Fall In Love For The Night – FINNEAS
Heading Home – Alan Walker
Six Feet Apart – Alec Benjamin
Invisible Things – Lauv
Midnight – Alesso
Didn't I – One Republic
Older Than I am – Lennon Stella
Much Too Much – Lennon Stella
Fear Of Being Alone – Lennon Stella
Love Like That – Lauv
IDK You Yet – Aexander 23
2. A Good Podcast :
The Goop Podcast.
Ed Mylett.
Skinny Confidential Him and Her.
3. Book on Audible
Currently listening to "Untamed".
4. Comfortable Athletic wear :