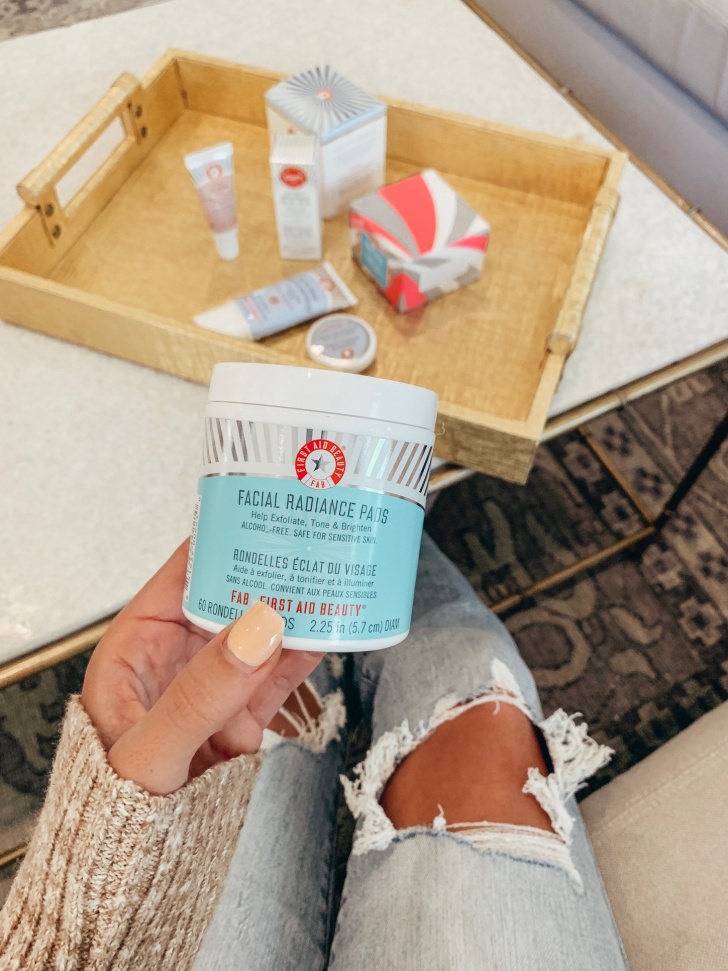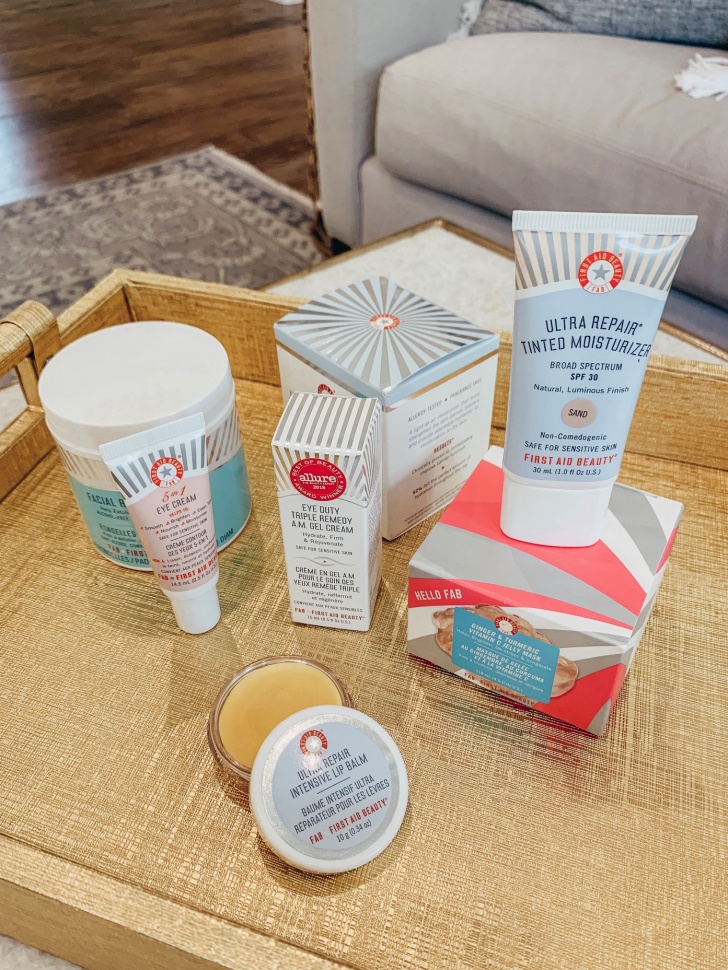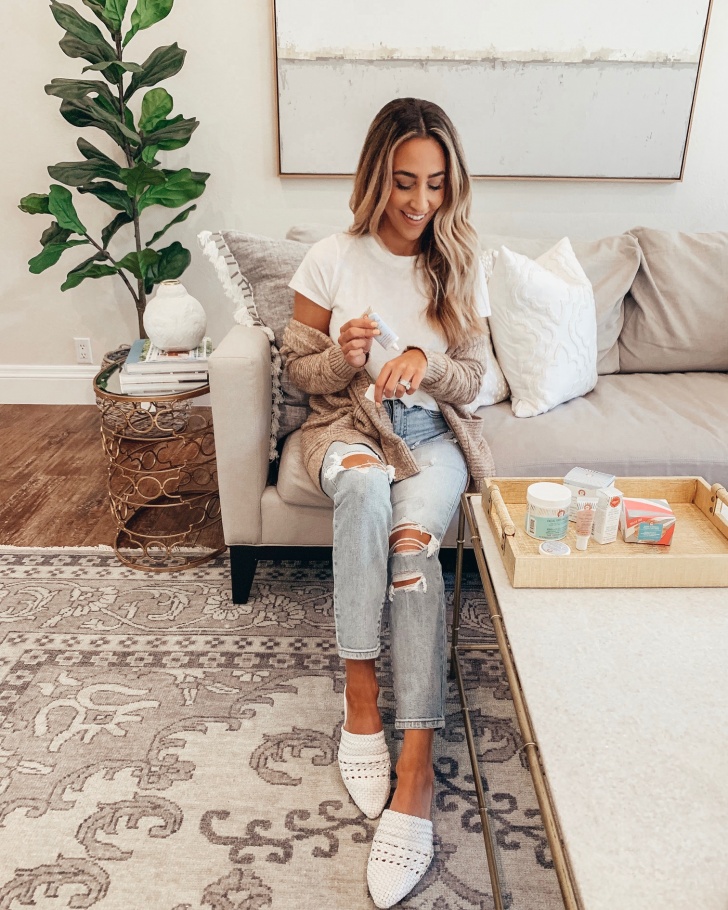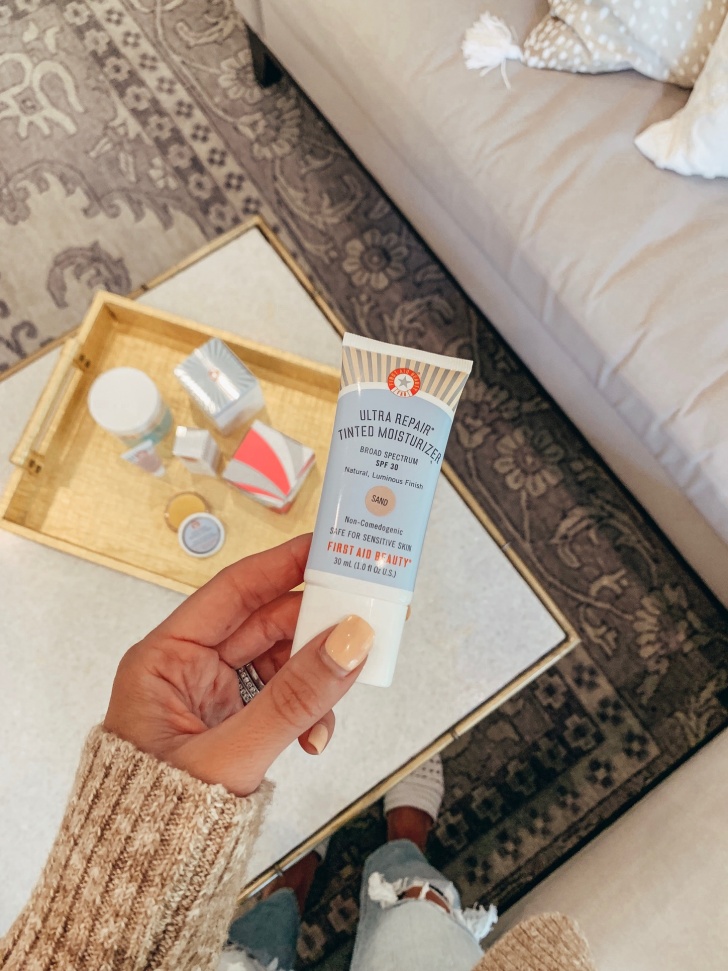 Whether it's skincare, beauty, style or recipes, I'm always testing out something new to make sure I continue to bring you guys the best of the best. When it comes to skincare, I'm a big believer in trying out several brands and pulling favorites from each to create a routine totally customized to YOUR skin.
I recently had the chance to try out some more First Aid Beauty products and wanted to share with you all what I've been loving so far and a few newer (to me) things I'll be testing. I've always loved First Aid Beauty for their cleaner ingredients. As I've talked about many times before, I've been very cautious of what I've been putting on my skin the past couple of years and I know that many of the First Aid Beauty products are safer than alternatives. When I saw how great the reviews were on most of their products, I knew I needed to try a few more things!
My Latest Finds
Ultra Repair Barriair Cream – This moisturizer does it all. It moisturizes and keeps your skin hydrated all day long while also keeping all of the bad things out. Here's how: our skin has a protective outer layer (skin barrier) that can become compromised by all the thing we encounter daily (stress, bacteria, dehydration) When our skin barrier is weakened, we're susceptible to dryness, redness and even breakouts. This is where the Ultra Repair Barriair Cream comes in, it contains replenishing lipids that mimic the natural state of our skin. When I think of a "repair" cream, I think of a really heavy moisturizer, but the texture of this is far from that. It's lightweight while still providing all the moisture needed!
Ultra Repair Tinted Moisturizer – I've always heard such great things about this tinted moisturizer and had to give it a try! The reviews online are so good, you can read them here! I'm all about a good tinted moisturizer for summer (this one has SPF 30, yasss!).
Facial Radiance Pads – *MUST-HAVE ALERT* I love an exfoliating pad are amazing! They help exfoliate, brighten skin, and improve texture.  They are still gentle enough for sensitive skin while still doing their job and exfoliating the skin. They leave your skin feeling noticeably more clean, clear and radiant.
Ultra Repair Intensive Lip Balm – This lip balm hydrates so well. It truly "repairs" your lips whereas I feel like some lip balms kind of just stay on the surface and don't really sink in and moisturize. This lip balm gets me through the dry winter months but it really is great year round!
What are your First Aid Beauty favorites?
Thank you First Aid Beauty for sponsoring this post. As always, all opinions are my own.