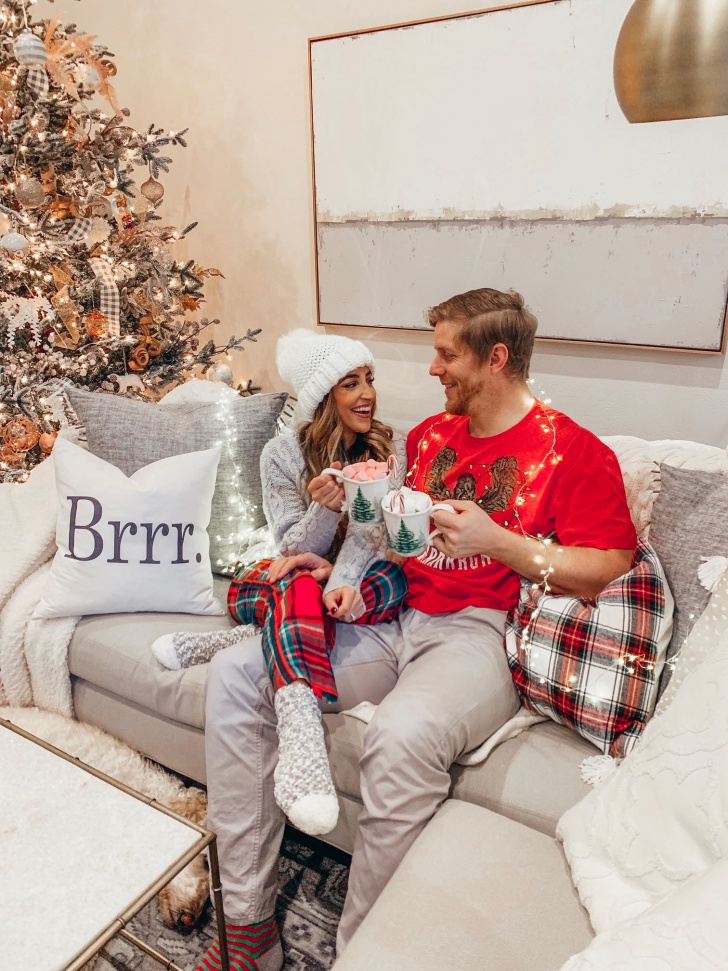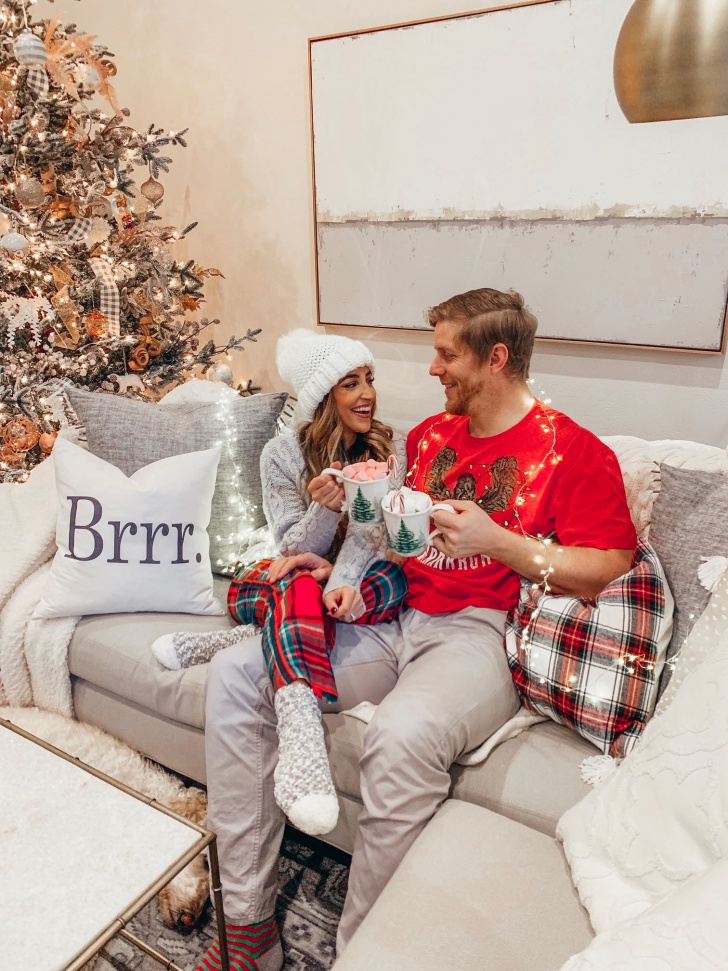 Hey there, Beauties!  For those of you who don't know me, I'm Courtney's husband, Alex.  She has given me an opportunity to create another gift guide for you all and I really spent a lot of time on it.  If you have seen some of my gift guides before, you know I do my absolute best to try and stray away from the same default things that EVERY OTHER GIFT GUIDE HAS. We get it, the men in our lives typically have an interest in grilling, drinking, golfing and shaving, but that doesn't mean we should just settle for something in one of those categories!  I tried to find unique (borderline "out there") items that hopefully can lead to some fun and interesting times, rather than another necktie for that hanger in the closet.
The Paranoid Traveler
RAVPower Solar Charger– Courtney bought me a charger from RAVPower last year.  In the past year two things have happened:
1. The charger has been named "the brick"
2. It no longer belongs to me.
She stole it back! We are so happy with it and so I went online to look at another one and I found that RAVPower makes a charger that can also be powered by the sun.  Super cool for anyone who feels like they need to have that extra ability to charge!  Some things to keep in mind are that the charging aspect of the sun can vary and it could take a long time to get a full pack…like a loooonnnnng time, but on the flipside this battery can also be charged via regular outlet.  At full charge, it can refuel your iphone more than 3 times!  It also has a built in flashlight…not that you need it, buuuutttt you might…
Mini Luggage GPS tracker- Okay so we all have our things right?  One of mine is that I am constantly checking over and over if I have everything before a flight.  It drives Courtney crazy, but what if my boarding pass isn't in my pocket like it was 3 minutes ago? Did I put my wallet in my back pocket and then mysteriously move it to my backpack? What if my bag didn't make the connecting flight? I'm sure there are some other travelers out there that just want to make sure getting from point A to B is a smooth operation, so I found this GPS tracker for your luggage! There is nothing worse than just crossing your fingers hoping that your bag made the connection, then waiting at the carousel to find out it didn't.  I checked out a bunch of these GPS trackers and all the other ones I saw required expensive monthly or yearly fees in order to have location services (#HardPass).  This one from TKSTAR however, does not.  It takes a sim card like this one and it only will cost you $5.  These sim cards will last for 30 days so once your trip is over, you could always just stick the gps tracker in your kids backpack or something while you have the extra service and make sure they're safe at school!
Introduce a Little Nostalgia
Mini Nintendo/Super Nintendo– Gentlemen of all ages have been ruining their eyes and rotting their brains for decades simply by clicking a handheld controller and staring at a screen.  Some of my favorite moments as a kid were going over to my friend's house to play video games all night long and I get excited just thinking about the great battles we would have.  If you have a husband, brother, cousin, etc. who used to play video games (you do…trust me) this is an awesome gift for them.  This mini console is a throwback from the 80s(NES) and early 90s (SNES) and comes preloaded with a bunch of classic games.  It also comes with 2 controllers so dad and the kids can play together…I can already hear the "back in my day…" comments.
Ninja Turtles Pizza Cookbook– I saw this and immediately started to think of a way to justify to Courtney that I needed it for "market research". I was a big fan of TMNT (Teenage Mutant Ninja Turtles for all you weirdos) and thought what a cool idea.  When I started actually looking at the pages though, the recipes are really pretty in depth.  I know the Turtles are still on the screen today so what a way to bond if dad and son are able to crack this open and make some totally radical pizza together! Cowabunga, Dude!
Caddyshack: The Making of a Hollywood Cinderella Story (book) – "Oh, Alex I thought you weren't going to talk about golf?" Well, this is a book about the making and production of arguably one of the most classic comedy films of all time that juuuuuusssstttt so happens to be about golf so get off my back!  My dad loves Caddyshack and I have probably seen it 20 times.  I think the jokes never get old but this is actually an interesting story about the making of the movie.  From the film being considered a huge flop in the 80s to the behind the scenes peek at how the major actors didn't get along with each other off camera at all, it is quite and interesting look at the different personalities and circumstances that went into such an amazing movie.
For the Lake Goer
YNPORT Sunglasses- Polarized? Check. Cool Colors? Check. Float? Check.  Affordable? Check. These Sunglasses from YNPORT are perfect for your man who likes to spend time on the lake.  There is nothing worse than realizing your sunglasses that you thought were on the top of your head, are actually floating to the bottom of the lake.  They are made of bamboo so they will float on the surface.
Veckle Waterproof case– The beach has always been my happy place.  However, in this day and age, we never seem to really unplug.  The need to make a call or send an email can come at the most inconvenient time aka when your hands are covered in sand.  These cases from Veckle will fit most phones and you can use your phone to text, play music, etc. through the pouch. No sand in the speaker? Sign me up!
The Adventurous Chef
Shitake Mushroom Growing Kit– To some of us, buying our produce at the grocery store is enough of an event, but there are those (my father) who like to grow their own food.  Mushrooms aren't the easiest to harvest, until now.  There are a couple of different companies that will send you a mushroom log that is ready to grow, but after doing some research on the available products, it seems that the reviews weren't great.  A lot of reviews were claiming that their logs never produced any mushrooms at all and, what looked like a unique idea, just didn't seem like a sure thing.  Who wants to spend money on something and HOPE it will work? Not me!  I didn't quit though and I found a company called Root Mushroom Farm.  They boast a 100% satisfaction guaranteed claim and will give you your money back should your log not bear any fruit mushrooms.  They provide everything you need to get started, but it should be noted the kit is designed to start growing right away.  It will hold in the refrigerator for a week, but best to get growin'!
Molecular Gastronomy Kit– For those who try to put on a show! What do you get when you mix food and science? Chocolate noodles.  This kit is a beginners guide into creating truly unique items in the kitchen.  From balsamic vinegar pearls to lemon foam clouds, this kit gets you started with taking your presentation the extra step. There is also a kit for cocktails and working with gelatin as well.  It also comes with a free recipe book that includes 40 different foodie adventures!
The Athlete in the Family
Adidas Originals X_PLR- Anyone remember when sneakers that looked decent were under $100?  I do. I think I was still in 6th grade.  Once in a while, you can find such unicorns and mine are these Adidas sneakers.  I like the white and black with all the spots, but they have 16 different colors to pick from so there's a winner in there somewhere for you!
Outdoor Voices half zip– I have a collection of half-zips from all sorts of brands and this is a brand I wish I could have.  They only have sizes up to XL and I am just a smidge too big for that. (Bummer) Courtney has a bunch of stuff from OV and even Kinsley has some too…what the heck guys.  They always look like they fit so well and I do the laundry so I get a good reminder of what I'm missing every so often when I'm doing a load. The price is very solid so if I could, I would.
Patagonia NanoPuff Vest– For the first time in a long time, Courtney and I went outside our home to watch a football game downtown with a group of people.  It was roughly 50 degrees and I began to notice a trend with all the UT bros who were out and about – vests are in.  That being said, Courtney's brother rants and raves about his Patagonia jacket we bought him last year.  He says he is always surprised at how light but warm it is and, since he is a very frequent flyer, he can compress it down to almost nothing to fit in his carry on.  I figured this vest would be a good mix of trendy and functional. Enjoy!
The Entertainer
Popup Tailgate Table- What is the one thing that is cumbersome, heavy, and a pain during a tailgate?  The table.  No longer do the men in your life have to lug around a card table or heavy wooden folding table to the tailgate.  This one collapses into a carrying bag just like your chairs!  With a bunch of drink holders, you can just post up next to this bad boy as soon as it's opened up!
Üllo Wine Purifier- So a buddy of mine told me about this.  Apparently in the US, we have an excess of sulfites in our wine which then leads to hangovers L Sulfites are used to preserve the wine, which is no longer needed once its opened.  The Üllo removes all of the sulfites, making a $15 bottle taste like a $30 one.  It can also aerate your wine if you choose to use that feature but it is optional.  It does require a filter for each bottle, but at roughly $3 a filter, you can justify the cost when doubling the quality of your wine!
Quick Extras
Money Maze– Giving a gift card can be underwhelming.  Add a little presentation by putting the gift card in a maze lockbox.  Courtney's brother did this to me last year and they were laughing watching me struggle for the $5 inside.
Magnetic Wristband– Have a guy in mind who likes to be Mr. Fixit? I betcha he doesn't like rooting around through his pockets for screws when he's up on the ladder or under the hood of a car.  This bracelet will hang on to those screws for him so he can easily access them when he needs them.
Letters to Dad– Did you ever make a time capsule in school when you were younger?  Here is the sentimental adult version.  The booklet includes 12 prompts and letters inside for you to write such as "From you, I learned the importance of…" and "In the future I hope we…". You write the letters. Date when they were sealed.  Date when they're to be opened.
Stuff Every Graduate Should Know– I love these books.  I have two of them.  While they're typically funny in tone, they do provide a detailed explanation about things you should be aware of.  For instance, this version explains things like understanding a paycheck and apartment hunting 101.  The books I have are Things Every Father Should Know and Things Every Husband Should know.