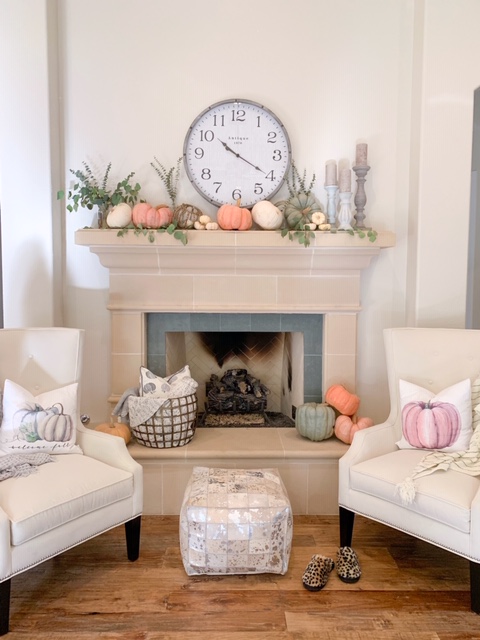 Hi Beauties! I'm kind of feeling like I skipped over Thanksgiving and Fall this year (oops!), I've just been so excited for all things winter. Since I've been on the talk of Christmas around here lately, I wanted to take a step back and give the spotlight to Thanksgiving and Fall for a minute!
I've absolutely loved decorating Sweet Home Albright for the holidays this year! This is actually the first time Alex and I have had a fireplace and mantle to decorate so I knew I wanted to have fun with it during the holidays! I wanted to keep my fall decor earthy and simple for Thanksgiving since I tend to go more glam for Christmas. I stopped by Trader Joe's and stocked up on tons of eucalyptus and pumpkins (I went for the lighter/softer tones) and thought these would make for a super cute and simple fall mantle. Once I had the pumpkins and eucalyptus, I really just had fun with it! I grabbed a couple of things I had around the house like these candle sticks, these pillows, and some cozy knits! I recorded a tutorial on my YouTube channel going a little more in depth for you guys! Enjoy!
[arve url="https://www.youtube.com/watch?v=Sb-u07ltK7Y&t=107s" /]
I did this video in collaboration with my sweet friend, Angela Lanter! Check out how she decorated her fall table scape, here.