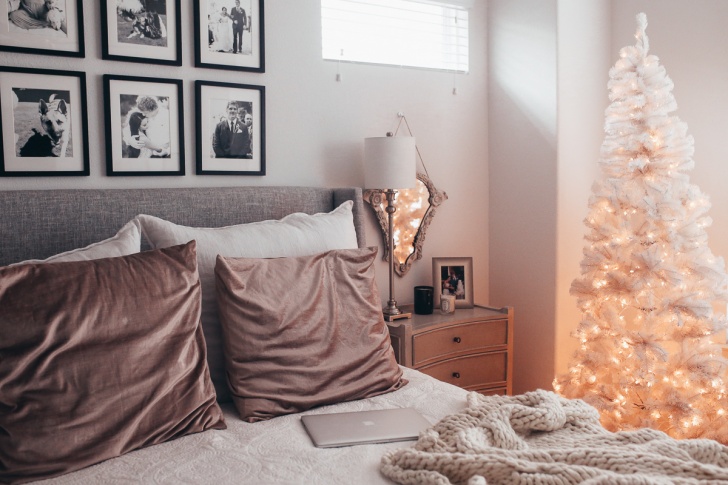 Happy Friday! I'm currently curled up on the couch with Kinsley, enjoying a chai, this amazing cold front, and scouring the web to find all the best gifts for you guys. I know it may seem a bit early to start thinking about Christmas shopping, but I promise you it's not! The holidays will be here before we know it, and I'm a big believer in getting a head start. There's nothing worse than having 2 days left and no gifts – can I get an amen?!
To kick off the gift guides, I'm starting out with one of my personal favorites, "Gifts for the Cozy Girl"! Personally, I love and totally live in all things cozy! Whether it's the perfect pair of slippers, a cute throw, or the most amazing smelling candle, these are some my favorite finds, perfect for the cozy lovers in your life.
Pink Beanie – I have this beanie and love it. It's great quality for the price, and comes in a few colors. I just noticed that it's almost sold out, so grab it now if you want it!
Barefoot Dreams Robe – This robe is on my personal wish list! This is the kind of gift that someone will love and enjoy daily. You can't go wrong with anything Barefoot Dreams! Every single thing I've ever tried from them has been amazing.
Diptyque Vanille Candle – My favorite candle and the perfect gift! I love getting people things that I know they will love, but maybe wouldn't spend the money to buy it for themselves. Before splurging on this candle, I used to think "why would anyone spend $64 on a candle?!", and then I ate my words real quick! Not only does it smell amazing, but it totally fills a room like no other. They also have a mini size, if you're looking to spend a little less.
Reindeer Socks – Ok, how cute are these?! They also come in an equally cute leopard print, but I thought the reindeers were fun for the holiday!
Barefoot Dreams Scarf – If whoever you're shopping for isn't a robe person, this scarf is the way to go!
Ugg Slippers – These slippers are a classic! They're so soft and will last for years. They also come in this really pretty light blue color that I love.
Saying Mug – I love the idea of gifting a cute mug and filling it with something! You could include a gift card or their favorite coffee, something to personalize the gift.
Pom Pom Throw – A pretty throw is always a great gift! I just now noticed that this one is genuine rabbit fur, if that's not your thing, this one is also amazing! We have it and I use it to cuddle Kinsley up in because it's so soft.
Barefoot Dreams Cardigan – I'm wearing my Barefoot Dreams cardigan as I type this, and it's hands down the softest and coziest one I own!
Pajama Set – These are amazing, especially for the price point! I have and love them. They're really comfy and fit true to size.
Kindle – If the person you're shopping for doesn't own a Kindle, this is a great option! If you're looking for a bit more of a splurge, you could also do the Kindle and pair it with one of the other cozy gifts!