Every year around this time I start to dream of fall. The chilly weather, delicious warm drinks and of course, cozy clothes. It's always a favorite season of mine, but this year we get to look forward to the best present of all, our baby girl! With September on the brain, I've begun to shop for all the best transition pieces and have started to (heavily) incorporate them into my everyday style! Yes, it is still blazing hot in Austin, but at 34+ weeks pregnant, I'm either in the pool or inside blasting the AC and pretending like it's in the 70's.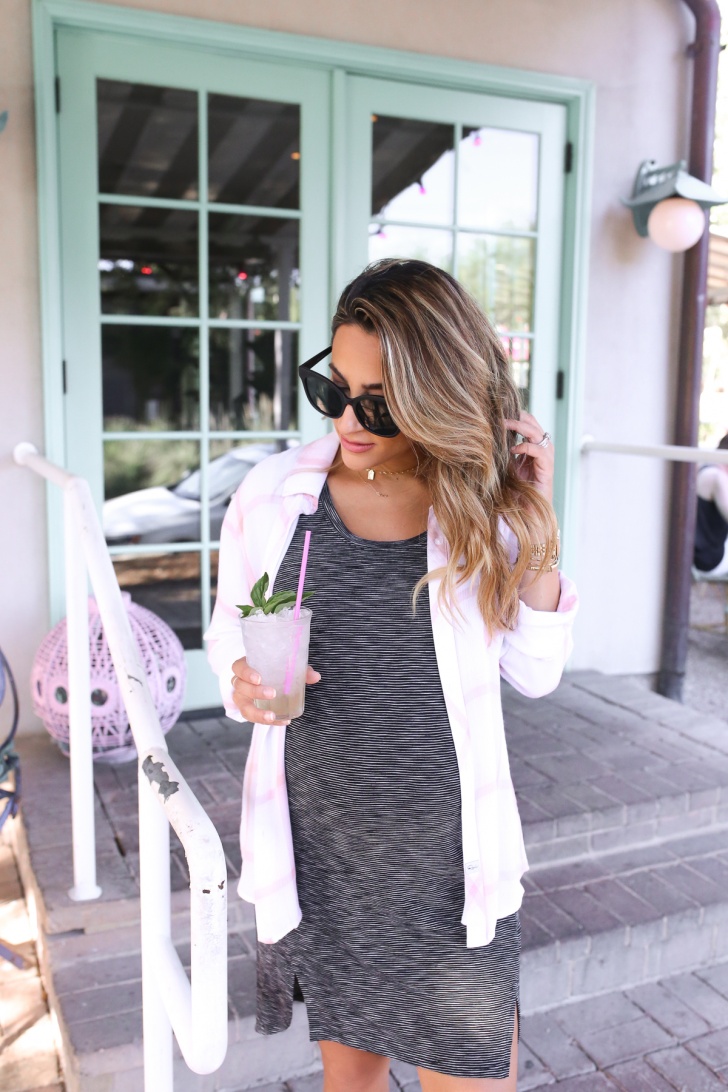 Nordstrom is always a favorite destination of mine for all things, but especially my all-time favorite flannels. I fell in love with this brand of flannels a few years ago, and have made it a personal mission of mine to buy a few each season! If I'm being honest, I've already ordered WAY more than a few this year (insert monkey covering his eyes emoji) but y'all, they seriously feel like butter! They are a bit of splurge as far as plaids go, but worth every penny in my opinion! I first fell in love because they are just the softest, most comfy plaids ever, but since then, I've been addicted not only because of their amazing quality and feel, but even more so, the fit! They are hands down the best fitting flannels I have ever tried and trust me, I have tried a ton.
Lately, I've found a new favorite way to wear my all-time-favorite fall pieces – unbuttoned and over a dress! This has quickly become what I call my 'transitional uniform.' I have fallen so in love with this combo that I literally can't stop wearing some variation of it, and have begun to fill my Nordstrom cart with more plaids and dresses to pair together. Every time I wear my new favorite combo, I get a million DM's on my Instagram from you guys asking where my flannels are from, so I thought it would be fun to put together a post of my favorites and the ones I've bought so far this year and how I like to style them! If you're anything like me, you won't snag just one, so I thought this would be a helpful way to see all the best ones in one place.
Speaking of the best things, I found this dress on a whim and have worn it 3 out of the last 5 days (no joke). Before you judge me, it's just that good! It checks all the transition boxes: comfy, easy to throw on, and of course, pairs perfectly with a button up. Not to mention the fact that it's only $49! I went with an XS because I wanted it to hug my bump and act more as a layer piece that I could wear under my flannels. I also picked up this dress in black a few weeks ago and have gotten so much wear out of that, that I just ordered it in grey too!
Sizing: I wear a size small in all of the plaids. 
Is anyone else dying for fall?!
Thank you to Nordstrom for sponsoring this post, all opinions are, of course, my own.